printer friendly version
Residential estate security conference 2018
May 2018 Conferences & Events, Residential Estate (Industry)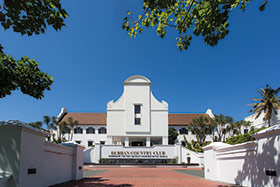 Hi-Tech Security Solutions and Rob Anderson recently collaborated on hosting the first Residential Estate Security Conference of 2018 in Durban. Held at the Durban Country Club, the conference saw 100 estate security and risk managers from the surrounding area gathering for a day of insights into how to best manage their estates' technology risks.
The conference also had an exhibition area where the sponsors of the day had table-top stands displaying their products and services aimed at the residential estate market. The sponsors for this conference were:
• Comb Communications.
• Excellerate Services.
• Powell Tronics.
• Hikvision.
• Glovent, and
• FidelityADT.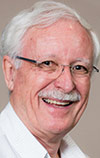 Rob Anderson
The day started with Rob Anderson setting the scene for the rest of the conference. Anderson explained to the audience what a risk assessment is and why it is important to manage and mitigate your estate's technology risks. Today's security operations rely on technology to function effectively, but even the best technology brings its own risks, whether as a result of poor planning or installation, or because of unforeseen events. The estate manager (or estate security or risk manager) is responsible for mitigating these risks to obtain the optimal performance from technology to ensure the estate's residents are secure.
Managing these risks starts from the quotation stage and persists through installation, maintenance and ongoing operations. This risk management not only provides residents with the safety they believe they are paying for in an estate, but also adds value to their property investment by making the estate a desirable location. Anderson briefly highlighted the various areas of risk the rest of the day's speakers would deal with.
Focus areas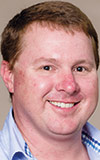 Glenn Allen
Glenn Allen, technical director for Enforce Security, a division of Excellerate Services, was up next with a presentation on 'keeping your access controlled'. Allen noted that effective access control is a vital element of estate security as up to 60% of crime that occurs within an estate is committed by people who have gained access through the front gate.
He also touched on the importance of keeping your access control database backed up to ensure you never end up having to reregister everyone (including angry residents) due to a catastrophic technology failure or some form of cyber-attack.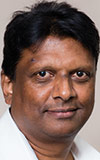 Selvan Naidoo
Selvan Naidoo from Cathexis Africa then took the attendees on a journey into effective surveillance systems, discussing how the effectiveness of CCTV lies in the proper design of the system. Naidoo said well-planned surveillance projects provide a number of benefits when handled correctly. He suggests there are six distinct design and implementation phases:
• Conceptual design.
• Design development.
• Vendor selection.
• Project administration.
• Maintenance.
• Continuous Evaluation.
Following the delving into of these areas, Naidoo also discussed a few maintenance and operational aspects to ensure your surveillance system keeps delivering the goods for the long term.
Get the numbers right
Roy Alves
Roy Alves, country manager for Axis Communications, gave the conference an insightful presentation on the total cost of ownership of a residential estate security project, highlighting the important fact that the initial purchase cost is only part of the total budget you will have to spend over the lifespan of your technology.
Using examples from the IT industry and a case study from a luxury South African estate with over 500 cameras, Alves broke the budget down into three primary areas: the total cost of acquisition, the total operating cost, and the often forgotten total decommissioning cost. The cost for the project in the case study over 10 years was R 28 million. Of that amount 67% was allocated to acquisition costs, 31% to operating costs and 2% to decommissioning costs.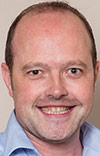 MJ Oosthuizen
One area in which estates often underestimate the costs, both of acquisition and ongoing operations is in the IT sphere. MJ Oosthuizen from G4S Secure Solutions (SA) delivered a presentation to the conference highlighting some of the issues estates need to be concerned about with respect to getting the most out of their IT systems. Oosthuizen also spoke on general network security as well as the increased need for network security as the era of smart home automation takes shape.
A powerful argument
One risk that has been steadily increasing over the past few years is that of lightning strikes. It doesn't matter how much you pay for your technology, lightning can and will destroy your systems if you do not take precautions. Additionally, surges and brownouts also take a toll on technology and can shorten the lifespan of systems if not controlled.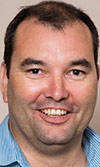 Don Drennan
Don Drennan from Drensky Technologies spoke on lightning and surge protection, providing sound advice on how best to set up your technology to handle these natural events. The secret is proper planning by a qualified partner, buying electrical equipment that has been tested and proven in the field (not the cheapest). Drennan also brought in some equipment to demonstrate just how dangerous a surge can be to your electronics.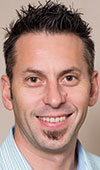 Riaan Allen
Following Drennan, Riaan Allen from the Ultimate Group continued the discussion on all things electrical by talking about how to ensure your power systems are reliable and keep functioning for the long term. Allen highlighted the difference between 'sales engineers' who are there to sell you electrical equipment versus professional engineers who design a system for longevity.
He also focused on the issue of standards, providing examples of what can go wrong when industry standards pertaining to electrical installations and operations are not adhered to. At the most extreme, the result can be death for people who happen to be close to badly set up and cheap equipment. Once again, opting for the cheapest quote is not the way to long-term, reliable electrical power provisioning.
As many, if not all estates have generators and UPSs to keep their security and other systems running during a blackout, Allen also touched on what one should look for when purchasing these systems.
You can't escape cybersecurity

David Cohen
David Cohen from BDO was again asked to speak about cybersecurity, a topic made more pertinent due to one of the speakers telling the attendees about how one estate lost its database (and backup) to ransomware. Cohen spoke about the types of threats we face from cyber criminals on a daily basis, from individuals playing around to nation states causing havoc. He also highlighted how social engineering and phishing is a critical threat to any and all IT systems (which includes security systems).
Among the solutions we can implement to protect ourselves is to make sure we don't leave default passwords in place on any equipment, whether it's a computer, a smart phone, a camera or an access control reader. Moreover, when changing them we need to choose strong passwords that make it unviable for hackers to spend the time trying to crack them.
Securing Serengeti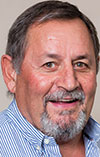 Hannes Hendriks
Hannes Hendriks delivered the final presentation of the day, providing the conference with a case study on the process he went through, and is still going through in securing Serengeti Estate. The estate covers some 820 hectares with a 17.5 km perimeter, making it no easy task. And with future expansion plans already under way, the security of the estate will be even more complex. An in-depth review of the case study will be printed in the Residential Estate Security Handbook 2018, which will be published in August.
Four of the sponsors were also in front of the attendees just before the lunch break to answer some questions about their products and services aimed at the residential estate market.
Hi-Tech Security Solutions would like to thank Rob Anderson for his expertise and assistance in developing and getting the conference running, as well as all the sponsors for their contribution to the event. Most important of all, Hi-Tech Security Solutions and Rob Anderson would like to thank the speakers for sharing their expertise and taking the time to prepare and deliver their presentations on the day.
The Residential Estate Conference will be back with a new look and focus in August 2018, this time in Johannesburg. Stay tuned for more information.
Credit(s)
Further reading:
The latest security trends at Securex South Africa 2023
Securex South Africa News Conferences & Events Training & Education
Security technology evolves at a blistering pace, so it's important to keep up to date with changing trends in order to ensure maximised safety of human and personal assets. The Securex Seminar Theatre, powered by UNISA, is the place to be.
Read more...
---
From the editor's desk: Get Smart
Technews Publishing News
      Welcome to the fourth issue of Hi-Tech Security Solutions for 2023, which is also the first issue of Smart Security Solutions. As noted in previous issues, Hi-Tech Security Solutions has been rebranded ...
Read more...
---
Success in business process best practices
Technews Publishing Kleyn Change Management Editor's Choice Integrated Solutions Security Services & Risk Management
This month we commandeer time with the woman who is spearheading our national conversation on Women in Security, Lesley-Anne Kleyn, to get to know the lady herself a little better.
Read more...
---
Smart Security Solutions
Technews Publishing Products
Stop by the Smart Security Solutions stand at Securex and discover the new rebranded Hi-Tech Security Solutions. Given the realities in the market we face today, effective security is no longer a silo ...
Read more...
---
How international cloud trends impact Africa
Technews Publishing IT infrastructure
Enterprises are realising that hyperscale cloud is better suited to development and not everyday business, while the bills have also grown significantly as their cloud needs have become more complicated and sprawled.
Read more...
---
From the editor's desk: Mining is the easy part
Technews Publishing News
      Welcome to the Smart Mining Handbook 2023. Security and risk management have always been an important component of extracting wealth from the earth, but mines today face an extraordinary onslaught from ...
Read more...
---
The art of drive and focus
Technews Publishing Editor's Choice Mining (Industry)
Riette Smeda did not find security, security found her. In doing so, she found an environment where grit and determination make all the difference in a country where crime pays.
Read more...
---
AI, risk management, and frameworks
Blacklight Group Technews Publishing Editor's Choice Security Services & Risk Management Mining (Industry)
A risk management framework is a basic necessity to meet the always-evolving criminal war against mines, perpetrated by ruthless organised crime gangs that often are better informed and resourced than their targets.
Read more...
---
Complex, but critical partner in security
Technews Publishing Bidvest Protea Coin Editor's Choice Integrated Solutions IT infrastructure Mining (Industry)
Smart Security looks at how drones can be applied effectively in mine security operations. The ability to quickly gain a birds-eye view of a situation, whether security, safety or operational in nature, makes drones a significant value-add to mines.
Read more...
---
The data must flow
Technews Publishing IT infrastructure Mining (Industry)
Amidst the dirt and dust, the data packets must always be moving in order for mines to remain on top of their environments, their people, their processes and equipment, and most importantly, the safety of everyone on site.
Read more...
---