printer friendly version
Fun, games and security
April 2018 Entertainment and Hospitality (Industry), CCTV, Surveillance & Remote Monitoring, Access Control & Identity Management, Perimeter Security, Alarms & Intruder Detection, IT infrastructure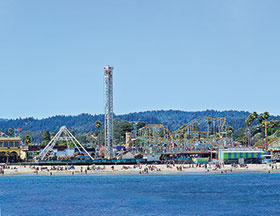 There's a fine balance between allowing large numbers of people into venues in a smooth and hassle-free way, without compromising security. Hi-Tech Security Solutions discusses three elements in this juggling game with industry specialists.
Eye on the ball
Ettiene Swanepoel, of M.A.S.S., says that while venues may differ for cultural entertainment, casinos and sports events, the common thread is that public spaces catering for large volumes of visitors require a combination of carefully selected physical barriers, manned security and electronic security such as access control, intruder detection and surveillance products.
In the entertainment sector, the biggest challenge in most instances is that the venue often extends over large areas. This requires careful planning of the infrastructure needed for electronic systems. In older, established venues there may have been no allowance made for electronic technology installations and, therefore, finding suitable cable routes, can be a serious challenge. Moreover, Wi-Fi installations could also be challenging because of the structure's materials of construction such as concrete and metalwork.
Swanepoel suggests that with regard to the electronic security space, one should select a solution that can morph into any application without affecting its efficacy. When proposing a solution during the risk assessment stage, consideration should be given to the network architecture requirements and very often at these venues, a distributed network architecture approach is most effective.
He highlights that there is a certain amount of skill and lots of experience required in selecting the best positioning for surveillance cameras. Because the existing infrastructure, or lack thereof, is often a hindrance, it is sometimes difficult to move cameras, so planning should address effectiveness rather than convenience.
"This alone is a very large challenge for reputable installers and suppliers, since less experienced installers often promote their services on price considerations alone, rather than on the optimal solution for the application. Sadly, venue owners or operators often choose the cheapest solution.
"Casinos, however, are less price sensitive since they deal with large amounts of cash and therefore require high-end security. Upmarket hotels have a similar philosophy, with safety and security of upper LSM guests and their possessions a primary deciding factor," says Swanepoel.
M.A.S.S. focuses primarily on surveillance solutions, with the deployment of enterprise-level security systems. Because of the size of these operations, a well-designed surveillance system provides the control room personnel and manned security with a view of the entire site either from one central control room or many interlinked control rooms.
"Typically cameras are IP-enabled, with high levels of vandal resistance and a high IP rating to enable their deployment outside. We most commonly use 2 MP cameras, but where larger areas with a wide view of pavilions is required, a 50 MP high-resolution camera is useful. Video analytics is increasing in importance and assists with security, crowd behavioural analysis and management of sites. Typical pre-selected elements could include loitering, panic and disorder, and gate flow."
The onion approach
A layered approach to security is the ideal solution, according to Impro's Vikki Vink. The 'onion' concept considers what level of security is needed at each inward-moving level of the onion, following a thorough risk assessment.
She points out that obviously the needs for each venue or application would vary. "For instance, at sports events one would not require the use of retinal scanners, but this may be appropriate for casino inner or core layers. At a sports event or music concert, we would typically consider the outer level as the first point of contact with the visitor/sports fan, using some form of ticket that identifies them as having a right to be at the venue."
The first question venue operators need to answer is: 'What are my security goals?' Along with deciding what type of security technology or manpower is needed, they need to identify where people will be accessing the venue, where is the next level of security/access, and which is their highest level of security. For sports events and music concerts this could be VIP boxes or the Golden Circle, while in casinos it would most likely be the cash room or security control centre where one will need advanced equipment to protect assets, such as body scanners/X-ray machines and facial recognition or iris scanners.
Vink says that when budgets are considered, the most cost-effective solutions are generally employed on the outer level, with a simple reader used to scan tickets for visitors to gain entry. A new trend is to send the ticket electronically to the purchaser's mobile device. When arriving at the venue, the user simply presents this electronic ticket to the reader. This is not only convenient for the user but also allows the venue management to revoke rights should the person be tagged as undesirable. This is very useful in ensuring that 'evicted' visitors are not permitted to re-enter the venue once they have been expelled.
From a health and safety perspective, mobile portals which use a handheld freestanding reader allow a device to scan tickets or drivers' licences with the option of adding on a biometric element. This provides management with the ability to see who is in the facility and allows them to monitor and measure how many people are in the venue to ensure that visitor numbers comply with OHS standards.
Mobile credentials are also coming into their own in the hospitality sector where guests can now register online, arrive at a time that is convenient to them, park their vehicle in a pre-allocated bay and proceed straight to their room where they present their mobile device to the smart lock. This then opens the hotel door and notifies reception that the guest has arrived and has entered their hotel room.
Seamless integration
To ensure that security works seamlessly, it is important to integrate all technology. This means that the security platform must enable instantaneous plug in of every security element, including CCTV surveillance systems and access control. This will allow the smooth deployment of security staff and the locking down of specific areas.
"This is especially relevant for emergency situations, as security personnel can then lock down or open up specific zones quickly and easily. The ability to open up everything on a particular rule set in real time is critical to the safety and security of all. These inclusion and exclusion rules will be based on the initial onion layer setup," says Vink.
The ability to apply rule sets to systems is especially important when dealing with large numbers of staff. An example is the workflow of business rules within a casino environment. Vink says that in this instance one could institute a rule whereby employees are only allowed to go onto the casino floor after they have taken a breathalyser test and have a certificate of competency linked to their ­credentials. On rollercoaster rides at fairgrounds, for example, the rules set could prevent operators who are not meeting specific safety parameters from operating the ride.
Impro's Access Portal software allows users to assign security levels and provides built-in security measures that allow one to open up or lock down sites in real time. Customisation allows one to set up specific parameters and rules, for example, one could specify that if a fire alarm is activated, then all doors will open instantly. Another example could be that if there is a threat outside a stadium, the rules ensure that all visitors are kept safely inside the venue, while only security staff will be permitted to exit the venue to address the threat.
On the hardware side, the Access Portal range provides to enterprise-level encryption devices, with a mobile handheld Portal reader proving particularly popular for scanning tickets and drivers' licences or providing access with a keypad. This is complemented by the full range of Morpho biometric readers and devices which readily integrate with Impro's software and hardware.
HID's Mobile Access allows a virtual ­credential to be sent to a mobile phone, which is then presented to a reader to allow access. Time zones can be set up to ensure that people are allowed access only during predetermined time zones and stadium management is provided with an accurate measurement of numbers at any one time.
Raising the bar
Turnstiles, which could be full-height for general admission and half-height for corporate/VIP admission, serve many different functions and can be an ideal way to automatically control admission to events in conjunction with a ticketing system.
When you attend a sports event or visit an amusement park, the turnstile will limit entry to one person at a time, for only those people who present the right credentials (physical or mobile electronic ticket) to the reader. Interestingly, the original purpose of such gates was to allow people to pass from field to field, while keeping their livestock penned in.
Turnstiles can be set for controlled entry and exit as well as manual free rotation. For a simple stadium system, a pushbutton, counter and reset keyswitch can be provided for controlled entry. The counter enables the event manager to audit the number of entries with the number of operations.
"In addition to selling turnstiles outright to a number of stadia worldwide, Turnstar has a number of tournament waist-height turnstiles which are available for short-, medium- and long-term hire. These turnstiles are ideal for temporary events such as festivals, sports events, concerts, elections and conferences and mean that capital outlay is not necessary," says Turnstar's Craig Sacks.
All Turnstar turnstiles are compatible with any ticketing system or access control system and portable versions are fitted with a heavy-duty steel base which can be placed on virtually any surface. All that is required to unlock the turnstile for rotation is a dry contact (zero voltage contact closure) from the access system and Turnstar can manufacture any kind of ticket reader mounting in order to seamlessly integrate the ticketing system with the turnstile.
The bottom line is that best practice for event or casino security includes a mix of feet on the ground (manpower), surveillance and access control technology, and physical security such as booms, turnstiles and fences. When these elements work together seamlessly, safety and security of visitors, venue employees and other contractors is enhanced.
Further reading:
Supporting local manufacturing
Industrial (Industry) IT infrastructure
Smart Security asked Esenthren Govender, Solutions Executive at Technodyn for insight into how the company supports local manufacturing organisations to optimise their business.
Read more...
---
AI technology to empower vertical markets
Dahua Technology South Africa Mining (Industry) CCTV, Surveillance & Remote Monitoring Products
Dahua WizMind is a full portfolio of solutions comprising project-oriented products that use deep learning algorithms to provide more business value to its global customers and deliver reliable and comprehensive AI solutions for vertical markets.
Read more...
---
Matt De Araujo joins Ajax Systems
Ajax Systems News Perimeter Security, Alarms & Intruder Detection
Matt De Araujo has joined Ajax Systems as Head of Sales in sub-Saharan Africa with a goal to strengthen the local team and exceed expectations.
Read more...
---
Elvey partners with HALO
Elvey Security Technologies News CCTV, Surveillance & Remote Monitoring
Elvey Group has partnered with HALO Europe to provide Africa's first body-worn solution with zero upfront costs. This includes an IP68-certified body camera and a 4G-connected device.
Read more...
---
Integrated guarding services
XtraVision Integrated Solutions Access Control & Identity Management Industrial (Industry)
XtraVision offers a few tips on how to go about planning and setting up an integrated approach to sustainable and successful security services, from the initial risk assessment to the technology and people required.
Read more...
---
Paxton secures multi-tenant office in Cape Town
Paxton Integrated Solutions Access Control & Identity Management Products
Cecilia Square in Paarl, Cape Town is an office building from where several businesses operate. The multi-tenant site has recently undergone a full refurbishment, including a complete upgrade of its security system for access control.
Read more...
---
AI face recognition OEM module
Suprema News Access Control & Identity Management Products
Suprema AI, a company specialized in artificial intelligence–based integrated security solutions, recently launched its high-performance face recognition OEM module called 'Q-Face Pro' in response to the growing need for contactless security solutions.
Read more...
---
Invisible connection and tangible protection via cloud
Dahua Technology South Africa Perimeter Security, Alarms & Intruder Detection CCTV, Surveillance & Remote Monitoring Products
Dahua Technology has launched its AirShield security solution that uses advanced, stable and reliable RF communication technology and cloud services, integrating alarm hubs, various detectors and accessories, with several software apps.
Read more...
---
Smart buildings require smarter networks
Commercial (Industry) IT infrastructure
The smart building is not a new concept, but it's more than just four walls built sustainably, but a network that interconnects people, processes, data, and things. Lots and lots of things.
Read more...
---
VMware unveils new security capabilities
Cyber Security IT infrastructure Products
At the RSA Conference 2023, VMware unveiled enhanced features for its suite of security solutions to address the increasing sophistication and scale of cyberattacks and to deliver strong lateral security across multi-cloud environments.
Read more...
---