printer friendly version
Unlocking the potential of smart locks and key management
April 2018 Editor's Choice, Access Control & Identity Management, Asset Management, EAS, RFID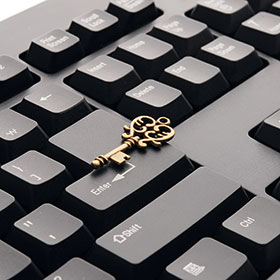 Keys and locks are not going anywhere, at least not anytime soon. As long as people will attempt to gain access to areas where they are not supposed to be, whether out of nefarious intent or innocent curiosity, things will need to be locked away and access to them restricted. What does continue to change is the evolution of ever-more technologically advanced ways and means of controlling that access.
Whether through simple mechanical keys and locks, or their modern, 'smart' electronic cousins, access must be restricted, controlled and recorded to ensure the safety and security of an organisation's facilities, staff and valuable assets. Hi-Tech Security Solutions spoke to a selection of electronic lock and key management system providers to learn about the ways they can help to achieve this.
Electronic locks
According to Salto Systems Africa's Wouter du Toit, there are two primary factors that favour an electronic lock over a mechanical alternative. First, mechanical keys present difficulties, in particular in big buildings where multiple master keys must often be managed. Second, conventional mag locks or strike locks are a more costly solution, not only in terms of the actual hardware but also the infrastructural costs associated with bringing a necessary power cable to the door.
When looking at upgrading from a mechanical lock to an electronic one, retrofitting to any door has become very easy, says du Toit: "When Salto started designing its products, it wanted to gear them to any kind of locks available in the market. We have a product that can retrofit to any kind of door, in no more than 30 minutes." Retrofitting is not their only use, as the majority of electronic locks being installed in South Africa are, in fact, for new installations, according to du Toit, while in the larger sub-Saharan context it is closer to a 50/50 split.
By comparison with mag locks and strike locks which require a dedicated 12 V power supply and typically only allow for a few hours of backup in the event of a power failure, Salto's electronic locks require only three standard AAA alkaline batteries to operate for up to 40 000 openings, equating to about two years for a door with high traffic volume. This means in the event of a power failure the door is still secure, and even if the batteries run out the door remains locked. "Essentially this provides not only an access control function as with the conventional approach, but also an added security function as the door cannot simply be pushed open. This dual benefit is a fundamental pillar of Salto's design philosophy," du Toit states.
Running flat
On the question of what happens when the lock's batteries do run low, he explains: "In the case of a completely offline solution, because Salto locks actually write info back to the access card, the battery status is automatically recorded onto access cards each time the door is accessed. On the other hand, if the electronic lock is a wireless online model, with an access point in the ceiling that communicates continuously with the lock, battery status is recorded live to ensure frequent updates. Furthermore, when the battery level gets down to the last 1000 openings, the lock will start flashing before allowing the door to open, giving the user a clear visual notification. Generally these intelligent software elements ensure that this point is never reached, unless it is a door that sits out in the sticks and is hardly ever used."
Since the cost of three AAA batteries is trivial and replacement only takes a couple of minutes, du Toit says Salto advises its integration partners to educate end-users on the wisdom of having a regime in place to replace batteries every two years, rather than run the risk of the batteries going flat. In the event that battery power is depleted, Salto provides a portable programming device that allows the lock to be overridden so the batteries can be replaced. The data on the programming device can be set to automatically expire in the event that it is stolen, to prevent its unauthorised use. A special, simple-to-use battery pack system can also be used to power the lock momentarily to allow a valid access tag to be used to gain entry.
On the horizon, du Toit says Salto has paid heed to the global trend toward the use of smart mobile devices in all aspects of modern life. To this end, the integration of Bluetooth capability in its future locks will allow devices such as mobile phones to be used to open them. Addressing any concerns regarding the security of data transmitted over an open air interface, he assures that the transmissions are encrypted according to the 256-bit AES standard, and no information is stored in the cloud that might allow a door to be opened remotely.
"Another key Salto innovation is the launch of a residential product as a cost-effective but highly secure way of replacing mechanical keys. The SME market can also benefit from this product, as it will install on a conventional cylinder lock and can be fitted in no more than 10 to 15 minutes. It can be programmed via a phone, and allows users to securely and conveniently share access to the lock with other people. The feedback based on our initial introduction of this product to the South African market has been very exciting," says du Toit.
Key management systems
Morse Systems Africa is the exclusive South African supplier of key management solutions made by Morse Watchmans. According to the company's Lial Snell, the key control access management systems it offers are first and foremost modular. "The key cabinets are built up by us according to each client's specific requirements in terms of how many keys they need to store. The system ensures that each key remains safely locked away and can only be accessed by a user on presentation of an authorised fingerprint, PIN code or proximity card," he says. While its solutions are versatile enough to be adapted to the needs of any application, Snell says the company is developing a specialised solution specifically for vehicle fleet requirements.
The physical mechanism keeping keys in place is a simple solenoid. If power to the cabinet is lost, the solenoids default to a locked position for security reasons, but an 8-hour battery backup ensures that the system can continue to operate until the main power is restored. Adding further to the user-friendliness, Snell explains that the system is designed in such a way that if a key is lost or broken, it is not a train smash as they are fairly simple to replace.
The ability to integrate a key management solution with other systems is vital to its success, says Snell. "Many organisations have existing access control systems in place, for example, with fingerprints already enrolled, and these in turn might also be integrated with their payroll systems," Snell says. "There is therefore a demand to be able to integrate with these systems and avoid having to duplicate the work of having people added to or removed from the system. Our software accommodates these requirements and is ­versatile enough to integrate with just about any ERP software on the market. APIs (application programming interfaces) are provided with our systems to ensure the needs of any client are catered for."
Cybersecurity is a natural concern for any software application in these days of highly publicised and seemingly regular breaches. Snell assures that the databases storing information related to Morse's software are encrypted to prevent unauthorised access to sensitive data, but that organisations themselves need to be vigilant. "Ultimately we advise our clients to apply rigorous cybersecurity principles to all of their sensitive data, and this obviously includes access to the key management system. Some companies even go the extra step of installing the key management software on a separate, standalone computer where it is isolated from their other systems," he says.
Keys on track
Traka, another specialist in providing automated, intelligent key management solutions, emphasises its ability to offer user-friendliness without sacrificing security. "The emphasis of our system is to ensure that the keys, and the whole process around controlling access to the keys, are managed correctly," explains the company's Craig Williams. "This means making it easy to administer, but only for authorised people."
To further enhance usability, the company recently launched Traka Touch, a system with an onboard Windows-based computer and featuring a touch screen user interface. "Not only does this make it very easy to use, it also simplifies administration and the pulling of reports. Crucially, this system gives our existing customers the ability to upgrade their older 16-bit systems. It allows a standalone administrative role or an intranet-type web administration for only the appropriate, authorised people with the correct credentials to administer the system. This is a solution that is automated, very easy to manage and foolproof," says Williams.
Traka's cabinets hold each key in position with a simple electromechanical device until such time as access is granted to release the key. "The bottom line is the system is remarkably simple front-of-house, but back-of-house is where the intelligence, such as real-time recording of each event, lies," Williams explains.
A large component of this intelligence is the ability to integrate with other software, he continues: "Traka's primary focus is not on looking after keys as such, but rather what the key opens, upon which the organisation generally places great value. Integration ­happens on a number of levels with access control systems, allowing for intelligent systems to be put in place, such as if someone has a key they are not allowed to leave the building with unless and until it is placed back into the cabinet. From an HR perspective, all people who have access to keys will automatically be enrolled onto the system, so all their biometric data and user profile specifying their authorisation level gets automatically loaded onto the key cabinet."
Traka's software integrates with major ERP solutions at a database level. In a case where integration is not currently supported with a particular system, it can be implemented – a feature the company is pleased to be able to offer to ease integration with clients' operating procedures, rather than the other way round. All relevant digital information is stored in an encrypted database and access to particular pieces of this data is restricted according to only information that is legitimately required. This also ensures legal traceability.
Traka was recently acquired by the ASSA ABLOY group, a fact which Williams believes offers a clear benefit through the ability to offer complete door opening solutions from within one organisation. "ASSA ABLOY has a policy of only acquiring companies it believes offer symbiosis with its core offering, and we are finding that large numbers of leads are coming from existing ASSA ABLOY customers but in different product segments," he says.
"This gives us the ability to, for example, offer an architect working on a new building a comprehensive solution that integrates neatly. It also allows us to provide a completely modular solution tailor-made for individual needs, so our customers are able to roll out a long-term solution that works together seamlessly, without needing to do it all upfront."
For more information contact:
Salto Systems Africa, +27 (0)11 534 8489, [email protected], www.saltosystems.co.za
Morse Systems Africa, +27 (0)11 326 1450, [email protected], www.keywatcher.co.za
Traka Africa, +27 (0)11 761 5000, [email protected], www.traka.co.za
Credit(s)
Further reading:
Security risk and the sum of small things
Leaderware Editor's Choice
Dr Craig Donald advises that the small things we often write off as unimportant can quickly scale to become serious threats to security and safety.
Read more...
---
Gallagher launches Tech Talk
Gallagher News Access Control & Identity Management Perimeter Security, Alarms & Intruder Detection
Gallagher has announced the launch of its new Security in Focus podcast series called Tech Talk, hosted by chief technology officer Steve Bell.
Read more...
---
IDEMIA and Ideco demonstrate their value stacks
Technews Publishing Ideco Biometrics IDEMIA Conferences & Events Access Control & Identity Management News
Ideco and IDEMIA recently hosted a travelling show where attendees were given an update on the companies, as well as the full value stack they offer.
Read more...
---
Specialised surveillance and communications
Technews Publishing Editor's Choice News Integrated Solutions Residential Estate (Industry)
Hi-Tech Security Solutions spoke to Arcanum Africa's Peter Stolwerk and Aaron van Schaik to find out a bit more about the company and the unique products it is bringing to the local market.
Read more...
---
From Hill Street Blues, to Hillbrow, to managing risk for BMW
Technews Publishing Editor's Choice News Security Services & Risk Management
Jane-Eleanor Morrison's success story starts from growing up in the stressful pre-democracy times in KZN, moves through a successful career in SAPS. to BMW South Africa where she is now the risk control manager.
Read more...
---
Locally designed lock designed to stay locked
Editor's Choice
The new Blade Lock makes it close to impossible to break a lock by conventional means; combined with the Smart Gate, your security behind the door is certain.
Read more...
---
Water deluge fire suppression system
FS Systems Editor's Choice Fire & Safety Mining (Industry) Products
The FS Group custom-designed and installed an electronically actuated water deluge fire suppression system for an underground explosives magazine, ensuring both the safety of miners and operations, as well as regulatory compliance.
Read more...
---
Have biometrics changed the way mines operate?
ZKTeco Mining (Industry) Access Control & Identity Management
The mining industry continues to improve conditions for mine workers, striving for zero harm, however, innovations which improve worker safety and increase operational efficiency are still needed.
Read more...
---
A cyber security mesh platform underpins an interconnected digital world
Editor's Choice
In a world of interconnected people, devices, networks and applications, a cybersecurity mesh platform is the answer to mitigating ever-present cyber risks.
Read more...
---
Look again at security automation
Editor's Choice
Hila Meller, BT Security, global head of sales, shares BT's learnings on the top five things to consider for your security automation journey.
Read more...
---