printer friendly version
Cash crimes escalate
March 2018 Editor's Choice, Security Services & Risk Management, Retail (Industry)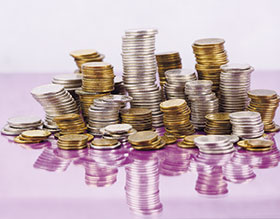 The news is not good when it comes to cash-in-transit (CIT) security. It seems the criminal syndicates are really upping their game after a period in which these heists declined. Today we have not only seen an increase in the occurrence of these attacks, but also in the violence used.
To get an idea of what is happening in the industry in South Africa, Hi-Tech Security Solutions asked some CIT experts for their take on the situation and to tell us what they are doing in response to these new threats.
We spoke to Arthur Gibson, Fidelity Security Group cash solutions executive and Wahl Bartmann, Fidelity Security Group chief executive, as well as Richard Phillips, joint CEO of Cash Connect and an expert in cash management and logistics.
The reality on the ground
Bartmann says, according to the latest stats released by SABRIC (The South African Banking Risk Information Centre) there was a 43% increase in cash-in-transit attacks between January and November 2017 when compared to 2016. This effectively equates to almost one cash-in-transit incident experienced per day in 2017.
"Unfortunately, the increase in crime, coupled with high unemployment is impacting on the number of robberies and heists. We have also seen a move from urban areas, where we have clamped down quite substantially, to the more outlying areas."
He says of more concern is that these highly organised criminals that perpetrate these crimes often use explosives as part of their modus operandi. "Generally, large groups of criminals are heavily armed with automatic rifles, often driving stolen luxury vehicles. They force the cash-in-transit armoured vehicle to a stop and then use the explosives to access the vaults on the vehicle. The use of explosives is highly concerning, when one considers how regulated the industry is."
The impact on our industry is significant in terms of loss of life as well as resource damage and the extra costs involved in protecting our assets. These incidents are also driving up the costs associated with cash, specifically around additional armed support and insurance.
Phillips echoes these sentiments. "Cash usage in South Africa as a percent of its gross domestic product (GDP) is over 58%. In the past two calendar years, the CIT sector has experienced an unprecedented increase in attacks on it. Conservatively speaking, we now know that the industry suffered at least 256 armed robbery attacks in the 2016 calendar year and 367 in the 2017 calendar year.
"Expensive vehicles and equipment were destroyed, lives lost and tens of millions of rands stolen. The broader cash industry's re-insurance arrangements have come under pressure. Underwriters have become wary of South Africa and where policies are being renewed, they are coming at a cost.
"Equally, the pressure on the CIT companies to improve their ability to carry out their responsibilities, whether by investment in technology or tactical advancement is having an impact on the cost of the service to its customers. Overall the cost of the cash collection and distribution service to business is expected to increase by a rate that is well over inflation and both customers and suppliers who try and avoid this adjustment will become part of the problem rather than the solution."
Why the increase in attacks?
It may be a question with no definitive answer, but when asked what the reasons behind this increase in attacks is, Phillips says there is, to an extent, some truth in the argument that robbery and theft, whether against the CIT industry or business in general has its roots in the socio-economic decline in our country. "The majority of our people are unemployed and hungry. It is a breeding ground for discontent and desperate need to survive."
Nevertheless, crime in the CIT sector is the product of well-organised syndicates who are well financed, equipped and skilled. "Our police, crime intelligence and criminal justice community has failed to provide an adequate response to this relentless attack on our economy and the need for cash crime to be prioritised has become non-negotiable," Phillips adds. "Our inability to contain these organised gangs, manifests in the statistics and threatens the very core of our cash economy and all who depend on it."
What are CIT companies doing?
Gibson says Fidelity is constantly evolving its technology and changing procedures to ensure it stays one-step ahead of the criminals. "We are also working closely with SABRIC and other CIT companies and law enforcement officials to analyse the crime risk information and jointly come up with strategies and risk mitigation measures to collectively deal with this crisis.
"Fidelity has recently deployed additional measures to proactively deal with the increase in armed attacks. This includes adding new technology on our vehicles, through to providing our vehicles with additional support on the road and air, particularly at high-risk times."
Phillips notes that cash crime is not limited to the CIT industry and includes robbery and burglary of businesses in South Africa. "Business suffers 57 armed robberies and over 200 burglaries daily in South Africa, where cash represents over 90% of the principle target of these attacks.
"In the climate in which Cash Connect enjoyed a 40% growth in customers year-on-year in the calendar year 2017, just over 3% of our client sites came under an attack, which in itself is indicative of how our robust cash vaults deter attack and deflect criminals.
"Explosives were used in 51% of the attacks and the technology succeeded in defending 92% of these attacks. The balance were attacks using an assortment of tools and techniques and 83% of these were defended."
Bartmann agrees that all sectors are affected by the crime spike. 'We advise businesses to adopt a highly proactive approach with regard to the handling and storage of the cash on their premises. This may include categorised safes, cash acceptance devices and minimising the value of money kept in tills.
"Businesses should have a clear and defined process around the handling and storage of cash on site and engage with a reputable company for the secure movement of their cash off site. In addition, staff should be regularly reminded to be vigilant and be aware of any suspicious behaviour or persons in the vicinity of their business. It is advisable for business owners to regularly carry out drills for staff to simulate a potential heist. This may save lives and reduce risk in the event of an actual incident."
Phillips expands on this, advising companies to introduce automated cash management technology and processes in-store. "It has proved to not only mitigate against these often violent attacks, but improves efficiencies, eliminates shrinkage and reduces the overall cost of handling cash," he says. "But buyer beware. Stick to contracting a reputable cash management company with a proven track record that is financially sound, and with properly structured service agreements."
What to do?
When looking at what people should do if they are caught up in the middle of an attack, Gibson says, "we know that syndicates perpetrating these kinds of crimes are highly skilled and organised. If you are caught in the middle of a heist, do not attempt to resist or engage with the robbers, try to remain calm and lay low, avoiding eye contact. The risks involved for anyone carrying or storing large amounts of cash are high."
Phillips offers the same advice: "Do not resist. Lay low and let the criminals get on with it. The average size of a gang ranges from 5 to 15. They are heavily armed and often known to use intoxicating drugs to quieten the nerves and build courage, but the effect of narcotics on
the mind undermines rationality and heightens the conditions for spontaneous and very violent reaction to the slightest intervention."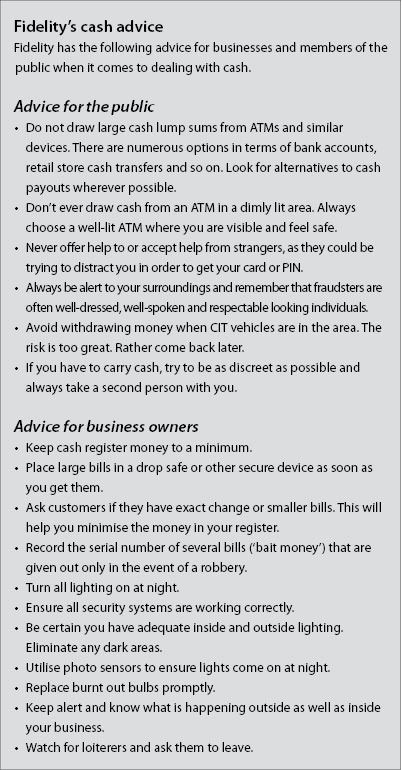 For more information, contact:
• Fidelity Security Group, +27 (0)11 763 9000, [email protected], www.fidelitysecurity.co.za
• Cash Connect Management Solutions, +27 (0)11 466 0794, [email protected], www.cashconnect.co.za
Credit(s)
Further reading:
The components of and need for cyber resilience
Cyber Security Security Services & Risk Management
Organisations need to implement a comprehensive cyber resilience solution with data protection, backup, disaster recovery and business continuity to protect against ever-more complex and rising cyberthreats.
Read more...
---
Is the smoke beginning to clear for password security?
Access Control & Identity Management Security Services & Risk Management
The password problem is the result of bad habits, and they can be hard to break. But ask anyone that has done it and they will not tire of telling you the benefits.
Read more...
---
The benefits of investing in whole-house surge protection
Smart Home Automation Security Services & Risk Management Residential Estate (Industry)
When you consider that the potential for equipment damage can run well into the hundreds of thousands of rands, whole-house surge protection is a worthwhile expense.
Read more...
---
Are you your insider threat?
Technews Publishing Editor's Choice Security Services & Risk Management Commercial (Industry)
Insider threats are a critical aspect of risk management today, but what happens when it is the owner of the company acting fraudulently and making sure none of his staff can catch him?
Read more...
---
Passion, drive and hard work
Technews Publishing Editor's Choice CCTV, Surveillance & Remote Monitoring Security Services & Risk Management
Colleen Glaeser is a leader in the security market, having made her mark in the male-dominated security industry through determination and hard work, along with a vision of making the world a safer place.
Read more...
---
How to react in an armed robbery or home invasion
Fidelity Services Group Security Services & Risk Management News
How you react when faced with a nervous, gun-toting criminal can save your life, or cost you your life; all family members need to know what to do in such circumstances.
Read more...
---
2022 trends in video surveillance
Eagle Eye Networks Editor's Choice CCTV, Surveillance & Remote Monitoring Integrated Solutions
Eagle Eye Networks predicts what will impact the video surveillance industry in the coming year and how to seize opportunities and forge a path to success, even amid ongoing uncertainties.
Read more...
---
The impact of AI-enhanced video analytics on control room personnel
Leaderware Editor's Choice CCTV, Surveillance & Remote Monitoring
What impact do AI-capable detection systems have on control room staff, and do they mean a change in the demands on operators and the type of people you have in the control room?
Read more...
---
To be or not to be, is that the objective?
Iris AI Editor's Choice CCTV, Surveillance & Remote Monitoring News
Gerhard Furter joins a discussion on the nature of sentience in artificial intelligence. Do we actually know what sentience is, or are we overestimating our human capabilities?
Read more...
---
Leaning into the edge
Technews Publishing Axis Communications SA Forbatt SA Hikvision South Africa Editor's Choice CCTV, Surveillance & Remote Monitoring Integrated Solutions IT infrastructure
Video storage and analytical processing, with the help of artificial intelligence on the edge, is simple today with the powerful and advanced camera technology we have available.
Read more...
---