printer friendly version
Smart cities are built on smart thinking
November 2017 Editor's Choice, Integrated Solutions, IT infrastructure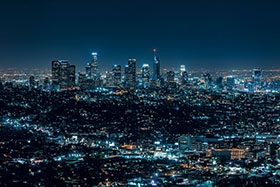 The phrase 'smart city' tends to conjure up images of glistening, Utopian sprawls where people can live untroubled by the dangers and mundane inconveniences that are an unavoidable part of any real, modern cityscape. Perhaps that should be the ideal, but even the wealthiest nations have a long way to go before achieving it, let alone South Africa with its particular set of problems.
The phrase 'smart city' tends to conjure up images of glistening, Utopian sprawls where people can live untroubled by the dangers and mundane inconveniences that are an unavoidable part of any real, modern cityscape. Perhaps that should be the ideal, but even the wealthiest nations have a long way to go before achieving it, let alone South Africa with its particular set of problems.
The world's leading smart city exponents, like Dubai and Singapore, can feel very far away from us here at the southern tip of Africa, but there is much that can and should be done to work towards, if not Paradise City, then at least smarter and safer metropolises for the country's denizens to create a better future. If one embraces the wisdom that within every challenge lies an opportunity, then it could even be said that the almost ubiquitous sprouting up of residential estates in South Africa creates an ideal breeding ground to develop and perfect the elements of smart city creation on a smaller, more manageable scale before scaling up to our cities.
Although South Africa should and will forge its own path in this, as it does in all things, there is no harm in learning lessons from what the rest of the world is doing, and many experts the world over are hard at work advancing the fundaments of smart cities. Hi-Tech Security Solutions consulted three of them to help piece together the building blocks upon which a modern, forward-thinking city is built.
First safe, then smart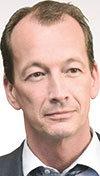 Edwin Diender, Huawei's global vice president for the government and utilities sector.
So what is the first step, when there is so much to do? In the experience of Edwin Diender, Huawei's global vice president for the government and public utilities sector, the smartest opening move is to create a safe environment. "Public safety is such a broad issue that it touches every individual, community and organisation," he clarifies. "If a person feels safe where they live and work, they enjoy being there and aspire to create a life there for themselves and their families. As this sense of safety spreads throughout a community, a desire grows for all sorts of public services to make life easier, and in fact this can be considered a KPI of a smart city. Once a solid foundation of safety is established, a smart city can branch out into other domains like traffic, energy, city efficiency and information sharing across different spheres."
His experience working in various roles with several industry leading vendors, together with his personal history working on southern African programmes and initiatives, gives Diender valuable insights into local issues. Given South Africa's high unemployment rates, he is adamant that the point of making a city smarter should never be about replacing people's jobs with machines. "The goal is to improve efficiency at the city level through integration and holistic thinking," he elaborates. "As an extension of our respect for communities, Huawei works to establish initiatives for the youth to better understand these concepts, and possibly even inspire them to a career in smart city management. To this end, we work together with local stakeholders to establish schemes for students to use these programmes and initiatives as a sort of internship, and we are also involved in nurturing the next generation of graduates by collaborating on establishing education curricula."
Diender explains that Huawei has developed a strategy that looks at smart city developments as a journey, and aims to establish not so much a roadmap as a travel guide. Part of this strategy requires the company to look beyond the conventional framework of vertical markets like healthcare and education and the information silos that inevitably result, and rather think horizontally to optimise synergies across application areas.
Integration
The smart city makes an ideal candidate for this type of approach, as integration at various levels is at the heart of any successful rollout. "It is vital to link together the various information systems into a unified platform," he says. "As a practical example, this can enable a live police investigation to automatically bring together the initial emergency call made by a person with CCTV footage of the incident's location, and bring it together on a geographic information system (GIS) map. These elements are all available in South Africa but are currently disconnected – all that remains is to bring them together. The efficiencies that result from such integration facilitate taking the next step along the journey and progressing the concept further, and faster."
The nuts and bolts of a smart city initiative are inextricably tied to the availability of a reliable communications infrastructure, and Huawei has extensive expertise in this regard, explains Diender: "LTE (long term evolution) mobile technology, which is already broadly deployed across South Africa's major cities, is a key enabler as it not only provides for the needs of today but also for tomorrow as we move from the current fourth generation (4G) to 5G and beyond.
"Another invaluable tool is cloud technology, which allows several information services to be brought into a back-end infrastructure where it is easier to be maintained and serviced; but also, from where it is easier to be made available and shared across agencies and departments. And with communities and people across the city. For example, Huawei's technology is able to create a layered segment specifically for public safety, and employ bandwidth optimisation so that a drastic 'forklift upgrade' is not always necessary. We also have the capability to put in place an integrated platform that can function as the heart for bridging diverse communication channels such as landline, voice, video, data, mobile and two-way radio, to name a few, and to use these capabilities across a wide range of different terminals and devices, including apps to facilitate services to the community."
No matter the extent of the programmes and initiatives, Diender asserts that it must be underpinned by ambition, coupled with a clear and realistic vision. "In this context a smart city could be viewed as a platform, or a system of different functions, that is able to bridge all the initiatives and programmes to help move the community higher up the value chain. As a starting point, the key 'pain' points of the city in question must first be identified before they can be addressed. This is different for every city – each will have a different approach for achieving its goals, but it always starts with an ambition and a vision," he concludes.
Smart does not equal safe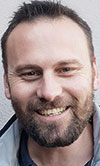 Armand Steffens, Milestone Systems' country manager for the African continent.
While it can be tempting to use the terms safe city and smart city interchangeably, Armand Steffens, Milestone Systems' country manager for the African continent (except Northwest Africa), believes a distinction should be made at the outset. "A smart city is not necessarily safe, nor is a safe city smart in the sense of intelligence," he opines. "For us, a smart city is an urban area that uses diverse types of electronic data collection and sensors to supply information used to manage assets and resources efficiently.
"The smart city concept integrates information and communication technology (ICT), and various physical devices connected to the network (the Internet of things or IoT) to optimise the efficiency of city operations and services and connect to citizens. Smart city technology allows city officials to interact directly with both community and city infrastructure and to monitor what is happening in the city and how it is evolving."
By contrast, he describes a safe city as an urban area where the citizens experience a low to zero number of safety incidents. "If a smart city can reduce the number of incidents, then this is a positive effect of an intelligent infrastructure," he says.
Digging deeper into the communication fundamentals required, Steffens describes a smart city as "basically a very large IT infrastructure – and an IT infrastructure is an IT infrastructure, no matter the size of it. The same principles of connectivity, interoperability, security and scalability apply no matter the size. Then there is data flow, where strict governance rules have to be in place to ensure that the needed data is available for performing each different task within a secure context. Cybersecurity has to be an important part of any smart city project, as well as privacy and data governance.
"We have all the technology needed today, but no cities have been planned with an IT infrastructure in mind – cities have transportation, water and energy infrastructures. This means we need to add a new infrastructure utilising whatever existing bits of IT infrastructure are present. Depending on the size and age of the urban areas, this can be a daunting task."
Steffens points out that one of the major benefits of smart cities is the wealth of data and data sources, and Milestone is well positioned to facilitate this. "Video systems like Milestone XProtect, with rich integration of data sources and metadata, can combine and aggregate information from multiple data sources for true, holistic situational awareness. This paves the way for combining video management and cognitive systems, in turn leading to predictive systems, augmented reality displays and interpretive functions and moving the use of video systems beyond security. These are all areas Milestone is looking into."
Smart is an evolution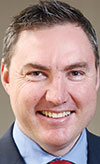 Eugene Le Roux, MD and president of NEC Africa.
First and foremost, it is important to define what a safe and smart city is, and to have an holistic view of how one evolves, according to Eugene Le Roux, MD and president of NEC Africa. "Cities transform from initial construction to introduce facilities that enrich people's lives, then growth accelerates and that brings new challenges. Cities continuously grow, mature and reconstruct around infrastructure, transport, energy and citizen lifestyles. It is important that they be able to do so flexibly so they can cater for unknown future demands," he says.
As in any sphere of life, data and the intelligence it enables are vital to the success of a modern smart city. "At each stage cities must be able to collect and share information more effectively and link those layers that support urban life," explains Le Roux. "ICT can bring people together, can strengthen the fabric of society. Encapsulating that information in an intelligent platform means it can be monitored in real-time and transmitted anywhere it's required, for plain old everyday needs or for special needs that arise during disasters and other emergencies."
Since the communications infrastructure is so essential, Le Roux says the first thing that is needed is a network that links to every area of the city, at the centre of which is an intelligent platform that collects and collates data from multiple sources that range from Internet of Things (IoT) to social media channels. It must analyse the streams automatically – overseen by humans where appropriate – and be connected to city resources such as emergency services and safety and security personnel.
"Five layers of technology culminate in smart cities," he elaborates. "Sensing and video authentication use radio frequency identification (RFID) and wireless sensor networks across land, sea, air and outer space to provide data concerning all aspects of urban life for advanced authentication. The central platform effectively visualises data, accumulated and used in many scenarios, such as for early detection of earthquakes or bad weather, for example, to enable preparedness throughout the city. Or it can be used to monitor freeways over optical cable sensors and for advanced biometric recognition in which video data is also used. Data acquired through sensing is continuously authenticated by location and condition validity checks."
It is important that data can be analysed and information reported in real-time when anomalies are detected. Any relevant data, such as video, is relayed along with the anomaly notification where it is needed, in such a way that police will receive security-related data, fire services fire-related data and so on. "This helps prevent crime, prepare first responders for emergency situations so they bring the right equipment, and prevent accidents, among other benefits," Le Roux says.
"What is more, air conditioning can be monitored and precisely controlled, dustbins can be monitored and removal crews despatched only when necessary, water pipes and taps can be monitored and plumbers alerted when there are leaks, lights can be automatically switched on and off, and bulbs replaced by crews when necessary. Added to this, the cloud can provide backup solutions and widespread geographical and system integration."
When it comes to the actual communication layers required for such an endeavour, the latest and fastest technologies might be desirable, but reliability is arguably even more important. "Communication layer infrastructures need to be in tune with throughput demands," says Le Roux. "Existing CCTV can be used, in many cases, for automated, reliable facial recognition by simply adding an intelligent software layer to the central platform, as long as the cameras achieve a certain minimum resolution.
"The same principle is true of all systems, and the networks that connect them all only need to have the throughput capacity to transmit the amount of data they're being asked to convey. Wi-Fi is a useful endpoint communications technology for all the services, but the more services you layer onto the network and the more IoT devices you connect and the more personnel and their personal devices that are connected, the more bandwidth the backbone will need."
Examples of smart cities that tend to grab headlines are those with broad CCTV rollouts, but there are many other elements that distinguish a smart city from a 'dumb' one. Due to the scale and complexity, there is truly no one-size-fits-all bundle of must-have services, but some of the many components that fall under the smart city umbrella include the likes of fire-fighting command and control systems, smoke detectors, biometrics for public safety access control, video monitoring, citizen IDs, medical services e-records and local healthcare facilities.
They also extend into lifestyles services such as e-learning, hotel bookings, point of sale and e-money, and include infrastructural services such as power storage systems, waste water purification plant information,
management and operation, location and availability of rapid charging electric vehicle stations, traffic congestion information systems and telematics. Furthermore, they drill into check-ins at airports, flight information displays, weather predictions, and train monitoring and e-ticketing systems.
A smart city rollout relies on input and expertise across the public and private sectors, but to ensure a consistent vision, Le Roux believes it is important that the city mayor drives the initiative with the view of using technology to make cities safer. "We see this process as a public-private partnership that aims to achieve the goals which the mayor wishes to achieve. It becomes clearer how to resource the project once the mandate is in place," he states.
To summarise how a city like Johannesburg, Cape Town and others that have aspirations to get on the smart bandwagon should approach such a project, Le Roux advises: "The network is the base step because it links all locations and ultimately services. That's coupled to the intelligent platform at the centre, to which all systems will connect. Thereafter you roll out services as required, and as budgets allow, based on the city's most pressing concerns. These are usually focused around safety and security services, monitoring and managing crime, response resources and associated activities and infrastructure. Thereafter additional emergency services are usually added and the full range is rounded out with citizen services and finally additional lifestyle services that improve the standard of living even further."
Credit(s)
Further reading:
The same security assessment for different reasons
Issue 7 2020, Alwinco , Editor's Choice
Like everything else in life, a security risk assessment also has two sides: one is the proactive approach, and the other is the approach taken 'after the fact'.
Read more...
---
A contact-free hotel experience
Issue 7 2020, Technews Publishing , Access Control & Identity Management
Check-in and go straight to your room without stopping at the reception desk at Hotel Sky in Sandton and Cape Town.
Read more...
---
Risk intelligence the key to a sustainable future
Issue 7 2020 , Editor's Choice
Only by building risk intelligent organisations will leaders be able to overcome six distinct global threats identified by the Institute of Risk Management South Africa (IRMSA).
Read more...
---
Profile D for access control peripherals
Issue 7 2020 , Editor's Choice
Profile D provides interoperability for devices such as locks, credential/biometric readers, PIN pads, LPR cameras, door phones, sensors and displays.
Read more...
---
Security investments and culture
Issue 7 2020 , Editor's Choice
Organisations must embed security into the culture of the company and approach security investments with this culture in mind.
Read more...
---
Elastic storage pricing
Issue 7 2020 , Editor's Choice
With elastic pricing, users can switch from one storage model to another without having to pay a premium or a penalty, and without having to physically move any data.
Read more...
---
Use technology as a differentiator
Issue 7 2020 , Editor's Choice
Juni Yan, director of Transport, Logistics and Automotive at BT, shares her insights on how logistics companies can leverage digital transformation to become a real market differentiator – no matter the state of the pandemic.
Read more...
---
Management of PPE allocation made simple
Issue 7 2020, Powell Tronics, Technews Publishing , Editor's Choice
Of all the roadblocks and challenges COVID-19 has introduced us to over the past few months, one of the tasks organisations have to manage is the issuing of PPE to staff.
Read more...
---
No downtime for transport security
Issue 7 2020, Secure Logistics, Technews Publishing , Logistics (Industry)
After a brief downturn in crime due to the COVID-19 lockdown, the transport sector is once again at the centre of a crime spree.
Read more...
---
Warehouse security and the pandemic
Issue 7 2020, Technews Publishing , Logistics (Industry)
The warehousing industry is under intense attack from organised, armed criminal syndicates following the lockdown.
Read more...
---