printer friendly version
Trends in intruder detection
October 2017 Editor's Choice, Access Control & Identity Management, Perimeter Security, Alarms & Intruder Detection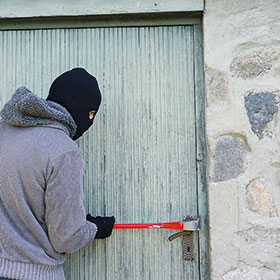 Passive infrared (PIR) sensors seem to have been around for almost as long as electronic alarm systems*, and they continue to form the basis of most interior intruder detection systems. The technologies that have built up around them, though, continue to push the boundaries in terms of intelligence and integration with other systems such as access control. Hi-Tech Security Solutions spoke to Elvey's Ingo Mutinelli and Secutel Technologies' Danny Pringle to learn about the trends shaping the market.
(*In fact the first PIR sensors were commercialised in the 1970s, whereas the American Edwin Holmes is credited with inventing the first electromagnetic alarm as far back as 1853. Having created a successful market in the burglary-ridden city of New York, he also went on to develop a networking system to monitor the alarms from a central station. His son later developed a way to network the alarms using pre-existing telephone cabling, rather than laying new cables.)
Essential features
According to Mutinelli, top of the list of must-have features today is an application for the end user to drive certain features such as arming, disarming, bypassing and driving certain home automation features through Z-Wave devices, as well as allowing for video verification and push notification on events. "The end user is demanding this as a standard feature as push notifications and home control become easier," he says. "Security managers also look to these capabilities from a site management and safety perspective as it is always better to have a view of what's happening on a site before you actually get there. Previously this info was not available to the security manager or end user."
Pringle believes that visual verification is already an essential feature in many applications, and is becoming more so in almost every security application that relies on intruder detection. In fact, he has built Secutel Technologies around this principle, having worked closely with security control room managers and operators to recognise the fact that visuals provide an invaluable way to augment an operator's insight into what's happening at a client's site and to mitigate against false alarms.
"In this context, having visuals goes a long way toward seeing that there are actually people on the premises, or other visual evidence of an intrusion (sparks coming from a grinder, for example, or a foot or another part of a human body in the scene)," says Pringle. "This effectively makes it easier for a control room operator to make informed decisions in a timely manner."
Secutel designs and builds its hardware and software in South Africa to meet local conditions, in order to deal with issues like unstable power supply. Another issue that is important to address is the data bandwidth constraints often experienced in remote rural locations. For this reason, the company's technology is not designed to provide continuous streams of high-definition video, but rather to take snapshots upon an event being triggered. These snapshots are then compressed to just a few tens of kilobytes before being sent via GSM, making the systems viable even when only a basic GPRS connection is available.
The company has enjoyed success with various types of business where valuables are stored on site, and in particular with several leading financial institutions where they monitor safe rooms as well as remote ATM machines. "A primary benefit of our system is that it is managed, so the client can configure everything remotely, and each camera is continuously monitored for any communications dropout. The cameras are equipped with a flash to ensure that good quality colour photos can be captured, even at night."
Another way Secutel focuses on the needs of its target market is by employing a rental business model, rather than selling systems outright. "This benefits our clients from a capex point of view, and also because the hardware is offered on a swap-out warranty basis, so when a unit fails we automatically send a replacement one and swap it on site, rather than having to bring it back for repairs before it goes into operation again."
Summarising the importance he places on visual verification, Pringle says: "Although the 'horses for courses' argument cannot be dismissed, I believe the days of normal alarm systems that only employ PIR sensors and an alarm are numbered. Visual verification provides such a decisive advantage that it's making less and less sense not to incorporate it."
Integration is vital
With extra capabilities often comes added complexity, and Mutinelli insists that seamless and easy is how it should be when it comes to integration. "Adding bits and pieces from different manufacturers often creates many small issues which compromise security and takes the ease out of what should, in the end, be easier to work with and manage," he states.
Mutinelli highlights DSC, UTC and Risco as three leading manufacturers of alarm security products that offer in-house integrated solutions that can be driven through an app and managed from a control room. "This means it is an end-to-end solution that gives the service provider and the end user much more power to deliver on their offering, services and requirements," he says.
Tighter integration between intruder detection and access control is continuing to evolve as a key requirement, and in this regard Mutinelli singles out DSC's and Risco's offerings of integrated access control on the keypad using proximity cards and tags. "This is a built-in feature and offers higher security levels in that turning the alarm off and accessing a door needs to happen on the same platform," he elaborates. "It works well and is seamless for basic access control applications. A dedicated access control system should still be used for a total solution and in these cases many alarm manufacturers and access control manufacturers have integrated each other's products to offer a more integrated solution along product disciplines – Impro and DSC integration is an example thereof."
Pringle concurs that integration with access control is of growing importance, and Secutel has been working with the likes of Salto on this front. "Being able to add visual verification adds a layer of intelligence in a situation where there is a potential breach of access control. We believe strongly that those two security disciplines are converging. A core principle of Secutel's approach is to take an already existing system and apply it for intrusion detection purposes, rather than expect clients to rip out and replace their existing infrastructure."
An example of how Secutel exploits existing infrastructure is a technology it has developed which uses already installed IP cameras to take snapshots, for example at night, in the case of an intrusion. The company also has a bridge device which can transparently integrate analogue cameras and upload the data captured by them to the same cloud server as other cameras on the network. Its cloud service is then able to distribute event data to business intelligence systems, for example, while specialised middleware integrates with the software on the control room side.
For more information contact:
• Ingo Mutinelli, Elvey, +27 (0)11 401 6700, ingo.mutinelli@elvey.co.za, www.elvey.co.za
• Danny Pringle, Secutel Technologies, +27 (0)10 015 1401, danny@secutel.co.za, www.secutel.co.za
Credit(s)
Further reading:
Axis gives a brighter future to children
Issue 1 2020, Axis Communications SA , Editor's Choice
Fully networked camera solution provides visibility and accountability, letting orphanage focus on what's important – its children.
Read more...
---
SFP Security & Fire becomes ISF SFP
Issue 1 2020, ISF SFP , Editor's Choice
SFP Security & Fire was sold to ISF in 2019, becoming ISF SFP and attaining Level-1 BEE status.
Read more...
---
Janu-worry or Twenty-Plenty?
Issue 1 2020 , Editor's Choice
If the available security spend right now is somewhere between limited and non-existent, here are just a few suggestions.
Read more...
---
CCTV surveillance needs are critical in defining types of camera deployment
Issue 1 2020, Leaderware , Editor's Choice
Cameras by themselves do not reduce crime; they need to be implemented as part of a considered strategy of crime prevention and detection.
Read more...
---
Trends 2020
Issue 1 2020, Technews Publishing , Editor's Choice
Hi-Tech Security Solutions asked a few people from diverse companies to join us in a round-table discussion about what they expect to see happening in their environments in the coming year.
Read more...
---
Seven key trends for 2020
Issue 1 2020, Hikvision South Africa , Editor's Choice
Hikvision looks at a few trends that will affect the security industry in 2020 and beyond.
Read more...
---
Hundreds of millions to reskill
Issue 1 2020 , Editor's Choice
By 2022 alone, 75 million jobs will probably be displaced across 20 major economies, while 133 million new ones will spring up in industries that are only just gaining traction.
Read more...
---
Slow and steady wins the access race
Issue 1 2020, ZKTeco, Technews Publishing , Editor's Choice, Commercial (Industry)
The commercial sector is slow in migrating to new access control technologies, with the majority of companies remaining with card and fingerprint solutions.
Read more...
---
Client property access integrity
Issue 1 2020 , Editor's Choice
Blind or unquestioned trust is something that we all seem to willingly and unconditionally give our security service providers and their reaction officers.
Read more...
---
Integrated security solution
Access & Identity Management Handbook 2020, Elvey Security Technologies , Access Control & Identity Management
The ability of access control solutions to seamlessly work with surveillance and building management systems is so important it cannot be overemphasised.
Read more...
---