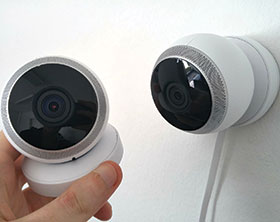 Changing the SMB VMS landscape
October 2017, CCTV, Surveillance & Remote Monitoring, Integrated Solutions
Video surveillance innovations have changed the landscape for enterprise security with the ability to provide high-quality video for real-time monitoring, forensic investigations, risk mitigation and compliance, and business operations across the enterprise.

Jonathan Farmer, sr. product manager, marketing, Pelco by Schneider Electric.
The ability to effectively manage all of the surveillance feeds and data from internal and external sources that affect your security and business operations can be a daunting task. When evaluating video management systems (VMS), it's easy to become sidetracked by advanced features, functions and capabilities. It is most important to align your specific system requirements with the VMS solution you are considering to ensure you get the performance and capabilities you need to control your system with complete confidence and at a price point that fits your budget.
Scalability and usability
With a VMS solution, you can dramatically improve centralised management and control of your surveillance and security solutions on a highly flexible and infinitely scalable platform. This provides you and your team with greater situational awareness so you can make more timely decisions and execute decisive actions.
VMS solutions can combine all of your surveillance cameras onto one control and management platform, running on the same servers, and through a centrally-managed location. This will allow you to manage your resources most efficiently. VMS solutions can also distribute camera feeds to any given point on the network and will allow or restrict operators to view individual feeds.
Thanks to new highly scalable solutions from VMS manufacturers, like VideoXpert Professional from Pelco, small and medium businesses (SMBs) can get enterprise-level features and functionality from a mid-range VMS – at a manageable cost. The fact is that most SMBs deploy 100 or fewer cameras, yet the vast majority of high performance VMS solutions are designed to accommodate far more cameras. New VMS solutions designed for deployments of 50-100 cameras combine the best of all worlds with best-in-class feature sets and the ability to scale to larger camera capacities if and when required at cost-effective price points.
User interfaces have also improved, minimising the time needed for training personnel on the use of the system. And the time and cost to install VMS solutions cannot be overlooked, as this can add considerable expense while draining staff resources to perform their primary responsibilities.
Coverage
What video are you looking to manage and how will it be used? This is important, as different systems exist for different purposes. Potential video coverage areas range from internal doors and outdoor views of entrances to parking lots and even entire campus areas. Coverage areas are also greatly influenced by different types of cameras, including multi-sensor cameras which continue to be the hot trend. But not all multi-sensor cameras work with all VMS solutions. The type and number of cameras required to deliver the coverage you want and the amount of recording storage these cameras require will play a role in determining which VMS solution best fits your needs.
Labour costs make up one of the biggest expenses for managing surveillance systems, and that cost depends largely on whether the system will be monitored at all times, some of the time or not at all. Obviously, as the level of real-time monitoring increases, staffing requirements and the associated costs also rise. Systems that can automatically detect and notify personnel of abnormal activities can help contain costs.
Analytics
Analytics are becoming an increasingly important component for surveillance applications. Many VMS solutions employ automation and video analytics capabilities that enables the most effective and cost-efficient means of monitoring. These technologies support a wide variety of events, such as motion detection, object detection, licence plate recognition, facial recognition and much more. Analytics even automates some monitoring functions, allowing operators to cover more camera views effectively and efficiently by calling attention to certain pre-programmed events and initiating recording surveillance video for later review as needed.
Integration
Also contributing to operational efficiencies and reduced staffing costs is the ability to integrate multiple surveillance systems for centralised management and monitoring of the entire security ecosystem. This is especially attractive for SMB applications such as real-estate management where multi-user, multi-tenant facilities, such as a strip mall, require centralised surveillance. Without this capability, operators will need to employ multiple interfaces and/or software solutions to review access control, video, visitor management and other systems.
Many VMS allow easy multi-system integration with IP-based access control, and some even provide easy-to-use support for older systems that rely on serial-to-IP connections and ASCII communication. If these older solutions are part of the entire security system, it is imperative to seek out a manufacturer that offers the ability to integrate older technologies as well as an open architecture that supports ONVIF and manufacturer-specific standards to ensure seamless integration with a greater range of systems.
Storage
Perhaps the main attraction of today's video surveillance systems is the higher resolution, range and wide area coverage that new cameras offer. While this allows you to capture highly-detailed images that contribute to improving overall security, the sheer size of these high-resolution files – coupled with video retention and redundancy needs – require increasing amounts of storage. And that calls for a strong and scalable storage component of a VMS solution.
Advanced VMS solutions will provide superior means of exporting data for general management, review and forensic applications. Additionally, new VMS solutions can reside on resident or remote servers, effectively running in a virtual environment. This provides both operational and installation flexibility, allowing you to tailor your surveillance platform to best meet your specific needs and budgets.
Recent advancements in VMS technology continue to change the video surveillance landscape – especially for SMBs who have continued to drive demand for high performance systems designed for systems with 100 or less cameras. The ability to easily install, control and manage, and scale new VMS solutions without sacrificing functionality or scalability meet SMBs criteria at affordable price points.
For more information contact Yvette Venter, Pelco by Schneider Electric, +27 (0)11 254 6400, yvette.venter@schneider-electric.com