printer friendly version
A platform approach to safer and smarter cities
November 2019
Surveillance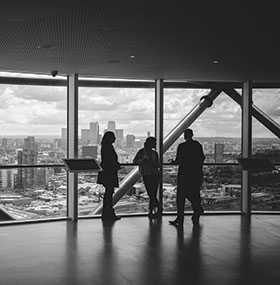 There are numerous products and technologies one can use in a safe/smart city, but the challenge lies in incorporating all these products into a single usable interface central to the management function as a whole.
Hi-Tech Security Solutions asked Malou Toft, vice president of Milestone Systems EMEA, for some insight into what one needs to be able to reliably collect and collate data from various devices, solutions and locations to support the real-time security and safety of your city. In other words, what platform does one require to successfully run a safe/smart city? Or perhaps we should ask: Is there a single platform that can act as a central console for all the data collected, collated and analysed for a safe/smart city in order to deliver efficient management and oversight?
"You would always need a combination of different elements from multiple systems to deliver a holistic solution for an entire city, but the key here is not platform, but platforms, and to have players who can help orchestrate the various platforms connecting several ecosystems," explains Toft. "Today, Milestone's open platform offers you a single point from which to manage and operate the required aspects involved in a larger project which is efficient and easy to use. Milestone is not just a VMS, but the 'glue' at an aggregated level that ties the entire solution together."
Don't forget the future
It's always wise to take the ever-changing nature of technology into account when opting for a platform. Just because the solution you have meets your needs today, doesn't mean it will do so in future. Toft believes the key words to look for when selecting your platform are future-proof, flexible and open.
"Smart cities do not emerge overnight, they might not even transform fully in a decade. For this evolution, cities need support to gradually combine, interconnect and scale in a reliable way. Technology is advancing all the time, 'bigger, faster, more'. You want to ensure that your technology liaisons have the ability and architecture to include all the latest innovations from their respective fields of expertise and you want to avoid a lock-in situation where you lose the flexibility to choose."
To meet these requirements, some may think that focusing on one brand that offers a broad range of solutions that are all integrated into that brand's management platform is the way to go. However, this approach is not risk free as the whole city would then be at the mercy of one vendor.
Toft says that although the concept of one-stop shops has an appeal, it definitely has its downfalls as well. "Most times, in large enterprise solutions that cut across a multitude of competence and functional areas, many customers will come to realise that someone is rarely the best at all things, and ultimately this means the customer will have to live with trade-offs."
She adds that Milestone's core DNA is about openness, "because it truly allows our customers to have the freedom of choice. The reason why choice is important is simply that no matter how much research you or anyone does, you will never be able to predict the future. Additionally, more companies are becoming deeply specialised in offering specific solutions to specific problems, which is why customers need to work with many partners to get the best, freshest solutions out there.
"If you lock yourself into one vendor, you might be closing yourself off to certain types of technology, either existing or future. An open architecture approach like Milestone gives our system integrators the ability to design a solution that fits the customer's needs.
"We are guaranteed to see use cases and solutions in coming years solving problems we have not yet been able to articulate nor picture, and this is another reason for making 'open' a priority."
Not any platform
Unlike smaller projects where almost any platform will be able to manage your video surveillance feeds, for example, the safe/smart city has an almost endless array of systems that collect and transmit data, from simple temperature readings to gigabytes of video data. It is therefore critical for the city to start off with the right platform that is able to handle all the demands placed upon it, both now and in future. And a platform does not only mean the front-end that we see on a screen, it also includes the ever-growing storage and computing requirements needed by modern technology – especially when integrating artificial intelligence into day-to-day operations.
Toft says the key words here are a "well designed architecture and platform orchestration". To keep an entire city safe, you must have systems that are interoperable, integrate and speak to each other. Without these things, she says your safe city effort will be siloed.
"You need real-time information from traffic systems, the Internet of Things (IoT), resource locations, video systems, weather data and other types of data," says Toft. "Insights can be created or collected in every corner of the city and managing the massive and ever-growing pools of data and video feeds is an impossible task for a human. Technology is required."
Therefore, safe cities also have a significant need for storage and processing to compute the data available. However, automation only becomes possible when we let computers analyse historical data, e.g. security footage to gain a baseline understanding of 'normal' behaviour and then trigger an alert when we detect behaviour that deviates from the norm.
Toft offers an example: Video cameras in a train station could capture a pedestrian who suddenly falls onto the tracks. This information can be relayed back to an advanced VMS that alerts the station security team via an audio and visual alert displayed in their control centre screen, enabling them to quickly respond to incidents in the station, without having to constantly monitor camera footage.
In the future, this could expand beyond on-site cameras to include ones worn on the body or footage from smartphones or dash-cams. Linking these video sources into a central system could help uncover crime faster and provide valuable evidence. Indeed, police forces will greatly benefit from mainstream adoption of the IoT because they'll have visuals that they never had previously. Cameras owned by public entities (like train stations) and those owned by private entities and individuals, can be used for facial recognition, crime identification and licence plate tracking. A police station could see a live feed of a store burglary in action before officers even arrive at the shop.
Looking beyond video, IoT (Internet of Things) sensors embedded in public transport, street lighting and even roads and pavements could provide contextual data. Social media scanning could provide early warnings of possible hate crime, gang violence or hooliganism. Several police forces are currently experimenting with live video and facial recognition technology to more effectively manage festivals, football matches, concerts and parades.
"Like anything worthwhile," Toft warns, "building a safe city requires a lot of groundwork. Particularly with data management, governance and safety. Public and private entities must be united under a common infrastructure, able to access a shared data management system that still remains secure-by-design. The type of data collected will in some cases be extremely sensitive and will require stringent governance. It will also have to comply with GDPR or any local data or privacy legislation such as PoPI (The Protection of Personal Information Act).
Managing complexity
It goes without saying that a smart/safe city is a mammoth and complex undertaking, which is why the right platform is key to the success of the project. In conclusion, Toft says Milestone's platform should be considered due to its foundation of openness and partnerships with a variety of companies around the world that develop solutions that plug into the platform.
"Milestone systems offer the platform on which to integrate and manage all of the devices required to set up and maintain an efficient system, utilising best-of-breed solutions in one seamless interface. The efficiency with which Milestone manages video will also lower your total hardware costs, saving you money on your total project."
As an example, Toft refers to some of the products and services available on the Milestone platform, all of which are easily available on the Milestone marketplace:
• Live Earth.
• BriefCam.
• Boring Labs.
• iSentry.
• Azur Drones.
• AnyVision.
• SpotterRF.
• Zepcam.
Credit(s)
Further reading:
Pentagon appointed as Milestone distributor
Elvey Security Technologies News & Events Surveillance
Milestone Systems appointed Pentagon Distribution (an Elvey Group company within the Hudaco Group of Companies) as a distributor. XProtect's open architecture means no lock-in and the ability to customise the connected video solution that will accomplish the job.
Read more...
---
Embracing next-generation surveillance for safer cities
Surveillance Integrated Solutions AI & Data Analytics
With the South African government highlighting the importance of building smart cities by integrating advanced technologies to make them more resilient and liveable, the role of next-generation network video and surveillance technologies cannot be ignored.
Read more...
---
Hik-Connect for Teams released
Hikvision South Africa Products & Solutions Surveillance
Hikvision has released an update for its security management platform; Hik-Connect for Teams not only meets the specific needs of individual users, but also caters to various medium-sized businesses (SMBs) and multi-site management scenarios.
Read more...
---
The human factor side of video management systems
Leaderware Editor's Choice Surveillance Risk Management & Resilience
A video management system (VMS) is central to, and the most vital element to any control room operation using CCTV as part of its service delivery, however, all too often, it is seen as a technical solution rather than an operational solution.
Read more...
---
A simple system for complex protection
Surveillance AI & Data Analytics IoT & Automation
Reconeyez is a company that provides autonomous wireless visual verification systems with built-in artificial intelligence. Running on batteries, each device includes communication capabilities, creating a mesh network between the various devices, linking them to the control room.
Read more...
---
Revolutionise your security with integrated solutions
Secutel Technologies Products & Solutions Surveillance
By merging the capabilities of SecuVue and Secutraq, Secutel has forged a robust system empowering users to fine-tune analytics and harness facial recognition, pose detection, and XFS, among other features.
Read more...
---
Safer roads to a sustainable future
Dahua Technology South Africa Surveillance
With the ever-increasing number of vehicles on the road, it is imperative to constantly improve the quality of transportation monitoring and traffic management in urban and rural areas.
Read more...
---
From damage management to false alarm prevention
Dallmeier Electronic Southern Africa Transport (Industry) Surveillance Logistics (Industry)
Video surveillance is undergoing an exciting evolution; today's IP-based solutions can be fully integrated into digital systems. With the increasing integration of artificial intelligence (AI); logistics, in particular, can make processes more transparent and exploit previously untapped potential.
Read more...
---
Marshall Security partners with Blacklight to introduce Reconeyez to KZN
News & Events Surveillance Power Management
Marshal Security has joined forces with Blacklight Group to launch Reconeyez, a cutting-edge battery-powered surveillance platform with mesh network capability, in the KwaZulu-Natal market.
Read more...
---
Professional mobile video management in your pocket
Dallmeier Electronic Southern Africa Surveillance
With the SeMSy Mobile Client for its Domera and Panomera cameras, Dallmeier is now launching a solution that combines the functional and security requirements of professional organisations with the user-friendliness and simplicity of consumer apps.
Read more...
---