printer friendly version
The kids are alright
August 2017 Editor's Choice, Access Control & Identity Management, Perimeter Security, Alarms & Intruder Detection, Asset Management, EAS, RFID, Integrated Solutions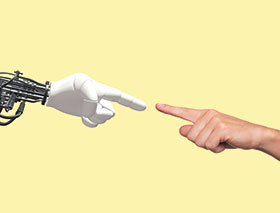 While there is no getting around the fact that South Africa's manufacturing sector faces myriad modern obstacles and challenges, it can be considered a mark of pride that the security sector consistently bucks the trend.
To underline this fact, Hi-Tech Security Solutions asked four leading local manufacturers to tell us about some of the things that are right about manufacturing in SA, rather than what is wrong. They were Inhep Digital Security (IDS), represented by managing director Bryan Watson, head of business development Rex Pennefather, and operations executive Alex Banach; iPulse Systems, represented by CEO Gary Chalmers; Nemtek, represented by managing director Ray Wilsenach; and Turnstar, represented by director Craig Sacks.
Local leverage
To start with, we asked what advantages our interviewees were able to leverage when manufacturing in SA compared to overseas competitors, and what keeps them in SA as opposed to moving to another country or outsourcing to cheaper locations.
Key to IDS's decision to operate from South Africa has been the importance of learning, developing, designing and manufacturing its products in the environment they will be utilised. Examples that most impact its product offerings include a poor power grid, high lightning strike rates, education levels of installation teams and "a host of uniquely African additions like hadedas (those famously noisy birds of the Ibis family) and monkey challenges for outdoor applications, geckos and ants for indoors, as well as load shedding and many others. Through running a Rand based operation we are also able to ensure we offer much needed pricing stability and confidence that our customers are getting a full value solution direct from the manufacturing source."
Chalmers acknowledges the inevitable Chinese threat while also highlighting some important mitigating factors. "The first, and key issue is that China is geared for massive manufacturing runs, and South Africa simply does not see the benefit – our currency, the distance and the volumes we tend to produce make it uneconomical to manufacture in China," he says. "Secondly, there is a huge advantage in having control over your product manufacture. Manufacturing locally means that you can control your quality, protect your intellectual property and maintain control over the processes used to build your products. You can also control your own component supply, ensuring that the components come from reputable suppliers.
"Thirdly, you can manufacture in smaller quantities, allowing you the benefit of just-in-time manufacturing if you keep components in stock. And finally, the savings on shipping your goods often equate to more than the savings on manufacture in China, actually making it cheaper to manufacture your product locally on a Rand for Rand basis."
Focusing on the benefits that local manufacturing provides the local market, Wilsenach emphasises the creation of local employment and effective quality assurance: "Manufacturing locally, the designer can ensure that the material specified complies, the cycle time is consistent (where applicable), and deviations from specifications are captured timeously.
"Nemtek was started in South Africa, and the initial market was South Africa. All manufacturing equipment as well as intellect is all still in South Africa. To move would be a gamble that may or may not be worthwhile. And if the company was to move, the costs would be horrendous, to say the least."
Sacks says Turnstar is totally committed to South Africa and to manufacturing in the country. "SA has a number of advantages which include a solid industrial base, and we have a number of highly skilled craftsmen and metal workers who manufacture our products. In our experience, outsourcing even to low cost countries such as China is not a solution as we are no longer in charge of the quality and product lead time. Our strategy has been to vertically integrate key skills and capabilities into our own in-house production. South Africa is well positioned to trade with the world, especially in terms of time zones and especially when it comes to our country's reputation with regard to security products.
"In terms of our own production facility, Turnstar has invested heavily. The investment over the last three years includes moving to a new 8700 m2 production facility which includes all manufacturing and storage as well as offices and showroom space," says Sacks.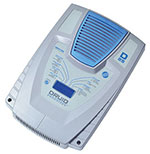 Quality is key
It is often difficult (and usually subjective) to put a price on quality, but in security products in particular the price is usually outweighed by the potential cost of using poor quality products. Building quality into its electronics is integral to every part of IDS's manufacturing process: "This starts in the design stage where the functionality and quality enhancing features are designed into the electronics hardware. The extreme African conditions of high heat and moisture, as well as the cold temperatures of some of our European target markets, are front of mind when specifying component tolerances and hence all components selected are robust to environmental fluctuation."
IDS has boosted its placement precision and speed over the last year by utilising a brand new, high-speed Panasonic SMT pick-and-place machine. This fully automated machine uses a full suite of internal verification processes to ensure the correct part is placed with the correct orientation and precision on the printed circuit board (PCB) at up to 40 000 components per hour.
Furthermore, after the additional soldering process every completed PCB is tested on a computer controlled test jig. The jig performs physical checks on critical circuitry and parameters necessary for the PCB to function in the field, and once this is complete it loads the latest firmware and confirms product functionality. The test jig is also the gatekeeper for issuing the product a serial number which verifies compliance with all test parameters. This ensures a functioning, high-quality product leaves the factory every time. IDS monitors warranty returns on its products, which are less than 1% and getting even lower as its processes are incrementally improving.
Continuing with its theme of keeping as much work in the country as possible, iPulse designs all of its own products in South Africa, either internally or in partnership with local engineering firms "who do just as good a job as anyone in the world," according to Chalmers. "We specify quality components from known suppliers, and source and design the PCBs from local companies where possible. The flexibility that this gives us is a major competitive edge over our competitors.
"We are able to make changes to our products, test them and have them in manufacture in a fraction of the time it takes to do all of this remotely. From a support point of view, being in control down to component level allows us a massive edge over the support of our products as we can easily identify faults in design, failing components or anything else that might occur, and allows us to rectify these in a fraction of the time it takes our competitors to do the same thing," he boasts.
At Nemtek, there is a philosophy of quality assurance over and above normal quality control, according to Wilsenach. "In other words from the outset, checks are put into place, with the emphasis of attempting to ensure that quality is instilled in the entire Nemtek team from the planning stage of production, through the entire production process inclusive of packaging," he states. "QC does not stop at that point, as even up to the point of pulling of stock, spot checks are consistently done. At Nemtek, quality is everyone's concern."
The company's factory is ISO accredited, and all aspects of its business are conducted according to established ISO principles.
Internationally recognised quality management systems provide an unequivocal assurance of quality, and to this effect Turnstar's internal system was audited in August 2016 by international certification company, SGS. "The audit covered the new ISO 9001:2015 guidelines and Turnstar passed with flying colours," explains Sacks.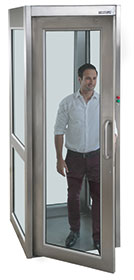 Borders are meant to be crossed. . .
Although South Africa's security market is big enough to support a thriving local manufacturing sector, there is never any harm in looking beyond the country's borders to find avenues for growth. The African continent is generally the most attractive area for expansion thanks to factors such as geographical proximity and common time zones, but the ever more accessible global market creates opportunities elsewhere too.
"The African market is a very attractive proposition for us and we will continue to focus and develop these markets in the short and medium term," according to IDS. "While we are well penetrated in the sub-Saharan region as well as East and West Africa, we have lots of untapped opportunity in the North African countries that have historically turned to southern Europe for their products. With continued urbanisation and rapid development of local infrastructure in Africa we are seeing more and more demand for electronic security as opposed to guards.
"Africa represents a base that simply cannot be ignored and with over 20 years' experience in these markets it is an area we are best equipped to target. That said, if we consider Africa as an emerging market and work on the assumption that these markets have inherently similar challenges and characteristics, then the obvious next focus area would be on the other developing markets that exists in Central and South America and Asia. We have already had significant success in South East Asia so will continue our developments in South America going forwards."
Similarly, iPulse is at a stage of its development where the end of the rainbow extends far beyond the African continent. "Traditionally, Africa has been a great market for security products, but the Middle East and North America are now really outstripping Africa in growth, and for us, almost all of our growth is coming from these markets," Chalmers elaborates. "At this point in time, we are maintaining our manufacturing operations in South Africa, and exporting to the rest of the world. We believe that this gives us a competitive edge as the pricing is very good."
Nemtek exports throughout Africa, and the entire world has become rather small due to advancements in technology and transportation, according to Wilsenach. "Generally Africans deal with Africans, and even many of the Northern Africa companies that are closer to Europe tend to prefer to deal with South Africans. Possibly this is a case of common characteristics amongst African cultures as opposed to European cultures. We still have a lot to do locally in South Africa, and the rest of Africa is really our backyard, therefore there is still a lot of potential before tackling the rest of the world market," he says.
Also keen to leverage its reputation throughout African regions, Turnstar sees the African market as a key opportunity: "Nigeria and Kenya are also two exciting markets and Turnstar recently supplied turnstiles, spike barriers and automatic hydraulic bollards to the prestigious Wing office park in Lagos," explains Sacks. "Supplying thirteen automatic man-trap security booths to the Bank of Zambia was also an exciting achievement."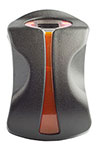 . . .but they work both ways
As international companies continue to make moves to capitalise on the potential of Africa, it becomes ever more challenging for local manufacturers to stay competitive with both cheap imported alternatives and more expensive brands.
Africa is a complex place to do business and while there is a constant barrage of new and exciting offerings, IDS says its customers place huge value on local support, longevity, robustness, reliability, access and a proven track record. "Cost has historically not been the driving force in the security market, with value and support being more closely aligned with decision-making process. That said, price is definitely a factor and with the current economic challenges faced we have a distinct advantage through our localised development and manufacture, and are able to offer stability and surety in a volatile environment," the company says.
iPulse's Gary Chalmers does not beat around the bush when it comes to cost competiveness, making the statement that "no South African company can compete against cheap imports on a price level, however we position ourselves as a quality player in the upper segments of the market, where we are easily able to compete against the quality international brands on both price and quality."
Keen to point out that 'cost-effective' does not equate to 'cheap', Wilsenach says: "Nemtek does not supply anything 'cheap'. We are competitive with entry level products, but do not compromise in any way, shape or form. Alternative 'expensive' products generally have all the proverbial bells and whistles – most of which are never used and therefore customers buying the product are really not getting any value for their money. Nemtek's range competes favourably with effective, useful features and benefits against any 'expensive' imported product."
In a constantly changing world, standing still is tantamount to going backwards, and so Turnstar continuously invests in its own production facilities and capabilities, says Sacks. "Bringing important competencies in-house means that we can pass on a cost saving to our customers and we can also control quality to our satisfaction. The company also has a fully-fledged R&D team which uses the latest software for developing new products and fast tracking new designs."
IDS
Inhep Digital Security (IDS) is a South African manufacturer and distributor of intrusion and access control products. Over the past 10 years its product range has evolved from entry-level 8-zone alarms to enterprise level intrusion solutions and security-led smart home offerings. IDS's recent acquisition by ASSA ABLOY is anticipated to open new opportunities in terms of product design, manufacturing and distribution.
iPulse Systems
iPulse Systems designs and manufactures fingerprint biometric readers, and the associated software solutions and platforms that are required to use and integrate them into other systems and existing infrastructure. The company has a full range of biometric products, including a processing board wholly designed and manufactured in South Africa to be as powerful as the Beaglebone Black single-board computer on a single printed circuit board the size of a RAM chip.
Nemtek
Supplying cost effective yet reliable electric fencing products, Nemtek addresses many types of fencing needs ranging from domestic, retail and commercial, to airports, power stations, defence facilities and utilities. Its energiser products are manufactured in accordance to international regulations and carry a two-year warranty.
Turnstar
Turnstar manufactures a full range of turnstiles, speedgates, revolving doors, security booths, automatic vehicle barriers, spike barriers, road blockers, wedge barriers and bollards. Products are exported worldwide, throughout Africa, the Middle East, Europe, Australasia, North and South America and even into China.
The company employs over 120 people and has its manufacturing facility in Johannesburg, with branches in Cape Town and Durban.
For more information contact Rex Pennefather, IDS, +27 (0)31 705 1373, [email protected], www.idsprotect.com
Gary Chalmers, iPulse Systems, 0860 478 573, [email protected], www.ipulse.co.za
Ray Wilsenach, Nemtek, +27 (0)11 462 8283, [email protected], www.nemtek.co.za
Craig Sacks, Turnstar, +27 (0)11 786 1633, [email protected], www.turnstar.co.za
Credit(s)
Further reading:
Cyber resilience is more than cybersecurity
Technews Publishing Cyber Security Integrated Solutions IT infrastructure
Hi-Tech Security Solutions held a round-table discussion focusing on cyber resilience and found that while the resilience discipline includes cybersecurity, it also goes much further.
Read more...
---
Revamping Liberty Life's reception area
Turnstar Systems Access Control & Identity Management Commercial (Industry)
Turnstar supplied and installed four Speedgate Express lanes, each 550 mm wide, as well as two Pulse Special Needs Gates for wheelchair access to Liberty Life.
Read more...
---
Hybrid licence plate recognition
ZKTeco Products Access Control & Identity Management Transport (Industry) Logistics (Industry)
The ZKTeco LPRS2000 is a hybrid-recognition vehicle management terminal that combines the latest high-performance UHF reader.
Read more...
---
A key to urban transport challenges
Axis Communications SA Transport (Industry) CCTV, Surveillance & Remote Monitoring Integrated Solutions Logistics (Industry)
There are many enabling technologies that can impact transportation in South Africa, but a good place to start is by considering the applications for smart physical technology with the ability to collect and respond to data.
Read more...
---
Hikvision aims for solutions
Technews Publishing Hikvision South Africa Editor's Choice CCTV, Surveillance & Remote Monitoring News Integrated Solutions Conferences & Events
Hikvision recently held a roadshow titled Industry X, where the company highlighted its latest products and solutions, supported by partners and distributors.
Read more...
---
Olarm launches PRO 4G communicator
Olarm News Perimeter Security, Alarms & Intruder Detection Products
Olarm has announced an additional 4G/LTE version of its Olarm PRO smart communicator. It is aimed at areas suffering from poor connectivity by providing support for 4G, 2G and Wi-Fi networks.
Read more...
---
Suprema joins FiRa Consortium
Suprema News Access Control & Identity Management
Suprema recently became a member of the FiRa Consortium, a consultative body that establishes standards for ultra-wideband (UWB) technology, the next generation of wireless communication.
Read more...
---
Reliable, low-maintenance video appliances
Technews Publishing Editor's Choice CCTV, Surveillance & Remote Monitoring News IT infrastructure Products
Symetrix, part of the Agera Group, has added the AES range of video recording servers, storage appliances and workstations to its portfolio.
Read more...
---
Technology and the future of security installation in South Africa
Editor's Choice Integrated Solutions Security Services & Risk Management
What are the technologies and trends shaping installation, service and maintenance teams globally, and how will they shape South African businesses today and in the future?
Read more...
---
Upgraded security and AI monitoring at upmarket estate
Watcher Surveillance Solutions Editor's Choice CCTV, Surveillance & Remote Monitoring Integrated Solutions Residential Estate (Industry)
Estate upgrades and enhances its security through a partnership between surveillance specialist Watcher and the incumbent guarding company.
Read more...
---