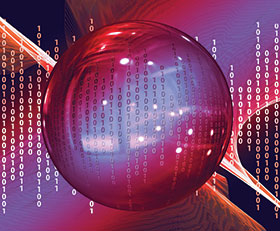 New Profiles from ONVIF
July 2017, CCTV, Surveillance & Remote Monitoring
ONVIF is in the process of releasing two new standards and Hi-Tech Security Solutions took the opportunity to catch up on what is happening in the standards world. We spoke to Jonathan Lewit, chair of the ONVIF Communications Committee and director of technology leadership for Pelco by Schneider Electric.
Jonathan Lewit.
Hi-Tech Security Solutions: We often see products that claim to be 'ONVIF compliant' Would a product not be compliant with a Profile instead of simply ONVIF compliant?
Lewit: This is an excellent observation. ONVIF does not issue compliance certificates based on a broad application of the technical specifications. ONVIF only recognises compliance of a product to an ONVIF Profile, such as Profile S.
Products cannot be compliant to the overall ONVIF technical specifications. Rather, they are compliant with specified sets of functionalities defined by an individual Profile. This ensures that everyone has the same expectations of functionality when connecting ONVIF Profile S-compliant products, for example. This mutual expectation is what drives confidence in the solution.
Hi-Tech Security Solutions: Please explain exactly what a Profile is and how companies can be compliant or conform to a profile? If a product complies with a Profile, for example Profile S for IP video, what does that mean?
Lewit: This confusion relates to the earlier question regarding claims of ONVIF conformance. This misaligned expectation of what compliant products 'were supposed to do' is a lesson ONVIF learned rather early in its tenure, and it is exactly why the Profile concept was introduced. An ONVIF Profile is introduced to set a common expectation among a set of related functionalities. Profile S was the first profile, launched in 2011, and defines the agreed upon set of IP video streaming functionality that should be available on products claiming conformance, such as video and audio streaming, PTZ control and video configuration. There are currently five profiles: S, C, G, Q and A. These profiles represent IP-based video systems, IP-based access control, storage and retrieval, quick install/commissioning, and credential management respectively.
Another benefit of this functionality standardisation is that we can automate the validation of these capabilities with software tools, simplifying and fool-proofing the product testing and certification process. All compliant products have their test report posted along with their certificate of conformance on ONVIF.org. Your readers can also find detailed information on the functionality on ONVIF.org, including a matrix that lists the Profiles and their differences.
Information is available at http://onvif.org/, and the matrix is at https://www.onvif.org/wpcontent/uploads/2017/02/ONVIF_Profile_Feature_overview_v1-1.pdf.
Hi-Tech Security Solutions: Why release new Profiles instead of updating the existing C or S Profiles?
Lewit: The ONVIF technical specifications have versions. The profiles are discrete declarations of functionality. If we were to add or modify these declarations, it would add the additional question of version – Core Specification Version 2.0 or Device Test Tool v17.06 – to discussions regarding connecting systems and devices. We would risk unleashing a fog on the expectations of functionality we have worked so hard to clarify with the Profile concept.
Instead, we introduce new Profiles so that we can clearly assert what functionality is expected, based on the Profile to ensure, for example, that system integrators, end users and manufacturers know that a Profile S video camera will work with a Profile S VMS, regardless of the issue of a newer video profile.
Hi-Tech Security Solutions: Are there plans to develop a profile for security?
Lewit: Cybersecurity is a hot topic right now and it is one we are following very closely. ONVIF has created a permanent Security Working Group to keep abreast of cybersecurity discussions throughout the industry. We have also created a Use Case Working Group that is tasked with understanding end user needs across a variety of scenarios, including cybersecurity. At present, ONVIF is facilitating discussion between manufacturers and encouraging correct and mature cybersecurity technologies and practices.
Hi-Tech Security Solutions: Profile A is the latest release from ONVIF. Can you tell us how that extends and improves upon Profile C, which is also for access control?
Lewit: Profile A for broader access control configuration establishes a standardised interface for access control clients and also expands the configuration options of ONVIF conformant access control systems beyond that of Profile C. ONVIF Profile A encompasses daily access control functions for granting and revoking employee credentials, creating and updating schedules and making changes to access control privileges within the system.
Profile A expands on the basic interoperability created by ONVIF Profile C, which enabled interoperability between an access control system Profile C device and a Profile C access control system client or VMS. Profile A adds in features that would be used by a security officer or human resource professional for these daily functions. Using Profile A, these functions can also be made at the client level, a big time saver for system integrators.
Ultimately, Profile A provides more robust options for the mixing and matching of access control devices and clients within a system by establishing interoperability between different manufacturers' products. The integration pathway provided by Profile A future-proofs the access control system, as it allows another manufacturer's access control management software to be installed in the future, eliminating the need for a hardware 'rip and replace' scenario.
Hi-Tech Security Solutions: Similarly, what does the new Profile T include?
Lewit: The publication of the Release Candidate of Profile T is scheduled for July, and what is most notable about this new video Profile is its advanced streaming capabilities, which include support for H.265 video compression. It also includes an expanded feature set that broadens the scope of ONVIF video profiles for systems integrators and end users.
H.265 can in some cases double the data compression ratio of H.264, its predecessor, while retaining the same quality. For the end user and systems integrator, using products that employ H.265 compression will reduce costs through bandwidth reduction. The increased compression rate translates into decreased storage requirements on hard drives, less bandwidth usage and fewer switches – all of which reduce overall costs of system ownership. H.265 also delivers a lower bitrate than H.264, which is relevant to end users and integrators because the lower bitrate reduces strain on hardware and can reduce playback issues.
ONVIF is including support for H.265 in Profile T because it will become the most widely used compression format and ONVIF wants to anticipate that migration, as well as the future needs of the industry. Some companies are already using H.265 in their cameras and video management systems. Manufacturers are certainly preparing for its broader adoption.
In addition to support for multiple video compression types, Profile T also establishes conformance regarding motion detection, metadata streaming, analytics and other important features that ultimately offer an expanded, standardised feature set to system integrators and end users, in addition to interoperability between manufacturers' solutions. The new profile also encompasses Transport Layer Security (TLS)-enabled communications and new functionalities such as bidirectional audio streaming, standardisation of events, imaging configuration, on screen display configuration and more.
To find out more about ONVIF Profiles, go to: www.onvif.org/profiles/