Much ado about security
July 2017, This Week's Editor's Pick, Conferences & Events
Securex recently shut the doors on its 2017 exhibition after three days of frenzied activity. According to comments from the many exhibitors, these were three days of quality visitors who kept everyone, including the brave souls at the Hi-Tech Security Solutions' stand, on their toes.
As always, there were far too many exhibitors to mention in a single article and so we have picked a few of the companies we met over the three days to highlight a selection of the companies, technologies and solutions on show. These are not those we consider the best or the only ones worth mentioning, but simply a selection of interesting stands, solutions and technologies.
Once again there was a packed program of speakers lined up over the three days. And again the selection of speakers proved right on the mark as the talks were well attended.
The organisers once again made the difficult decision of awarding a few exhibitors with Best Stand awards. The winners were as follows:
• Under 18m²: The winner was Progroup Manufacturing and the runner up was Gesab.
• 18 - 48m²: The winner was Paxton Access and the runner up was Arteco.
• Over 48m²: The winner was ZKTeco and the runner up was Salto.
If we had to pick one trend that stood out for us at the event, it would have been the more intense focus on vertical markets. It seems there is an industry-wide effort to tailor products to meet the needs of verticals instead of focusing on generic solutions. The surveillance industry is the ultimate example of this as verticals such as retail and mining (and others) have new integrated solutions aimed at their particular needs.
Local is lekker
Two local companies made their mark at this year's event. One was Cathexis, which showed off some of its IP video management software (VMS) features for CathexisVision 2018. Some of the features of this locally developed platform include enhancements to its automatic number plate recognition (ANPR) solution, and its improved analytical functionality through enhanced background modelling techniques that the company says reduces false positives in outdoor environments.
CathexisVision also supports Smart Search functions, such as Motion-Search, SnapSearch and Motion-Trails on recorded video. The company has also simplified its licensing structure while adding integration capabilities to more cameras and third-party products.
A local newcomer to the show, but not to the industry, is Capsule Technologies, which displayed its range of servers and storage options specifically designed for the surveillance market. The servers from Capsule are locally designed and put together, promising systems that allow customers to make the most of the solution for almost any-sized installation. Hi-Tech Security Solutions delves into the Capsule offering in greater depth in the Servers & Storage section of this issue.
Biometrics and more
The access control market had a good showing at Securex this year, especially as far as biometrics is concerned. Sizable stands were on the floor from companies such as Suprema, Morpho, Anviz, ZKTeco and Verdi. In addition, distributors supported these vendors with their own stands, the most impressive being Powell Tronics, which, while demonstrating its range of products and locally developed solutions, also took the opportunity to soak Morpho's new Extreme biometric reader with water and whack it with a hammer at regular intervals throughout the day. (You can read about this tough reader at http://www.securitysa.com/57207n.)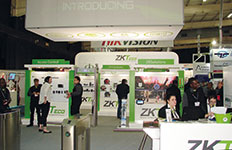 ZKTeco had an enormous stand on which it displayed a range of access solutions, from door handles that operate with biometrics or card access, through to more traditional fingerprint and facial biometric options, as well as some solutions it has developed with partner companies. ZK also gave away regular prizes on its stand, ranging from 55-inch flatscreen TVs to TakeALot vouchers.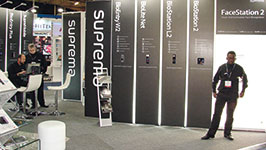 Suprema and its local distributor neaMetrics also had a large stand with a host of products and solutions on display. These range from the latest Suprema facial recognition system which boasts a very quick recognition rate, through to an array of Suprema fingerprint recognition readers and solutions. A large part of the display was devoted to rugged Android devices which are used in Africa and other parts of the world for a host of functions, from census logging, to elections and general functions that require the identification of people via fingerprint biometrics.
These hardened devices are made by BioRugged, with a new range being developed by Suprema itself. There is even a desktop version for identification or registration, which offers a range of identity functions in a portable device. These devices can withstand the traumas involved in being used on worksites or in rural areas where they would be bumped and knocked about in transit or through mass usage.
Granting access
There was no shortage of other access control solutions at the show either, from traditional players to surveillance manufacturers who are entering this space. For example, Axis has combined video and IP intercoms (it bought 2N a while ago) and was demonstrating its access solutions amongst its surveillance products.
From the more traditional players, Salto had a stand with a host of products on display, from door handles to locks and more. From a software perspective, Salto now allows users to manage a range of cameras from the cloud (along with its access products) and it has Bluetooth-enabled locks that can be managed from a mobile. The company was also promoting its new long-range readers that can read access credentials at either three to five metres, or five to seven metres, depending on the product chosen.
Salto's top-of-the-range enterprise management platform was also at the show and is gathering attention as it has been equipped to integrate with a host of other platforms, including building management systems, cameras, alarms and fire systems. As mentioned before, solutions are increasingly taking precedence over products in the security world.
The UK's Paxton was also on show once again. Among the products it was demonstrating was a new video entry system for visual verification of visitors. The company has already made some high-level sales in Africa with more to come. Paxton is in the process of putting the final touches to a range of new and improved products, which we should see reaching the market towards the end of 2017 or in 2018.
More workforce management than access control, Econz Wireless was at the show for the second time. Among the highlights from its mobile workforce management products this year was updated software that reduces the power drain of its applications on batteries, the ability to included attachments with messages to people in your team, and a GPS clock-in function that automatically clocks a person in when they enter a specific geographical boundary (and can automatically clock them out as well). Employers can now know where their employees or contractors are all the time. The updated software also allows one mobile device to be shared between employees, such as guards, allowing one to clock out after their shift while another clocks in.
An eye on everyone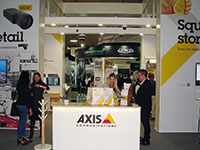 It will come as a surprise to nobody that surveillance camera manufacturers were out in force at Securex 2017. Three companies stood out because of their large and well-equipped stands: Axis, Dahua and Hikvision. However, there were many other companies with surveillance solutions at the show. These include: Geovision, GIT, FLIR, Miro, Pelco, TeleEye, and the list goes on.
Axis had a range of cameras on show, from the new 20 MP Canon with an interchangeable lens through to its stereo people-counting camera, designed for more accurate results in the retail market. As mentioned above, it also had it Push-to-Talk, SIP-enabled video intercom system as well as hardened cameras for industrial and other harsh environments. It also displayed its dual thermal/visual lens PTZ designed to monitor restricted areas.
Pelco was another new exhibitor at Securex, with the company showing a few of its cameras, but the company spent more time highlighting its VideoXpert video management system. The solution has pre-programmed integrations to over 3000 cameras, as well as other security systems. Pelco was yet another company showing its solutions designed for vertical markets, with each component targeted at providing the best performance each market requires.
Hikvision again had a large stand with a host of products on display, from its drone technology to its anti-drone 'gun' designed to protect areas from intrusive drones. It also had a selection of Pyronix alarm and intrusion products on display.
From a camera perspective, Hikvision had it all, from low-end cameras which now feature H.265 to high-end systems with visual and/or thermal lenses. It was also demonstrating its ANPR (automatic number plate recognition) system, its Intelligent Traffic System as well as a parking and chassis inspection cameras. For the consumer market it had a selection of EZVIZ cameras and alarm systems on display.
Dahua had a similar selection of cameras, from the low to high end, as well as its parking solution on display. It also boasted a large video wall projecting clear images across the hall.
Another surveillance management platform putting in its first appearance at Securex was Genetec. The company is growing its user base in Africa and has established a local office to support its varied clients in the region. Since launching its local office, Genetec has seen a number of system integrators going through its training programmes and being certified to install and support the system. Some of the newer functionality on display was Genetec's solution for the retail, vertical as well as a case-management platform that is run from the cloud. The company also confirmed that its cloud service was now available and growing in South Africa.
Graphic Image Technologies (GIT) showed some of its FLIR cameras, including a new 4K camera and the elevator camera designed to be installed in a corner and to cover the whole room without any bind spots. It also used Securex to introduce the IP version of Servision.
Previously Servision offered mobile surveillance options on an analogue platform that boasted the ability to transmit images in as little as 8 Kbps. The IP version offers the same functionality, but it requires around 30 Kbps to transmit a video image from mobile locations (such as trucks or busses). The IP version can also interface with vehicle telematics and transmit the data to a central control room.
There is naturally much more one could say about the companies mentioned above, not to mention those companies on the show that we have not been able to mention. Here's looking forward to Securex 2018, which will be held at Gallagher Convention Centre from 22 – 24 May 2018.