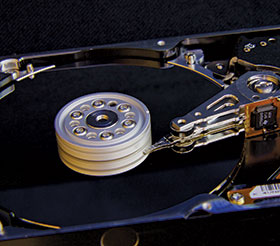 Driving surveillance storage
July 2017, CCTV, Surveillance & Remote Monitoring, IT infrastructure
How often does a quote for a surveillance installation simply offer an NVR or DVR with a certain number of terabytes of storage? Most people wouldn't even question this as storage is simply storage and we are far more inclined to ar-gue about the price of cameras than enquire as to what's inside the storage box. Even at the high end, the actual drives inside the box are hardly a cause for concern unless it's to argue about price.
The reality is that the hard drives we use in our computers and servers for IT operations are designed for those operations – reading and writing bits of information sporadically. They are not designed for surveillance, which writes large files most of the time and only infrequently reads files from the drive. They are also not optimised for doing this for 24-hours of every day.
Seagate and WD (Western Digital) have hard drives that are designed for the surveillance market and its particular needs. Hi-Tech Security Solutions spoke to both companies to gain more insight into their drives and find out what makes them worth having in your surveillance projects. We spoke to:
• Kalvin Subbadu, sales manager – components, South Africa, Western Digital, and
• Martin Kruger, territory sales manager, Seagate South Africa.
Hi-Tech Security Solutions: Tell us why your hard drives are a better choice for storage in the surveillance market?
Subbadu: The WD Purple drives are purpose built for surveillance and are designed specifically for scalable surveillance systems. The expanded workload capability of these hard drives delivers the ability to handle increased video streams and allows scalability beyond the limitations of digital video recording (DVR) systems. WD has designed a storage line up perfect for digital video surveillance and its many unique environments and application sets.
These purpose-built drives deliver a comprehensive range of features and capabilities such as high-resolution image quality, streaming video from multiple high-definition cameras, video archiving with ultra-fast data access and on-demand video playback.
Kruger: Seagate has been making drives specifically for surveillance storage for 10 years. SkyHawk is built to keep systems in the field longer and reduce the need for post-deployment support.
Optimised for DVRs and NVRs, SkyHawk surveillance drives are tuned for 24x7 workloads in capacities up to 10 TB. Equipped with ImagePerfect firmware, SkyHawk helps to minimise dropped frames and downtime with a workload rating three-times that of a desktop drive and is ready to record up to 90% of the time while supporting up to 64 HD cameras.
Rotational vibration (RV) sensors are on board Seagate SkyHawk HDDs to detect vibration about an axis, which can affect servo tracking capability and overall drive performance. The signal will be processed by the advanced servo control system, which will construct two feed-forward control efforts to both VCM and PZT microactuator loops. This will then suppress the vibration-induced head off-track motion, sustaining good tracking capability.
SkyHawk ImagePerfect firmware is built on Multi-Tier Caching (MTC) Technology and allows for high image integrity and up to 64 HD video streams. The intelligent firmware algorithm reduces data errors, allows for perfect images to be stored without pixelisation and prevents critical frame loss during multiple stream recordings.
ImagePerfect firmware supports larger cache memory that enables better caching and buffering for a higher number of video streams. A larger cache size will also help to optimise the write performance by sequencing data written to the HDD media. As a result, there are fewer physical read/write head movements between data streams when writing or reading data to and from the HDD media. Together this means higher HDD reliability.
Hi-Tech Security Solutions: Why are your drives different from the drives we find in IT computers and servers?
Subbadu: Standard desktop hard drives are designed to operate approximately eight to ten hours a day for five days per week. Consider now that a DVR or high-end surveillance system typically runs 24 hours per day, for seven days per week, recording numerous simultaneous video streams. Desktop hard drives are designed for operations in a typical office or home environment, with a relatively low demand. As a result they are frequently unable to cope with the always-on nature of surveillance, which demands continuous operation and simultaneous reading and writing, often from multiple input sources or camera streams. This can cause a number of issues, including skipped frames in the recordings, corrupted recording data, and also premature hard drive failure which can render the entire surveillance solution inoperable.
Kruger: Standard desktop drives are simply not equipped for surveillance storage requirements. These drives are built to typically run 8 hours a day in an office environment whereby the write requirements are minimal. In a surveillance environment the conditions are harsher with 24x7 writing, vibration and streaming requirements at play.
Optimised for DVRs and NVRs, SkyHawk surveillance drives are tuned for 24x7 workloads. ImagePerfect helps to minimise dropped frames and downtime with a workload rating three times that of a desktop drive.
Hi-Tech Security Solutions: What are the features of your drives that are worth noting? What is the capacity of your surveillance drives?
Subbadu: Our drives range from 500 GB to 10 TB. The Purple drive has increased workload capability, thereby assisting with storing high volumes of data while optimising power consumption. The lower power, assisted by a cooler operation, will improve the longevity of the drive. The Purple has also been designed for high write environments such as the surveillance industry. The drive also comes with WD's AllFrame Technology, which works with Advanced Technology Attachment (ATA) streaming to reduce frame loss.
Kruger: SkyHawk is built to record 90% of the time and supports up to 64 cameras. It can store up to 10 TB or 2 000+ hours of HD video. It sports a 180 TB/year workload rating and is backed by a 3-year limited warranty. Users can further protect their data with an optional +Rescue Data Recovery Service plan.
Hi-Tech Security Solutions: Who can readers contact if they want more information?
Subbadu: More information can be found at www.wdc.com/products/internal-storage/wd-purple-surveillance-hard-drive.html, or from our two distributors, Corex and Pinnacle.
Kruger: More information is at www.seagate.com/gb/en/internal-hard-drives/hdd/skyhawk/, or from our distributors, Pinnacle or Rectron.