printer friendly version
Workforce management beyond T&A
June 2017 Editor's Choice, Access Control & Identity Management, Integrated Solutions
As expectations of workforce management systems have progressed far beyond simple time and attendance registers kept by HR departments, they have increasingly incorporated functions and features that fall under the domain of security departments. These advances necessitate more sophisticated software and hardware platforms, as well as more specialised skills to set up, manage and administer them.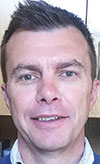 Mark Stoop.
Mark Stoop, sales manager – workforce management at EOH Security and Building Technologies, explains that "true workforce management covers all aspects of looking after your most important assets, your employee workforce. This scales way above just the standard T&A, it encompasses aspects such as leave management, fatigue management, operational health and safety, perimeter control, surveillance, self-service and more.
"The legacy of workforce management was for the mining, manufacturing and engineering sectors which historically focused on time and attendance solutions. Nowadays, all types of companies are looking for solutions to assist in scheduling, suitability, managing of project time, budget versus actual versus forecast, hosted/cloud solutions, to name a few. This requirement and market trend has opened the market to white collar workers who are actively interested in achieving ROI (return on investment) through technology. No longer is this just a sporadic, or shot-in-the-dark approach, rather technology is making company goals achievable."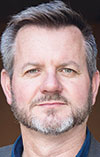 Tiaan Janse van Rensburg.
According to Tiaan Janse van Rensburg, director at Solution House, the company views everything as a service request to complete a specific task. "For a specific guard to be at a specific site at a predefined time and duration is a service request," he clarifies. "A technician required to fix something on a site is also a service request. Time and attendance is thus one aspect of a service request, the others being scheduling, task management and verification of location and duration.
In my view, the success of any solution depends on its ability to handle complex problems in a simple way. In workforce management, the complexity arises when you are dealing with multiple layers such as managing teams of workers, and not just a single site but a multi-layered site such as a room on a floor in a building on a site – all through a smartphone app."
He goes on to say that current trends are focused on completing the full lifecycle of workforce management: logging the initial service request, scheduling work, acceptance of the job by the remote worker, starting and completing the task, measurement of duration, business information and integration. "The challenge is obviously to handle the added complexity in a simple and user friendly manner," he says. "There is without a doubt movement towards mobile workforce management in large corporates and now medium sized companies. Smaller companies which are usually less mature in terms of processes and technology are lagging behind."
Flexibility and simplicity
Stoop pinpoints flexibility, ease-of-use and mobility as features that are trending at present. "Most companies are looking for solutions that can cater for their standard requirements, as well as enhance the employee benefits," he states. "Managers shouldn't be running reports. Their workforce management system should give them the actionable data they need, when they need it.
"Getting employees involved in your workforce management system is essential to its adoption and ability to achieve ROI. An employee self-service or mobility module is key to allow staff to request time off, clock in/out, view their upcoming schedules, view their timesheets, request shift swaps and more, all via their mobile device."
He further emphasises that integration is a key consideration for modern workforce management solutions: "With the many platforms and technology available, without the ability to have a single approach, the competitive edge will be lost. Take for example the linking of an ERP solution, with all relevant employee master data detail including leave etc, seamlessly imported into a workforce management solution and/or access control, this provides the clients with a single point of entry to enforce company policies through the various applications."
On the point of integration, Stoop continues by saying that "Organisations tend to lump all applications as the responsibility of the IT department, and rightly so due to the need for infrastructure and maintenance thereof. However, when it comes to the custodians of the actual running of these applications on a day-to-day basis, various departments are involved, including human resources, security, operations, SHERQ (Safety, Health, Environment, Risk and Quality) and finance. With modern solutions, the need for flexibility and to be able to cater for various users is a must."
While in agreement on the importance of such integration, Janse van Rensburg says it is far from ubiquitously implemented in the South African market. "Large service management companies are demanding it, which will filter down to the smaller companies. It will probably be standard in South Africa in another two years' time, and is already fairly standard with our customers in the UK. Sage is quite popular and we already integrate with SAP," he says.
Skills and simplicity
Workforce management goes beyond security, while still including security, so it is vital to define who is responsible for implementing and maintaining these complex systems, and that they have the skills required to manage them. Stoop believes that having locally based, skilled engineers to deploy applications will determine not only the success of a project implementation, but also the long-term service programme available to clients.
"Generally if applications are not locally developed, and sourced from best of breed partners internationally, a stringent training and certification programme is usually available to ensure locally based engineers are equipped to sell, deploy and maintain."
As Janse van Rensburg puts it, "We live in a 24 hour on-demand industry and economy. Systems must be available all the time. If systems are designed and implemented with this in mind they usually require very little maintenance and support, which equates to low running costs. This always comes back in the first instance to the system installer and secondly to the system developer. The skills are available locally, but not always the experience. It is easy to develop a system that is difficult to use and maintain. It is difficult to develop a system that is easy to use and maintain."
For more information contact:
Mark Stoop, EOH Security and Building Technologies, +27 (0)11 844 3200, [email protected], www.eoh-fss.co.za
Tiaan Janse van Rensburg, Solution House, +27 (0)82 565 8081, [email protected], www.incidentmanagement.co.za
Credit(s)
Further reading:
Cyber resilience is more than cybersecurity
Technews Publishing Editor's Choice Cyber Security Integrated Solutions IT infrastructure
Hi-Tech Security Solutions held a round-table discussion focusing on cyber resilience and found that while the resilience discipline includes cybersecurity, it also goes much further.
Read more...
---
Crossing the chasm
Editor's Choice News Security Services & Risk Management Training & Education
Industry reports suggest that in the next ten years, millions of jobs could go unfilled because there simply are not enough people to fill them.
Read more...
---
Records in place now, not later
Editor's Choice Security Services & Risk Management
It is important, after an incident, to have records in place as soon as possible. Too often the matter is left for the day when the company is going to court, or a disciplinary hearing is scheduled.
Read more...
---
A robust OT cybersecurity strategy
Editor's Choice Cyber Security IT infrastructure Industrial (Industry)
Cyber experts are still struggling to convince senior management to spend money to protect their control system assets, resulting in a lack of even basic measures to protect control systems.
Read more...
---
Simplifying SIEM, EDR, XDR and SOAR
Bitrate Editor's Choice Cyber Security
Jeroen Dubbelman unpacks what some of the latest acronyms used in the cybersecurity industry actually mean to businesses looking for solutions for their cyber requirements.
Read more...
---
Shift to online driving retail transformation
Retail (Industry) Integrated Solutions
There is a growing demand from retail for an end-to-end solution that helps their digitisation process, integrating finance, procurement, warehouse management, pricing, stock management, point of sale and more.
Read more...
---
AI in video analytics
CCTV, Surveillance & Remote Monitoring Integrated Solutions
AI (artificial intelligence), has been developed and debated ever since the first computers were invented, and while the most revolutionary incarnations are not yet here, AI-based technologies are widely used today.
Read more...
---
Biometrics deliver added benefits to residential estates
IDEMIA Residential Estate (Industry) Access Control & Identity Management
For years, South African estates have enjoyed the convenience and security of contact biometric technologies, and now they have evolved to offer contactless options for more than access control.
Read more...
---
Complete solutions, delivering complete protection
Gallagher Access Control & Identity Management Integrated Solutions Commercial (Industry)
The recent release by Gallagher of Command Centre v8.80 and Command Centre Web enables all organisations to make security easier, faster and more efficient.
Read more...
---
Redefining access control in the commercial sector
Axis Communications SA Commercial (Industry) Access Control & Identity Management
Technology is key to keeping assets and personnel safe and secure, especially in the face of concern surrounding proposed new trespassing laws.
Read more...
---