printer friendly version
From the inside out
May 2017 Editor's Choice, Perimeter Security, Alarms & Intruder Detection, Integrated Solutions
In the traditional layered approach to security, securing the perimeter is a critical aspect of the full security solution. When it comes to large areas that need to be secured, however, such as one finds on mines, ports, game reserves, borders and large industrial plots, protecting your perimeter is a complex task.
Charles Harrison, MD of local system integrator Secu-Systems explains that while there are many products that can detect a perimeter breach and raise the alarm, there are few which can then track the suspect once inside the perimeter of large environments. Due to the large open spaces of these environments, by the time security personnel get to the breach location, the suspects will have moved off and can be anywhere on the site.
Secu-Systems' Spotter is a solution to this problem that uses thermal and visual surveillance cameras, as well as Panoptes MTI software to set up a perimeter protection solution from well within the perimeter. The system needs to be set up on a high site where it can view the area to be monitored, and from where it provides 360-degree protection.
Due to the combination of visual and thermal cameras, the system works 24-hours per day, irrespective of light or weather conditions. Moreover, the Panoptes software, developed for the Australian military, will identify intruders from kilometres away
and then track them as they breach the perimeter and move into the area. Security personnel can therefore be sent to their exact location.
Security and safety
Spotter can also be used to monitor specific sites to prevent theft of anything from fuel to pipes and cabling, as well as malicious damage to property. Keeping an eye on the movement around vehicles and diesel pumps will quickly identify unauthorised movement after hours, for example, preventing theft and damage.
From a safety perspective, the Secu-Systems solution also provides an additional layer of security in dangerous environments. In the mining field, for example, illegal miners are a problem throughout Africa and are often injured or killed during normal mining operations – such as dumping. With the solution in place, Harrison says it is easy to identify where people are and ensure there are no injuries and therefore that the mine will not have to lose money from being forced to shut down while an investigation is conducted.
Harrison provides an example of a solution installed at a mine with a perimeter of well over 50 km. Ten Spotter systems (in other words, 10 camera installations at high points) were installed and they cover the whole mine, and area of about 150 square kilometres.
Another example he offers is from a West African mine in Guinea. This mine is plagued by over 100 000 illegal miners. Six Spotter systems were installed to cover an area of about 63 square kilometres. Image 1 shows an illegal mining camp on the mine, while Image 2 shows a few of these miners at work.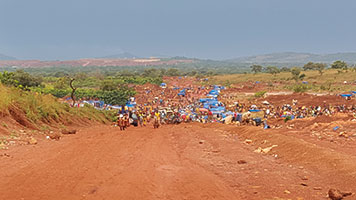 Image 1.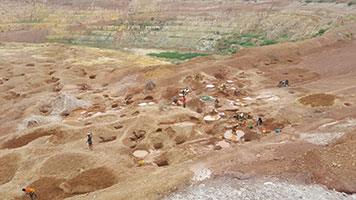 Image 2.
In all cases, Harrison says the savings customers have experienced as a result of installing the Secu-Systems' solution has been substantial. In fact, he says that not only is the solution the cheapest per square metre in the industry, it delivers the best in terms of measurable reduction in losses in the mining environment – not to mention the life safety aspect.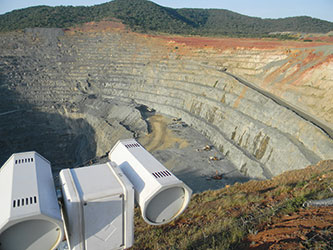 Image 3.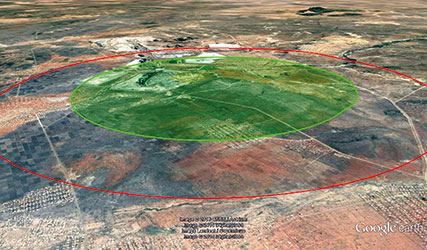 Image 4.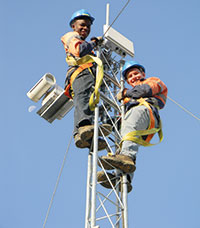 Image 5.
Self-sufficient
Spotter solutions are housed in self-sufficient containers fitted with their own power reticulation, which includes solar panels mounted to the roof of the container and battery banks installed within the container. Security systems are integrated with the camera solution and include wall-top and/or additional freestanding electric fencing with energisers operating off the internal power reticulation. All sides of the container are equipped with nozzles and high-pressure hydraulic piping. It also includes wireless communication back to a centralised control room (as long as line of sight can be attained).
The cameras can detect movement in as little as four pixels. Therefore, with high-powered, PTZ thermal cameras placed on high sites, intruders cannot hide and are followed throughout the location until removed, thus giving management complete 360-degree situational awareness and peace of mind.
For more information, contact Secu-Systems, +27 (0)11 794 7834, charles@secusystems.co.za, www.secusystems.co.za
Credit(s)
Further reading:
Key criteria in the selection of CCTV control room operators
Issue 5 2020, Leaderware , Editor's Choice
Some people are better at aspects of the job of CCTV operator than others, and some companies put in a lot more effort in choosing their operators than others.
Read more...
---
Leaders in risk and security: As long as there are people, there will be risk
Issue 5 2020, iFacts, Technews Publishing , Editor's Choice
Jenny Reid is a self-made success, focusing on people, the risks they create and the potential they have.
Read more...
---
XProtect available on AWS
Issue 5 2020, Milestone Systems, Technews Publishing , Editor's Choice
Milestone recently announced the availability of XProtect on Amazon Web Services. Hi-Tech Security Solutions asked Keven Marier for more information.
Read more...
---
From data centre to edge, from one source
Issue 5 2020 , Editor's Choice
First Distribution (FD) is better known in South Africa as an ICT distributor with an enterprise focus. Its offerings in this regard range from client solutions through to hosted solutions, data centre ...
Read more...
---
Paxton launches access and video management
Issue 5 2020, Paxton Access , Editor's Choice
Paxton's next-generation access control and video management system, Paxton10, officially launched in South Africa on 2 July 2020. Paxton10 is the next step in complete security solutions and combines ...
Read more...
---
The evolution of security in residential estates
Residential Estate Security Handbook 2020 , Editor's Choice, Integrated Solutions, Security Services & Risk Management
Two large estates discuss their security processes and the ever-expanding scope of responsibilities they need to fulfil.
Read more...
---
The COVID test for estate business continuity planning
Residential Estate Security Handbook 2020, Technews Publishing , Editor's Choice
Many estates were caught unaware when the COVID-19 pandemic and subsequent lockdown hit. Helderberg Village was ready for the challenge.
Read more...
---
Home-grown, cloud-based safety and security solutions
Residential Estate Security Handbook 2020 , IT infrastructure, Integrated Solutions
BeSecure has taken security and communications technologies and turned them into what is best described as care and safety solutions for the estate community in South Africa.
Read more...
---
Bang for your security buck(s)
Residential Estate Security Handbook 2020, Alwinco , Editor's Choice, Security Services & Risk Management
Hi-Tech Security Solutions asks how estates can maintain a good security posture in the time of the ever-shrinking budget.
Read more...
---
Local or remote management
Residential Estate Security Handbook 2020, Xone Integrated Security, Vox Telecom, Fidelity ADT , Editor's Choice
Hi-Tech Security Solutions asked three companies well versed in offering control room services – either remote, local, or both – what's happening in the estate monitoring and/or management market.
Read more...
---