printer friendly version
Storage and employee scheduling in hospitality
April 2017 Entertainment and Hospitality (Industry), Access Control & Identity Management, Asset Management, EAS, RFID, IT infrastructure
Hi-Tech Security Solutions spoke to two industry vendors about two security-related issues experienced in the entertainment and hospitality sector. One focuses on technology, the other on people (and technology).
High-volume storage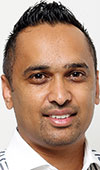 Kalvin Subbadu, WD.
According to Kalvin Subbadu, sales manager at WD Components, entertainment facilities need suitable hard drives for large-scale surveillance systems. Standard desktop hard drives are designed to operate approximately eight to ten hours a day for five days per week. "Consider that a DVR or high-end surveillance system typically runs 24 hours per day, for seven days per week recording numerous simultaneous video streams, and it's clear that these drives just cannot cope with the demands on them. What's needed for applications like these is a drive designed and manufactured to deliver reliability and robustness in a demanding environment."
WD has designed a storage line-up for digital video surveillance and its various environments and application sets. These purpose-built drives deliver a comprehensive range of features and capabilities, such as high-resolution image quality, streaming video from multiple high-definition cameras, video archiving with ultra-fast data access, and on-demand video playback.
The WD Purple hard drive is a purpose-built drive that caters for a higher camera and bay count in surveillance systems that are typically installed in large entertainment facilities such as casinos, amusement parks and museums.
As entertainment facilities store huge amounts of data, particularly surveillance footage, they require both higher capacity drives along with drives that are reliable and suited to these environments. Furthermore, the WD Purple allows large businesses to function continually in an always-on environment.
The Purple drive is designed specifically for scalable surveillance systems. The expanded workload capability of these hard drives delivers the ability to handle increased video streams and allows scalability beyond the limitations of digital video recording (DVR) systems. WD's surveillance drives enable DVR, NVR, CCTV, IPTV and other digital video surveillance systems.
Because of its increased workload capability, the Purple drive assists with storage of high volumes of data, while simultaneously optimising power consumption. The lower power, assisted by a cooler operation, will improve the longevity of the drive.
Higher quality video footage and playback are often issues faced in the entertainment surveillance arena, so the design elements of these hard drives allows for the superior playback which is vital for conviction of the perpetrator of the crime or for identifying certain aspects that require video footage.
WD's exclusive AllFrame technology boosts write performance for WD Purple hard drives by working with Advanced Technology Attachment (ATA) streaming commands to reduce frame loss and improve streaming playback. Entertainment industry customers are provided with the benefit of a drive that is built with ruggedness and reliability in mind. Designed to operate under demanding conditions, Purple drives provide customers with the assurance of ongoing operability and uncompromising video playback quality, despite the high demands placed on them.
Controlling labour costs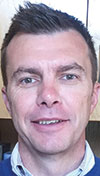 Mark Stoop, EOH.
Mark Stoop, business development manager at EOH Security and Building Technologies, says that a major challenge faced by labour-intensive hotels is the control of labour costs. Achieving a fine balance between containing costs and ensuring that service delivery is uncompromised is an issue all too familiar to larger hotel organisations.
EOH's Synerion web-based scheduler for the hospitality industry addresses these issues by enabling hotel management and HR to effectively manage and streamline their workforce, without jeopardising the hotel's financial performance, while at the same time increasing employee productivity and maintaining guest satisfaction.
The Synerion Hospitality Scheduler's planning capabilities enable managers to generate schedules against budgets that were created on the basis of variables, like expected occupancy levels, seasonal variations, and booked events. This prevents the commonly encountered scenarios of over- and understaffing. It also considers individual employee availability, budgetary restraints, labour regulations, and the specific needs of each department and location.
Synerion's Hospitality Scheduler system enables a comparison of planned budget to the schedule; identifies deviations and discrepancies at the departmental level, including various budget deviation indicators before they occur; reduces overtime expenses and, by means of an alert engine, prevents penalties for non-compliance with labour laws.
Synerion's new solutions will assist hotels to make informed, proactive decisions rather than behaving in a reactive fashion, thereby allowing management to respond immediately when decisions are needed. This empowers the department heads or managers to become significant partners in decision-making processes as not only are they responsible for their workforce management, but they also share in the responsibility for labour costs and profitability.
The Hospitality Scheduler provides the hotel with the correct tools to operate at maximum efficiency. A number of features improve return on investment and include the ability to provide system scheduling recommendations, based on prioritising and availability of resources and supports employee exchanging/loaning between hotels/departments for a whole or part of a day.
Dynamic notifications, updates and alerts about over- or understaffing, attendance, absences and overtime are provided in real time, and a comprehensive and detailed view of employee attendance, overtime, breaks and absenteeism enables HR to accurately calculate payroll and constantly improve efficiency. The Employee and Manager Self-Service capability adds to the functionality of the system and a graphic display of planned versus actual work schedules provides a quick snapshot for management review.
The system reduces risks and prevents penalties by means of full compliance with labour laws, regulations and agreements, as well as additional parameters defined by the user.
Stoop points out that most workforce management providers focus on the legacy time and attendance market. This includes the collection for time worked, overtime and absences for payment and tracking purposes. Some include scheduling of resources to fit a flexible work pattern.
"What differentiates EOH from the rest of the market is that this application is designed specifically for the hospitality industry. It caters for specific needs such as occupancy levels in hotels, to events at conference centres. Due to its provision of history storage, in similar scenarios, it will make planning of resources easy, as well as ensuring budget requirements are always met. These constant changes can be viewed by the employees on the Mobile Pro application. This application gives employees the ability to not only view the work schedule, but the ability to apply for leave and/or to physically clock in or out at various locations if required," Stoop points out.
As a result of its fast-paced nature and the fact that it has peaks and troughs according to season, as well as the day of the week, the hospitality industry needs the flexibility in systems to cater for a variety of business, social and holiday guests. The technology provides this sector with a tool to easily identify the resource requirement; and to plan and assign accordingly based on the size of an event, the number of guests in attendance, and/or the amount of floorspace required. It assists in managing the associated budget for resource costs, ensuring that budget versus actual costs are aligned and it also provides active management of changes on the fly.
For more information contact Kalvin Subbadu, WD, kalvin.subbadu@wdc.com; Mark Stoop, EOH Security and Building Technologies, mark.stoop@eoh.com
Credit(s)
Further reading:
Digitising Maslow's Hierarchy of Needs
October 2019 , Integrated Solutions, IT infrastructure
Mobile technology has the potential to change how Africa approaches patient and healthcare, says Phathizwe Malinga, managing director, SqwidNet.
Read more...
---
A platform approach to innovation and value
CCTV Handbook 2019, Technews Publishing , Editor's Choice, CCTV, Surveillance & Remote Monitoring, Integrated Solutions, IT infrastructure
Moving to the platform model of doing business holds tremendous advantages for end users and smaller developers, but also for the whole technology supply chain.
Read more...
---
Selecting the right surveillance storage
CCTV Handbook 2019, Capsule Technologies, Technews Publishing , Editor's Choice, CCTV, Surveillance & Remote Monitoring, IT infrastructure
Storage is an integral part of a surveillance installation and the solution chosen can make or break the success of your project.
Read more...
---
The NUUO storage solution
CCTV Handbook 2019, Forbatt SA , CCTV, Surveillance & Remote Monitoring, IT infrastructure
A stable NVR should maintain a consistent data throughput unaffected by user actions such as querying or playback.
Read more...
---
AI-powered security solution
CCTV Handbook 2019, Dahua Technology South Africa , CCTV, Surveillance & Remote Monitoring, Entertainment and Hospitality (Industry)
Capable of performing data analysis and facial recognition, Dahua?s system adds innovation and efficiency to the arena safety project.
Read more...
---
Security system for high-end hotel
CCTV Handbook 2019, Elvey Security Technologies , CCTV, Surveillance & Remote Monitoring, Integrated Solutions, Entertainment and Hospitality (Industry)
An international hotel group has made a substantial investment in upmarket hotels within a prestigious Northern Suburbs mixed-use precinct.
Read more...
---
Keeping your things to yourself
October 2019, Technews Publishing , Editor's Choice, Cyber Security, Integrated Solutions, IT infrastructure
Three experts spoke to Hi-Tech Security Solutions to offer advice on keeping your IoT working for you and not for cyber criminals.
Read more...
---
IoT in security
October 2019, Duxbury Networking, Technews Publishing , Editor's Choice, Cyber Security, Integrated Solutions, IT infrastructure
Using the Internet of Things is not really optional these days, but securing the Internet of Things is compulsory, no matter what industry you operate in.
Read more...
---
Enhanced biometric technology for mines
September 2019, ZKTeco , Mining (Industry), Access Control & Identity Management
Biometric identification and authentication are currently used at various mines in South Africa and in the SADC region.
Read more...
---
Improving access in mines
October 2019, Astra Fasteners , Mining (Industry), Access Control & Identity Management, Products
The VP1 controller provides full access control and remote monitoring of intelligent locks without having to wire into a network or install, manage and maintain software.
Read more...
---