printer friendly version
Big video on your doorstep
March 2017
CCTV, Surveillance & Remote Monitoring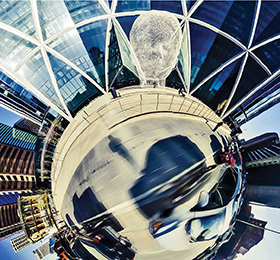 There is no shortage of video analytics solutions on the market today, from very expensive, cutting-edge technology that almost perform miracles, to the cheap and nasty that are bought so that people can say they have analytics installed. We are also witnessing a divide between analytical applications that are run on a central server (or servers) versus newer apps that run on the camera (on the edge).
There are pros and cons to both options, and more camera manufacturers are delivering their hardware with built-in analytics at no extra cost to add to the value customers obtain from their camera purchases. So, what is best for your specific requirements? Hi-Tech Security Solutions approached a number of video analytics experts for their opinion on where analytics is today, what really is do-able, and what end-users can expect from these systems going forward.
Cathexis Africa's Gus Brecher advises that the environment is crucial when using analytics. "One cannot expect analytics to work on a visible light camera with no illumination at night. One also needs to make sure that the analytics package has sophisticated background modelling in order to overcome things like lighting changes, clouds, wind, etc. Some people have been guilty of overselling their analytics, which has created some negative press, but there is no doubt that given the right conditions and the correct methodology, video analytics does and will continue to play an important and crucial role in safety and security systems."
Quintin van den Berg, CCTV product manager for Bosch Security Systems SA, says that the effectiveness of an application depends on where it is applied. "A retail application has different needs in terms of analytics than mission-critical applications, such as critical infrastructures.
Axis Communications is better known as a camera manufacturer that set the pace in the IP surveillance world for many years. Key account manager Vanessa Tyne says there are many analytical applications that do deliver per the required specification. She gives the example of Cognimatics People Counting (acquired by Axis), that delivers retail-specific information. Nevertheless, Axis is more focused on collaborating with analytics developers to offer a range of best-of-breed options to its customers.
Ke Sun, R&D product manager for Hikvision, explains that the major intelligent analytics applications in the market include line-crossing, intrusion detection, people loitering and gathering, face detection, face recognition, auto-tracking, people counting, heat mapping, LPR and so on. "In general, human face analysis, behavioural analysis, and vehicle analysis are the three major trends in the analytics market."
He also differentiates between on-camera processing and backend server processing. "The main Hikvision intelligent analytics are processed in the cameras, with the optimisation of algorithms and deep learning technology based on the chipset."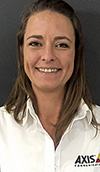 Vanessa Tyne.
Applications in the wild
The potential for security-related analytical applications is broad, but if one looks for those applications already installed and working on an enterprise level, there are a few that stand out as delivering real value.
A spokesperson for Forbatt SA says an intelligent parking application that informs drivers of available spots to park in is a successful example. A retail example would be that of heat maps that allow retailers to arrange their stores to gain the best visibility from clients, resulting in increased sales.
Looking beyond security benefits, van den Berg explains that the metadata systems can capture can benefit businesses in different ways and this will be a focus area for developers in future. Once again, the retail example is provided where surveillance solutions can deliver business metrics such as people counting and crowd density information.
Taking it a step further, Brecher adds time-in area applications (for waiting room efficiency), queue length analysis (queues in retail stores), and manufacturing analytics for process control decisions. These applications can be derived directly from video surveillance installations, but add value in different business scenarios.
Still more options that are not only available, but are in use today in South Africa (and globally) are highlighted by Tyne:
• Facial recognition is used to identify and ­recognise recurrent criminals or 'undesirables' in a shopping mall.
• Point-of-sale control combines video data with stock-holding and even pilfering by either highlighting potentially fraudulent transactions as they happen or allowing investigators to easily trace the who and when of these transactions.
• Sound or aggression detection is another one that can save lives in a safe city application.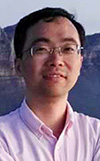 Ke Sun.
Edging out the server
While the utility of intelligent video analysis is a given today, despite some applications that are 'not quite there yet', the decision of whether analytics belongs on the edge or on a server is one for debate. Realistically, the circumstances of each installation will dictate a preference for one or the other, but it seems that edge analytics is becoming the more desired option – from a vendor perspective in any case.
Brecher explains that there are pros and cons for both options. When it comes to edge analytics, he says the advantages include not using processing power on servers, and it allows cameras to only stream video when something happens – saving bandwidth. The disadvantages include using processing power on the camera which often forces sacrifices in the primary roles of the cameras, like resolution or frame rates. In addition, he says that cameras with decent analytics tend to be more expensive that those without, increasing your commercial risk.
Hikvision's Sun believes that keeping your analytics on the server protects the system to a degree as the risk of some form of damage to the server is minimal. However, if there is a problem with the server the aftermath is more serious as everything goes down. "Edge analytics disperses such risk to different spots, and you are also able to manage bandwidth consumption by only streaming real events instead of everything."
Edge analytic represents the general trend, according to Forbatt SA, which is almost irreversible. Using edge technology can raise systems' efficiency as video streams are limited and server processing power is conserved. However, he does note that video analytics is usually deployed in both peripheral units and the backend, allowing for the most efficient solution. For example, in licence plate recognition (LPR) systems, the snapshot of vehicle could be taken and filtered out, then sent to the server for more complicated processing.
Edge analytics is where it's at according to Tyne. "At Axis, we have enabled the majority of our cameras to accept edge-based analytics for ease of use and installation as our cameras have enough processing power to accommodate them."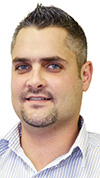 Quintin van den Berg.
The cyber effect
Looking beyond the simple question of edge or server, van den Berg notes that, irrespective of how you set up a solution, video security is a critical factor to consider, but more so on edge devices. "Bosch's video analytics technology is edge-based. This means that we need to consider that we are becoming more vulnerable to cybercrime and, consequently, data security on both hardware and software is a must."
Bosch offers several hardware and software measures to ensure data security:
#1: Only secured (HTTPS) connections are allowed.
#2: Password change request at setup (strength meter).
#3: Unsecure ports for automatic discovery disabled.
#4: Unsecure remote communication disabled (eg, Telnet).
#5: Uploading of third-party software not possible.
#6: Firmware updates only possible via Bosch signed firmware files.
#7: Built-in Trusted Platform Module (TPM).
- Private keys and certificates for authentication are securely stored inside the TPM.
- Private keys and certificates for encryption are securely stored inside the TPM.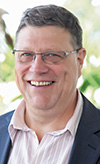 Gus Brecher.
What's up this year?
Since we are at the start of a new year, or at least still in the first quarter, we asked the experts what we can expect to see from the video analytics market this year. Will we see more free analytical applications finding their way onto cameras and management systems, or will users have to start paying more for better analytics?
The market is in for some consolidation this year as analytics mature, according to Brecher. He expects to see the analytics and management software vendors improving their existing suites of analytics. At the same time, he expects to see improvements and cost reductions for face recognition products and the continued growth of ANPR (automatic number plate recognition).
She says it's difficult to comment on what the market as a whole will do, but Tyne expects to see basic analytic requirements freely available to users. This includes applications such as video motion detection, cross-line detection/tripwire, and tampering. Another application that may have to find a balance between free and paid is people counting, which is becoming more popular in the retail market.
As for the analytical applications making waves this year, Tyne expects to see LPR and facial recognition becoming more popular and important in the South African market. And it's not only the leading vendors one should watch, many applications are being developed by independent companies and sold as part of a best-of-breed solution. Creating competition, which is good for customers, but bad for those companies that don't support open systems.
An alternative point of view comes from Sun, who thinks motion detection and PIR alarms are two major functions that will be made available for free. He also believes we could see a few software manufacturers being acquired by hardware companies as most people see more value and potential in software – the old cliché of hardware becoming a commodity.
Bosch also expects to see advanced motion detection and crossline detection becoming more freely available this year, and van den Berg echoes there is an increase in demand for people counting and heat mapping in retail environments. "From a perimeter surveillance perspective, we have experienced an increase in requests for loitering, fence climbing, object removed, and object left behind, to name a few."
Forbatt SA's spokesperson adds that only analytics that are part of an end-to-end solution will be valued in future. Stand-alone analytics are common these days and therefore harder to value as individual components. This means deploying analytics as part of a solution on NVRs, for example, will be a growth market as the value of the solution is worth far more to the customer than the individual parts.
No matter whether you believe edge is the future or you are a believer in server-based analytics, the future of this market is buoyant and the industry can expect to see significant developments in the next few years. Just as the IT market has been clamouring about 'big data', we will see the analytics market making a noise about 'big video' with all sorts of people offering big video solutions.
As Bosch's van den Berg notes, "Today, only 10% of data is ever used. Video security is focused on capturing and storing the highest quality of image to serve as irrefutable evidence in case something happens. Bosch believes that the future involves the re-­purposing of video data, ensuring that the video data collected and stored is utilised 100%. This allows video data to do far more for businesses than security alone."
An analytical trend
In last month's issue, we asked readers to send in their thoughts on what trends will impact the industry in 2017. One of the responses we received was from Gavin Hill, CTO at Red Surveilliance, who commented on advances in analytical applications.
"YouTube currently sees 300 hours of video uploaded every minute. As new compression algorithms mature, fibre networks proliferate and storage costs decline, we will see a significant increase in the number of surveillance systems deployed in South Africa. How do organisations avoid the YouTube paradox where there is more video than people to watch it?
"While traditional analytics such as motion detection, tripwire and left-object detection have a role to play, they are simply not intelligent, nor are they flexible enough to be effective in many surveillance scenarios. The future of analytics relies in complex machine-based learning algorithms that can detect anomalies from the large volume of the mundane. There's no substitute for human intuition and interpretation though, so presenting a human operator with only the footage of interest can reduce 'alert fatigue' and increase operator effectiveness.
"Imagine an 'unusual behaviour' analytics platform that not only learns to identify anomalies from a single camera stream, but from all of the camera streams in your network and then applies those learnings in order to present only the most significant footage to an operator. These man-machine collaborations will help contain storage and other operational costs while making surveillance departments and organisations more agile and able to rapidly scale as video networks expand."
For more information contact:
Axis Communications: www.axis.com
Bosch Security Systems SA: http://africa.boschsecurity.com
Cathexis Africa: www.cathexisvideo.com
Forbatt SA: www.forbatt.co
Hikvision: www.hikvision.com
Credit(s)
Further reading:
Video surveillance and analytics statistics
CCTV, Surveillance & Remote Monitoring
The global video surveillance market grew faster than previously forecast in 2021 according to Omdia's latest Video Surveillance and Analytics Intelligence Database.
Read more...
---
Hikvision integration with Page Automation
Hikvision South Africa News
Hikvision has announced the integration of its MinMoe Face Recognition terminals and its Hik-ProConnect online device and service management platform with Page Automation's SmarTTime software.
Read more...
---
Sustainability, trust and predictability
Technews Publishing Bosch Building Technologies Conferences & Events CCTV, Surveillance & Remote Monitoring News Integrated Solutions
The future for Bosch Building Solutions is focused on predictive solutions based on sustainability and trust in an AIoT world of cloud services.
Read more...
---
Hikvision releases panoramic camera range with ColorVu
Hikvision South Africa CCTV, Surveillance & Remote Monitoring Products
Hikvision has released a new range of panoramic cameras that use integrated ColorVu technology to provide vivid and full-colour video imaging for a wide field of view in light conditions as low as 0,0005 lux.
Read more...
---
Digital transformation in mining a national necessity
Axis Communications SA Mining (Industry)
4IR represents a dramatic shift across all industries in terms of digital transformation and new ways of conducting business.
Read more...
---
What WizMind panoramic surveillance offers
Dahua Technology South Africa CCTV, Surveillance & Remote Monitoring
The Dahua WizMind Panoramic Surveillance solution is designed for applications that require a 360°, 270° or 180° panoramic view for situational awareness, such as crowd maps and vehicle density.
Read more...
---
New Hikvision cameras for SMB users
Hikvision South Africa Products
Hikvision has introduced its new range of security cameras – the PT-Series – designed for SMB users, with easy installation and flexible camera viewing angles, while applying other well-known Hikvision technologies for optimal imaging.
Read more...
---
IDIS releases latest-generation 6 MP and 8 MP PTZ cameras
CCTV, Surveillance & Remote Monitoring
IDIS has launched four new 8 MP and 6 MP PTZ cameras that deliver excellent image quality and extend the company's trusted NDAA-compliant lineup.
Read more...
---
Axis sets science-based targets for reducing emissions
Axis Communications SA News
Axis Communications has committed to set company-wide emissions reduction targets in line with the Science Based Targets initiative (SBTi), which aims to drive ambitious climate action across the private sector globally.
Read more...
---
Eagle Eye introduces 'Smart Video Search'
Eagle Eye Networks CCTV, Surveillance & Remote Monitoring
Eagle Eye Networks has introduced Eagle Eye Smart Video Search, a new feature for all customers to make searching for video as fast and easy as searching the Web.
Read more...
---