printer friendly version
Once again, Camprosa delivers
February 2017 Editor's Choice, Education (Industry), Conferences & Events
The Campus Protection Society of South Africa (Camprosa) held its annual Camprosa International Conference in the second half of 2016 at the Zimbali Hotel, North Coast. This year's conference was especially pertinent as it dealt with issues campus security professionals were currently facing, such as the outsourcing issue as well as student unrest.
As has become the norm at Camprosa, the conference was well attended with security professionals from across South Africa as well as some African attendees, along with a few international guests. The presentations were targeted right at the heart of what campus security personnel are dealing with and offered insights on a broad range of topics.

Camprosa 2016 attendees.
Once again the event was backed by sponsors who took the opportunity to display their products and services as well as address the audience. The sponsors for this event included Salto, G4S, Thorburn, Sukema, Powell Tronics, Hi-Tech Security Solutions, Altech, Stallion, Axis, FS Systems and AmaziPro.
With two full days of presentations, we can't cover the event in depth in the pages of Hi-Tech Security Solutions. What follows is a brief description of some of the more notable presentations.
In or out
The first day started with an opening address by the outgoing president of Camprosa, Roland September. During the organisation's AGM, Derek Huebsch was elected as the new president until 2019.
Following a sponsor's message, Jenny Reid, director of iFacts, delivered a presentation touching on the contentious issue of insourcing versus outsourcing. Reid noted that simply switching from outsourcing to insourcing your security staff (or any staff for that matter) was not a simple process and there are risks involved. If universities did not cater for those risks, such as hiring the right people and providing adequate training etc., the organisation could find itself in a tight spot.
Then there is also the question of costs, which might see the number of people employed reduced as the cost benefits of outsourcing are no longer available, meaning the universities would have to make do with less, unless their budgets were increased. There would also be an increase in administration requirements to handle security personnel and their unique compliance requirements.
It goes without saying, but security personnel also add to the administration burden because of the positions they hold. Every security officer needs to undergo a background check to ensure they don't have a criminal record and to have their qualifications and identities verified. And these are only the first steps in a background check.

(Left to right) Manabela Chauke, Ken Annandale (conference facilitator), Professor Fikile Mazibuko, and John Tunstall (Camprosa's executive secretary and the conference organiser).
PSiRA (Private Security Industry Regulatory Authority) also offered an opinion on the insourcing vs. outsourcing debate. PSiRA's chair, Prof. Fikile Mazibuko said the authority was not there to prescribe to the institutions present how to run their operations. She said the decision depends on each institution, the costs and their capacity to manage the process of insourcing if that is what they choose. She added that a mixture of insourced and outsourced staff may be the optimal way for universities to start dealing with the issue, again depending on each organisations capacity.
Following Prof. Mazibuko, PSiRA's CEO, Manabela Chauke followed with insights into the compliance issue. He stressed the need for compliance with the country's regulations with respect to registering security personnel and said a joint effort was required to ensure the universities were aware of their responsibilities and to assist them in ensuring their staff's adherence to the regulations.
Chauke also touched on the insourcing debate, again noting that cooperation is required to ensure any outsourcing the institutions require is handled appropriately and within the regulations set by government.
Additionally, Chauke noted that a worrying aspect of the current situation is that of security companies getting involved in public order policing. He stressed that private security operations must restrict their operations in this respect to what the law allows them to do and not allow their employees to go too far in the execution of their duties.
Crime and public violence
Following the AGM and the selection of the new Camprosa executive committee, the last presentation on the first day was from Dr Johan Burger from the Governance, Crime and Justice Division of the Institute of Security Studies. He spoke on what he sees as the two main threats the country faces in terms of security, although he noted there are other issues that must be dealt with if the country is to prosper peacefully.
His presentation included some depressing statistics on the crime situation in the country which showed that in almost all categories of violent crime, the pleasant decrease we saw between 2010 and 2012 (roughly speaking) has reversed and is on the increase again. These increases apply to numerous categories, from house breaking to business robberies and car hijacking, aggravated robbery and the murder rate. And although South Africa is no stranger to public demonstrations, the figures also show that the number of violent incidents in public gatherings is increasing, while the number of peaceful events are declining.
His presentation wasn't all doom and gloom, however. He noted that the Acting National Police Commissioner (as at September 2016), had started some very constructive initiatives and the outlook from a policing perspective was positive if he was allowed to continue. But that will not be enough. Dr Burger stressed that the country's economic and political instability must be addressed effectively if the country is to overcome the serious problem of crime and public violence.
Resilience in emergencies
Two international guests delivered a talk and workshop on Emergency Response and Business Continuity on the second day. They were Bernadette Duncan, the COO of AUCSO (Association of University Chief Security Officers), previously with City University in London for 24 years, as well as Peter Brinkley, head of security at the University of Surrey.
Their presentation focused on giving educational institutions the know-how and ability to recover quickly following a disruptive change. They also highlighted various roles and responsibilities in an emergency.
While they had much to say with respect to resilience and the various aspects surrounding the concept, becoming resilient involves preparation (planning), education (train staff and advise students), exercise (rehearse all or parts of the plan), and implementation (using your plans to respond, manage and recover). The workshop on emergency scenarios offered advice to those present that they could take back to their universities and implement in their particular environment.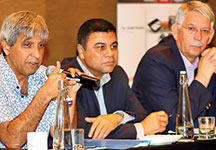 Panel discussion with (left to right) Professor Adam Habib, Professor Francis Petersen and Professor Chris de Beer.
On the panel
Taking the bull by the horns, Camprosa also offered a panel discussion on the Fees Must Fall issue in which Professor Adam Habib, Professor Francis Petersen and Professor Chris de Beer engaged the audience in a discussion on this touchy subject. The panel members agreed that the discussion between university executives and security operations needs to continue to ensure the safety and security of all on campus.
Some outtakes from the discussion included the understanding that campus security must become more integrated with the other operational areas of universities. These institutions must also take an holistic approach to their security operations, with proper protocols and processes in place. It is also more important than ever to have proper management information systems in place to assist in the security function.
It's certain that more demonstrations will take place in future, so it's important for universities to learn the lessons from 2016 and be ready to deal with these issues. Of course, these issues must be dealt with without hampering the freedoms associated with universities. In short, safety and security must become a strategic imperative for universities going forward.
Randy Burba, chief of public safety at Chapman University (USA) as well as the president of IACLEA (International Association of Campus Law Enforcement Administrators) also attended the event and noted that the Camprosa conference is always a learning experience where security teams can learn and share information. He also said that many problems they face are similar, even if they are situated on separate continents.
The Camprosa International Conference 2017 has already been booked. It will run from 3 – 6 September 2017 at the Kwa Maritane Bush Lodge, Pilanesberg National Park, NW Province. For more information go to www.camprosa.co.za
Camprosa the ideal platform for Powell Tronics
The Camprosa (Campus Protection Society of Southern Africa) conference has made its mark as the go-to event for campus security. Powell Tronics once again had a strong presence at the conference as both a sponsor of the registration welcoming bags and as an exhibitor. John Powell, managing director of Powell Tronics, says that the company has taken a strategic decision to increase its penetration into the campus security sector and believes that Camprosa is the ideal platform to share knowledge and experience gained in an interactive manner.
John Tunstall, Camprosa executive secretary says: "Powell Tronics started supporting the Camprosa annual conference in 2010 by sponsoring the Welcome functions. In the past few years Powell Tronics has had specially designed Welcome bags (with both logos) manufactured for all delegates and each containing a bottle of high quality white or red wine and tasty snacks. Their continuous sponsorship has been very valuable and greatly appreciated."
Powell Tronics' special projects technical sales manager, Frazer Matchett and Johannesburg sales manager, Alastair McPhail, manned the company's stand. Matchett says that 79 delegates from universities around the country attended the event. The 2016 conference was characterised not only by a number of trending topics by knowledgeable industry specialists, but furthermore became a catalyst for a group exercise on 'What to do in an emergency situation'.
During the morning tea and lunch breaks over the three-day period, delegates took the opportunity to view sponsor exhibitions. Matchett says that Powell Tronics' PT-Rollcall and PT-GUEST proved very popular with visitors to their stand.
Replacing what was traditionally a very manual process, PT-Rollcall, when combined with a biometric fingerprint enrolment on an access control backbone, allows university staff to enrol each student on to the database. This is then used as an attendance register to ensure that the correct student is writing the correct exam in the appropriate venue.
Credit(s)
Further reading:
The same security assessment for different reasons
Issue 7 2020, Alwinco , Editor's Choice
Like everything else in life, a security risk assessment also has two sides: one is the proactive approach, and the other is the approach taken 'after the fact'.
Read more...
---
Risk intelligence the key to a sustainable future
Issue 7 2020 , Editor's Choice
Only by building risk intelligent organisations will leaders be able to overcome six distinct global threats identified by the Institute of Risk Management South Africa (IRMSA).
Read more...
---
Profile D for access control peripherals
Issue 7 2020 , Editor's Choice
Profile D provides interoperability for devices such as locks, credential/biometric readers, PIN pads, LPR cameras, door phones, sensors and displays.
Read more...
---
Security investments and culture
Issue 7 2020 , Editor's Choice
Organisations must embed security into the culture of the company and approach security investments with this culture in mind.
Read more...
---
Elastic storage pricing
Issue 7 2020 , Editor's Choice
With elastic pricing, users can switch from one storage model to another without having to pay a premium or a penalty, and without having to physically move any data.
Read more...
---
Use technology as a differentiator
Issue 7 2020 , Editor's Choice
Juni Yan, director of Transport, Logistics and Automotive at BT, shares her insights on how logistics companies can leverage digital transformation to become a real market differentiator – no matter the state of the pandemic.
Read more...
---
Management of PPE allocation made simple
Issue 7 2020, Powell Tronics, Technews Publishing , Editor's Choice
Of all the roadblocks and challenges COVID-19 has introduced us to over the past few months, one of the tasks organisations have to manage is the issuing of PPE to staff.
Read more...
---
Robots in warehousing and freight, a security perspective
Issue 7 2020, FSK Electronics , Editor's Choice
The logistics industry needs support from technology to meet its ongoing demands and ongoing security concerns.
Read more...
---
The new training normal
Issue 7 2020, Leaderware , Editor's Choice
Insights from running my first CCTV Surveillance Skills and Body Language and Advanced courses at physical training venues since COVID-19 started.
Read more...
---
An exciting journey in security
Issue 7 2020, Technews Publishing, BTC Training Africa , Editor's Choice
Errol Peace describes his 40-plus year career in the security industry where he was and is a great proponent of training as an "exceptionally exciting journey".
Read more...
---