printer friendly version
Biometrics makes its mark at ­universities
February 2017 Education (Industry), Access Control & Identity Management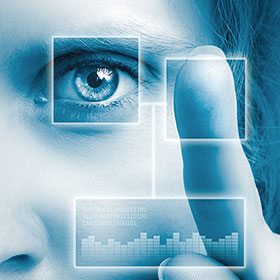 In addition to traditional security measures, the adoption of biometric technology in access control systems at tertiary educational facilities is providing knock-on benefits that include examination rollcall procedures and evacuation management and control. Hi-Tech Security Solutions spoke to two industry specialists about current trends in the industry.
Traditionally, within the education sector, the larger tertiary facilities relied on card-based access control systems to provide identification of students and entry into facilities such as campus buildings and student residences. From the late 1990s this was achieved with barcodes and magnetic strips and eventually evolved into RFID. In the past few years there has been a steady and noticeable trend that has seen an increased interest in the deployment of biometric solutions.
According to John Powell, CEO of Powell Tronics, the smaller institutions generally opted for a more basic solution by printing student cards, with a lack of any noticeable access control technology at entrance points. Where these were available, they were usually standalone systems. However, this has changed in recent times with a gearing up to install the latest access control technology to manage their sites.
Powell explains that the main difference between larger and smaller, often privately owned, institutions is that the larger ones are generally situated on one or two large campuses with a number of buildings linked to the system. The smaller institutions are often characterised by a number of smaller sites located throughout the country. Until fairly recently, the connectivity between these sites has been a limiting factor.
Impro's Vikki Vink adds that the use of fingerprint biometrics in particular is fast gaining ground in tertiary educational facilities and is used primarily for perimeter access and thereafter to gain access into internal areas such as libraries, media and IT centres and canteens. This has been identified as a principal drive to ensure the safety and security of students, academic staff and visitors.
The evolution to biometrics on campuses has definitely increased and the added security around biometrics versus card-based access control has been proven on numerous occasions. Since cards can be lost or stolen, there is always a concern regarding the legitimacy of the user. In many instances, buddy clocking has resulted in issues around valid attendance of lectures and examinations.
"One of the benefits of adopting biometric access is that you always have your fingerprint or other biometric ID with you. The obstacle of entry to market for this modality was the high cost but fortunately technology has improved and become more cost effective, allowing educational institutions to see the clear return on investment that it offers," says Powell.
Best practice in biometrics
One of the challenges education institutions face is the high volume of students and access points. Where all departments and buildings are located on one campus, it is easier to secure the perimeter, which in turn allows other areas such as canteens as well as computer labs, with numerous workstations, to be controlled.
Best practice would be to secure these areas by enrolling students on the biometric access control system when they register as a student. This is particularly useful, since one then has the correct information from inception. By integrating the access control data with business systems like SAP or Novell, one creates a single security receptacle for data, resulting in enhanced security.
Although the software is at the heart of the system, and therefore where all the parameters and rules are created, another key consideration must be the type of biometric device used. Increasing demand has resulted in many competitors entering the market, however not all devices are created equal.
Vink cautions that when selecting a biometric device, it is important to take into account the accuracy of the reader, the speed of reading, as well as the average life of the device. Biometrics are a significant investment for any institution, especially compared to traditional RFID units, and therefore the lifecycle costs are imperative. What may seem to be cheaper at the time of tender, can end up being very expensive if one experiences frequent failures, poor reads or even broken devices. Quality is therefore critical in the field of biometrics.
Vink says that in addition to the quality considerations, there is also a need to future-proof the technology as much as possible, especially with regard to the security and integrity of users' credentials. She cites SEOS mobile credential technology as an ideal solution. The solution delivers secure credentials across a wide range of readers and applications, such as T&A, secure printing and biometric based verification. SEOS protects the storage and use of identities across a broad range of credential platforms and also ensures that no information can be used or read by an unauthorised party.
An added benefit of SEOS, she says, is the ability to choose multiple secure tag choices, such as traditional cards, smart cards, mobile phones, wearables such as Fitbits, along with biometric devices. As the technology expands, so the SEOS-enabled biometric device can offer the institution enhanced functionality into the future.
Powell says that it is wise to select only tried and tested access control solutions which are supported by international accreditation and certification such as that provided by the FBI standard. Choosing a leading brand is always advisable since they are characterised by strong technical support networks. This can be critical when you require onsite assistance. This should be complemented by an established supply chain to ensure fast turnaround times.
He says that one of the major challenges is to get all the faculties and departments to pull in the same direction. "Once you have consensus on how to move forward, the next challenge is specifying a product that can meet the unique requirements of these large sites, with multiple buildings and thousands of students. Just imagine the logistics around an institution like UNISA, with over 400 000 students and a large staff contingent.
"There are also challenges around the integration of access control software with enterprise resource planning (ERP) software and student software systems. Furthermore, the challenge arising in high-traffic areas where bottlenecking needs to be prevented at peak times, has to be addressed. Finally, speed of throughput for functions and examinations is an issue that is also prevalent in universities."
According to Vink, the biggest consideration is the IT network infrastructure and the associated skills transfer. This is particularly prevalent with many institutions considering IP-at-the-door type installations, where there are increased server demands and strong database and business intelligence requirements.
The bottom line
The route to solving challenges around access control issues at universities is to carefully consider the individual requirements of a particular site and any buildings thereon. The advantages to the institution once any challenges are overcome, are that they can accurately manage attendance and access into specific areas, venues and facilities across any of their campuses.
The ability to derive real-time information in the event of an emergency is a major benefit. "For example by activating threat level, an educational institution can be locked down either automatically or with a few mouse clicks; or all access locations can be opened, depending on the emergency," says Vink. Critical life-saving features such as this go beyond the traditional security applications.
Vink adds that through the use of handheld biometric units, areas can be limited to a certain number of people or vehicles. An example here is in a parking area, where the system will only allow a predetermined number of vehicles to enter. Such systems can also provide important data that can be analysed to track trends within the facility, in order to assist in future planning.
"The ability to undertake visitor management through the same access control solution is also key, so that there is one single cohesive platform, rather than multiple freestanding systems. The benefit here is that you are able to quickly view the entire site and all people on the site at a glance, rather than having to jump between various monitoring systems," says Vink.
In addition, as new technologies become available, institutions can quickly adopt these in an integrated system that works off one platform. For example, one can use a mobile phone as an access tag. In individual systems, however, the assimilation of new technology may take longer, due to more bespoke integration being required.
Both Powell and Vink advise consulting with suppliers who have a documented and verifiable customer base in this sector. It is less expensive over the long term to start with high-quality, proven technology that has an established reputation in the market, rather than deploying untested technology.
For more information contact: Powell Tronics, 0861 787 2537, [email protected], www.p-tron.com; Impro Technologies, +27 (0)31 717 0700, [email protected], www.impro.net
Credit(s)
Further reading:
Salient Systems manages campus security
Education (Industry) CCTV, Surveillance & Remote Monitoring Access Control & Identity Management
The University of Massachusetts Amherst relies on Salient Systems for video, access control operations for flagship campus as it standardises on IP surveillance.
Read more...
---
QR Code passwordless authentication method
News Access Control & Identity Management Products
LogMeOnce introduces a patented QR Code passwordless authentication method allowing users to scan a code with their mobile device for secure authentication.
Read more...
---
Improving biometrics to address privacy, scale and accuracy
Editor's Choice Access Control & Identity Management News
CryptoNets uses artificial intelligence and a new type of encryption; it is very fast, locating a face among countless others in milliseconds without the need to have any other data to narrow the search.
Read more...
---
Gallagher announces ISO 27001 certification
Gallagher News Access Control & Identity Management
Gallagher has announced it has achieved ISO 27001 accreditation, a standard that ensures organisations protect their information in a systematic and efficient way, through a comprehensive Information Security Management System (ISMS).
Read more...
---
ZKTeco Experience Centre
ZKTeco News Access Control & Identity Management
ZKTeco South Africa has opened the doors to its innovative and interactive space, the ZKTeco Experience Centre in Centurion, Pretoria and welcomes visitors to partake in the 'Powered by ZKTeco' experience.
Read more...
---
Touchless school access control
neaMetrics Suprema Editor's Choice Access Control & Identity Management Integrated Solutions Education (Industry) Products
Wolverhampton Grammar School deployed a Suprema access control solution, integrated with Paxton to resolve its legacy access control challenges.
Read more...
---
Protecting people and infrastructure
Cathexis Technologies Education (Industry)
Effective security and infrastructure management enhances every aspect of an educational facility. Students and staff can prioritise their educational and operational goals because they trust that the ...
Read more...
---
Touchless access to education
ZKTeco Education (Industry)
Visible light facial recognition technology gives one an endless platform to create a full security system without people, especially intruders, having knowledge of them being monitored.
Read more...
---
Installation is only a third of the job
Technews Publishing Education (Industry)
Fire safety is often ignored in student accommodation once the building is completed and the fire safety installation certified, says Michael van Niekerk, CEO of ASP Fire.
Read more...
---
Schools and universities deserve smarter fire detection
Education (Industry)
Gaining more time is a key reason for changing from the familiar point-type fire detectors to aspirating smoke detection (ASD), also known as air sampling detectors.
Read more...
---