printer friendly version
Education must not fall
February 2017 Editor's Choice, Education (Industry)
Last year South Africa saw several demonstrations (or riots, depending on who you ask) at our leading universities under the banner of 'Fees Must Fall'. While many demonstrations went off without violence, it seems there were some elements seemingly determined to turn a legitimate protest into a battle with the police, administrators and even other students trying to continue their studies.
Commenting on the Fees Must Fall campaign is beyond the scope of Hi-Tech Security Solutions, but some of our readers were caught in the middle as they tried to retain a semblance of order at the universities they work for, allowing those students focused on their studies and academic staff committed to their students to continue their work unhindered.
To obtain a clearer understanding of how the various security and risk operatives at our universities handled the crisis, we asked a number of them to expound on their experiences and the actions they took – as well as lessons learned – while they tried to look after our higher education institutions.
Given the sensitive nature of the crisis, some declined to answer, but others were willing to provide input to our questions. To avoid any miscommunication or misunderstandings, we have collated their replies in a question-and-answer format below. The people who answered our questions, or compiled the answers from different sources were:
• Viljoen van der Walt, Director: Risk Management & Campus Security, Stellenbosch University,
• Derek Huebsch, Director and HOD: Protection Services at the NMMU, Port Elizabeth and national president of CAMPROSA,
• Pola Mmapulana, Director of Operations at NWU Vaal Campus,
• Towers Naidu, Campus Protection Manager, Rhodes University, and
• Noko Masalesa, Director: Protection Services, University of the Free State.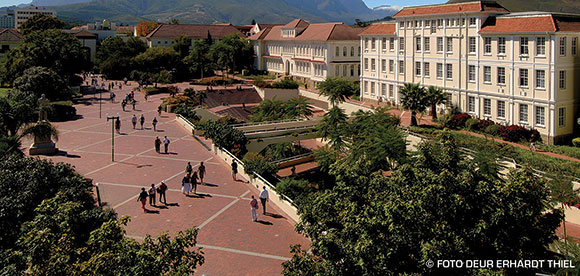 University of Stellenbosch.
Hi-Tech Security Solutions: What have educational institutions learned when it comes to dealing with popular demonstrations?
Viljoen van der Walt: Like various other university campuses in the country, Stellenbosch University, for the past two years, was not exempt from attempts to destabilise the campus and its academic programme, but to a large extent we were able to complete the academic year successfully. In this regard, probably the most important lessons from a security point of view was to be informed, to have contingency plans in place to deal with different security challenges and to keep the various affected target groups up to date on the situation on campus.
One should, furthermore, take into account that the national political situation has a direct influence on what is happening at campus level. Very often it was not about the demands in itself – often protestors kept on protesting even when their demands were met. Attempts to reconcile and resolve issues were met with making new demands, in most cases deliberately out of reach.
Protest leaders followed a methodology in which they would start by taking control of a facility – with the aim of confronting executive management from that vantage point – and then to create 'conflict' situations in an effort to close down the institution. Security services are the barrier to overcome the drive to get to management.
Moreover, disinformation and false accusations were used as strategy to discredit senior management and the security division.
Derek Huebsch: The importance of information and intelligence in advance and the sharing thereof has made it possible to better engage and manage situations of this nature, which have become 'the new normal'. This includes the importance of engaging with and keeping all other stakeholders, such as staff, parents and non-participating students informed, to dispel the negative perceptions, rumours and disinformation that is so easily circulated by way of social media or word of mouth.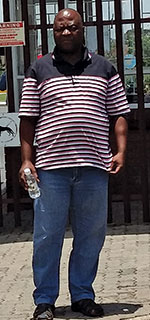 Pola Mmapulana, Director of Operations at NWU Vaal Campus.
Pola Mmapulana: What we learnt at North West University Vaal Campus is the modus operandi used to start the protests are the same. All protests on campus started at the bus gate where protest leaders close the gate and instructed all students to go to main gate. This was a sign to other students that they intend to protest, then even students on residences change clothes to their political shirts and tekkies. A few students want to engage in protests while majority of students want to learn, but they are scared to confront the protesters.
The other point that we learned was that if we allow a few students to disrupt lectures and those lectures are suspended, the protests gain momentum as all students will support it because they are not doing anything, thus they join for the fun of it.

Towers Naidu, Campus Protection Manager, Rhodes University.
Towers Naidu: This is a greater problem that cannot be solved at the university level as it falls within the realm of government to provide a reasonable solution. At the university level, one can only engage with the parties and to try and reach a reasonable solution, beyond that it should be escalated.
Noko Masalesa: The availability of the executive management, their direct involvement in the safety and security plans of the university, and their ability to engage with the different stakeholders during a protest are crucial during a protest action.
Hi-Tech Security Solutions: Were your security teams ready to deal with the unexpected turn of events?
Van der Walt: There were some surprises. On a few occasions, protestors were able to enter buildings and disrupt academic activities. But as we became more informed on strategies and tactics used, it was possible to prevent the disruption of academic activities most of the time.
One should keep in mind that the university acknowledges the right of staff and students to take part in protest action as long as this does not pose risks to the safety of staff and students, or to university property, and provided there is no breach of the rights of students to study or to write their exams.
Huebsch: Being caught in the midst of the student protest action whilst going through an in-sourcing process of support staff employees was extremely difficult as it added to our problem. Some employees felt and were regularly reminded by student protestors that they had fought to get them in-sourced so they were expected to look the other way and not report or get in the way of student protest action.
This led to a large amount of the uncertainty with respect to safety and security amongst non-participating parties. It also led to additional expenditure in respect of having to outsource and obtain ad hoc security services for the duration of the period between mid-September and 21st December 2016 when the last exams were written.
One of our immediate needs is that of conducting sound skills assessment tests and training of the recently in-sourced officers and most likely having to again obtain ad hoc services to provide the necessary safety and security during the initial stages of the 2017 academic year for late exams, re-exams and registration periods.
Mmapulana: Yes, we have a written security plan where we documented plans of action in case of wildcat strikes for both employees and students. We are always ready as we experienced student protests from 2015. We improved many security measures that I cannot mention here.
Naidu: Yes we were. We had to bring in additional security resources as the aim was to complete the 2016 academic year, which was achieved. During the 2016 examinations, we had no disruptions at the various internal venues used. The difficulty that we faced here was dealing with very small numbers of demonstrators, those working in groups of three, four and five. We lost only one building during the demonstrating and it was a sports clubhouse. There were attempts to disrupt some of the exam venues, but this was avoided. The common damage was broken windows.
Masalesa: Yes, my team was always ready because we met every morning with our SAPS and Riot Control Service providers to discuss possible scenarios and to plan accordingly for mitigation measures. Before we went off duty every afternoon, we also went through lessons learned for the day and made the necessary adjustments.
Continuous improvement is part of our department's management philosophy. We continuously look for areas requiring enhancement and focus on those. We do not say everything is working well and start relaxing.
Hi-Tech Security Solutions: How important is the ability to communicate with all parties effectively in a situation like this? What did you do to keep everybody informed?
Van der Walt: Communication is key. It is essential to counter disinformation and to keep staff and students informed and to continuously emphasise the continuation of the academic project. Social media is an important tool to provide information, but can be a digital 'battlefield' during protest action. Often, well intended messages by the university were met with disinformation, so social media has a positive and a negative side to it. It was important to the university to have a website that was updated on a regular basis – social media was used to direct staff and students to the website. Regular communiques to staff, students, alumni, donors and parents also proved to be very valuable.
WhatsApp groups with different groupings of staff, security and safety teams proved to be the best, fastest and most reliable source of internal communication between the main role-players.
Huebsch: Communication, communication and communication is of utmost importance, without it the majority of stakeholders (non-participants) are left in the dark. Our worst enemy is also our best ally, that being social media, and unless it is used and relevant information circulated by the university ASAP, the risk exists of disinformation and negative remarks and rumours being posted. This would leave the university with the impossible task of trying to save face. Being informed makes for educated decisions and awareness on the part of all affected and thus must not be left to risk.
As CAMPROSA President, I initiated a communication link between institutions with the intent of sharing information and experiences during the past year's protest action. I believe this assisted us all in better understanding and collaborating in our efforts to deal with the new and difficult challenges brought about by the situation.
Mmapulana: It is very important to communicate with all stakeholders during protests, especially parents. We have an SMS system that we use to communicate with parents, students and employees. We also use social media and notice boards.
Naidu: Communication is vital; however the problem is that security information on planning can be leaked. Therefore, certain information had to be furnished at the last minute to academics and students. I ran the JOC from the security office and coordinated the ground security at the various areas of the campus.
Masalesa: The ability to communicate effectively with all stakeholders is critical. In our case, we are very fortunate because we have a hands-on Head of Communication and Dean of Student Affairs.
Daily updates were provided to the Head of Communication and Brand Management. This included, for instance, the number of arrests (if there were any), as well as any disruptions reported and/or observed etc. This ensured that accurate information was communicated to the media. The agreement between us was that any article relating to protests must first be checked by me before it could be sent out.
Since we have three campuses, various additional communication options, such as push-talk radios are being investigated to ensure that there is proper command and control during protests and any other emergency situations.
Hi-Tech Security Solutions: In hindsight, how do you think it is best to include everyone on campus in your security plans?
Van der Walt: All university buildings must have an effective and well-functioning safety committee and staff must take part in, for example, evacuation drills. Furthermore, academic staff are also informed as to what to do during class disruptions. On a security level, there is a communication strategy, but this is, of course, on a 'need to know' basis for obvious reasons. In 2016 we were, to a large extent, able to develop and maintain target group focused communication. It was important for us to balance disinformation with the facts, even in the face of intimidation. It should be stressed that the overwhelming majority of students do not want the destabilisation of the academic project.
Huebsch: Using all available means of communication is important, not only posting it on a safety and security website, it is also relevant to post visible and effective signage throughout campuses, buildings and facilities. What is also important is that such information is easy to understand and offers the assurance that all possible methods of ensuring the safety and security, and sound evacuation of people has been thought of. Early identification and prevention of potential risk or exposure to risk must be an effective part of the process. Decision making in respect of when and what to do should the situation become risky or pose any potential threat should be streamlined, and the use of a small yet representative emergency team to exchange ideas worked well for us.
Mmapulana: We have a good relationship with student leaders and we engage with them.
Naidu: Creating a business continuity processes and a crisis management plan. All relevant stake holders must play a part in ensuring that there is completion of the academic year, working with designated persons to perform coordinating roles. This can be achieved via effective team work – meaning all departments, be that academic or support, work together.
Masalesa: We have established emergency and crisis management committees at our three campuses which have representatives from each department and faculty. Every department and faculty has appointed a safety and security champion who works closely with the Protection Services department. The (champions') responsibilities include, among others, to ensure that their buildings have emergency management plans and clear protocols with critical contact details clearly displayed. Emergency drills are also conducted from time to time to make sure that all role-players are familiar with their duties.
It is also important to keep top management abreast of developments with respect to emergency and crisis management. For example, I present a status report to the university management committee as well as to EMT from time to time.
Hi-Tech Security Solutions: Looking back, what would be the most important security process/function that you would wish to see implemented or changed before something like this happens again?
Van der Walt: In an ideal world, universities should be places that are not securitised to the extent that universities have seen in the past two years, and where staff and students can express thoughts and ideas freely. Unfortunately, the current situation necessitates security involvement on campus. A solution to the funding crisis to a large extent lies beyond the control of individual universities. That said, on our wish list are bodycams to do live streaming of events to an ops centre (including sound). Time and again we saw that protesters tend to be more violent if they think they are faceless. Once good quality, live streamed video with audio is sent to the ops centre, all indications are that protesters will be more careful and that the level of violence will be less.
The importance of communication to the public on what the government and university management are already doing and will be implementing to meet the needs of students, remains the process/function to counter unacceptable and expensive protest actions.
Huebsch: At campuses, more effective access control and prevention of unauthorised access as well as early addressing of potential situations before they get out of hand and become difficult to manage, leading to the need to call in the assistance of the SAPS or other forces. Such early addressing to include the expedition of disciplinary processes, including criminal matters, thus the immediate support and assistance of a dedicated SAPS team becomes an important part of the process.
Also, having government play a more pro-active and tangible approach in assisting institutions of higher learning to overcome the changes that have been brought about to make it possible to better address student concerns in respect of the costs associated with fees.
Mmapulana: The police must work with us and guide us during protests. A J.O.G was created in our area during student protests and we worked very well with police, but some of the commanders at campus did not want to listen or work with us. I would like police seniors on campus to have meetings with us and strategise with us.
Naidu: You can have a security plan in place, but the issue is that you deal with demonstrators that do not have the same agenda. For example, some want it to be peaceful, others destructive, and others don't want to conduct activities within the legal limits. What needs to happen is that we only change to a backup plan if it does not work or change certain aspects of the plan to combat certain unforeseen issues.
Masalesa: Having a liaison forum established between Protection Services and the Student Affairs Departments. That will ensure that there is constant interaction between the Students Representative Council members and Protection Services. Protection Services will also have the opportunity to demonstrate their value-added services and not to be perceived as the adversaries of the students.
Hi-Tech Security Solutions thanks everyone who contributed to answering the questions in this article.
Credit(s)
Further reading:
2020 Residential Estate Security Conference in KZN
October 2019, Technews Publishing , News, Residential Estate (Industry)
Meeting the residential security challenges in 2020 and beyond: Hi-Tech Security Solutions will host the Residential Estate Security Conference 2020 in Durban on 12 March 2020.
Read more...
---
From the editor's desk: More things change
CCTV Handbook 2019, Technews Publishing , News
Welcome to the CCTV Handbook 2019. This year's handbook breaks a long tradition of publishing the handbook in the first half of the year by releasing it along with the October issue of Hi-Tech Security ...
Read more...
---
A platform approach to innovation and value
CCTV Handbook 2019, Technews Publishing , Editor's Choice, CCTV, Surveillance & Remote Monitoring, Integrated Solutions, IT infrastructure
Moving to the platform model of doing business holds tremendous advantages for end users and smaller developers, but also for the whole technology supply chain.
Read more...
---
Open does not always mean easy integration
CCTV Handbook 2019, VERACITECH, Technews Publishing , Editor's Choice, CCTV, Surveillance & Remote Monitoring, Integrated Solutions
Customers who opt for best-of-breed solutions will have to rely on their integrators to develop customised integrated solutions for them.
Read more...
---
The impact of AI on the surveillance industry
CCTV Handbook 2019, G4S South Africa, Hikvision South Africa, Myertal Tactical Security, Technews Publishing , Editor's Choice, CCTV, Surveillance & Remote Monitoring
What the impact of AI will be on companies, the services and solutions they supply, as well as on the jobs people do.
Read more...
---
Video analytics and AI
CCTV Handbook 2019, Axis Communications SA, Dallmeier Electronic Southern Africa , Hikvision South Africa, Technews Publishing, Dahua Technology South Africa , Editor's Choice, CCTV, Surveillance & Remote Monitoring, Integrated Solutions
Artificial intelligence has the potential to deliver real benefits in the world of video analytics and many companies are already delivering customer benefits.
Read more...
---
Cloudy with a chance of AI
CCTV Handbook 2019 , Editor's Choice, CCTV, Surveillance & Remote Monitoring, Integrated Solutions
One local company has developed an AI solution that can be added to existing surveillance installations, offering 24-hour intelligence.
Read more...
---
Integration insights
CCTV Handbook 2019, Gijima Electronic and Security Systems (GESS), Technews Publishing, neaMetrics , Integrated Solutions
The security industry would be a vastly different place if installers and integrators were not able to make a range of different products work together.
Read more...
---
Taking analogue to HD
CCTV Handbook 2019, Dahua Technology South Africa, Technews Publishing, Hikvision South Africa , CCTV, Surveillance & Remote Monitoring
Hi-Tech Security Solutions spoke to two companies that are driving the two primary analogue HD technologies.
Read more...
---
Security surveillance architecture
CCTV Handbook 2019, Technews Publishing , Editor's Choice, CCTV, Surveillance & Remote Monitoring
IP video surveillance solutions typically have two distinctive surveillance architectures: centralised and distributed. Dean Coleman explains the difference.
Read more...
---