printer friendly version
Western Cape Improvement Districts get timely software and security boost
February 2017
Integrated Solutions
Residents living and working in Cape Town's progressive City Improvement Districts (CIDs) have been boosted by the introduction of new software that promises to improve security and overall maintenance services.
CIDs are demarcated management zones or special rates areas (SRA) approved by the City of Cape Town, where the majority of property owners (business and residential) contribute a nominal additional fee for top-up value-add services like security patrols, cleansing services and urban maintenance.
The majority of Cape Town's major CIDs – namely Groote Schuur, Claremont, Wynberg, Voortrekker Road, Observatory and Woodstock – are now managed by global protective services company Securitas, using locally-developed incident management software called Incident Desk from Cape Town-based South African software company Solution House.
According to Securitas South Africa business development director, Jeremy Horner, larger CIDs average 2000 to 3000 incident reports a month, so the company needed a way to consolidate its incident reports and integrate multiple monitoring and reporting systems both within and between the various CIDs on its books.
"We deliver these services in support of – and in collaboration with – city-funded resources like the South African Police and Metro Police, so we're complementing rather than replacing their functions in these areas," says Horner. "To do so effectively, however, requires substantial logistical resources, including powerful software tools like Incident Desk that help us record, manage and report on all the data we need to manage in each CID."
Horner says that while CIDs have become one of the major success factors in the upliftment of Western Cape communities, they also generate enormous amounts of data and deploy many different systems – both manual and electronic.
"Effective management means staying ahead of the curve when it comes to knowing what your customers need from you, be it from a security perspective or any other service they pay to receive," he says. "One of the main challenges we face from a management perspective is breaking down the silos of information not only within a CID, but also between CIDs, because issues that affect one CID often spill over into an adjacent district. This is where Incident Desk, with its consolidated view, smartphone app and ability to process information from different systems and management areas in real time, comes into its own."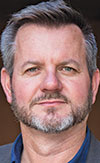 Tiaan Janse van Rensburg, Solution House.
Solution House director Tiaan Janse van Rensburg says public safety management is a good example because urban management companies often have to deal with many inter-related challenges such as social services, maintenance and by-laws.
"Using a single system that allows us to aggregate incident reports from these various sources and quickly see where, when and how often certain crimes take place in demarcated areas within a CID, allows us to identify trends and hotspots and predict when and where we're likely to see them re-occur.
"While Incident Desk consolidates information from any number of CIDs, it is actually part of a larger national urban management and public safety solution which centralises information for the whole of South Africa. This ability to predict and prevent crime makes it possible for CIDs to become far more proactive in their service delivery, which ultimately sets them apart from urban management models that are predominantly reactive."
Incident Desk is a universal incident mapping and management platform that provides estate and security managers with real-time incident alerts, and gives them the ability to record and report live incidents with a smartphone application.
For more information contact Tiaan Janse van Rensburg, Solution House, +27 (0)82 565 8081, tiaan@solutionhouse.co.za
Credit(s)
Further reading:
A smart start for South African cities
Integrated Solutions IT infrastructure
Cameras and sensors can kick off smart city strategies in cities around South Africa, leading to not only improved security and safety, but also better service delivery in areas like electricity and water provisioning.
Read more...
---
Innovation and service, 37 years and counting
Technews Publishing Impro Technologies Access Control & Identity Management Integrated Solutions
Innovation, simplicity and trust underpin the nearly 40 years of success of local access control brand, Impro Technologies, which is still run as an independent entity despite being acquired by ASSA ABLOY in 2016.
Read more...
---
Improving safety and security
Gallagher Education (Industry) Access Control & Identity Management Integrated Solutions
Education facilities have more than enough to deal with when it comes to allocating budget. Security often seems to be the last item on the agenda but is more important than ever.
Read more...
---
Software is South Africa's most promising business opportunity
Integrated Solutions IT infrastructure
When we talk about software as a business opportunity, we are not just talking about software or IT as a standalone product; deploying computer and network-related solutions to augment traditional processes represents an evolutionary shift in how the world works.
Read more...
---
Finding balance in a world of shifting supply chains
Logistics (Industry) Integrated Solutions Products
Retailers and consumer goods manufacturers need precise demand planning now more than ever. With help from the AI-powered SAS Intelligent Planning Cloud, companies can anticipate and address shopper needs and shipping disruptions more effectively.
Read more...
---
SA banking sector chooses enterprise-grade ID verification
Financial (Industry) Access Control & Identity Management Integrated Solutions
In terms of the secure digital onboarding of customers, South Africa's major banks have made massive inroads by using remote facial authentication.
Read more...
---
The state of the biometrics market
neaMetrics Technews Publishing Suprema Hikvision South Africa IDEMIA Access Control & Identity Management Integrated Solutions
Now that the pandemic is over (hopefully), will we see the same confidence in biometrics for access and identification or will the world be reverting to touch-based systems, including cards and fobs (or mobiles).
Read more...
---
Suprema development tools
Suprema Access Control & Identity Management Integrated Solutions
With integrating systems from different companies a critical part of an effective security solution, Suprema highlights its development tools aimed at making integration with its products simpler.
Read more...
---
The future of touchless biometrics
Technews Publishing Fulcrum Biometrics Access Control & Identity Management Integrated Solutions
Facial biometrics is the main talking point today, helped along by COVID, but is it the best touchless solution available? Rob Griggs from Fulcrum Biometrics Southern Africa recommends other touchless alternatives.
Read more...
---
The problem with biometrics
Technews Publishing Editor's Choice Access Control & Identity Management Integrated Solutions
We have come to rely heavily on biometrics for many aspects of access and identity management, especially in identity management where selfie authentication is accepted with confidence. Are we doing it right? Roger Grimes has his own take on the matter.
Read more...
---