printer friendly version
Western Cape Improvement Districts get timely software and security boost
February 2017
Integrated Solutions
Residents living and working in Cape Town's progressive City Improvement Districts (CIDs) have been boosted by the introduction of new software that promises to improve security and overall maintenance services.
CIDs are demarcated management zones or special rates areas (SRA) approved by the City of Cape Town, where the majority of property owners (business and residential) contribute a nominal additional fee for top-up value-add services like security patrols, cleansing services and urban maintenance.
The majority of Cape Town's major CIDs – namely Groote Schuur, Claremont, Wynberg, Voortrekker Road, Observatory and Woodstock – are now managed by global protective services company Securitas, using locally-developed incident management software called Incident Desk from Cape Town-based South African software company Solution House.
According to Securitas South Africa business development director, Jeremy Horner, larger CIDs average 2000 to 3000 incident reports a month, so the company needed a way to consolidate its incident reports and integrate multiple monitoring and reporting systems both within and between the various CIDs on its books.
"We deliver these services in support of – and in collaboration with – city-funded resources like the South African Police and Metro Police, so we're complementing rather than replacing their functions in these areas," says Horner. "To do so effectively, however, requires substantial logistical resources, including powerful software tools like Incident Desk that help us record, manage and report on all the data we need to manage in each CID."
Horner says that while CIDs have become one of the major success factors in the upliftment of Western Cape communities, they also generate enormous amounts of data and deploy many different systems – both manual and electronic.
"Effective management means staying ahead of the curve when it comes to knowing what your customers need from you, be it from a security perspective or any other service they pay to receive," he says. "One of the main challenges we face from a management perspective is breaking down the silos of information not only within a CID, but also between CIDs, because issues that affect one CID often spill over into an adjacent district. This is where Incident Desk, with its consolidated view, smartphone app and ability to process information from different systems and management areas in real time, comes into its own."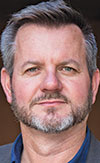 Tiaan Janse van Rensburg, Solution House.
Solution House director Tiaan Janse van Rensburg says public safety management is a good example because urban management companies often have to deal with many inter-related challenges such as social services, maintenance and by-laws.
"Using a single system that allows us to aggregate incident reports from these various sources and quickly see where, when and how often certain crimes take place in demarcated areas within a CID, allows us to identify trends and hotspots and predict when and where we're likely to see them re-occur.
"While Incident Desk consolidates information from any number of CIDs, it is actually part of a larger national urban management and public safety solution which centralises information for the whole of South Africa. This ability to predict and prevent crime makes it possible for CIDs to become far more proactive in their service delivery, which ultimately sets them apart from urban management models that are predominantly reactive."
Incident Desk is a universal incident mapping and management platform that provides estate and security managers with real-time incident alerts, and gives them the ability to record and report live incidents with a smartphone application.
For more information contact Tiaan Janse van Rensburg, Solution House, +27 (0)82 565 8081, tiaan@solutionhouse.co.za
Further reading:
Securing perimeters of secure locations
November 2019, Axis Communications SA, Modular Communications, Hikvision South Africa, Nemtek Electric Fencing Products, Technews Publishing, Stafix , Government and Parastatal (Industry), Perimeter Security, Alarms & Intruder Detection, Integrated Solutions
Hi-Tech Security Solutions asked a number of companies offering perimeter security solutions for their insights into protecting the boundaries of national key points.
Read more...
---
Vox expands managed services with Mimecast
October 2019, Vox Telecom , Integrated Solutions
Vox has added Managed Mimecast to its suite of managed service offerings to provide customers with a more effective way of safeguarding their emails against spam and malicious attacks.
Read more...
---
Digitising Maslow's Hierarchy of Needs
October 2019 , Integrated Solutions, IT infrastructure
Mobile technology has the potential to change how Africa approaches patient and healthcare, says Phathizwe Malinga, managing director, SqwidNet.
Read more...
---
Intelligent analytics and the brains to match
September 2019, Bosch Building Technologies , CCTV, Surveillance & Remote Monitoring, Integrated Solutions
What if the brains behind our security cameras could be trained to improve their cognitive ability to pay attention, learn, and problem-solve according to specific rules and situations?
Read more...
---
AI-powered autonomous Drone-in-a-Box
September 2019 , CCTV, Surveillance & Remote Monitoring, Integrated Solutions
Organisations in the mining, energy and industrial, oil and gas, ports and terminals sectors can optimise security and business operations, whilst reducing risks and operational costs
Read more...
---
The safe city and its need for interoperability
November 2019 , Integrated Solutions, CCTV, Surveillance & Remote Monitoring
Interoperability continues to present one of the greatest challenges, particularly with video management systems, video recording devices and cameras.
Read more...
---
Analytics-driven solutions for smart infrastructure
November 2019, Bosch Building Technologies , Integrated Solutions
Video analytics technology can bring intelligence to infrastructure by delivering solutions for traffic flow, improved safety, smart parking, and data collection.
Read more...
---
A platform approach to innovation and value
CCTV Handbook 2019, Technews Publishing , Editor's Choice, CCTV, Surveillance & Remote Monitoring, Integrated Solutions, IT infrastructure
Moving to the platform model of doing business holds tremendous advantages for end users and smaller developers, but also for the whole technology supply chain.
Read more...
---
Open does not always mean easy integration
CCTV Handbook 2019, Veracitech, Technews Publishing , Editor's Choice, CCTV, Surveillance & Remote Monitoring, Integrated Solutions
Customers who opt for best-of-breed solutions will have to rely on their integrators to develop customised integrated solutions for them.
Read more...
---
Video analytics and AI
CCTV Handbook 2019, Axis Communications SA, Dallmeier Electronic Southern Africa , Hikvision South Africa, Technews Publishing, Dahua Technology South Africa , Editor's Choice, CCTV, Surveillance & Remote Monitoring, Integrated Solutions
Artificial intelligence has the potential to deliver real benefits in the world of video analytics and many companies are already delivering customer benefits.
Read more...
---