printer friendly version
Western Cape Improvement Districts get timely software and security boost
February 2017
Integrated Solutions
Residents living and working in Cape Town's progressive City Improvement Districts (CIDs) have been boosted by the introduction of new software that promises to improve security and overall maintenance services.
CIDs are demarcated management zones or special rates areas (SRA) approved by the City of Cape Town, where the majority of property owners (business and residential) contribute a nominal additional fee for top-up value-add services like security patrols, cleansing services and urban maintenance.
The majority of Cape Town's major CIDs – namely Groote Schuur, Claremont, Wynberg, Voortrekker Road, Observatory and Woodstock – are now managed by global protective services company Securitas, using locally-developed incident management software called Incident Desk from Cape Town-based South African software company Solution House.
According to Securitas South Africa business development director, Jeremy Horner, larger CIDs average 2000 to 3000 incident reports a month, so the company needed a way to consolidate its incident reports and integrate multiple monitoring and reporting systems both within and between the various CIDs on its books.
"We deliver these services in support of – and in collaboration with – city-funded resources like the South African Police and Metro Police, so we're complementing rather than replacing their functions in these areas," says Horner. "To do so effectively, however, requires substantial logistical resources, including powerful software tools like Incident Desk that help us record, manage and report on all the data we need to manage in each CID."
Horner says that while CIDs have become one of the major success factors in the upliftment of Western Cape communities, they also generate enormous amounts of data and deploy many different systems – both manual and electronic.
"Effective management means staying ahead of the curve when it comes to knowing what your customers need from you, be it from a security perspective or any other service they pay to receive," he says. "One of the main challenges we face from a management perspective is breaking down the silos of information not only within a CID, but also between CIDs, because issues that affect one CID often spill over into an adjacent district. This is where Incident Desk, with its consolidated view, smartphone app and ability to process information from different systems and management areas in real time, comes into its own."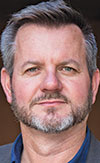 Tiaan Janse van Rensburg, Solution House.
Solution House director Tiaan Janse van Rensburg says public safety management is a good example because urban management companies often have to deal with many inter-related challenges such as social services, maintenance and by-laws.
"Using a single system that allows us to aggregate incident reports from these various sources and quickly see where, when and how often certain crimes take place in demarcated areas within a CID, allows us to identify trends and hotspots and predict when and where we're likely to see them re-occur.
"While Incident Desk consolidates information from any number of CIDs, it is actually part of a larger national urban management and public safety solution which centralises information for the whole of South Africa. This ability to predict and prevent crime makes it possible for CIDs to become far more proactive in their service delivery, which ultimately sets them apart from urban management models that are predominantly reactive."
Incident Desk is a universal incident mapping and management platform that provides estate and security managers with real-time incident alerts, and gives them the ability to record and report live incidents with a smartphone application.
For more information contact Tiaan Janse van Rensburg, Solution House, +27 (0)82 565 8081, [email protected]
Credit(s)
Further reading:
Smart car parking solution eases traffic flow
Dahua Technology South Africa CCTV, Surveillance & Remote Monitoring Integrated Solutions Products
Ethiopia's first smart parking lot, designed to improve traffic flow and management efficiency, has been built and installed using Dahua Technology's smart parking solutions.
Read more...
---
VMS 7.2 supports the investigation process and adds cloud capabilities
CCTV, Surveillance & Remote Monitoring Integrated Solutions Products
Qognify has launched the second release of its VMS, including extended support for body-worn video, additional functionalities to support investigations, and a new web client architecture. VMS 7.2 addresses the increasing use of body-worn video (BWV) across many sectors.
Read more...
---
Hytera and KZN Police Service roll out digital call handling system
Government and Parastatal (Industry) Asset Management, EAS, RFID Integrated Solutions
Hytera Communications announced that the municipality of Ray Nkonyeni in the KwaZulu-Natal province of South Africa is now using its digital call handling system for the reporting and recording of crimes.
Read more...
---
Cyber resilience is more than cybersecurity
Technews Publishing Editor's Choice Cyber Security Integrated Solutions IT infrastructure
Hi-Tech Security Solutions held a round-table discussion focusing on cyber resilience and found that while the resilience discipline includes cybersecurity, it also goes much further.
Read more...
---
Johnson Controls releases IQ4
Perimeter Security, Alarms & Intruder Detection Integrated Solutions
New lower cost panel leverages Qolsys IQ Platform targeting residential, SMB, builder, MDU/multi-family and wellness market segments.
Read more...
---
SuperVision biometric access control
Integrated Solutions Access Control & Identity Management Products
SuperVision is a time & attendance (T&A) biometric access control system Fourier IT has been developing and enhancing for 18 years.
Read more...
---
Shift to online driving retail transformation
Retail (Industry) Integrated Solutions
There is a growing demand from retail for an end-to-end solution that helps their digitisation process, integrating finance, procurement, warehouse management, pricing, stock management, point of sale and more.
Read more...
---
AI in video analytics
CCTV, Surveillance & Remote Monitoring Integrated Solutions
AI (artificial intelligence), has been developed and debated ever since the first computers were invented, and while the most revolutionary incarnations are not yet here, AI-based technologies are widely used today.
Read more...
---
Complete solutions, delivering complete protection
Gallagher Access Control & Identity Management Integrated Solutions Commercial (Industry)
The recent release by Gallagher of Command Centre v8.80 and Command Centre Web enables all organisations to make security easier, faster and more efficient.
Read more...
---
Cathexis demonstrates its 'effective innovation'
Cathexis Technologies Technews Publishing Editor's Choice CCTV, Surveillance & Remote Monitoring News Integrated Solutions
Cathexis Africa recently held a roadshow with a stop in Johannesburg where Hi-Tech Security Solutions was invited to attend, along with many of the company's partners and users.
Read more...
---