printer friendly version
From the editor's desk: More things change
CCTV Handbook 2019
News
Welcome to the CCTV Handbook 2019. This year's handbook breaks a long tradition of publishing the handbook in the first half of the year by releasing it along with the October issue of Hi-Tech Security Solutions. So in keeping with the title of this article, that's one of the things that has changed.
When looking at the content of the handbook, you will find that there are many other things changing under our feet. Of course I don't have to tell people in the industry that things are changing; you experience it every day.
For example, the very nature of competition in the surveillance market is changing. If the OSSA and SAST have their way, the basic foundations of the surveillance market will change. With a common platform that defines all the standard processes and best practices in the Internet of Things (IoT) market (and that's another change, the surveillance market is now really a subset of the IoT market, albeit a big one), vendors will need to look for real ways to add value if they want customers.
Furthermore, if SAST manages to get enough buy-in for its standard IoT operating system, and one of the first areas it is addressing is the surveillance camera market, again, the value proposition of camera manufacturers will change as they will have the money to add real value to their cameras and not focus on building and maintaining their operating system. (By the time you read this, SAST will have proof of concepts in the market, with real products earmarked for 2020.)
These two organisations will change the market, opening it up to more people than ever before who will have an equal chance of winning your business as the big names in the industry.
And the IoT is another change everyone in the security industry needs to become comfortable with, whether you do surveillance or home alarms or anything in between. The primary impact of the IoT on surveillance and security in general will be opening the market to more competitors from different industries.
If you read the round table we hosted on artificial intelligence (AI), this is another change we will have to adopt and understand. I don't mean understand the complexities of AI algorithms, but the way to use it and the ability to recognise how it can enhance your surveillance service and technology. We haven't even started seeing the impact of AI in the surveillance market – or any industry.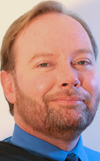 There is still time, however, to compete on how low you can go to throw a picture up on a screen, but as many of the companies in South Africa (and globally) have discovered, your profit margins and the longevity of your business will be under significant and constantly increasing pressure if this is your modus operandi.
I hope you enjoy the CCTV Handbook 2019, and as always, feel free to send comments and criticisms to andrew@technews.co.za
Andrew Seldon
Editor
Credit(s)
Further reading:
Online fleet management system
Issue 1 2020 , News
Fleet Domain's online Fleet Management Information System is reducing operating costs and improving safety for South African logistics firms.
Read more...
---
Digital insurance bundle for assets and devices
Issue 1 2020 , News
My CyberCare is a specialist provider of personal, and SMME online cyber insurance, cyber detection and cyber monitoring solutions for both local and global consumption.
Read more...
---
IDEMIA to supply Morocco's national electronic ID cards
Issue 1 2020, IDEMIA , News
IDEMIA will supply Morocco with national electronic ID cards and introduce a secured digital identity online services platform.
Read more...
---
Rockwell Automation to acquire Avnet
Issue 1 2020, Rockwell Automation , News
Rockwell Automation announced it has signed an agreement to acquire privately held Avnet Data Security, an Israeli-based cybersecurity provider with over 20 years' experience providing cybersecurity services.
Read more...
---
The instruments for investigation
Issue 1 2020, Technews Publishing , Security Services & Risk Management
Regardless of the reason for investigation, the investigation is only as good as the investigators.
Read more...
---
Do we really want simplicity?
Issue 1 2020, Technews Publishing , News
Everything today has to be simple, easy and fast. Even access to your bank account has to fit these adjectives and banks spend significant time and money trying to ensure their web and mobile interfaces ...
Read more...
---
Longse Distribution to become LD Africa
Issue 1 2020, LD Africa , News
Brendon Whelan, sales manager for Longse Distribution, announced that the company officially changed its name to LD Africa as of 20 January 2020.
Read more...
---
Three expos in one
Issue 1 2020 , News
Looking ahead to 2020 Vision: combined Securex South Africa, A-OSH EXPO and Facilities Management Expo 2020 promises to be even bigger and better.
Read more...
---
Security events you can't miss in 2020
Issue 1 2020, Technews Publishing , News
Hi-Tech Security Solutions will host a number of focused events in 2020 to highlight the latest in security technology and the operational benefits they deliver.
Read more...
---
David Shapiro to chair ESDA
Issue 1 2020, ESDA (Electronic Security Distributors Association , News
The Electronic Security Distributors' Association (ESDA), established in 1989, has elected David Shapiro as its chairperson for 2020.
Read more...
---