printer friendly version
From the editor's desk: More things change
CCTV Handbook 2019
News
Welcome to the CCTV Handbook 2019. This year's handbook breaks a long tradition of publishing the handbook in the first half of the year by releasing it along with the October issue of Hi-Tech Security Solutions. So in keeping with the title of this article, that's one of the things that has changed.
When looking at the content of the handbook, you will find that there are many other things changing under our feet. Of course I don't have to tell people in the industry that things are changing; you experience it every day.
For example, the very nature of competition in the surveillance market is changing. If the OSSA and SAST have their way, the basic foundations of the surveillance market will change. With a common platform that defines all the standard processes and best practices in the Internet of Things (IoT) market (and that's another change, the surveillance market is now really a subset of the IoT market, albeit a big one), vendors will need to look for real ways to add value if they want customers.
Furthermore, if SAST manages to get enough buy-in for its standard IoT operating system, and one of the first areas it is addressing is the surveillance camera market, again, the value proposition of camera manufacturers will change as they will have the money to add real value to their cameras and not focus on building and maintaining their operating system. (By the time you read this, SAST will have proof of concepts in the market, with real products earmarked for 2020.)
These two organisations will change the market, opening it up to more people than ever before who will have an equal chance of winning your business as the big names in the industry.
And the IoT is another change everyone in the security industry needs to become comfortable with, whether you do surveillance or home alarms or anything in between. The primary impact of the IoT on surveillance and security in general will be opening the market to more competitors from different industries.
If you read the round table we hosted on artificial intelligence (AI), this is another change we will have to adopt and understand. I don't mean understand the complexities of AI algorithms, but the way to use it and the ability to recognise how it can enhance your surveillance service and technology. We haven't even started seeing the impact of AI in the surveillance market – or any industry.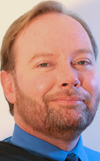 There is still time, however, to compete on how low you can go to throw a picture up on a screen, but as many of the companies in South Africa (and globally) have discovered, your profit margins and the longevity of your business will be under significant and constantly increasing pressure if this is your modus operandi.
I hope you enjoy the CCTV Handbook 2019, and as always, feel free to send comments and criticisms to andrew@technews.co.za
Andrew Seldon
Editor
Credit(s)
Further reading:
Plan your media strategy with Technews Publishing
October 2019 , News
Dear Marketer, Have you ever looked back on a year and wondered how you survived it? For the majority of South Africans, 2019 started benignly enough, cosily wrapped in the blanket of Ramaphoria that ...
Read more...
---
The Open Security & Safety Alliance celebrates first anniversary
October 2019 , News
Membership triples within first 12 months; ongoing industry work reduces market fragmentation and friction across security and safety landscapes.
Read more...
---
AWS launches Equity Equivalent Investment Programme
October 2019 , News
Amazon Web Services launches Equity Equivalent Investment Programme with the department of trade and industry to help more South African businesses to innovate.
Read more...
---
2020 Residential Estate Security Conference in KZN
October 2019, Technews Publishing , News, Residential Estate (Industry)
Meeting the residential security challenges in 2020 and beyond: Hi-Tech Security Solutions will host the Residential Estate Security Conference 2020 in Durban on 12 March 2020.
Read more...
---
Kaspersky uncovers zero-day in Chrome
October 2019, Kaspersky Lab , News, Cyber Security
Kaspersky's automated technologies have detected a new exploited vulnerability in the Google Chrome web browser.
Read more...
---
Drones and Digital Aviation Conference
October 2019 , News, Conferences & Events
Drones have opened airspaces for everyone in ways that humans had not imagined; to the extent that there is a drone to almost every kind of problem on earth. Drones already have the ability to increase ...
Read more...
---
A platform approach to innovation and value
CCTV Handbook 2019, Technews Publishing , Editor's Choice, CCTV, Surveillance & Remote Monitoring, Integrated Solutions, IT infrastructure
Moving to the platform model of doing business holds tremendous advantages for end users and smaller developers, but also for the whole technology supply chain.
Read more...
---
Open does not always mean easy integration
CCTV Handbook 2019, VERACITECH, Technews Publishing , Editor's Choice, CCTV, Surveillance & Remote Monitoring, Integrated Solutions
Customers who opt for best-of-breed solutions will have to rely on their integrators to develop customised integrated solutions for them.
Read more...
---
The impact of AI on the surveillance industry
CCTV Handbook 2019, G4S South Africa, Hikvision South Africa, Myertal Tactical Security, Technews Publishing , Editor's Choice, CCTV, Surveillance & Remote Monitoring
What the impact of AI will be on companies, the services and solutions they supply, as well as on the jobs people do.
Read more...
---
Video analytics and AI
CCTV Handbook 2019, Axis Communications SA, Dallmeier Electronic Southern Africa , Hikvision South Africa, Technews Publishing, Dahua Technology South Africa , Editor's Choice, CCTV, Surveillance & Remote Monitoring, Integrated Solutions
Artificial intelligence has the potential to deliver real benefits in the world of video analytics and many companies are already delivering customer benefits.
Read more...
---