printer friendly version
What makes a safe and smart city?
February 2017 Editor's Choice, Integrated Solutions, Security Services & Risk Management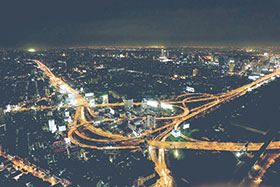 As the crime, dishonesty, some lazy and unskilled public servant winds blow over our country, it takes some challenging thought to go down this road again and ask what would make a safe city in South Africa. Having been directly involved in city surveillance in South Africa and other African countries since 1997, completing 29 such systems and handing them over to mostly incompetent service providers, the thought of making our cities 'smart' just seems to remain out of reach.
That being said, the question remains, is it possible? Well, yes it could be done, but would need some true and divine effort from politicians, consultants and, of course, service providers who have the political authority to tender.
Let's firstly have a look at the possibility from a technical or technology point of view. Many of the technology providers have the solutions ready for action installed in their demo rooms. Sales persons are willing to show you what can be done with cameras and detectors overlooking their parking lots, and fabulous interconnectivity to some far away country where the snow covers yet another parking lot, instead of in the busy streets outside.
To be fair, most of these providers do not get the opportunity to install these systems in our cities, mostly because of cost – unlike some First World countries where technology demonstrators are paid for. Imagine for a moment if a consultant employed by a city in South Africa would rather go down the route of putting together a budget and paying for a smart city demonstration, instead of inviting the product suppliers with a day's warning to put up a small-scale system which will be evaluated.
This seems to be common practice, not taking into consideration that these providers are not installers or integrators, thus forcing them to utilise their technical sales and repair staff to do these installations. Such 'evaluations' are mostly done haphazardly without any feedback on what could have been achieved, which makes one wonder if the product has not been pre-selected.
A true evaluation?
I would think it is time to set up a system with different products that could be technically and operationally evaluated against a set required operational capability (ROC) matrix and this then be paid for. Now we can start getting to a true smart-city system. Unfortunately, no one will be willing to pay for this and our tendering system would not be able to cater for this.
If we look at the aviation industry, they do not just manufacture an aircraft off the bat. Technology is tested against the ROC, with many exploratory models being built before the final product. An aircraft can land to be serviced and only performs its intended mission for less than 1/3 of its life cycle. Our systems and especially smart-city systems perform this mission 24/7 and costs upwards of R120 million with additional monthly operational and maintenance payments of over R60 million a year.
And when we find the people who are tasked with installing and running these systems have very little technical and operational insight, as we often do, we keep wondering if we can implement a true smart-city system.
Is analytics the answer?
The analytics boom could be ready for smart cities in a few years, but for now only perimeters are protected successfully with this technology. Why then can it not be utilised in the city application? Simply put, Africa is an undisciplined continent and the norm is to break the rules. Analytics needs to identify the exception, like a person walking along the road outside the parking areas. This is the norm in our country and analytics will thus only tell us what we already know, keeping the operator so busy acknowledging this and not doing anything else.
Number plate recognition has its place and can be successfully used to track vehicles through the city. The footprint or layered approach is needed for this and not hot spotting that has raised its ugly head again over the past few years. Competent designers of smart-city systems are lacking and every time the track and trace is explained, the contradictory response is certainly always the same: "We only need to see the crime hotspots, and when a car that we are looking for enters the city then we can catch them".
This, of course, hardly ever happens because these criminals just disappear into the concrete jungle and cannot be followed.
Successful smart-city systems should include and manage: traffic management and information systems, traffic light control, overseeing of cash in transit, Wi-Fi for citizens, theft of city assets such as traffic lights and control mechanisms, public address, noise detection, overseeing marches, overseeing tourist groups, vehicle theft, theft out of vehicles and businesses, infrastructure failures, medical emergencies, non removal of street rubbish, SAPS and Metro Police backup and oversight, bylaw policing, help points, floods and many more. All of these city functions can easily be integrated into one smart-city system. Why then is this not really happening?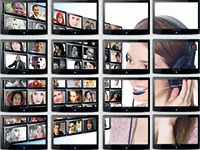 Integration and intention
Technically this can be done but the approach is lacking. Open a tender document and immediately those in the know can tell you who wrote the specification and put together the bill of quantity. An in-depth survey is never done, thus allowing for interpretation of the bill with items such as power reticulation as a sum amount per position. 'Allow for 30 m' can be seen in such bills, but forgetting to mention that some power points can be across the road, which requires civil works.
The approach to a successful smart city should start with the bigger view. Start by defining what the outcome should be, drafting a Required Operational Capability. This should then include all the operational needs, even if some of them are functions and not necessarily technical devices.
This would then lead the way to both sections of the outcome, the technology and the operations.
Survey the city at all its levels
• Layer 1 is the city entry and exit level. Here we identify the entry, to moving through, and the exit routes of the city. Typically, cameras (PTZ domes and static) are placed along these routes. Number plate recognition can be utilised as an aid at this layer.
• Layer 2 is the tracking layer. These are placed along secondary routes and are aimed at tracking vehicles and people along these routes.
• Layer 3 is the trace layer. Generally, these cameras are placed at intersections, using them in all four directions, with a camera at the next intersection one street up. This causes a matrix effect covering the area with a video blanket.
Design the system, based on the information gained above. This, in reality, would mean that schematic diagrams are done, fibre layouts are drafted, power reticulation is determined, lighting levels are documented and an accurate bill of quantity is drawn up.
Now have a look at how the other needs can be incorporated into the design. Free Wi-Fi, for instance, could easily be piggybacked onto the system, but this could need more bandwidth and power. So make the alterations to the fibre design, increase the power supply ratings and ensure that there is enough housing space for the transmitters and receivers.
Engage with other governmental departments such as roads, electrical, way leaves, city IT infrastructure, Metro Police and SAPS, just to mention a few. This will then pave the way to successful implementation and possibly save some cost by gathering similar projects under one roof.
The technology choice now becomes the next challenge. Why should this choice be made at this stage?
If the ROC is developed accurately, this becomes the measuring matrix on which the tenderer can be measured. Supplier, other city and other system site visits by the total tender committee would soon show which make or combinations thereof would satisfy the ROC. This should be done before the tender is published or during a pre-qualifying tender process. Why not combine good ideas and good engineering practices from different companies ensuring that the ROC is satisfied?
Unfortunately, it is during this time that corruption can start and this needs to be controlled. Try to appoint a bigger tender committee with more trustworthy members. The bigger the committee, the less are the chances for bribery and corruption.
Implementation, operator selection (not my brother's father-in-law, brother's child etc.) and training can now take place, utilising professional selection agencies and installers.
Starting right
We all talk about a set baseline where a portion or a single first point is installed and signed off/redone or even changed completely. Very few companies and clients go through this process that would ensure the baseline is correct, functional and is ticked off against the ROC. A good system is backed by good design, good drawings, engineer change certificates and true, as-built drawings.
In our market, this time is not seen as valuable and even if this is costed into the proposals, it could make the tenderer's price escalate. This important item on the bill should be allowed for and priced upfront using market-related costs. By doing this, the installer is not under pressure to do this work almost for free and the client has the certainty that the system can, will and does work.
My view is that we can realise one of the first true smart-city systems in the world, but it would take a concerted effort, from all involved, starting with the driver within a city to the consulting engineers, procurement offices, product suppliers, installers, operational service providers, professional selection and training entities with the experience of running such a project and different governmental organisations.
So to answer the question: yes we can.
For more information contact Neale Strauch, Techsec Security Services T/A The Lab, +27 (0)12 654 5985, neale@thelabsa.com, www.thelabsa.com
Credit(s)
Further reading:
Stolen credentials on the Dark Web
October 2019 , Cyber Security, Security Services & Risk Management
Over 21 million credentials belonging to Fortune 500 companies, 16 million of which were compromised during the last 12 months, are up for sale.
Read more...
---
Stolen credentials on the Dark Web
October 2019 , Cyber Security, Security Services & Risk Management
Over 21 million credentials belonging to Fortune 500 companies, 16 million of which were compromised during the last 12 months, are up for sale.
Read more...
---
Enterprise security must change
October 2019 , Cyber Security, Security Services & Risk Management
The recent wave of cyberattacks against local banks has highlighted the importance of protecting data against malicious users.
Read more...
---
Body-worn cameras transforming security
October 2019 , CCTV, Surveillance & Remote Monitoring, Security Services & Risk Management
Police Service Northern Ireland now has over 7 000 officers using 2 500 cameras covering approximately 173 000 incidents each year.
Read more...
---
Protecting your customers' data
October 2019 , Training & Education, Security Services & Risk Management
Simon Murrell, head of development and executive director at BrandQuantum says companies need to protect their customers from identity theft and data breaches.
Read more...
---
Intelligent analytics and the brains to match
September 2019, Bosch Building Technologies , CCTV, Surveillance & Remote Monitoring, Integrated Solutions
What if the brains behind our security cameras could be trained to improve their cognitive ability to pay attention, learn, and problem-solve according to specific rules and situations?
Read more...
---
AI-powered autonomous Drone-in-a-Box
September 2019 , CCTV, Surveillance & Remote Monitoring, Integrated Solutions
Organisations in the mining, energy and industrial, oil and gas, ports and terminals sectors can optimise security and business operations, whilst reducing risks and operational costs
Read more...
---
A platform approach to innovation and value
CCTV Handbook 2019, Technews Publishing , Editor's Choice, CCTV, Surveillance & Remote Monitoring, Integrated Solutions, IT infrastructure
Moving to the platform model of doing business holds tremendous advantages for end users and smaller developers, but also for the whole technology supply chain.
Read more...
---
Open does not always mean easy integration
CCTV Handbook 2019, VERACITECH, Technews Publishing , Editor's Choice, CCTV, Surveillance & Remote Monitoring, Integrated Solutions
Customers who opt for best-of-breed solutions will have to rely on their integrators to develop customised integrated solutions for them.
Read more...
---
The impact of AI on the surveillance industry
CCTV Handbook 2019, G4S South Africa, Hikvision South Africa, Myertal Tactical Security, Technews Publishing , Editor's Choice, CCTV, Surveillance & Remote Monitoring
What the impact of AI will be on companies, the services and solutions they supply, as well as on the jobs people do.
Read more...
---