printer friendly version
The ecosystem defines the why for safe cities
February 2017 Editor's Choice, Integrated Solutions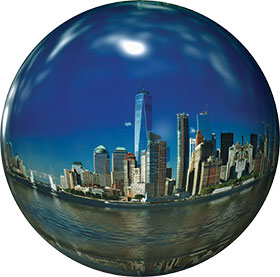 The concept of a safe city is not a new one. The idea has been around for years and many different cities have tried various solutions in the drive to make their cities safer. Some of these efforts have been successful, while others have resulted in failure. The latest addition to the safe city scenario is the smart city, where technology and collaboration offer improved services to residents on top of enhanced safety.
Hi-Tech Security Solutions spoke to Edwin Diender, global VP Government & Public Utility Sector for the Huawei Enterprise Business Group about how the company advises its African customers in building a safe city.
Diender stresses that a safe city is not a matter of technology or having cameras on every street corner. It's not even a matter of having state-of-the-art control centres, although these eventually form part of the solution. There are many layers to a safe city environment, and each needs to be in place if the next layer is to run effectively.
A safe city project is an enormous undertaking incorporating numerous departments and organisations within the public sector, as well as many in the private sector. The method Huawei starts a project like this with, such as the Kenyan safe city project discussed in this issue, is to begin with discussions with all parties involved to get their buy-in, as well as their commitment to the project. Everyone has an agenda and there needs to be careful discussions that make sure the eventual project is a win-win for all.
The same process needs to happen with partners in the private sector. They, together with the public sector organisations need to cooperate in creating an ecosystem of cooperation in which the ultimate goal is always kept in sight. Diender says that Huawei does not form partnerships in Africa on the traditional basis of offering higher discounts the more you sell, but on the value everyone can deliver and benefits from. The Huawei ecosystem is one of innovation partnerships and not simply technology partnerships.
This ecosystem also includes the residents who will eventually benefit from the safe city (which will lead to a smart city if the project is handled correctly). There is no point in spending millions only to find the residents are not interested or involved.
Why then how and what
Once everyone is on board, the question of why can be addressed: why do we want a safe city? This is where all the stakeholders come to understand the value to be achieved and the necessity of collaboration. Then one reaches the stage where the project can start, or where one can 'put a stake in the ground'.
In the case of Kenya, the first technological step was to implement a nationwide broadband network. This started with the networks in Nairobi and Mombasa, which will serve as a baseline for the rest of the country. When the whole country is connected, the aggregated knowledge and intelligence from this network will deliver a national 'smart grid', which will enable a number of service and safety improvements.
On top of this network, one can build the solutions for various services. One example is surveillance, where cameras installed in Nairobi can be used for safety, traffic, retail needs and so on. This spans different departments, so it is critical that the groundwork is done and everyone works together.
The importance of cooperation can be seen in the following example: suppose someone is attacked in a park. The safe city will then require all the video feeds (as well as other pertinent data) from the scene and the surrounding area to be able to identify the suspect quickly and track their movements after the incident.
This is why a cloud-based solution is also important, since, with a central repository of all data, any authorised people can obtain the information they need to respond and do their jobs. This, again, reinforces the importance of a well-designed intelligent grid.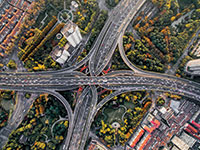 Integration is key
Of course, the systems on the network and the grid itself are connected to an intelligent control centre (or centres) where centralised services are managed. To ensure all eventualities are catered for, the Huawei platform is able to handle all protocols different solutions require, from radio, to PTT, cellular communications and so on – including social media. This is the ICP of a safe and smart city – an Integrated Communications Platform, also known as an Integrated Collaboration Platform.
While many would question the inclusion of social media in the mix of communication platforms, Diender explains that we are living in a social media world where people react to incidents by first taking and posting a selfie, and then calling the authorities. Aggregating social media posts can provide exceptional intelligence when dealing with an emergency or even in preventing one – such as a riot, for example.
Highlighting the success of this all-inclusive approach, he refers to the Kenyan project as an example where the ability to quickly call up footage and data from before and after an incident is helping to solve crimes. The authorities are now able to solve more crime with less people, and do it faster than ever before.
When taken to the national level, this aggregation of information will have an even greater impact on the lives of citizens. And as citizens are more comfortable in their environment and gain more trust in their authorities, they engage more and are motivated to create their own future. Again a Kenyan example: Nairobi has seen an increase in tourist-related activities and businesses as a result of the safer environment people have since the safe city project started.
Safe then smart
This change, which impacts everyone, from the citizen to the taxes the country collects, is a direct result of the safe city concept evolving naturally into a smart city. As the infrastructure delivers benefits to the security aspect, it expands to add additional value to the broader environment.
It goes without saying, however, that you can't push yesterday's technology to deliver tomorrow's solutions. The safe and smart city requires careful planning and a phased roll-out of different layers, each building on the other. It's worth reiterating that the layers need to work together in an integrated partnership in which everyone wins.
It's no use expecting the police to do everything. They simply don't have the budget or manpower to do so. It is also pointless to expect government to do everything, although both the police and government need to play a major role in the solution. A successful project needs public-private cooperation as it is in the interest of both to succeed.
When engaging in open and mutually beneficial partnerships, the project creates value for tomorrow's needs. It's all about the ecosystem you create to deliver the services and functionality you require.
Value provision
The discussion around a safe and smart city is not a technical one, it is all about value. The value the final system as well as the phases involved in getting to that final state will deliver to each participant in the ecosystem. This value is also what will make the system work. If all the people involved see the value they can obtain from the system, they will participate. If the value is one-sided, some will ignore it and the system as a whole will fail.
The ultimate goal of a smart city and even a smart nation, similar to the Kenyan initiative, requires layers of investment, the acknowledgement of the importance of communications, and the goal or ideal of connected services (such as e-healthcare) meeting the needs of the whole population. So when thinking of implementing a safe city project, the primary question to ask is 'why', defining what value it will deliver. The 'how' comes after you know why it is necessary and the value it will deliver to everyone.
Further reading:
South Africa adopts ISO standard to guide use of social media in emergencies
Editor's Choice
The South African Bureau of Standards (SABS), through its technical committee, has adopted the ISO 22329 standard that provides guidance on the use of social media during an emergency or crisis.
Read more...
---
Free and open-source tool for detecting stalkerware
Editor's Choice
Kaspersky has unveiled a new hub dedicated to TinyCheck, a unique, innovative tool designed to detect stalkerware on mobile devices.
Read more...
---
Look before you leap into a back-up power solution
Editor's Choice Security Services & Risk Management
Before you rush into purchasing a back-up power solution, you need to take a considered and long-term view of how to get yourself as close to grid independence as possible.
Read more...
---
Optimised people, processes and technology
Industrial (Industry) Integrated Solutions
When embarking on an industrial digitisation project, it's important to consider how people, processes and technology will work together and complement the other.
Read more...
---
All-mobile people management solution with facial recognition
Editor's Choice Integrated Solutions Security Services & Risk Management Products
The new mobile Incident Desk People Management platform with facial recognition combines identification data on suppliers, staff, sub-contractors and even people on watch lists, for less than the cost of traditional service management tools.
Read more...
---
Passion, drive and hard work
Technews Publishing Editor's Choice CCTV, Surveillance & Remote Monitoring Security Services & Risk Management
Colleen Glaeser is a leader in the security market, having made her mark in the male-dominated security industry through determination and hard work, along with a vision of making the world a safer place.
Read more...
---
Are you your insider threat?
Technews Publishing Editor's Choice Security Services & Risk Management Commercial (Industry)
Insider threats are a critical aspect of risk management today, but what happens when it is the owner of the company acting fraudulently and making sure none of his staff can catch him?
Read more...
---
CathexisVision integrated with Suprema's BioStar2
Technews Publishing News Access Control & Identity Management Integrated Solutions
This integration uses BioStar2 access control events to trigger automated actions on the CathexisVision system, including alerts, recording a camera and commands such as locking and unlocking doors, and clearing an alarm.
Read more...
---
Gallagher releases Command Centre v8.70
Gallagher News Integrated Solutions Products
Command Centre v8.70 introduces a range of features and enhancements to create operational efficiencies and improved site security, including a next-generation integration with HALO Smart Sensors.
Read more...
---
Trackforce Valiant acquires TrackTik Software
News Integrated Solutions Security Services & Risk Management
Trackforce Valiant, a provider of security workforce management solutions, announced the acquisition of TrackTik Software, a cloud-based security workforce management provider.
Read more...
---