printer friendly version
C3 shows off its fire skills
November 2016 Fire & Safety, Integrated Solutions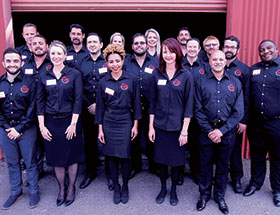 'Industrial fire detection and suppression' was the theme of a hugely successful event organised by C3 Shared Services in September 2016.
Attended by clients from a range of industries, including mining, precious and base metal refineries, electricity, telecommunications, government and tobacco, the fire event provided the perfect platform for engineers, plant, operations and security managers to get the inside track on the world's latest fire detection and suppression technologies.
In-depth presentations and live demonstrations on the various technologies ensured rapt attention from the audience.
Solution experts from C3SS started by taking guests through plant-wide fire detection technology capable of providing real-time temperature readings along a 10 kilometre fibre-optic cable configurable into a 1000 zones. This gives plant managers a bird's eye view of heat build-ups at any point within their facility.
Next up was the Rapid & Robust Linear/Overheat Detection, a device able to detect within 100 milliseconds the overheating of equipment before it reaches ignition temperatures.
Video-based smoke and fire detection technology followed. Guests learned that through the use of intelligent video analytics, these cameras could continuously analyse the pixels within an environment and use the resulting information to compare stored flame and smoke templates. On detecting smoke or fire, the cameras would generate an alarm, thereby providing a critical early warning and visual verification of the exact location of the fire/smoke event.
Fire suppression
Suppression was the next subject on the agenda. C3SS introduced the audience to a 10-year certified wet chemical fire suppressant designed for transformers, diesel generators, hydraulic systems and mobile machinery, a non-pressurised, non-corrosive suppressant that is unaffected by the orientation of the suppressant canister.
Up next was an environmentally-friendly aerosol fire suppressant system, designed for medium and low voltage control equipment, enclosed transformer rooms, variable speed drives, cable trenches and cable rooms. Installed inside the enclosure it protects, it fights the fire at the source using next-generation stable non-pyrotechnic SBK aerosol forming solid compounds and is suitable for class A, B, C and F fires.
New to the South African market, the experts from C3SS introduced guests to a non-pressurised clean agent fire suppression system. Based on nitrogen technology that, on activation, releases gases slowly at room temperature, it doesn't damage fragile hard drives and other electronics and is specifically designed to tackle fires in server racks and server rooms.
The demonstrations
Aware of the importance of providing people with live demonstrations in order for them to fully understand the technology, C3SS designated a special area complete with industrial DB board, an engine block bay and a conveyor belt. The Rapid and Robust Linear/Overheat Detection was showcased in the DB board, engine block and conveyor belt, the aerosol fire suppressant was used on the DB board and the wet chemical suppressant demonstrated in the video-based fire area as well as on the engine block and conveyor belt.
As the first smoke emitter was triggered, the delegation was able to see, via the monitor, the video-based smoke detection kick in. The screen immediately highlighted the smoke plumes in a blue analytic graphic, which triggered the alarm. Most smoke detectors can be hampered by stratification, but the video-based smoke detection impressed with its ability to pick up the smoke soon after it started and track it as it rose.
A mixture of diesel and petrol was then added to the fire pan and set alight. Once the camera had verified the fire through on-board analytics, a built-in relay triggered the wet chemical suppression, which extinguished the fire with ease. This showed the value of an early warning fire system that identifies the fire at source and allows for much faster reaction time, vital if a fire is to be prevented from spreading to the rest of the facility.
The next demonstration was the industrial electrical distribution board. Specially built to recreate an environment vulnerable to shorting or wire over-heating, the Rapid and Robust Linear/Overheat Detector, which is designed to pick up temperature changes in 100 milliseconds, showed the jump in temperatures on the monitor as the electrical fault was triggered. The fibre-optic plant-wide detection showed the increasing build-up of heat within the DB board, and the intelligent fire system, recognising the danger, released the aerosol fire suppressant system. Guests could see that as a result of the quick intervention, there was minimal damage to the DB board, allowing for the fault to be fixed quickly and with limited downtime to operations.
Then followed the engine block compartment demo. Both the plant-wide fire detection and the linear overheat detector showed temperatures within that environment to be stable at an ambient level. The fires were then set in the pan below and both detectors immediately went into a fire condition as a result of the massive increase in temperature.
Once the fire was burning rapidly, the fan connected to the engine block was switched on to simulate a moving vehicle, giving the fire more fuel. When the temperature reached around 500°C, the wet chemical suppressant was released. Characterised by a high heat absorption rate and a film-forming effect, it was able to cool off hot materials and accordingly prevent re-ignition and flash over.
The last demonstration was around the conveyor belt system. Multiple bearings and idlers within the conveyor belt system were heated individually, with the purpose of simulating the most typical failing parts. The plant-wide fibre optical detection and the linear overheat detection picked up each failing part as it was heated, which in a real-life situation if left unattended, would eventually lead to combustion.
In situations where the fire had already broken out, whether due to combustible material on the conveyor belt or as a result of a failing mechanical part, the linear overheat detector was able to identify the fire and trigger the release of the wet chemical fire suppressant to successfully arrest the fire and cool down hot bearings or idlers.
It was, by all accounts, a very successful and hugely informative event, made even better with mouth-watering refreshments prepared by the talented chef Nelis. One of the guests at the event, a safety and risk manager from Eskom, had this to say: "Congratulations on a very successful event. I truly enjoyed the day with C3 Shared Services, other guests and fellow Eskom employees. The presentations and live demonstrations were great. I love the fact that the systems discussed and demonstrated are proactive with detection and suppression – you can literally detect the problem area and cool it down before there is a fire."
For more information or a demonstration contact C3 Shared Services, +27 (0)11 312 2041, marketing@c3ss.com, www.c3ss.com
Credit(s)
Further reading:
Linear heat detection under difficult conditions
Issue 5 2020, Technoswitch , Fire & Safety
Securiton's SecuriHeat ADW535 linear heat detector prevails where conventional fire detectors reach their physical limits.
Read more...
---
High-precision aspirating smoke detectors
Issue 5 2020, Technoswitch , Fire & Safety
The SecuriSmoke ASD range by Securiton offers three VdS approved models and makes the lightning-fast detection of fires both scalable and cost-effective for any area.
Read more...
---
Competency in the fire industry
Issue 5 2020, FDIA (Fire Detection Installers Association) , Fire & Safety
Persons who design, commission, install or service fire protection equipment or systems should have the required level of competence for the task they perform.
Read more...
---
Public address/voice alarm partnership
Issue 5 2020, Johnson Controls Global Products , Fire & Safety
Johnson Controls customers now have single-source access to a complete line of fire detection products, including high-quality PA/VA systems.
Read more...
---
Hochiki Europe's L@titude system distributed by XtraVision
Issue 5 2020, XtraVision , Fire & Safety
Hochiki Europe's L@titude range of fire alarm control is both sophisticated, yet simple to use.
Read more...
---
The evolution of security in residential estates
Residential Estate Security Handbook 2020 , Editor's Choice, Integrated Solutions, Security Services & Risk Management
Two large estates discuss their security processes and the ever-expanding scope of responsibilities they need to fulfil.
Read more...
---
Home-grown, cloud-based safety and security solutions
Residential Estate Security Handbook 2020 , IT infrastructure, Integrated Solutions
BeSecure has taken security and communications technologies and turned them into what is best described as care and safety solutions for the estate community in South Africa.
Read more...
---
Integrated security management system
Residential Estate Security Handbook 2020, Protoclea Advanced Image Engineering , Products, CCTV, Surveillance & Remote Monitoring, Integrated Solutions
Phorcas is a security information system developed by Protoclea designed to integrate multiple sub-systems into a powerful crime fighting solution.
Read more...
---
Hochiki shines a light on luxury
Issue 5 2020, XtraVision , Fire & Safety
Luxury hotel chooses fire safety equipment from Hochiki as part of extension and restructuring works.
Read more...
---
Self-test for fire alarms
Issue 4 2020, Johnson Controls Global Products , Fire & Safety
Johnson Controls notification appliance self-test technology receives UL Verification Mark.
Read more...
---