printer friendly version
Beyond line crossing
November 2016 Editor's Choice, CCTV, Surveillance & Remote Monitoring, Integrated Solutions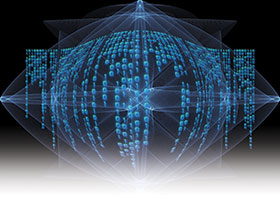 Video analytics is old hat, it's been around for many years. Unfortunately, for most of those years its performance varied from somewhat suspect to abysmal. Fortunately, the effectiveness of video analytics has improved dramatically and today we have solutions that are used in even the most sensitive security projects.
As happens in all technology fields, we're seeing the value of surveillance moving from the hardware to the software. You can get megapixels from almost anywhere today for almost any price – we'll ignore the value, reliability and longevity you get from cheap megapixel cameras for this article. For those companies who simply want a few cameras to stream images to screens or hard drives, this is all you need.
However, if you want to get more than terabytes of video footage that nobody looks at, you will need to look beyond the hardware and examine the software that works with your cameras. Your video management system is a start, but so are the analytical applications you can use to support your operators and investigators. And the applicability and usability of analytics is growing significantly.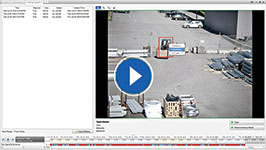 ACC_Analytics Video screenshot.
Video analytics covers a broad range of value-adds to your basic surveillance solution, from automatic number plate recognition (ANPR), through to perimeter monitoring, line crossing, people counting, left object detection and much more. Each of these fulfils a security function, but we are seeing more analytics being used to provide value to other business areas – a common example is people counting in retail.
To find out more about what's happening in the world of analytics, Hi-Tech Security Solutions asked four companies to share their expertise and experience with our readers. Our responses come from:
• Quintin van den Berg, CCTV product manager at Bosch Security Systems SA,
• Tertius Wolfaardt, sales engineer & trainer – Africa, Axis Communications,
• Jose A. Gonzalez, product marketing manager – high definition cameras and hardware solutions at Avigilon, and
• Laurence Smith, executive at Graphic Image Technologies.
Hi-Tech Security Solutions: Has the market evolved to the state where companies are relying on video analytics as a primary means of providing a security service?
Van den Berg: Companies have certainly started to employ and rely more on video analytics than in the past. We are however not yet at a stage were analytics are 100% efficient enough to make all the decisions required. Analytics certainly offer advantages in so far as it does not get tired or need rest breaks. It constantly monitors a scene for specific alarm conditions, but at the end of the day, a skilled operator is still needed to get full benefit out of any surveillance system.
Today we see many simple, robust and stable analytics employed with extremely low false alarm rates, something that was quite the opposite just two to three years ago. In today's demanding environments, video analytics is becoming a standard in mid-range surveillance camera solutions.
Wolfaardt: Companies are not currently using analytics as a primary means of security, rather as a complement to current security and other security services. Analytics has become more user friendly, more powerful and more accurate over the last couple of years.
Gonzalez: Security companies rely on video analytics for a variety of reasons. We see this trend continuing to evolve until video analytics is an integral component of most security solutions. Video analytics has evolved across three technologies:
• Video motion detection – any change from one frame to another is important.
• Advanced video motion detection – any change that deviates from a background model is important.
• Advanced video pattern detection – any change that has a pattern of a known object type is important.
Of these three technologies, advanced video pattern detection typically provides a lower rate of false alarms, helping to sustain operator attention by bringing focus to information that is relevant and of interest. Avigilon self-learning video analytics uses advanced video pattern detection to send alarm notifications in response to movement of people and vehicles. Our analytics is able to instantly detect and learn the surrounding scene upon initial setup, adapting to changes without manual calibration – resulting in a high level of installation ease.
Our teach-by-example technology gives users the opportunity to provide input on alerts and further refines the accuracy of the analytics, making the overall solution more reliable. A recent development in analytics technology involves sending push notifications to mobile devices. This allows security personnel to leverage analytics to monitor their sites from anywhere in the world.
Smith: Yes, one of the areas where video analytics is broadly used as a primary application for security is perimeter protection, typically deployed at critical infrastructure sites. Ease of use and ease of set-up are recent evolvements that have helped drive the evolution.
For many years the industry has offered a wide range of video analytics technologies on countless hardware and software platforms, but these systems were challenging to set up, often had to be commissioned by the manufacturer, and needed frequent adjustments. These factors made it hard for video analytics to be deployed. Some of the newest systems require minimal set-up, while delivering high quality results that help qualify them to be deployed in mission-critical systems.
Hi-Tech Security Solutions: What types of analytics (such as perimeter protection, pattern recognition etc.) are users looking for today and which industries/markets are these suited to?
Van den Berg: Perimeter protection is historically a very popular application, utilised extensively on the Bosch thermal and starlight camera range. As the technology has evolved, applications have become very diverse. In retail stores for example, people counting and heat mapping is a very popular application.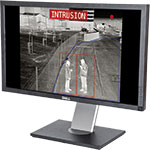 Axis Perimeter Defender.
Wolfaardt: This is very dependent on industry type and also the requirement of the client. Currently, looking in the mining sector, critical infrastructure and even residential perimeter protection is very important. The Axis Perimeter Defender works perfect for these types of requirements.
Gonzalez: Monitoring remote sites is challenging for security operators. A solution using self-learning video analytics can effectively extend the reach of security operators to cover more sites with fewer resources. This type of analytics is particularly valuable for ports, airports, education, healthcare and industrial facilities, as well as critical infrastructure sites.
Smith: Other than perimeter protection applications that are mainly targeted at critical infrastructures, video analytics is used broadly in various non-security centric industries such as intelligent traffic systems.
One of the newer trends is utilising video analytics to constantly generate meaningful data, capturing objects (people, vehicles etc.), their properties and behaviour. This data can be used for behavioural analysis and smart forensics. With vast amounts of video being captured and stored by surveillance systems, the need to search for specific incidents or to identify abnormalities becomes a big data challenge.
Hi-Tech Security Solutions: Many companies offer analytics on the edge (on the camera). Will edge analytics become a driver in this market or will it be a niche player?
Van den Berg: Edge solutions are the most scalable and resilient offering and will most likely be the choice regarding future solutions. It reduces single point of failure and allows the analytics to run on an uncompressed video format. Edge analytics typically runs on dedicated CPUs, making it extremely reliable.
In contrast to popular belief, multiple cameras going to a central server managing the analytics will not always be guaranteed the available resources from the CPU. Edge analytics also helps to reduce cost, only recording or transmitting on alarms and thus saving bandwidth and recording overhead.
Where large databases are required, such as licence plate or facial recognition, server-based analytics will still have a part to play. Edge-based analytics could be extremely useful in cases of mass retailers, for example. With hundreds or thousands of stores spanning many countries, a marketing department could be receiving real-time information on store occupancy and foot count traffic etc., without the need for costly video transmission for a central server to handle the analytics.
Wolfaardt: Edge analytics will definitely become a driver in the market as camera technology improves and also open many new possibilities in future. Determining a balance between server and edge analytics is very dependent on the type of industry, as the infrastructure for instance makes a massive difference in possibilities. Server analytics excels in scenarios where vast amounts of data needs to be processed in a very short amount of time. Edge-based analytics excels in scenarios where infrastructure is a big hurdle, since then a lot of work can already be done on the camera itself.
Gonzalez: The advent of the Internet of Things (IoT) has created an ecosystem of intelligent edge devices that digitise the physical world. These devices are supported by hardware and software platforms that provide information that is easily updated and maintained.
The growth of IoT has enabled cameras to connect to other sensors and platforms across networks, helping us better make sense of our physical world. As cameras increase in affordability and adopt higher processing power and memory, they transition into devices that are multi-faceted. The benefits of this include scalability, a lower total cost of ownership and a broader understanding of how best to secure property and assets.
Notwithstanding, standalone servers still play a critical role within the overall architecture of a security solution, from availability of live or recorded video to analytics performance support via GPU processing. Servers no longer need to solely reside on site, as their video data can now be hosted in the cloud.
Smith: Video analytics that is deployed on the edge will be more accurate than the alternative, server side analytics, given that the images being processed are accessible in their native resolution without any compression artefacts and other possible degradations caused by bandwidth and decoding restrictions. On the other hand, server-based analytics allows greater flexibility and diversity of applications, given that a non-embedded environment is much more robust and scalable, allowing the user to configure many different types of rules and behaviours.
When it comes to perimeter protection applications, which define a very specific usage of video analytics, edge-based implementations will continue to be the more favourable option, given that accuracy is the critical factor and diversity of capabilities is less relevant.
Other utilisations of video analytics, especially specialised applications, would continue to be based on server-side analytics in most cases, since they differ greatly and would usually require sophisticated setups that cannot be easily achieved with solutions that are implemented entirely on the camera side.
Hi-Tech Security Solutions: Are we really going to see analytical applications that can be uploaded to a camera like an app is uploaded to a smartphone?
Van den Berg: Analytics uploaded into a camera is today readily available and supported in the Bosch range of cameras. The Bosch Dinion range of cameras are able to run up to eight analytics simultaneously.</b>
One advantage of edge-based analytics is being able to change the purpose of that camera from day-to-day.
A camera watching over a scene can on one day guard against loitering, and the next capture licence plate information and count the people walking past, providing different information to separate lines of business within an organisation or company. An app approach is certainly an attractive one, but will not necessarily be the silver bullet that takes care of all scenarios.
Wolfaardt: Yes, it currently exists. Axis has a platform called Axis Camera Application Platform (ACAP) and this allows a user to upload various applications onto a camera for different applications. Depending on the complexity of the analytics application. Some applications even have the capability to offer multiple features that, in the past, needed to be handled by separate applications. By using ACAP, it becomes very simple to manage these different applications.
Gonzalez: With their continued adoption, IoT cameras continue to evolve as intelligent sensors and platforms that digitise the physical world. Cameras continue to integrate a broader set of physical sensors and analytics features to support them. Concurrently, we will continue to need solutions that make sense of data and present it in a way that's easy to understand and provide actionable insight.
Smith: The vision of running analytics applications that are uploaded to security cameras in a similar form to smartphones is still far-fetched. The rationale of smartphones that are designed to operate as small media devices, with continuous connectivity to the Internet, does not go hand-in-hand with the camera security market. Partly because the market is price-sensitive and leans towards commoditisation, allowing minimal investments in strong camera CPUs. In addition, the lack of uniformity in security cameras, non-standardised operating systems, and the absence of large developer communities greatly differentiate the security market from today's smartphone ecosystems.
Based on today's trends and general direction, it is likely to expect that future innovation of video analytics will involve cloud-based infrastructures, having the security cameras connecting either directly, or through a centralised gateway to the cloud. Cloud-based architectures assist to overcome fundamental camera limitations because they provide endless computational resources and an appropriate platform to manage continuous software updates and modifications.
Hi-Tech Security Solutions: Looking ahead, what types of analytical applications do you see becoming more popular over the next year or two? What are you best sellers at the moment?
Van den Berg: Perimeter applications will continue in popularity as cost is driven down or as this becomes standard in cameras. All Bosch cameras from the IP4000 to the IP9000 series will feature on-board video analytics as a standard in the next 12 months. Retail applications such as people counting will continue to grow from strength to strength. We are also seeing an increase in development around motion detection in challenging conditions such as rain, snow, wind, reflections and distance, which could make images even more difficult to interpret.
Wolfaardt: This is very dependent on the type of industry and sector. Currently the Axis Perimeter Defender is a very popular edge-based analytic due to its simplicity, accuracy and ease of use.
Gonzalez: Similar to how search engines changed the way we use the Internet, we see artificial intelligence (AI) in video search revolutionising the way we use video surveillance.
Going forward, we see solutions that focus on site-wide intelligence, allowing searches across entire sites, not merely individual cameras, growing in momentum. There is a need for artificial intelligence in IoT because effective security requires that decisive actions be made. This is where the need for site-wide intelligence comes in. AI-based video search uses a wealth of video data to quickly find necessary information.
Customers are excited about the announcement of Avigilon Appearance Search technology, a sophisticated search engine for video data. It sorts through hours of footage to quickly locate a specific person or vehicle across all cameras within a site. With Avigilon Appearance Search technology, you can click on an object of interest and search for it in recorded video.
Smith: Other than smart forensic applications that are mentioned in question two, future advances in camera optics and image processing would allow us to enable traditional vision-based applications such as licence plate reading and face detection and recognition on standard surveillance cameras. These applications will run in parallel to serving as general-purpose security cameras.
In addition, future cloud adoption would allow other capabilities such as statistical analysis, behavioural analysis and even utilisation of security cameras as big data sensing devices, which would generate metadata for large big-data servers. The outputs would be able to serve many different applications, not necessarily focused on security, which would allow an additional return on investment (ROI) other than just for security purposes.
For more information, contact:
Bosch Security Systems – South Africa & sub-Saharan Africa, +27 (0)11 651 9600, security.systems@za.bosch.com, http//:africa.boschsecurity.com
Axis Communications, +27 (0)11 548 6780, sasha.bonheim@axis.com, www.axis.com
Avigilon, +27 (0)79 079 6528, charntel.loftus@avigilon.com, www.avigilon.com
Graphic Image Technologies, +27 (0)11 483 0333, laurence@git.co.za, www.git.co.za
Credit(s)
Further reading:
Elvey partners with HALO
Elvey Security Technologies News CCTV, Surveillance & Remote Monitoring
Elvey Group has partnered with HALO Europe to provide Africa's first body-worn solution with zero upfront costs. This includes an IP68-certified body camera and a 4G-connected device.
Read more...
---
Accenture Technology Vision 2023
Editor's Choice News
New report states that generative AI is expected to usher in a 'bold new future' for business, merging physical and digital worlds, transforming the way people work and live.
Read more...
---
Economists divided on global economic recovery
Editor's Choice News
Growth outlook has strengthened in all regions, but chief economists are divided on the likelihood of a global recession in 2023; experts are concerned about trade-off between managing inflation and maintaining financial stability, with 76% anticipating central banks to struggle to bring down inflation.
Read more...
---
Success in business process best practices
Technews Publishing Kleyn Change Management Editor's Choice Integrated Solutions Security Services & Risk Management
This month we commandeer time with the woman who is spearheading our national conversation on Women in Security, Lesley-Anne Kleyn, to get to know the lady herself a little better.
Read more...
---
Invisible connection and tangible protection via cloud
Dahua Technology South Africa Perimeter Security, Alarms & Intruder Detection CCTV, Surveillance & Remote Monitoring Products
Dahua Technology has launched its AirShield security solution that uses advanced, stable and reliable RF communication technology and cloud services, integrating alarm hubs, various detectors and accessories, with several software apps.
Read more...
---
SAFPS to launch a platform to combat fraud
Editor's Choice News Security Services & Risk Management
In response to the growing need for a proactive approach to fraud prevention, the SAFPS is developing a product called Yima, which will be a one-stop-shop for South Africans to report scams, secure their identity, and scan any website for vulnerabilities.
Read more...
---
Relaxed home cybersecurity could render consumers accidental 'inside actors'
Editor's Choice Cyber Security Smart Home Automation
Cisco security experts warn of snowball impact of relaxed approach to cybersecurity on personal devices, noting 60% of users primarily use their personal phone for work tasks and 76% have used unsecured public networks for work tasks.
Read more...
---
The importance of the operator's frame of reference
Leaderware Editor's Choice CCTV, Surveillance & Remote Monitoring Security Services & Risk Management Mining (Industry)
The better the operator's frame of reference and situational awareness, and the more informed they are in dealing with CCTV surveillance in the mining industry, the more successful they are likely to be in surveillance.
Read more...
---
The art of drive and focus
Technews Publishing Editor's Choice Mining (Industry)
Riette Smeda did not find security, security found her. In doing so, she found an environment where grit and determination make all the difference in a country where crime pays.
Read more...
---
AI, risk management, and frameworks
Blacklight Group Technews Publishing Editor's Choice Security Services & Risk Management Mining (Industry)
A risk management framework is a basic necessity to meet the always-evolving criminal war against mines, perpetrated by ruthless organised crime gangs that often are better informed and resourced than their targets.
Read more...
---