printer friendly version
70th Anniversary: Elvey 1946-2016
November 2016
News
A momentous year for Elvey
The year 2016 is a significant year in the long history of the Elvey Group and the company the security industry knows as Elvey Security Technologies.In the first instance, the company is 70 years old, which is no small achievement; and secondly, this year marks the retirement of long-time CEO Jack Edery.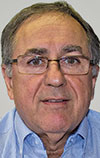 Jack Edery.
The company had its start in 1946 when Charles Elvey established Charles Elvey Agencies in South Africa. In those days the company sold enamelled copper wire and other electronic parts and equipment.
Thirty years later, in 1976, the company was renamed Elvey Agencies and Elliot Wainstein joined the business as Charles Elvey's partner. During this period, the company added fire resistant cabling and fire alarms to its product range.
In the 1980s intruder alarms were added to the portfolio, but the company decided it had to focus on quality products and service if it was to succeed in this business – a strategy that worked well for Elvey over the following years. The company also changed its name to Elvey International to reflect its growing product and customer base, and it started establishing branches around the country as well as into Africa.
In this period the holding company was formed, named the Elvey Group, which held Elvey International and Cargo Control Systems as its subsidiaries. Cargo Control Systems was initially launched in 1978 and although still a going concern, is no longer in the group.
A new era
Paul Wainstein became the CEO of Elvey Group in 1992 and was joined by Jack Edery in the position of financial director in 1996. Over the next three years, this leadership team led the company on a growth path as well as the road to ISO certification. In 1999, Elvey listed on the JSE as Elvey Security Technologies. It was acquired by its current owners, the Hudaco Group, in 2001.
In 2003, Jack Edery became the CEO of Elvey Security Technologies. He was also appointed to the Hudaco Group Executive Committee in 2005 and following Elvey's acquisition of Pentagon, became the chairman of that company in 2011.
With Edery as CEO, Elvey focused on the agency model and has become one of the leading security equipment distributors in the country and in Africa, despite strong local and international competitors. Edery says the company's success can be ascribed to the strong team of people he built as well as the company's historic decision to only engage local and international partners offering quality products.
Edery says this same team is ready to take Elvey into its next growth phase as they have solid knowledge and experience of the company and its business model. Edery's replacement, Gary Lowe is the current commercial director for Elvey, previously filling the role as financial director. Lowe has been with the company for years and has Edery's full support as his successor in the position of CEO.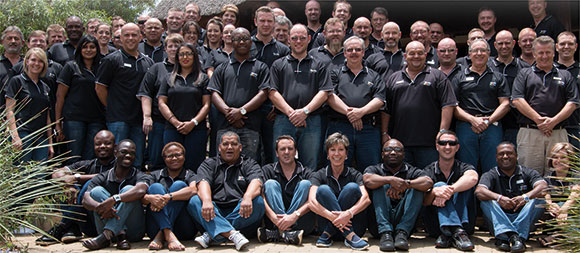 Changes for the better
Over the term of his tenure at Elvey, Edery has seen a significant change in the security industry. For one he says the demands of end users have changed from the traditional alarm and intrusion products. Today people are looking for integrated solutions with visual verification, remote monitoring and early warning functions, as well as the ability to control and manage their own security via mobile devices. People definitely want to be more involved in their own security management and no longer simply rely on a service provider to handle it for them.
"We are seeing a dynamic, fast moving market with continuous innovation being the order of the day and this is set to continue in the long run," he notes.
Part of the changing dynamics is the role of the distributor in the security market. Edery says that if distributors want to succeed they need to make adding value a core competency – box movers are a relic of the past.
A long history and a bright future
Elvey has come a long way since Charles Elvey first started the company back in 1946. Today Elvey is one of the top security distributors in Africa with a number of respected brands in its portfolio of products. As part of the added value it offers customers, Elvey also provides training on the various products it sells, as well as generic security training as the exclusive Tavcom training partner in the region.
And while one era ends with the departure of Jack Edery, Elvey's executive team remains in capable hands ready to take the company to the next level, extending its already enviable 70-year track record.
Jack's dedication to Elvey and his passion to promote quality and standards to the industry took Elvey to the next level through the years. He led by example and his dedication to service delivery could be seen the way he treated his staff and continuously pushing them to provide the same type of service he strived for. Jack believed in building strong relationships with his customers to have complete peace of mind in dealing with Elvey and also to trust the products that they supply to the market. What I really appreciated about Jack is the fact that he believes in quality products to quality clients that have the vision to take the security industry to the next level.
Jack is very dedicated and passionate about the security industry and always pushed to introduce more advanced products to the South African market. I would like to wish him and his family all the best with his retirement and think that his wise words "If you fail to plan, you plan to fail " would be part of Elvey for many years still to come. May he enjoy the fruits of all his hard work and dedication not only to Elvey, but to the entire security industry.
Johan Booysen, MD EPR Armed Reaction (Johannesburg)
In all the years, we as District Watch and Bassett Burglar Alarms have had dealings with Elvey Security Technologies, I have always found Jack to be an absolute gentleman first and foremost. His direction of Elvey is testament to his and Elvey's success. I wish him a happy and well-deserved retirement. I wish Elvey to maintain their high standard and keep doing what you do so well.
Pierre Gouws - District Watch, (Bellville, Cape Town)
M Sec Security would like to wish Jack Edery the warmest congratulations on his retirement. We know that Elvey and we as customers will miss your knowledge, expertise and support. We wish you all the best and success for the future.
Please keep in touch.
Regards, Pieter Nel
Hiermee wil Noal en Alta Verwey van Beaufort Alarms net vir Jack Edery bedank vir al die jare se goeie diens en ondersteuning. Ons wil ook vir Jack geluk en voorspoed toewens met sy aftrede. Na ons mening verloor Elvey 'n groot gees en staatmaker, maar gun ons hom sy wel verdiende rus.
Ook aan Elvey International, baie geluk met jul 70ste verjaarsdag. Beaufort Alarms is bevoorreg om al vir soveel jare met Elvey geassosieer te kan word. Sterkte en voorspoed vir die volgende 70 jaar word Elvey toe gewens deur Beaufort Alarms. Dankie vir jul puik diens. Doen so voort.
Vriendelike groete Noal en Alta Verwey, Beaufort Alarms (George)
I have known Jack Edery for many years, going back to a time when having lunches was still possible. Jack always knew that Elvey was in line for bigger things, he brought professionalism and high standards into the security supplier market. His elevation of the Elvey brand was driven through service delivery and innovative products. Having an intimate knowledge of the industry and intuitively reading trends was a gift he possessed, he ensured that the installers always had access to new products but most importantly, ensuring that these were underpinned by great technical training and support.
Jack is a great businessman, in all my dealings with him he was professional, was able to cut to the crux quickly and always found a win-win solution.
I never had the privilege of cycling with Jack but enjoyed hearing about the many interesting rides he took part in areas outside South Africa.
Good luck Jack, keep cycling and remember you are always welcome for a cup of coffee.
Beagle Watch, Dave Casey, MD (Fairland, Johannesburg)
Dear Mr Edery,
From everybody at Allsound Security cc, we would like to wish Elvey a very Happy 70th Birthday.
We would also like to take this opportunity to thank you for all the years of excellent service and support to our technical department. May your well-deserved retirement bring you many years of enjoyment with friends and family.
Yours sincerely
Andy Stunden, Colin Stunden, Jason Stunden, Declan Nurse and the rest of the Allsound Team
Credit(s)
Further reading:
Olarm launches the Olarm LINK
Olarm Perimeter Security, Alarms & Intruder Detection News Products
Building on the success of smart-enabling, monitoring and controlling alarm panels and electric fences, Olarm has a new solution for customers to integrate gates, garage doors, pumps and other electrical products with the Olarm APP and Olarm PRO communicator.
Read more...
---
Ultimate smart monitoring and reliability
Olarm Perimeter Security, Alarms & Intruder Detection News Products
Olarm is gearing up to unveil its latest product, the Olarm MAX, set to be available in late 2023, which will redefine smart monitoring by offering unparalleled connectivity options and functionality.
Read more...
---
Insights from the 2023 Cloud Security Report
News Cyber Security
Increased costs, compliance requirements, hybrid and multi-cloud complexities, reduced visibility, and a lack of skilled practitioners cause organisations to slow or adjust their cloud adoption strategies.
Read more...
---
New algorithm for OT cybersecurity risk management
Industrial (Industry) Cyber Security News Commercial (Industry)
OTORIO's new risk management model and attack graph analysis algorithm technology, calculates OT cybersecurity threats and provides risk mitigation actions, prioritised according to actual exposure and potential impact on operations.
Read more...
---
Robots: a security opportunity or a threat?
Editor's Choice News Conferences & Events
Professor Martin Gill, Director of Perpetuity Research & Consultancy International and the School of Criminal Justice at the University of South Africa (UNISA), will be holding a Global Thought Leadership Security webinar on 22 June 2023 to discuss the contentious issue of robots operating in the security industry.
Read more...
---
UNISA sponsors Securex seminars
Editor's Choice News Conferences & Events
As part of UNISA's 150-year birthday celebrations, UNISA has sponsored the Securex Theatre Seminar Programme, which will include a number of prominent industry specialists, academics and security practitioners focusing on a number of themes.
Read more...
---
Facilities Management Seminar Theatre
Securex South Africa News
The free-to-attend Facilities Management Seminar Theatre, powered by Broll, delivers information on the latest market trends, thereby keeping attendees up to date on solutions and technology centred on increasing facility system optimisation.
Read more...
---
The latest security trends at Securex South Africa 2023
Securex South Africa News Conferences & Events Training & Education
Security technology evolves at a blistering pace, so it's important to keep up to date with changing trends in order to ensure maximised safety of human and personal assets. The Securex Seminar Theatre, powered by UNISA, is the place to be.
Read more...
---
Sustainability School opens for enrolment
Education (Industry) News Security Services & Risk Management
Three-part programme, first developed for Schneider Electric employees, is now available for free for companies worldwide. Attendees learn how to future-proof their businesses and accelerate their decarbonisation journeys.
Read more...
---
From the editor's desk: Get Smart
Technews Publishing News
Welcome to the fourth issue of Hi-Tech Security Solutions for 2023, which is also the first issue of Smart Security Solutions. As noted in previous issues, Hi-Tech Security Solutions has been rebranded to Smart Security Solutions.
Read more...
---