printer friendly version
Automated facilities and security management
October 2016
Security Services & Risk Management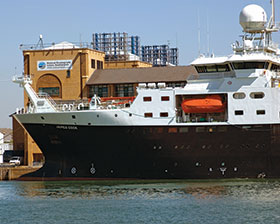 The National Oceanography Centre (NOC) has deployed a software solution from software development specialist Solution House to improve and automate its site and facility management, eliminating manual incident reports and introducing mobile incident management for security and maintenance staff.
Developed in South Africa and distributed by Solution House UK, Incident Desk is a universal incident and service request sourcing, routing and management engine that provides site and facility managers with advanced functionality for recording, tracking, visualising, alerting, escalating and reporting on any number of site-related incidents, from infrastructure repair, scheduled service checks, intrusion alerts, criminal incidents and more.
NOC is the UK's largest institution for integrated sea level science, coastal and deep ocean research and technology development. Together with its partners, NOC confronts key scientific challenges such as sea level change, the oceans' role in climate change, predicting and simulating the behaviour of the oceans through computer modelling, development, the future of the Arctic Ocean and long-term monitoring technologies.
Keeping more than 2500 scientists, engineers, technologists, support staff and students safe across the NOC's two operational sites, one of which is shared with a university, and securing the institution's assets in compliance with relevant legislation is one of the primary responsibilities of NOC security supervisor, Paul Dent.
"In past years this complex function was primarily managed through a system of physical Daily Occurrence Books (DOB), which made it time consuming, labour intensive and difficult to manage in realtime," says Dent. "Regardless of how many rules you put in place, using a manual DOB system means you can't really get an accurate sense of what's happening in and around the NOC at any given point, which is not ideal for a busy site with highly sensitive equipment and research facilities.
"We typically have multiple 'incidents' that we capture and track, including but not limited to building management alarms and checks, fire alarm system checks, fire alarm activations, water leaks, electricity supply failure, lost and found property and criminal offences. What
we needed was a digital alternative that would not only replicate our manual DOB processes and help us manage multiple incidents more effectively, but also give us more ways to quickly and accurately report and track them as they happen. Typically we record about 3000 security related incidents / occurrences every month."
Digital occurrence book
NOC's Estates Department employs a team of eight permanent security officers and ad hoc contract security officers as required on site, along with numerous maintenance staff, so the system would not only be required to send relevant alerts to duty staff, but also give them a way to enter alerts into the system from anywhere on the NOC site.
"The software had to be easy to use, fully reportable and user configurable," says Dent. "Of the three solutions we evaluated, one was overpriced and another overly complicated. Incident Desk was the only one that met all three selection criteria, was reasonably priced, and was backed by exceptional customer service and after-sales support from Solution House and Solution House UK. Importantly, it also featured a mobile component – via a native smartphone app – that immediately elevated the functionality to a level none of the other packages could match."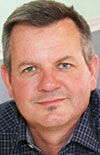 Tiaan Janse van Rensburg
Solution House director, Tiaan Janse van Rensburg, says that Incident Desk is a flexible solution for site managers that want to either consolidate their incident management tasks, or combine different site management systems and processes into one platform.
"Site managers typically have to work with multiple software systems from different solution vendors, which for a campus site could include CCTV, building management systems, licence plate recognition, access control and so on.
"At a basic level, these systems generate alarms or exceptions that can be automatically logged and managed by Incident Desk, giving site managers a centralised console for incident management.
Streamline existing processes
"But Incident Desk can also go a step further by replacing the many purpose-built management systems or processes such as maintenance, health and safety or security, thereby consolidating these otherwise disparate processes and management systems rather than simply managing their incident alerts."
With built-in support for multiple input sources – from SMS and email, to smartphone apps (both native and third party) and even existing third-party software systems – Incident Desk helps manage and monitor every aspect of a site, from the desktop, via the web, or through a smartphone app. It can also be configured as a cloud-based managed service through Solution House, or installed on-site as a standalone, in-house solution. In both cases, Incident Desk can be configured, adapted and maintained by the user as required.
While this flexibility and configurability often translates into cost savings, Dent believes the system's everyday efficiencies and its ability to automatically mobilise staff to priority incidents is more critical than cost.
"It's difficult to quantify cost savings because this was not the primary issue when we implemented the solution," he says. "The management benefits have been tremendous however. We have it set up to automatically email senior management for certain occurrences, or if the business continuity plan is invoked. This ensures that the correct people are initially informed of the incident, which is then backed up by a telephone call. If the person or persons don't answer the call, they have the fallback of an email alert of the incident.
"We also have full visibility of all the actions our staff take during an incident. This is particularly important to protect the integrity of the staff and the institution because neither party can claim they weren't made aware of the incident. In this way the system gives us full transparency for every incident, and every individual is accountable for his or her actions taken in response."
The NOC is currently in discussions with Solution House about potential future add-ons to the system, including a real-time security guard tracking and reporting system.
For more information contact Tiaan Janse van Rensburg, Solution House, +27 (0)82 565 8081, tiaan@solutionhouse.co.za
Credit(s)
Further reading:
Convergence of cyber and physical security
Integrated Solutions Security Services & Risk Management
The overlap between cybersecurity and physical security will necessitate the integration of cyber and physical security in order to enable the sharing of events to the same security operations centre.
Read more...
---
Reduce electrical risks in commercial and industrial buildings
Security Services & Risk Management
Eaton's new whitepaper aims to help professionals reduce electrical risks in commercial and industrial buildings and prevent faults that can endanger workers, damage property and disrupt business continuity.
Read more...
---
Sustainability School opens for enrolment
Education (Industry) News Security Services & Risk Management
Three-part programme, first developed for Schneider Electric employees, is now available for free for companies worldwide. Attendees learn how to future-proof their businesses and accelerate their decarbonisation journeys.
Read more...
---
Success in business process best practices
Technews Publishing Kleyn Change Management Editor's Choice Integrated Solutions Security Services & Risk Management
This month we commandeer time with the woman who is spearheading our national conversation on Women in Security, Lesley-Anne Kleyn, to get to know the lady herself a little better.
Read more...
---
Security awareness training
Training & Education Security Services & Risk Management
It is critically important to have a security awareness solution that uses the limited time available to train effectively, and one that provides targeted education that is relevant to users.
Read more...
---
Technology to thwart solar panel thieves
Asset Management, EAS, RFID Security Services & Risk Management Products
A highly efficient industrial network is coming to the rescue of the solar industry, as solar panels, inverters and batteries are being targeted by thieves and threaten to destabilise the industry.
Read more...
---
Banking the unbanked comes with security risks
Financial (Industry) Security Services & Risk Management
As grim as it was, the pandemic of recent years and its resultant global economic crisis were a prime catalyst for record number of first-time bank users, the previously unbanked.
Read more...
---
Security is like infinity
Alwinco Security Services & Risk Management
Security needs constant attention, dedication and input. The scary thing is that most people think that security is something that you buy, install, and then forget about.
Read more...
---
Vulnerabilities in industrial cellular routers' cloud management platforms
Industrial (Industry) Cyber Security Security Services & Risk Management
Research from OTORIO, a provider of operational technology cyber and digital risk management solutions, unveils cyber risks in M2M protocols and asset registration that expose hundreds of thousands of devices and OT networks to attack
Read more...
---
SAFPS to launch a platform to combat fraud
Editor's Choice News Security Services & Risk Management
In response to the growing need for a proactive approach to fraud prevention, the SAFPS is developing a product called Yima, which will be a one-stop-shop for South Africans to report scams, secure their identity, and scan any website for vulnerabilities.
Read more...
---