printer friendly version
Multi-sensor surveillance in the entertainment industry
October 2016 Surveillance, Integrated Solutions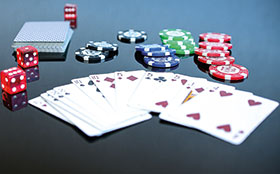 Multi-sensor surveillance is an important part of any security surveillance solution; it is after all the foundation of any CCTV configuration where multiple cameras (sensors) are used to cover the areas of interest. The following points are made with reference to the article written in the July 2016 Hi-Tech Security Solutions magazine on 'Multi-sensor surveillance', to clarify where the strengths and weaknesses in multi-sensor surveillance lie, how 4K is a complementary and not competitive technology, and what it might mean to your overall surveillance plan.
The entertainment industry
The industry involves large areas both open and closed, where there are often sizeable crowds and continuous directional movement for specific periods of time. In the event of any incident, there is normally a trigger event, main, or secondary to distract, that requires full overview for situational awareness before using key located camera (sensors) with PTZ optical or HD digital zoom options to monitor and review the event.
More than 50% of the cost of most installations is spent on labour, cabling, switches, conduits and accessories. Therefore, if you can reduce the number of overall camera points in a particular installation by using high resolution cameras or multi-sensor cameras, you will often reduce costs within this environment. The same economies might also apply within the control room where reduced cameras should mean less screens to watch and therefore less operators.
A multi-sensor camera providing a 360°, 270° or 180° field of view across four or more sensors should be a more cost effective option compared to individually installed and mounted cameras covering the same area.

Fisheye versus multi-sensor
A fisheye camera uses a single sensor, which may be rated from 1.3 MP up to 12 MP, including 4K (8 MP). The lens is the important item, between 1.3 mm and 1.8 mm to provide the fisheye angle of over 180°. It provides an excellent radius of view, 360° mounted on the ceiling or 180° degree on the wall, a total awareness of the scene with recognition out to around 20 m – noting image resolution drops as you move to the outer edges.
A multi-sensor uses a range of sensors from 2 MP, 4K (8 MP), 10 MP or more per sensor in various configurations according to the coverage required. The difference from the fisheye is the focal length of the lens used for each sensor may offer a range from 2 mm to 16 mm depending upon field of view required. A 16 mm lens on a 5 MP sensor provides recognition out to 100 m, five times the fisheye limit. A good example is the Arecont Vision Omni, providing you with a choice of different lenses from 2 mm to 16 mm for four different sensors, giving options for a wide angle directly below the camera, a long range view down one corridor, a shorter range on a second and a full area coverage, all setup on the one camera (270°) mounted on a corner.
The choice of fisheye, multi-sensor and lens options is entirely dependent on what you are trying to achieve and both certainly have a place within the entertainment industry.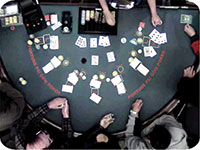 Video management software
ONVIF standards do not provide for multi-sensor or fisheye cameras, therefore your NVR or VMS choice is important. Specialised VMS integration must have been completed to ensure the multi-sensors are properly displayed, recorded and licensed. The fisheye cameras can be dewarped (flattened) and provide sectional layouts to assist in the interpretation of what you are seeing. Likewise with the multi-sensor we need to provide a user friendly panoramic view that enables rapid understanding. Most open platform VMS solutions provide this support.
PTZ cameras versus HD cameras
The often said comment about PTZ cameras is that they are 'always looking at the wrong place when the event happens'; hence the rise of high definition or megapixel cameras. A PTZ (pan, tilt and zoom) camera features a 360° rotational panning ability for horizontal movement, downward and upward tilt for vertical movement and a lens that, depending upon optical focal range, will provide x10, x20, x30 and even x36 zoom options. The zoom relating to the minimum and maximum focal point; from say 3.6 mm – 108 mm thus providing a x30 zoom (3.6 mm x 30 = 108 mm).
One aspect of the PTZ not yet mentioned is the sensor which often determines the frame rate and resolution for that camera.
The HD camera or sensor will start at 1 MP (720p) using a 1/3-inch or ½-inch sensor and according to resolution requirements and lens options may increase up to 1-inch with the resultant improvement in megapixel resolution, but often a reduction in frame rate. With the correct lens we should be able to provide the same digital zoom as the PTZ camera, but obviously without the pan and tilt as the HD camera would be fixed. We could then capture the same key events, assuming it happened within the field of view, but would obviously require more cameras/sensors to cover the same area as the PTZ; hence the multi-sensor option.

Storage, frame rate and databases
An entertainment venue requires a solution that is correctly planned and well understood to cover all eventualities. Working on a casino floor with gambling tables requires the right trade-off between frame rate, resolution and image quality. A multi-sensor camera will capture the quality image of the person or associated persons involved as an overview to an event, despite its lower frame rates.
However, the sleight of hand that deceives the eye needs to be caught on camera using far higher frame rates such as the 4K camera. It is a balance between covering the overall area in sufficient detail and backing it up with higher frame rate cameras over the tables, flooding the area with multiple resolution cameras can often slow down the ability to review all information quickly and substantially increase data rates for both storage and playback reviews.
Understanding the capabilities that each camera/sensor provides, their frame rate, data streaming rate and how much storage space they require is entirely relevant to ensuring that all evidence is correctly captured. A 4K camera is four times the resolution of a 1080p (2 MP) camera and data throughput is an important calculation for all cameras/sensors planned to be used.
This ensures that when VMS operators replay the relevant images from our different camera solutions, we have the footage at the right resolution and frame rate to build the case. Having collated the case study information we can now provide a report with full video and audio details at the same resolution and layout as originally seen.
Conclusions
The Hi-Tech Security Solutions article provided a great introduction for multi-sensor commentary with some knowledgeable and well-founded points. To my mind, the discussion is not about competition from 4K (8 MP) cameras/sensors, but how they can integrate and benefit the entertainment industry working in conjunction with multi-sensor surveillance.
Consider that it is nearly impossible to cover all open areas with PTZ cameras as you require operators for each operation and placing them 'on tour' does not resolve threat issues. Replacing those PTZ cameras with multi-sensor cameras now offers you the exact same licence fee cost and ensures a wider area of coverage. Integrate your 4K cameras at hot spots together with other applicable megapixel cameras to provide more detail over a larger area and reduce on total numbers of cameras needed. Ensure that your critical points are fully covered with cameras that record to the frame rate, resolution and detail required onto your enterprise level VMS platform and you should have 99% of all issues covered.
Credit(s)
Further reading:
Pentagon appointed as Milestone distributor
Elvey Security Technologies News & Events Surveillance
Milestone Systems appointed Pentagon Distribution (an Elvey Group company within the Hudaco Group of Companies) as a distributor. XProtect's open architecture means no lock-in and the ability to customise the connected video solution that will accomplish the job.
Read more...
---
Integrated transportation security
Guardian Eye AI & Data Analytics Integrated Solutions Logistics (Industry)
HG Travel installs an AI-powered camera system integrated across 115 vehicles throughout a fleet comprising 160 vehicles of different sizes, along with predictive and self-monitoring tools to track tyre condition, fuel consumption and theft, and overall vehicle maintenance.
Read more...
---
Embracing next-generation surveillance for safer cities
Surveillance Integrated Solutions AI & Data Analytics
With the South African government highlighting the importance of building smart cities by integrating advanced technologies to make them more resilient and liveable, the role of next-generation network video and surveillance technologies cannot be ignored.
Read more...
---
Gallagher Security releases Command Centre v9
Gallagher News & Events Access Control & Identity Management Integrated Solutions
Richer features, greater integrations, with the release of Gallagher Security's Command Centre v9 security site management software designed to integrate seamlessly with various systems and hardware.
Read more...
---
Hik-Connect for Teams released
Hikvision South Africa Products & Solutions Surveillance
Hikvision has released an update for its security management platform; Hik-Connect for Teams not only meets the specific needs of individual users, but also caters to various medium-sized businesses (SMBs) and multi-site management scenarios.
Read more...
---
The human factor side of video management systems
Leaderware Editor's Choice Surveillance Risk Management & Resilience
A video management system (VMS) is central to, and the most vital element to any control room operation using CCTV as part of its service delivery, however, all too often, it is seen as a technical solution rather than an operational solution.
Read more...
---
A simple system for complex protection
Surveillance AI & Data Analytics IoT & Automation
Reconeyez is a company that provides autonomous wireless visual verification systems with built-in artificial intelligence. Running on batteries, each device includes communication capabilities, creating a mesh network between the various devices, linking them to the control room.
Read more...
---
Integrating farming and security solutions for productivity
Security BIS Agriculture (Industry) Integrated Solutions
Security challenges are a harsh reality in South Africa, particularly for those in remote areas. Sadly, recurring rural crimes like farm attacks and livestock theft are part of the farming community's lives.
Read more...
---
Revolutionise your security with integrated solutions
Secutel Technologies Products & Solutions Surveillance
By merging the capabilities of SecuVue and Secutraq, Secutel has forged a robust system empowering users to fine-tune analytics and harness facial recognition, pose detection, and XFS, among other features.
Read more...
---
Safer roads to a sustainable future
Dahua Technology South Africa Surveillance
With the ever-increasing number of vehicles on the road, it is imperative to constantly improve the quality of transportation monitoring and traffic management in urban and rural areas.
Read more...
---