printer friendly version
Quality and support key driver for local manufacturing
September 2016 Editor's Choice, Industrial (Industry)
Faced with compelling reasons to offshore their manufacturing to countries like China, where doing so is usually cheaper, many South African companies jump at the opportunity, or at least view it as a business imperative that they do so. A healthy number of companies in the security sector, however, continue to manufacture primarily or exclusively in SA. Hi-Tech Security Solutions quizzed three manufacturers of a diverse range of security products on why they continue to manufacture locally, and the new products they're bringing to market.
BFR Digital
Established in 2001 as a creative outlet for its three founding members, BFR Digital manufactures a range of products for fibre-optic transmission, networking, surge protection and LED security lighting. Its products are sold not only in South Africa, but also countries such as Mozambique, Zambia, Kenya, Uganda and Dubai.
According to managing director Bruno Felicidade Jones, the company believes that is has "a responsibility to grow the South African economy and to create job opportunities for our children. We will not reduce unemployment by only consuming imported products. Also, companies in the East offer poor quality and good quality products. If one chooses quality above price, then Chinese products are not that cheap."
When it comes to its procurement policies, BFR again prefers to keep it local as far as possible. "Our metal enclosures and PCBs are purchased locally," says Felicidade Jones. "About 40% percent of our electronic components are purchased from local electronic component distributors and the balance we purchase directly from the component manufacturer or from buying houses located in the USA, UK, China and Taiwan."
BFR Digital's new PoE powered infrared illuminator.
Although it has already built up a healthy stable of products, the company has not rested on its laurels, having recently introduced Power over Ethernet (PoE) powered LED flood lights and LED infrared illuminators. "The advantage of PoE is that the system integrator can run up to 100 metres of CAT5e cable and this reduces the number of mains plugs points required for the security system. Both our floodlights and infrared illuminators use OSRAM LED technology which allows us to produce near double the illumination from the same amount of Watts as our competitors. For example, a leading floodlight brand in SA only produces 1440 lumens from 20 Watts where our floodlight produces 2800 lumen from 22 Watts," Felicidade Jones claims.
With the correct lens, he says the LED floodlight can offer effective illumination up to 50 metres, making it ideal for perimeter fencing illumination. The infrared illuminators are lensed for 40, 60, 100 and 130 metres, with no hot spots and an even infrared spread. Both product lines have built-in day/night sensors or can be operated manually via an external trigger input.
ET Systems
ET Systems designs, manufactures and distributes products for the automation of gates, garage doors and road barriers, RF control (transmitters and receivers) and ancillary products. While the South African market is its main focus, the company sells its products on no less than five continents.
Murison Kotzé, the company's managing director, places great importance on having tight control over its processes. "Manufacturing in South Africa gives us total control over all aspects of our product – it starts with designing the products with our local customers in mind," he explains. "In terms of the manufacturing, we can control the quality to the levels we require much better. We are also much more flexible to increase or decrease stock levels to accommodate customers' short-term demands due to the reduced lead time of local production. I also do believe that we can manufacture products cost competitively locally – especially if the full supply chain cost is taken into account.
"In general we try and support the local suppliers, agents and manufacturers as much as possible. This is important to build a sustainable industry in South Africa. As an example, we produce most of our plastic housing and electronics locally, and even for imported electronic components we prefer to use the local agents," says Kotzé.
ET Systems is in the process of renewing some of its product lines, and has launched two new products that Kotzé believes are market leaders:

ET System's Drive 1000 sliding gate motor.
• The Drive 1000 sliding gate motor is designed to automate high-traffic sliding gates of up to 1000 kg. It is powered by ET Systems' toroidal transformer (ACDC Power Pack) technology, with battery only as backup, meaning it can operate continuously, day and night. It also features intelligent electronics and some innovative security features.
• Secondly, the Wingo swing gate motor is a linear unit offering high-speed operation with precision control for added safety, and a low-noise, compact gearbox design. The robust, patented design is aimed at ease of installation, operation and maintenance.
GIS-SA
The core business of GIS-SA is the manufacture of high-quality security lighting, especially infrared illumination for CCTV. It also manufactures complementary products that are beneficial to its customers' projects, such as cable, cabinets, brackets and power supplies. According to the company's Roston Sadie, "We are not trying to be a one-stop shop but more of a value added manufacturer in a niche market."
The company supplies mainly South African companies, but is starting to see an increase in export potential as other countries are expressing more interest in its high-end lighting products.
Sadie summarises the primary reasons for manufacturing locally as quality control, stock availability, shorter supply lead times, shorter repair lead times, and cost reduction by eliminating shipping and duty charges. "We realised that in this global economy, most manufacturers abroad are moving to JIT (just in time) manufacturing," he explains. "This means they do not carry stock; they only manufacture to order, which means two to four weeks for manufacturing. Then the products still have to be shipped, many times by air to shorten the lead time. This would add another two weeks. Then Customs wants its 20% which robs the product of any margin and creates a system whereby suppliers, who should be selling to contractors or installers, must actually sell direct to consumers in order to make any decent margin.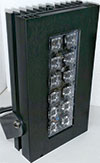 GIS-SA's new T1 Flood.
"We now manufacture locally, and maintain a certain level of stock. We do not have to send anything away for repair – our local experts simply inspect and repair where possible or provide instant swap outs from our stock. It should be borne in mind that even a simple quote on imported products could cost a customer thousands in shipping fees and weeks in downtime."
Although GIS-SA has a long history of importing goods and is very capable of doing so, it prefers to support local suppliers. "We work closely with the experts at the international manufacturing facilities, e.g. OSRAM, to ensure we produce a solid product, supported by experts who guide us along the way. We will however procure the components via a local channel so that we keep supporting local business," Sadie clarifies.
The latest to join GIS-SA's portfolio is the T1 Flood, a versatile product that can be used in many different applications to great effect. These include use in CCTV as an infrared Illuminator, as a security floodlight for businesses, as a streetlight, or even as a high bay light.
For more information contact
BFR Digital, +27 (0)11 786 5575, brunof@bfrdigital.co.za, www.bfrdigital.co.za
GIS SA, +27 (0)71 560 4151, roston@gis-sa.net, www.gis-sa.net
ET Systems, +27 (0)21 404 0800, sales@et.co.za, www.et.co.za
Credit(s)
Further reading:
How encryption can protect sensitive data
Issue 6 2020 , Editor's Choice
Here's how encryption can help keep your data safe from prying eyes – even if your device is stolen or your cloud account is hacked.
Read more...
---
More than just compliance
Issue 6 2020, IACT-Africa , Editor's Choice
SA is one year away from the Protection of Personal Information Act (POPIA) D-Day.
Read more...
---
Security risk mitigation on a budget
Issue 6 2020 , Editor's Choice
Security estates often fall well short in terms of adequate protection when being assessed by an independent, experienced threat, risk and vulnerability assessor.
Read more...
---
Digital means managing your risk
Issue 6 2020, AVeS Cyber Security , Editor's Choice
Digital transformation in mining companies has become a business imperative to drive efficiencies, optimise competitiveness and reduce risks associated with human error.
Read more...
---
Face recognition and temperature measurement
Issue 6 2020, Suprema , Editor's Choice
Purpose built for FaceStation 2, Suprema's new thermal camera enhances safety by measuring skin temperature.
Read more...
---
What, how and why of security
Issue 6 2020, Alwinco , Editor's Choice
As a security advisor, it's a continuous challenge to change the existing perceptions of CEOs/MDs and nowadays the procurement departments.
Read more...
---
A life jacket for buildings
Issue 6 2020 , Editor's Choice
The EAV is a purpose-designed vest which provides the user with on-demand air supply and other safety gear to help them escape from hazardous incidents.
Read more...
---
Overview of contactless identification technologies
Issue 6 2020, Suprema , Editor's Choice
A guide to two of the best available contactless identity confirmation technologies, along with some tips on choosing the right one.
Read more...
---
Key criteria in the selection of CCTV control room operators
Issue 5 2020, Leaderware , Editor's Choice
Some people are better at aspects of the job of CCTV operator than others, and some companies put in a lot more effort in choosing their operators than others.
Read more...
---
Leaders in risk and security: As long as there are people, there will be risk
Issue 5 2020, iFacts, Technews Publishing , Editor's Choice
Jenny Reid is a self-made success, focusing on people, the risks they create and the potential they have.
Read more...
---