printer friendly version
Understanding the CCTV box you just bought
August 2016
Surveillance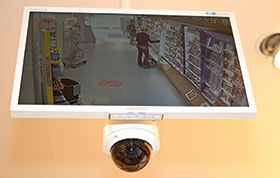 A distribution company recently held a series of workshops including one for a new manufacturer's CCTV product range a few weeks ago. The training room was full, good to see, as a range of questions were raised focusing on networks and cabling, bandwidth (bitrates), storage and remote access.
The questions were fairly basic indicating a lack of real understanding for the IP products presented. At the end of the workshop, a special offer was made for an 8-channel NVR and two cameras at a highly discounted price, for which most attendees purchased one or two packages with one individual purchasing 20 or more. This begged a question: how many of those purchasing a discounted package understood what they were purchasing, how it performed, or did that not matter until the user has a problem?
Technical specifications
Let us take a current popular 8-channel NVR and see what it is all about? The recommended retail price for the unit is just over R3 600 including VAT, without hard drive, but with 1 x SATA connection and recommendation for a 4 TB HDD or less. The white box has the capacity for up to eight channels of IP video with eight PoE (Power over Ethernet) ports, all fitted into a mini 1U case with one RJ-45 10/100 Mbps Ethernet interface.
The specification states a maximum incoming bandwidth of 50 Mbps and an outgoing bandwidth of 40 Mbps with live view/playback options of 1080p/720p/VGA, 4CIF down to QCIF. Please note this next comment – capability two channels of 1080p or 4 channels of 720p; that means you can only replay two channels of 2 MP video recording or four of 1 MP recording at one time.
There is a small print at the bottom of the datasheet that is easily overlooked: The formula to calculate the incoming bandwidth and the IP camera connected is: A=B/(C+D), where A refers to the number of IP cameras you connect. B refers to the value of the incoming bandwidth. C refers to the bitrate value of the main stream of the connected IP camera. D refers to the bitrate value of the sub-stream of the connected IP camera. The suggested calculation has B at a maximum of 50 Mbps, C = 6 Mbps, D = 1 Mbps, giving A = 50/(6+1) = 7. You can only connect 7 x 1080p cameras to the box at 49 Mbps and only replay two of the cameras at any one time at 2 MP.
Technical comment
Bitrate – Describes the rate at which bits of data are transferred from one location to another, commonly measured in bits, kilobits (Kbps) or megabits (Mbps) per second. Current IP cameras often have the choice of two streams of bits, a main stream and a sub-stream.
In the example above, and normally within the web interface, these default to a stated maximum bitrate for main stream of 6 Mbps and sub-stream of 1 Mbps, thus giving a 7 Mbps limit per camera (8 x7 = 56 Mbps). You can adjust the bitrate settings as you wish to obtain a higher or lower bitrate maximum setting or change to a variable bitrate option depending upon your requirements. It must be remembered though that your recommended data input is only 50 Mbps for this NVR; reducing or increasing the set bitrate may lose data or cause packet loss (video loss) should it not be managed correctly. Vision Catcher uses online tools to enable the calculation of the bitrate for each camera keeping the total bitrate within specification.
Pixel count – If your field of view and/or camera requirement wants to use a reduced quality of image to achieve recognition only rather than identification, then a lower camera pixel count can be chosen. The 1080p has a pixel count of 1920(H)x1080(V) or 2,07 MP (2.1 Megapixels). A 720p or 1 MP camera has a pixel count of 1280(H) x 720(V) = 921 600 pixels. The difference between the two halves the pixel count and you would see a halved bitrate assuming that frame rate and camera view are the same. So you can opt for cameras of a lower pixel count (lower resolution) such as D1 or 4CIF and combine with 2 MP and 1 MP cameras to ensure that your data rate remains under the NVR limitations. Please note that reducing the pixel count per metre within the field of view may reduce the quality of the image recorded.
Compression standards – M-JPEG compression works in a different way to H.264 (an MPEG 4 variant) and we expect to see M-JPEG use around three times the average bitrate against H.264. If we used M-JPEG to stream to the NVR we would definitely exceed the permitted bitrate and lose video footage (packet loss).
A compression type such as H.264 has a number of variables that can affect its bitrate including key frame settings, differing levels of resolution, wide dynamic range, movement, lighting and noise. They all add to the required understanding of the camera, its field of view and basic requirement down to the actual bitrate it produces over a 24-hour period; this can vary from less than 1 Mbps to well over 50 Mbps, hence the option for a maximum bitrate setting to avoid the possibility of losing video footage.
Live viewing, replay and remote communication – Our white box has a recommended output bitrate of 40 Mbps, an input bitrate of 50 Mbps on a 10/100 Mbps Ethernet interface. This allows for a 10% bitrate deviation owing to data flow, cabling and connectors. If I have a live stream for viewing on a monitor with all cameras viewed, this will probably exceed the allowed bitrate. To get around this problem, our white box restricts live viewing on two or more channels to a 4CIF stream even for 1 MP and 2 MP cameras. If I want to replay or remotely link into the NVR, this will further reduce viewing or replay bitrate capabilities.
Populating the box and hooking it up to the network
Now we have purchased our white CCTV box and we need to purchase a suitable hard drive. Most camera and recording device manufacturers should provide you with access to a storage and data rate calculator so that you can confirm each of your cameras average bitrate and how much storage they will require. The largest hard drive you can use is a 4 TB hard drive as stated, at a current cost of around R3250 incl VAT.
We are going to choose a 4 TB hard drive, as we know that our chosen 4 x 1080p and 4 x 720p cameras have mid-level bitrates of approximately 7 Mbps and 3.5 Mbps respectively. Using our storage calculator at 25% motion for all eight cameras during the period per day gives us a total likely daily storage of 116 GB, over the 30-day period. This gives us a total monthly storage of 3.45 TB. We can now hook in the Cat5e cabling providing PoE to our cameras and stream the eight video feeds, hook into our router/switch from the single non-PoE network port and stream video to our local or mobile network, finally hook up via VGA or HDMI to view live or recorded detail.
Licensing
Our CCTV white box is ready to go and like all CCTV devices with live, recording and playback options, it needs video management software (VMS) of some sort that may well be referred to as firmware; the VMS is licensed to you as the end user within the terms and conditions. The cost of the VMS is factored with the cost of the hardware to give you a full working solution for the retail price paid. There are any number of manufacturers providing their own VMS within a ready built COTS (Customisable off the Shelf) solution all at a single cost and all containing licensed VMS software.
Your white box VMS should be fully compatible with your camera options; they are after all manufactured by the same company to ensure that you are locked in. Older cameras and those of a different manufacturer may not be compatible or will have very limited functionality through an ONVIF option. This is what keeps the VMS licensing cost down and ensures that you stay loyal to the manufacturer. What about adding or changing a camera six months later, well your choice is still probably limited to that same manufacturer. Do you ask questions about licensing and upgrades of software/hardware when purchasing your NVR/camera security solution?
The manufacturer will update and make changes to their NVR VMS on a regular basis, the same for the camera firmware as bugs or issues are fixed and amended. Do you actually know where you can find the VMS or camera firmware upgrade and what is more important, do you know how to upgrade this firmware? Many resellers often struggle to upgrade a camera let alone the NVR.
This is often the difference between a camera manufacturer providing the NVR or VMS, compared to a company such as exacqVision that specialises in VMS development. Vision Catcher is a distributor and fully trained reseller for exacqVision enabling you to scale the VMS to the workstation needed for the project. You can then choose from a long list of camera brands and models best suited for your requirement and change brands according to best of breed choice for expansion at a later date. Vision Catcher will ensure that bitrate, storage, pixel count and resolution are all factored to ensure that your solution has the longevity required to outperform and outlast the scaled down products at low prices.
Summary
There is nothing wrong with purchasing a CCTV NVR box, it may be just right for purpose. However, Vision Catcher focuses on your preferences, provide recommendations for hard drive space, storage capabilities, bandwidth requirements, viewing of live or recorded footage, camera brands and the options for newer models. All of these questions should be asked prior to purchasing your low cost NVR option; you might find that for a little more money you have a fully scalable solution with so many more enterprise level features.
For more information contact Vision Catcher, +27 (0)11 463 9797, info@visioncatcher.co.za, www.visioncatcher.co.za
Credit(s)
Further reading:
Pentagon appointed as Milestone distributor
Elvey Security Technologies News & Events Surveillance
Milestone Systems appointed Pentagon Distribution (an Elvey Group company within the Hudaco Group of Companies) as a distributor. XProtect's open architecture means no lock-in and the ability to customise the connected video solution that will accomplish the job.
Read more...
---
Embracing next-generation surveillance for safer cities
Surveillance Integrated Solutions AI & Data Analytics
With the South African government highlighting the importance of building smart cities by integrating advanced technologies to make them more resilient and liveable, the role of next-generation network video and surveillance technologies cannot be ignored.
Read more...
---
Hik-Connect for Teams released
Hikvision South Africa Products & Solutions Surveillance
Hikvision has released an update for its security management platform; Hik-Connect for Teams not only meets the specific needs of individual users, but also caters to various medium-sized businesses (SMBs) and multi-site management scenarios.
Read more...
---
The human factor side of video management systems
Leaderware Editor's Choice Surveillance Risk Management & Resilience
A video management system (VMS) is central to, and the most vital element to any control room operation using CCTV as part of its service delivery, however, all too often, it is seen as a technical solution rather than an operational solution.
Read more...
---
A simple system for complex protection
Surveillance AI & Data Analytics IoT & Automation
Reconeyez is a company that provides autonomous wireless visual verification systems with built-in artificial intelligence. Running on batteries, each device includes communication capabilities, creating a mesh network between the various devices, linking them to the control room.
Read more...
---
Revolutionise your security with integrated solutions
Secutel Technologies Products & Solutions Surveillance
By merging the capabilities of SecuVue and Secutraq, Secutel has forged a robust system empowering users to fine-tune analytics and harness facial recognition, pose detection, and XFS, among other features.
Read more...
---
Safer roads to a sustainable future
Dahua Technology South Africa Surveillance
With the ever-increasing number of vehicles on the road, it is imperative to constantly improve the quality of transportation monitoring and traffic management in urban and rural areas.
Read more...
---
From damage management to false alarm prevention
Dallmeier Electronic Southern Africa Transport (Industry) Surveillance Logistics (Industry)
Video surveillance is undergoing an exciting evolution; today's IP-based solutions can be fully integrated into digital systems. With the increasing integration of artificial intelligence (AI); logistics, in particular, can make processes more transparent and exploit previously untapped potential.
Read more...
---
Marshall Security partners with Blacklight to introduce Reconeyez to KZN
News & Events Surveillance Power Management
Marshal Security has joined forces with Blacklight Group to launch Reconeyez, a cutting-edge battery-powered surveillance platform with mesh network capability, in the KwaZulu-Natal market.
Read more...
---
Professional mobile video management in your pocket
Dallmeier Electronic Southern Africa Surveillance
With the SeMSy Mobile Client for its Domera and Panomera cameras, Dallmeier is now launching a solution that combines the functional and security requirements of professional organisations with the user-friendliness and simplicity of consumer apps.
Read more...
---