printer friendly version
A finger on the pulse of healthcare
August 2016 Healthcare (Industry), Access Control & Identity Management, Asset Management, EAS, RFID, Integrated Solutions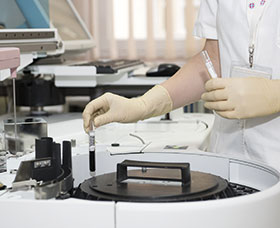 There is huge potential for the use of biometrics in the healthcare industry. Biometrics in healthcare settings can speed up administrative processes, reduce fraud, and eliminate mistakes due to high workloads, which can lead to costly or fatal errors.
Sadly, in South Africa, it seems that the implementation of biometrics in this market sector is nascent and therefore falling short of what could ideally be achieved.
A report by Tractica (source: www.tractica.com) indicates that the current African biometrics revenue in the healthcare sector is a mere fraction of what it is projected to attain in 2024, with estimated figures topping the $300-million mark. Current and predicted modality devices and licences, in order of popularity are voice recognition, facial recognition, fingerprint, iris recognition on mobile devices and finger vein recognition.
Interestingly, many conventional biometric systems fail to operate reliably in the harsh environments and situations found in most hospitals. This is due to frequent hand washing, heavy use of chemicals and cleaners and the wearing of latex gloves. These issues make biometric enrolment and authentication quite difficult and challenging.
Because dry skin is so prevalent in the healthcare industry, due in part to constant hand washing, traditional lower quality fingerprint sensors can produce up to a 20% failure rate. It would seem that the deployment of a multifactor such as finger vein or multispectral biometrics is the answer, especially when there is a need to control access through positive identification of authorised users. (source: https://www.davenport.edu/system/files/)
Another patented optical sensing enhancement is Multi Dynamic Range (MDR) technology. Standard optical technology, at best, utilises High Dynamic Range (HDR). The improvements associated with MDR overcomes HDR limitations in terms of bad fingerprint quality, the influence of external environmental factors on optics (direct and external lighting), very fine fingerprint ridges and very dry skin. Overcoming these challenges, while still maintaining FBI quality certification, dramatically reduces the error to enrol rate while retaining compatibility with civil ID systems such as HANIS. (source: http://www.securitysa.com/48806n)
Various usage options
Walter Rautenbach of neaMetrics (Suprema) says that currently biometrics is being used mainly by South African healthcare institutions and corporations as a standard part of their business in controlling access to facilities and warehouses, as well as in the form of time and attendance (T&A) for standard workforce management.
There are, however, certain implementations that use biometrics for positive identification of patients accessing sensitive or sponsored drugs such as anti-retroviral (ARV) drugs. These instances are mainly driven by international sponsors to measure the distribution of these drugs in order to ensure it fulfils the intended purpose of the aid sponsorship instead of finding its way onto the black market.
Craig Dubois of Morpho South Africa says that a comprehensive solution offers administration efficiency to patients and healthcare workers. The process will be automated from admitting to discharging a patient, therefore reducing the amount of paperwork required. The medical records will be stored electronically resulting in more effective management of patient medical information and ensuring their privacy as healthcare workers would need to provide a biometric sign-on to access records.
It is also important to consider the legal implications when implementing a biometric solution. If there are any incidents on site relating to labour disputes or the security of patients' information, the facility will need to ensure that the biometrics do adhere to the latest standards which are recognised by the South African legal system, such as the FBI certification.
By implementing an effective biometric solution, fraud can be reduced at healthcare facilities and by identifying each patient when dispensing medication, duplication can be promptly recognised. Medical aid schemes can ensure that only authorised members receive care and only authorised persons are enabled to dispense medication.
Dubois says that there are some exciting developments that have taken place using mobile biometrics for the identification of patients in emergency situations where the patient is unable to provide important information such as allergies or existing conditions to first responders and emergency rooms. This will not only allow for better and faster treatment of patients but will also reduce the costs incurred with possible medical errors.
More than a reader
Another possible concern with the use of contact biometrics in the healthcare environment is the spreading of germs. Therefore the use of 3D facial recognition technology and contactless fingerprint biometrics is something to be considered. These technologies provide users in sterile environments with an opportunity to use biometrics by limiting the contact surface users will encounter and therefore reduce the risk of spreading any viruses they could have come into contact with.

Rautenbach believes that in addition to standard access and T&A applications, biometrics could be used as a means to positively identify individuals and to authenticate and control the individuals, such as doctors and pharmacists, responsible for prescribing and dispensing scheduled drugs. Furthermore, the identification of individuals receiving such drugs should be positively verified to ensure the correct person receives the right medicine.
To effectively achieve this, biometrics alone will not do the job. He suggests that biometrics needs to be an integral part of a central health system that can prevent duplicate and illegal prescriptions. Such implementations should also confirm the identity of individuals against a central civil ID system such as the South African Home Affairs National Identification Systems (HANIS), in a similar way to the system employed at banks when one opens a new facility. In a nutshell, it should therefore form part of the National Health Insurance (NHI) implementation, which will not only control correct issuance of free or sponsored health benefits, but also centrally control the use of scheduled drugs.
With the use of private hospitals and doctors envisaged by the NHI, there the provision of accurate reporting for the management regarding payments to these facilities and providers will be required. Without accurate information that can't be falsified, the system is open to manipulation, which will in turn drive up costs and make it unworkable.
Dubois cites an existing solution in the public health space regarding the theft of medication by users collecting prescriptions from multiple dispensing doctors and then using the excess to manufacture drugs such as Nyope. This not only pushes up costs, but also provides an additional burden on the public system as these addicts will ultimately end up being treated for their addiction. Biometrics would disallow duplicate prescriptions and send an alert to the controlling authority.
In another example, there have recently been several cases of individuals accessing sensitive areas in hospitals which have resulted in the kidnapping of babies in maternity wards due to insufficient security controls. These cases highlight the damage that can be caused by not implementing the correct security measures. Similarly if an unauthorised person was to gain access to a pharmacy or morgue, the consequences could also cause severe emotional, reputational and financial damages to all the parties involved.
Standards are not set
Rautenbach says that there is definitely a benefit to integrating biometrics into healthcare businesses for access control and T&A but these implementations mainly benefit the specific corporations and not necessarily the industry. It would also not have the same type of impact required for the industry itself for the control of scheduled drug flow.
These implementations are normally not prescribed and regulated by government or healthcare bodies as the corporations are responsible for their own system optimisation. It does, however, offer the standard benefits of controlled access, workforce optimisation through reputable time logging and where it is integrated with CCTV, it can strengthen the control of the scheduled drug distribution process in the same way as we see in the controlling of cash exchange in the retail and banking sectors.
Biometrics also plays a useful role in automation and convenience for healthcare providers. An example is that doctors can use their fingerprint to quickly, easily and securely retrieve patient records instead of having to use lengthy passwords, which are not very secure. The deployment of facial recognition technology overcomes the hurdles of opening doors in hygiene sensitive areas such as laboratories where gloves are required and where specific procedures need to be followed every time gloves are removed and replaced.
Rapid technological advancements in healthcare infrastructure, increasing accuracy and performance levels, along with reduced complexity and cost of biometric devices are some of the major factors driving the biometrics growth in the healthcare sector.
In addition to access control and T&A, there is definitely a huge opportunity for biometrics to be implemented to curb drug issuance fraud and to eliminate potential errors in patient care.
Credit(s)
Further reading:
From the editor's desk: Presenting … how you were hacked
May 2019, Technews Publishing , News
"It's all fun and games until you hit the wall." Someone said that to me once (an American, so I don't know if that's a common saying in the US). At the time I thought he watched too much reality TV. These ...
Read more...
---
TAPA 2019 conference: A layered approach to cargo security
May 2019, Technews Publishing , Calendar of Events
26 July 2019 Emperors Palace, Gauteng TAPA members: no charge (maximum of three delegates per member company), Non-TAPA members: R1780 excl VAT. The South African chapter of the Transported Asset Protection ...
Read more...
---
iLegal 2019
May 2019, Technews Publishing , Calendar of Events
iLegal 2019    Johannesburg, South Africa    12 September 2019 iLegal, hosted by Dr Craig Donald and Hi-Tech Security Solutions, returns in 2019 with another full-day event covering insights and advice into ...
Read more...
---
Securex Preview 2019
Securex Preview 2019, Technews Publishing , Conferences & Events
Securex is upon us once again and Hi-Tech Security Solutions is here with another brief preview of what the show has to offer.
Read more...
---
Platforms and community lead the future
May 2019, Milestone Systems , Editor's Choice, CCTV, Surveillance & Remote Monitoring, News, Integrated Solutions
Milestone Systems took a look into the future of open platforms and the power of community at MIPS EMEA in Copenhagen in March this year.
Read more...
---
30 years of business continuity
May 2019, ContinuitySA, Technews Publishing , Editor's Choice, Security Services & Risk Management
ContinuitySA is celebrating its 30th anniversary this year and Hi-Tech Security Solutions spoke to CEO Michael Davies about the changes he has seen in the business continuity and disaster recovery markets.
Read more...
---
The consequences of false alerts
May 2019, Leaderware , Editor's Choice, CCTV, Surveillance & Remote Monitoring, Integrated Solutions
Craig Donald discusses the impact of false alarm rates on the utility of intelligent security technology systems.
Read more...
---
Protecting people's money, and their data
May 2019, Cathexis Technologies, CA Southern Africa, IDEMIA , Editor's Choice, Integrated Solutions, Financial (Industry)
The temptations inherent to the banking sector, and financial institutions more generally, pit them in an eternal and increasingly high-tech battle to secure themselves against threats from within and without.
Read more...
---
Access authentication with a wave
May 2019, IDEMIA , Editor's Choice, Access Control & Identity Management, Integrated Solutions, Financial (Industry), Commercial (Industry)
Financial organisations are making the move to contactless fingerprint biometrics in order to meet the increasing burden of regulatory and compliance demands.
Read more...
---
Does your control room add value?
May 2019, Fidelity Security Group, G4S South Africa, Progroup , Editor's Choice, CCTV, Surveillance & Remote Monitoring, Integrated Solutions, IT infrastructure, Commercial (Industry)
Whether on- or offsite, control rooms are a critical aspect of security today and care must be taken in the design and rollout of these nerve centres.
Read more...
---