printer friendly version
Carefully nurtured supplier relationships reap benefits
May 2019
Integrated Solutions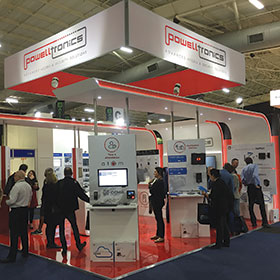 Powell Tronics has spent the past decade building a solid foundation of leading-edge technology products sourced from a range of locally and internationally respected market leaders in the security sector. The company is a distributor of access control, visitor management, time and attendance (T&A), intruder detection and video management system (VMS) technology.
Carefully selected for their ability to increase functionality and productivity, and to enhance security and safety for users, these brands provide Powell Tronics with a strong portfolio of solutions to offer its customers.
In addition to this range of products, Powell Tronics has developed a number of complementary software solutions that add significant value to the hardware elements it supports. "By listening to the ever-changing needs of the market, we have been able to proactively develop solutions that take security and functionality to the next level," says Powell Tronics CEO, John Powell.
As important as the needs of its customers are to the company, equally important are the relationships it has developed with these global brand suppliers.
IDEMIA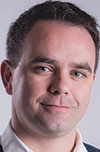 Nicolas Garcia
Nicolas Garcia from IDEMIA says that the company's relationship with Powell Tronics goes back many years ago to when Powell Tronics was created to offer a specialised and focused solution.
"John was looking for unique solutions in term of quality, reliability and performance and I am glad he opted to focus on the IDEMIA range of products. It has been a long and interesting journey and we look forward to many more exciting opportunities in the future," he says.
Garcia explains that having a partner such as Powell Tronics that focuses on a niche product offering is the best scenario for IDEMIA. "It means that we can work closely together and celebrate successes with the solutions, but it also enables us to react much faster when a solution needs some enhancement."
Powell Tronic's strategy, he points out, has always been to remain focused on a few, carefully selected products. This means that one of the benefits it can offer is a deep knowledge of the products in its basket of offerings. "Therefore, Powell Tronics is in a very strong position to advise installers and end-users according to their needs."
Garcia believes that one of the value-adds that Powell Tronics offers through its integration with IDEMIA products and the software it has developed to support these products is that the two product sets are complementary in the provision of solutions.
"We offer the performance and reliability of the front end product and Powell Tronics has the in-house capacity to develop software and to integrate IDEMIA products with this software, thereby enhancing the capability of the system, according to project requirements. Integration can be done quickly and without neglecting quality. That's a real benefit to their customers and ultimately to the end-user," says Garcia.
CathexisVision
Cathexis is Powell Tronics' newest business partner. The distribution arrangement means that Powell Tronics will have access to the whole range of CathexisVision video management solutions and will cover the entire South African market.
Gus Brecher
"We see access control and CCTV/video surveillance converging more and more in the global marketplace, and South Africa is no different. This relationship will enable Powell Tronics to leverage their existing access control relationships and open a pathway to new customers for Cathexis as well as allowing Powell Tronics to offer a more comprehensive solution to their customers," says CathexisVision CEO, Gus Brecher.
Brecher says that Powell Tronics is well known as a value-added solutions provider, rather than a traditional distributor. "With sophisticated products, one needs a project and solutions mindset in order to facilitate the provision of the most effective solutions, thereby ensuring the best return on investment for the customer."
He adds that integration improves the security operation immensely, reducing reaction time and increasing effectiveness, accuracy and efficiency. "The Powell Tronics offering will also provide more peace-of-mind for the customer, knowing that the suite of products is supported from a central point."
Ajax Systems
Tim Ganul
Ajax Systems has a Master Distributor agreement with Powell Tronics. "We are targeting the intrusion alarm market and plan to become one of the major manufacturers represented in South Africa within the next few years. We also expect that our cooperation with Powell Tronics will result in large projects, including in the residential market," says Tim Ganul, Ajax BDM Middle East/Africa/India.
Ganul sees the benefits derived from this relationship as including the leverage that Powell Tronics' footprint will provide in increasing brand awareness around Ajax and helping to create a network of partners working with Ajax. "Furthermore, installers will have access to convenient stockholding, while end-users will be exposed to fast and on-demand product availability and thorough technical and customer support."
Impro Technologies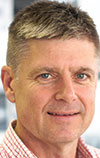 Mike Shipton
Impro Technologies has specialised in access control solutions for over 30 years. "We are founded on innovation, quality and customer centricity – ideals that Powell Tronics also shares, and this in part is why we continue to have a successful partnership with them. Over the years we watched with pride as Powell Tronics has grown to become a leading distributor of our access control solutions in the South African market," says Mike Shipton, managing director of Impro.
He adds that Powell Tronics is now one of Impro's key sales channels in the local market, providing installers with immediate access to stock, but also more importantly, the technical pre-sales and after-sales support to ensure the installer has a successful installation.
"Another aspect of Powell Tronics is their ability to provide the market with a complete solution with Impro's products, along with their own specialist developments. This means greater convenience for the installer, as they are able to enjoy a truly one-stop-shop," he adds.
However, perhaps the most beneficial aspect to the relationship, Shipton says, is that both organisations are proudly South African businesses. "We are directly and indirectly providing valuable economic transformation through the country and creating crucial employment opportunities; and we continually encourage businesses to support local companies for this positive impact to spread throughout the country."
Lastly, because the access control solutions must be secure and robust to meet the unique South African requirements, it creates global opportunities for growth. Impro in fact exports products to over 60 countries spanning four continents. "This is all due to local experience, expertise and fruitful partnerships," says Shipton.
Developing excellence
With the strength of an established foundation of security offerings such an Impro access control system or IDEMIA biometric readers or Cathexis video management analytics, Powell Tronics has managed to enrich these systems with its bespoke integrated solutions to holistically cater for the needs of its distribution channel and the various sectors in which they serve. Simple add-on modules such as PT-Monitoring Service or PT-MS, assist installers with a proactive view of their client's system health with periodic email notifications detailing offline readers or non-responsive databases; while PT-Active Directory or PT-AD bridges the gap between IT-HR and those responsible for security by automatically maintaining users and their access rights based on their Microsoft Active Directory user profiles.
More complex solutions such as the company's time and attendance offering – ATOM – encompass the best of both security technology manufacturers. ATOM Charged caters for a feature-filled and cost effective standalone IDEMIA biometric T&A solution, while ATOM FUSION merges an Impro access control backbone with the same powerful T&A functionality. ATOM FUSION+, the latest addition to the ATOM portfolio takes the integrated solution to a whole new level by adding the much requested IDEMIA biometric-enabled tablet as a portable T&A reader on a fixed Impro access control site.
With over 80 reputable sites nationwide, Powell Tronics' PoPI-compliant PT-Guest visitor management solution can be considered the embodiment of the company's dedication to adding value to the industry through its in-house development team. As one of the first few service providers to pioneer integrated visitor access management, PT-Guest offers residential estates and businesses flexibility and heightened security, historically lacking with standard access control.
Tools such as pre-authorising visitors via mobile apps, web portals or SMS shortcodes, adds to the security control of visitors to a premises, while the verification scanning process, using robust handheld devices, results in accurate detailed reporting for both statistical information as well as managing who is on site at any given time. Continuous enhancements such as the integration to Cathexis LPR analytics are made available to all sites at no additional modular cost, thus making PT-Guest a powerful and cost effective add-on to any access controlled site.
"While we are extremely excited about the future with the awesome supplier brands, the p-tron.com team of dynamic individuals loyally work together to achieve the company's objectives, which include embracing the challenges that the marketplace in South Africa presents. We continuously strive to support our valued customers through relationships and leading technologies," says Powell.
For more information contact Powell Tronics, 0861 784 357, marketing@powelltronics.com, www.p-tron.com
Further reading:
Convergence of cyber and physical security
Integrated Solutions Security Services & Risk Management
The overlap between cybersecurity and physical security will necessitate the integration of cyber and physical security in order to enable the sharing of events to the same security operations centre.
Read more...
---
Success in business process best practices
Technews Publishing Kleyn Change Management Editor's Choice Integrated Solutions Security Services & Risk Management
This month we commandeer time with the woman who is spearheading our national conversation on Women in Security, Lesley-Anne Kleyn, to get to know the lady herself a little better.
Read more...
---
Unlock seamless security with integrated products
Secutel Technologies Integrated Solutions Products
By combining SecuVue and Secutraq, Secutel has created a system that enables users to configure analytics, facial recognition, pose detection, and XFS among other security triggers modern service providers require.
Read more...
---
Integrated guarding services
XtraVision Integrated Solutions Access Control & Identity Management Industrial (Industry)
XtraVision offers a few tips on how to go about planning and setting up an integrated approach to sustainable and successful security services, from the initial risk assessment to the technology and people required.
Read more...
---
Paxton secures multi-tenant office in Cape Town
Paxton Integrated Solutions Access Control & Identity Management Products
Cecilia Square in Paarl, Cape Town is an office building from where several businesses operate. The multi-tenant site has recently undergone a full refurbishment, including a complete upgrade of its security system for access control.
Read more...
---
Bi-directional integration of Gallagher and Qognify
Gallagher Integrated Solutions Products
In a world of converging technology ecosystems, siloed solutions are no longer viable; this applies in particular to physical security, where only combined information enables a comprehensive assessment of a situation and a timely response.
Read more...
---
Qognify integrates with Johnson Controls Security Products
Integrated Solutions News Products
The integration of Qognify VMS and Kantech EntraPass enables users to better understand situations based on the synchronisation of event and video data, allowing a faster and more targeted response to event-based scenarios.
Read more...
---
Complex, but critical partner in security
Technews Publishing Bidvest Protea Coin Editor's Choice Integrated Solutions IT infrastructure Mining (Industry)
Smart Security looks at how drones can be applied effectively in mine security operations. The ability to quickly gain a birds-eye view of a situation, whether security, safety or operational in nature, makes drones a significant value-add to mines.
Read more...
---
Enhancing surveillance on mines
Avigilon Technews Publishing Axis Communications SA Forbatt SA Hikvision South Africa Bosch Building Technologies Editor's Choice CCTV, Surveillance & Remote Monitoring Integrated Solutions Mining (Industry)
Smart Security approached a number of surveillance vendors to find out what the latest in surveillance technology is that can make a difference to security operations in mines, as well as general operations.
Read more...
---
Surveillance to improve worker safety
Axis Communications SA Mining (Industry) CCTV, Surveillance & Remote Monitoring Integrated Solutions
With substantial deposits of mineral resources, mining is critical for South Africa's economic growth and prosperity; however, mining can be dangerous, especially for the people working on the ground and in the shafts.
Read more...
---