printer friendly version
Lethal tech combo to fight crime
July 2016 IT infrastructure, CCTV, Surveillance & Remote Monitoring, Integrated Solutions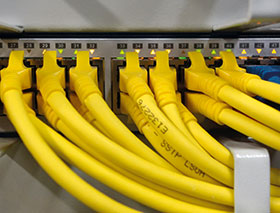 With countries across the globe continuing to face difficult economic conditions, high crime rates are adding to the climate of risk and uncertainty. While CCTV systems are being installed to protect schools, banks and other public facilities, is the answer as simple as just adding more cameras?

Jean Turgeon.
How are CCTV systems making us more secure? Jean Turgeon, Avaya's VP & chief technologist, software defined architecture, speaks about CCTV, crime and whether anyone has the lethal tech combination to fight crime.
Millions of CCTV systems are being deployed around the world to catch criminals. Why is it still not working?
Turgeon: Deploying more security cameras can only help in discouraging people from committing crimes – knowing they are more likely to be caught on camera – but what is really important is the quality of the video provided, the use of analytics to help prevent crimes, and ensuring that installed cameras eliminate blind spots.
CCTV has evolved tremendously from the old days of analogue, which for the most part didn't provide the right level of required quality – so it was difficult to clearly identify individuals, but also hard, if not impossible, to perform real-time analytics. With the evolution of CCTV, cameras now offer extraordinary definition, for instance a licence plate can be read clearly from hundreds of metres away. Even in dark conditions, video surveillance can capture amazing quality images, allowing analytics to be performed in real time.
The transition from analogue to digital, combined with the IP enablement of deployments, provides many other key bene-fits. Centralised digital recording of high definition video, which can easily be time-stamped and indexed, not only allow whoever is committing the crime to be caught more easily, but also help authorities be much more pro-active by fully leveraging real-time analytics.
Now suspicious individuals can easily be detected and tracked, while security authorities can be notified to hopefully prevent crimes from happening. This is big data: as you combine the video surveillance data with other relevant databases such as criminal records, arrest records, or whatever, one can easily imagine how positively impactful this technology can be to our citizens. The more CCTV we deploy, the more capabilities the world has to fight and prevent crime.
Experts say that without a strong network to support all these CCTV deployments, we continue to be at risk. Can current legacy networks support more advanced CCTV applications or do we need to look at other solutions?
Turgeon: Legacy networks were built with a series of protocols running on top of each other to meet some of the security or virtualisation requirements. For the most part, the legacy networks used a concept of unicast to communicate – think of it as a one-to-one conversation. This is very efficient in a client/server-type environment, where the PC or device communicating is communicating with one specific server application. Now imagine this model in a CCTV implementation, where thousands of cameras need to be deployed, causing thousands of network unicast flows to be sent to the recorder and likely to a series of monitoring stations, even potentially to a police department. One unicast stream can quickly turn into three; hence it becomes very inefficient in this type of deployment.
If a camera is not used for monitoring or analytics, but only for recording – for audit purposes for instance – then unicast can likely meet the business needs. Where it gets more challenging is when your the business requirements demand not only recording, but multiple monitoring stations, and other agencies want to gain access to some of the video feeds too.
In such cases, multicast technology will come to the rescue. However, this unfortunately comes with more complexity as more protocols are required to run these IP flows in a multicast mode: protocols such as PIM-SM, OSPF, VLANs with IGMP snooping, and so on will be required to be designed and implemented on the network.
At this point there are two challenges: the recovery times when a failure occurs and the complexity associated with a network that requires 5 000 to 10 000 or more IP video surveillance cameras running multicast.
Recovery times due to the inter-dependency of all of these protocols can be as long as 35-40 seconds; potentially losing video recording for such a length of time makes audit capabilities pretty much impossible, and may make the video source invalid in a court of law.
Rather than deal with the complexity associated with all these protocols needed to support multicast configurations, many organisations will choose to stay away from multicast deployments and opt for smaller separate physical networks. This is less than ideal if you are attempting to reduce your TCO.
The good news, there is a solution available in the market, which is based on an IEEE (IEEE 802.1aq) and IETF (RFC 6329) standard that eliminates the needs for all of these protocols and allows a much simpler deployment with extremely fast recovery times in the range of 150 to 400 ms. Not just that, this solution brings scales to new levels where in excess of 14 500 multicast streams have been tested and validated running over a single physical network infrastructure. For customers that need multicast, they have to very seriously evaluate this technology.
Does CCTV + Network = lethal weapon against crime? Or do we need to go deeper and focus on early notification systems and communication-enabling processes if we are to find the right answer?
Turgeon: The combination of CCTV deployed over a highly scalable and reliable network is definitely beneficial and can largely contribute to reducing crime and potentially pro-actively preventing it. But, where the technology gets really impactful is when you also add real-time analytics integrated with business process automation. It is great to have analytics detect some abnormal behaviour, but when this becomes incredibly powerful is when an automated workflow can be triggered based on the situation analysis.
Imagine that somebody is attempting to steal something from a store – this could be detected by real-time monitoring and real-time analytics, triggering a workflow that could address the incident without human intervention. For instance, the workflow could automatically order other cameras to track all movements of the suspect, while integrating the video stream to a mobile video conferencing system that could provide full visualisation to security guards or police officers on a smart device. The system could also trigger a store lockdown through SIP-enabled door locks, sound an alarm, enable a strobe light, trigger an alert through paging systems – whatever is required.
In simple terms, the lethal weapon is when you combine a highly scalable, reliable network infrastructure optimised for multicast to support thousands of IP video cameras, with a business process automation system allowing you to customise the desired business outcome.
This is all possible today from Avaya. It is the combination of our SDN Fx architecture and Breeze, the latest iteration of our Engagement Development Platform (EDP). Business process automation and customisation over an automated network optimised for CCTV leveraging multicast makes a very powerful combination today. Now, that is lethal to crime.
Further reading:
A customised solution for backup power
August 2019, Specialised Battery Systems , News, Integrated Solutions
Specialised Battery Systems designed and implemented a bespoke solution for Stallion Security Electronics to deploy at almost any site.
Read more...
---
Why rehearsals and drills for crises and evacuation are so important
August 2019, Leaderware , CCTV, Surveillance & Remote Monitoring, Security Services & Risk Management
The rehearsal of concept (ROC) drill has been used extensively in the military, but is just as important when facing risks in organisations and institutions to protect people on the ground.
Read more...
---
Milestone partners prove their skills
August 2019, Milestone Systems , News, CCTV, Surveillance & Remote Monitoring, Training & Education
Within the span of one week in mid-May, the Milestone Learning & Performance group celebrated important benchmarks: 200 000 course registrations and tutorial views, and 10 000 certifications.
Read more...
---
ONVIF Hosts 20th Developers' Plugfest
August 2019 , News, CCTV, Surveillance & Remote Monitoring
ONVIF, the global standardisation initiative for IP-based physical security products, hosted its twentieth ONVIF Developers' Plugfest in early June in Tokyo.
Read more...
---
Licence plate recognition camera
August 2019 , Products, CCTV, Surveillance & Remote Monitoring
VIVOTEK has introduced a new licence plate recognition camera featuring built-in licence plate recognition software and edge-computing capability.
Read more...
---
Double dose of storage security
August 2019 , Products, IT infrastructure
The integration of InfiniBox and SafeNet KeySecure platforms brings data-at-rest encryption together with centralised logging, auditing capability.
Read more...
---
Augmented security with drones
August 2019, Drone Guards , Editor's Choice, Integrated Solutions
Drone Guards is moving into an untapped market of using drones to secure residential estates and other high-value assets such as mines, farms and commercial properties.
Read more...
---
10 things to consider when shopping for a VMS
August 2019, Genetec , CCTV, Surveillance & Remote Monitoring, Integrated Solutions
Today's video management systems (VMS) provide a wide range of tools and capabilities that help make security personnel more efficient by allowing them to focus on what really matters.
Read more...
---
How far are we really at with artificial intelligence?
August 2019, Axis Communications SA , Editor's Choice, CCTV, Surveillance & Remote Monitoring, IT infrastructure, Residential Estate (Industry)
Justin Ludik unpacks exactly how far AI has come and what it potentially can do for society and more importantly, surveillance.
Read more...
---
The importance of effective perimeter security
August 2019, Elf Rentals - Electronic Security Solutions, Stafix , Editor's Choice, CCTV, Surveillance & Remote Monitoring, Residential Estate (Industry)
Protecting the perimeter is critical for any residential estate; how does one go about making sure your perimeter is as secure as possible?
Read more...
---