printer friendly version
Beyond hospitality security
July 2016 Entertainment and Hospitality (Industry), CCTV, Surveillance & Remote Monitoring, Integrated Solutions, IT infrastructure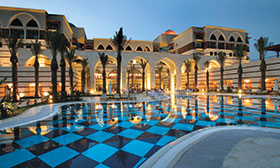 Safety and security of guests, employees and visitors are paramount for every hotel operation. However, hospitality is a very competitive business, and so security systems must not only be functional, but also cost efficient and easy to operate. Modular and scalable systems based on standard network technologies allow for integrated solutions which increase security while reducing investments and operational expenses.
Most hotel operators have a clear view when it comes to security systems: They are necessary, legislation requires some of them, and they are costly. The result is that they usually try to comply with the existing regulations with a minimum of capital investment. However, more often than not this approach will turn out to be a bit shortsighted in the long run.
First, capital investment is only one factor in a pretty complex equation. Operational expenses should not be forgotten as these may easily exceed the depreciation and substantially drive up the cost of ownership. Open architectures based on international standards are much better suited to meet such changing needs as they are scalable and flexible by nature.
Security can even drive business
There are a few things to consider when investing into security systems. But it is not only about cost. What is often overlooked is the fact that security systems can even add to the bottom line. Business travellers and tourists alike are becoming more aware of the security threats and risks affiliated with travelling and are increasingly making security a major criterion when choosing their accommodation.
A high security level which is also proactively communicated can thus drive revenues and increase occupancy. More hotels worldwide do therefore opt for voluntary certification procedures, marketing themselves as safe hotels.
On the other hand, a major security breach can have devastating effects on a hotel's brand, which is usually its most important asset. Whether it is a fire or a terrorist attack, in today's information driven world a major incident will immediately hit the news and drive potential guests away, if it does not shut down operations altogether.
As we have seen, a high security standard can be very beneficial for a hospitality company, but of course it remains a cost factor. Every hotel operator will therefore have to find the right balance between security and cost levels. When doing a serious evaluation of their security needs, most operators will find that it is simply not enough to invest into mandatory systems only, such as fire detection and extinguishing.
Video surveillance of public areas and floors will today be expected by most guests as it gives them a good feeling of safety and security. Of course this needs to be done without compromising privacy, but today's video technologies allow hotel operators to securely store and automatically delete all videos after a certain amount of time, unless they are needed for forensic purposes. Access control will more directly be in the interest of most operators, as it allows them to restrict access to and prevent theft from non-public areas such as kitchens, service elevators, storerooms, stairways and utility rooms. Some intrusion detection system is usually required for critical facilities such as the server or the HVAC room (Heating, Ventilation, Air Condition), as these are prime targets for any kind of sabotage.
Integration is key
So how can hotel operators guarantee a maximum of safety and security while keeping cost under control? The keyword here is integration.
What we see today in most traditional hotels is a security environment that has evolved over time and comprises individual solutions for fire protection, public address, video surveillance, building automation and maybe access control and intrusion detection. However, not all systems are necessarily up to date, and operation and maintenance of a multitude of individual systems results in high operational expenses. The integration of these individual systems therefore has considerable potential for rationalisation. While this is of course more easily done in a green field development, the replacement of aged systems in existing hotels can often be justified as well due to higher security levels and dramatically increased operational efficiency.
Today, integrated safety and security systems are considerably easier to implement than ever before. For the first time, the increasing use of traditional networking technologies such as Ethernet and IP has created a common and cost-effective technical platform for all security technologies. Information from video cameras, fire and smoke detectors or door controllers can be consolidated via common protocols such as TCP/IP.
Further, this kind of integration allows displaying multiple applications on a shared, flexible and configurable user interface – usually Windows based systems and standard web browsers. Using standard networking technologies as the backbone of all security systems enables the operator to run security applications over the existing IT network rather than maintaining two separate infrastructures. This will very obviously reduce both capital and operational expenses. Adding to this, using IP technology allows the hotel to benefit from economies of scale, as IP components are produced in very large numbers.
Another benefit of open and standards-based systems is interoperability. Initiated back in 2008 by Bosch, Axis, and Sony, ONVIF for example has developed into a worldwide standard for IP based video solutions and guarantees seamless interoperability of video components from a multitude of vendors. For a hotel operator, this means reduced cost and a freedom of choice, as he is no longer stuck with the original vendor of his solution but can always pick additional components that best fit his needs and budgets. In addition, some hardware vendors do have tight relationships with multiple developers of video management systems, making sure that each operator can use the system that best suits the individual environment.
Standards initiatives like Onvif can greatly reduce complexity when it comes to designing integrated security solutions and do ease interoperability between individual systems. Some vendors, specifically those with a wide solution portfolio, have gone a step further and developed intelligent interfaces between say fire detection and public address systems as well as other components such as intrusion detection and video in order to facilitate integration even further. In such an environment it also becomes even easier to implement central operations, management and control.
Efficient coordination
However, a shared infrastructure is just one of many benefits of an integrated solution. An integrated approach allows storing all application-related and other data in a unified database. This also enables automatic correlation of events triggered by intrusion detection, access control and video management systems as well as many other components. This in turn means that the operator can automate a lot of tasks that would otherwise require human attention.
As an example, video cameras can be used to automatically verify alarms from an intrusion or fire detection system, alerting the operator only when needed. This allows to greatly reduce false alarm rates from all subsystems – good news for any hospitality business, as false alarms can be very annoying for the guests and just as expensive for the hotel operator. Even more, using IP in video surveillance introduces the possibility of automatic and intelligent video analysis, so that no operator needs to permanently monitor the videos. Alarms are then automatically triggered upon detection of specific events only, such as detection of a human in the kitchen at night when it is supposed to be closed. This does almost eliminate both human labour and human error.
So while integration and the use of standard networking technologies greatly increase operational efficiency and thus save the hotel real money, they are also suited to substantially increase security levels. Event correlation and intelligent analysis enable a much faster reaction and more targeted intervention, potentially reducing the impact of any incident.
Security will always be a substantial cost factor for any hotel operation. But there are ways to reduce both capital and operational expenses and ultimately even make security systems contribute to the hotel's business and success.
For more information contact Bosch Security Systems – South Africa & sub-Saharan Africa, +27 (0)11 651 9600, security.systems@za.bosch.com, http://africa.boschsecurity.com
Credit(s)
Further reading:
A customised solution for backup power
August 2019, Specialised Battery Systems , News, Integrated Solutions
Specialised Battery Systems designed and implemented a bespoke solution for Stallion Security Electronics to deploy at almost any site.
Read more...
---
Why rehearsals and drills for crises and evacuation are so important
August 2019, Leaderware , CCTV, Surveillance & Remote Monitoring, Security Services & Risk Management
The rehearsal of concept (ROC) drill has been used extensively in the military, but is just as important when facing risks in organisations and institutions to protect people on the ground.
Read more...
---
Milestone partners prove their skills
August 2019, Milestone Systems , News, CCTV, Surveillance & Remote Monitoring, Training & Education
Within the span of one week in mid-May, the Milestone Learning & Performance group celebrated important benchmarks: 200 000 course registrations and tutorial views, and 10 000 certifications.
Read more...
---
ONVIF Hosts 20th Developers' Plugfest
August 2019 , News, CCTV, Surveillance & Remote Monitoring
ONVIF, the global standardisation initiative for IP-based physical security products, hosted its twentieth ONVIF Developers' Plugfest in early June in Tokyo.
Read more...
---
Bosch to acquire the building automation specialist GFR
August 2019, Bosch Building Technologies , News
Bosch to buy GFR with its complete building automation solutions as well as related services and a comprehensive hardware and software product portfolio.
Read more...
---
Licence plate recognition camera
August 2019 , Products, CCTV, Surveillance & Remote Monitoring
VIVOTEK has introduced a new licence plate recognition camera featuring built-in licence plate recognition software and edge-computing capability.
Read more...
---
Double dose of storage security
August 2019 , Products, IT infrastructure
The integration of InfiniBox and SafeNet KeySecure platforms brings data-at-rest encryption together with centralised logging, auditing capability.
Read more...
---
Augmented security with drones
August 2019, Drone Guards , Editor's Choice, Integrated Solutions
Drone Guards is moving into an untapped market of using drones to secure residential estates and other high-value assets such as mines, farms and commercial properties.
Read more...
---
10 things to consider when shopping for a VMS
August 2019, Genetec , CCTV, Surveillance & Remote Monitoring, Integrated Solutions
Today's video management systems (VMS) provide a wide range of tools and capabilities that help make security personnel more efficient by allowing them to focus on what really matters.
Read more...
---
How far are we really at with artificial intelligence?
August 2019, Axis Communications SA , Editor's Choice, CCTV, Surveillance & Remote Monitoring, IT infrastructure, Residential Estate (Industry)
Justin Ludik unpacks exactly how far AI has come and what it potentially can do for society and more importantly, surveillance.
Read more...
---