printer friendly version
Multi-sensor surveillance
July 2016 Editor's Choice, CCTV, Surveillance & Remote Monitoring, Entertainment and Hospitality (Industry)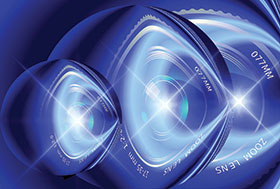 Surveillance is a critical security factor in the entertainment industry. Operators in control rooms need to see as much as possible and as clearly as possible in order to protect people and property, and in the case of casinos, to catch the sleight-of-hand professionals.
There are numerous options when it comes to surveillance solutions, from high resolution to panoramic cameras and many others, all of which have their pros and cons. One of the newer types of cameras we're seeing today is the panoramic camera made up of multiple cameras instead of a single fisheye lens.
Of course, multi-sensor cameras are not exactly new; some companies have been promoting them for years. However, there seems to be a drive in the market today from many companies offering multi-sensor solutions. These cameras do have their benefits, one being the ability to retain an overall view of an environment while zooming in on one area, but a multi-sensor camera is not the ultimate or only solution to the entertainment industry's surveillance problems (or any other industry for that matter).

Axis P3707-PE.
To find out more about these cameras, and a potential competitor from the 4K fold, Hi-Tech Security Solutions asked Communications, Hikvision and Graphic Image Technologies (GIT) for their take on multi-sensor panoramics, and an alternative.
Hi-Tech Security Solutions: What surveillance solution can you suggest that will offer a panoramic view of the area being monitored as well as the ability to zoom in on the footage?
Roy Alves, Axis: Multi-sensor cameras are gaining huge market acceptance, the major benefit being their ability to increase the camera's field of view. Instead of using many cameras, it's a case of using fewer. The challenge still remains, however, in their inability to see around corners. So as popular as they are there still needs to be a balance of standard and multi-sensor cameras based on the environment under surveillance.
We see them as overview cameras. In a casino environment, a mix of single-sensor and multi-sensor cameras should be used. For the casino floor or large open areas, a number of multi-sensor cameras could be used, however, for details over the table the suggestion would be to use single sensor, high frame rate cameras with low-light capabilities. These cameras would be dedicated to watching for any criminal activity.
Using a combination of these different cameras would further provide for better overall coverage together with in-depth detail over a particular vulnerable area, such as the casino table. The critical success factor would be the choice of video management software allowing for seamless viewing for the operator as well as video playback and retrieval.

Hikvision's PanoVu.
Caihan Shen & Changzhi Ke, Hikvision: Hikvision's PanoVu camera with PTZ functionality can achieve this. The all-in-one camera is the whole system, which could capture the whole scenario and at the same time allow users to zoom onto a specific image to magnify tiny details with its PTZ tracking cameras.
Laurence Smith, GIT: We'd be looking at multiple 4K/Ultra HD cameras that offer the ability to get a wide perspective of the area (based on the lens chosen); these cameras would be focused according to the client's viewing requirements. Because the 4K camera has the ability to deliver additional resolution above a standard camera, it is possible to electronically zoom in to areas of the picture without losing too much detail.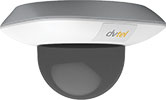 DVTel 4K mini-dome.
These 4K cameras can produce up to four times more detail at full 30 fps than today's top full HD 1080p cameras and legacy 10 MP cameras. Such a setup envisages a 4K camera system which is linked to a digital NVR (network video recorder), such as DVTel's Latitude platform, as this software offers the ability to watch multiple views from the same camera without losing detail, depending on whether it's an overall perspective or zoomed in on a local area within the camera.
It would also be useful to integrate a few isolated pan-tilt-zoom cameras in the area, so that if there is a specific incident happening while live, you can also electronically zoom to that specific location with PTZs. This would only be helpful for live viewing incidents, after which 4K cameras can give you the overall picture once the event is over.
Hi-Tech Security Solutions: What are the storage implications for such a solution?
Roy Alves: Generally, in critical areas like casino gaming floors, all cameras are recording all the time at maximum frame rate to reduce the chance of a camera not picking up an activity. Using cameras that are bandwidth and storage efficient will result in the ability to have much higher frame rates and for recording at the camera's full capabilities in terms of resolution. In terms of multi sensor cameras, all viewable footage is recorded, e.g. even if the camera is zoomed into a particular area of view, the peripheral overview visual is also recorded and playback is available.
Caihan Shen & Changzhi Ke: The panoramic images and zoomed images of PanoVu are streamed individually. Operators cannot only view the panoramic image, but also control the image in detail at the same time, for instance to zoom into a specific area to see what's happening. Since the images are streamed individually, the panoramic and detailed images can be stored separately.
Laurence Smith: The benefits of 4K cameras when implemented with the DVTEL Latitude NVR solution are impressive. These cameras are low on bandwidth usage due to adaptive streaming.
There's also the handy fact that the system records total image at all times, regardless of what the operator is viewing, the original image is still recorded as a single feed. If multiple operators are looking at the same footage, the system will still bring this footage through as a single feed.
As for storage implications, because of adaptive streaming, the client can use standard PCs and workstations without requiring massive storage capacity on the back of the NVR. The biggest draw card for such a solution is the fact that it enables single video recording at 4K resolution with the ability to let multiple people view multiple different images from the same single feed, without requiring specialist equipment or infrastructure to do so.
Hi-Tech Security Solutions: Does this solution enable fast searching and discovery from recorded footage?
Roy Alves: Yes, all retrieval of footage can be achieved by simply selecting an area in the scene that could have changed, allowing for much faster video playback.
Caihan Shen & Changzhi Ke: Yes, PanoVu supports event searching and playback.
Laurence Smith: There are three different ways to locate and isolate footage after an incident. The first is time – or motion-based and it is possible to examine the video where an exception is triggered by motion and view those particular events. Other functionalities include the ability to thumbnail search and narrow the search down by bringing up thumbnails within certain time parameters. The third option is Smart Search, which allows the operator to highlight a small area of the screen and search for and bring up any changes within that picture.
Hi-Tech Security Solutions: Where would it be useful to deploy such a solution, particularly with reference to the entertainment sector?
Roy Alves: We see multi-sensor cameras as a complement for most video surveillance systems, used mainly in open areas or for the coverage of large areas that would normally have required many single cameras.
Caihan Shen & Changzhi Ke: Our PanoVu cameras are perfect solutions for casinos, stadiums, parks and public events where there are crowds. PanoVu could help to clearly see the whole scenario at 180-degrees or 360-degrees, for users to understand every critical event that happens and also to allow them to quickly locate the region in the panoramic scene to zoom in to see the details. This function could hardly be achieved by other security products such as a fisheye camera.
Laurence Smith: Such a solution would work well in casinos, stadiums, theme parks, hotels, stadium security, public events, parking lots, shopping malls and the like. Anywhere where you need video coverage with enough detail to see what's happening, there's the possibility for this solution.
For more information contact Graphic Image Technologies, +27 (0)11 483 0333, [email protected], www.git.co.za; Hikvision South Africa, Evan Liu, +27 (0)10 035 1172, [email protected], www.hikvision.com; Axis Communications, +27 (0)11 548 6780, [email protected], www.axis.com
Credit(s)
Further reading:
Security risk and the sum of small things
Leaderware Editor's Choice
Dr Craig Donald advises that the small things we often write off as unimportant can quickly scale to become serious threats to security and safety.
Read more...
---
Hikvision integration with Page Automation
Hikvision South Africa News
Hikvision has announced the integration of its MinMoe Face Recognition terminals and its Hik-ProConnect online device and service management platform with Page Automation's SmarTTime software.
Read more...
---
Sustainability, trust and predictability
Technews Publishing Bosch Building Technologies Conferences & Events CCTV, Surveillance & Remote Monitoring News Integrated Solutions
The future for Bosch Building Solutions is focused on predictive solutions based on sustainability and trust in an AIoT world of cloud services.
Read more...
---
Specialised surveillance and communications
Technews Publishing Editor's Choice News Integrated Solutions Residential Estate (Industry)
Hi-Tech Security Solutions spoke to Arcanum Africa's Peter Stolwerk and Aaron van Schaik to find out a bit more about the company and the unique products it is bringing to the local market.
Read more...
---
From Hill Street Blues, to Hillbrow, to managing risk for BMW
Technews Publishing Editor's Choice News Security Services & Risk Management
Jane-Eleanor Morrison's success story starts from growing up in the stressful pre-democracy times in KZN, moves through a successful career in SAPS. to BMW South Africa where she is now the risk control manager.
Read more...
---
Hikvision releases panoramic camera range with ColorVu
Hikvision South Africa CCTV, Surveillance & Remote Monitoring Products
Hikvision has released a new range of panoramic cameras that use integrated ColorVu technology to provide vivid and full-colour video imaging for a wide field of view in light conditions as low as 0,0005 lux.
Read more...
---
Locally designed lock designed to stay locked
Editor's Choice
The new Blade Lock makes it close to impossible to break a lock by conventional means; combined with the Smart Gate, your security behind the door is certain.
Read more...
---
Water deluge fire suppression system
FS Systems Editor's Choice Fire & Safety Mining (Industry) Products
The FS Group custom-designed and installed an electronically actuated water deluge fire suppression system for an underground explosives magazine, ensuring both the safety of miners and operations, as well as regulatory compliance.
Read more...
---
Digital transformation in mining a national necessity
Axis Communications SA Mining (Industry)
4IR represents a dramatic shift across all industries in terms of digital transformation and new ways of conducting business.
Read more...
---
New Hikvision cameras for SMB users
Hikvision South Africa Products
Hikvision has introduced its new range of security cameras – the PT-Series – designed for SMB users, with easy installation and flexible camera viewing angles, while applying other well-known Hikvision technologies for optimal imaging.
Read more...
---