printer friendly version
Technical expertise the foundation at Elvey
March 2019
Security Services & Risk Management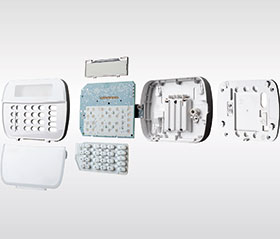 The security industry is changing at a rapid pace. This means that distributors need to maintain a thorough understanding of both the business and technical landscape to remain relevant and to provide installers with the assurance that they have chosen not only the best product, but also the best business partner.
"The installers we align ourselves with are technologically savvy and have proved they have the acumen required to design and install security installations that address application-specific requirements. Our intention is to show these installers that by embracing the full potential of the world-class products we offer, they will equip their business to better leverage the real value they add to their customers. In essence we have gone from the oversimplification to the amplification of technology," says Gary Lowe, CEO of Elvey.
Technology focus
Successfully bringing security products to market entails a thorough understanding of the latest in cutting edge technology. This theory forms the foundation of Elvey's business philosophy and is evident in the experience and knowledge of the company's technical and sales teams.
"We have created an internal focus on our team becoming entrenched in the technology that drives each of the products that we distribute. This technically capacitates each member of our sales team, allowing them to work closely with installers to select the best possible solution for their customers' particular needs," says Lowe.
A fact that not many people are aware of is that Elvey has the biggest number of technical 'feet on the ground' in the industry. This means that coverage of the market is extensive and provides clients with the reassurance that aftermarket support is readily available.
"The investment in our team means that we are able to quickly react to requests from installers who require the extra edge in customer negotiations. We spend time and effort building relationships by familiarising ourselves with the businesses of the installers we are aligned with, as well as with the demands of the end user market. Keeping a finger on the pulse of current trends and matching our technology to needs is a key differentiator for Elvey," says Lowe.
Critical to the success of any business relationship is the ability to provide products as needed. Elvey maintains a policy of offering free same-day or next-day delivery to allow its installers to provide the best possible service levels to their clients. By using a standardised ERP (Enterprise Resource Planning) system across all of its branches, Elvey's customers can order and collect products at any branch countrywide, for complete convenience.
Intelligent security decisions
Finding the right solution for end users is something that Elvey prides itself on. By working closely with consultants and systems integrators, the Elvey team demonstrates the suitability of specific products for targeted applications and provides feedback on the integration of various products to form a smart overall system. Lowe points out that the team's input does not end after the initial project meeting, but continues through site visits into the commissioning of the project and assisting the installer with aftersales support.
"We value our customers and believe that the road to their success is based on providing them with the right tools and enabling them to satisfy their customers' needs, as well as to attract new customers. By tapping into Elvey's scale and structure, installers are better able to grow their businesses and become more successful," says Lowe.
In this vein, Elvey's new finance offering will allow installers to provide their commercial and residential customers with access to alternative payment options thereby making security systems more affordable. This will allow Elvey customers to close more deals and set themselves apart in a very competitive industry.
"Elvey does what distributors are intended to do in an exceptional manner by providing superior technology in a well-thought-out manner, making it conveniently available through an extensive branch network, backed by top-notch training provision, excellent after-sales support and assisting with acquiring financing on products and systems," says Lowe.
Credit(s)
Further reading:
24-hour emergency response for staff
August 2019 , News, Security Services & Risk Management
The FirstRand Group has partnered with PanicGuard to create a 24-hour emergency response programme for staff.
Read more...
---
Keeping our changing environment secure
August 2019 , Editor's Choice, Security Services & Risk Management
For a crime to take place there needs to be a victim and a criminal who sees an opportunity. For a cybercrime to take place we need the same set of circumstances.
Read more...
---
The importance of real security risk assessments
August 2019, Sentinel Risk Management , Editor's Choice, Security Services & Risk Management, Residential Estate (Industry)
Andy Lawler, MD, Sentinel Risk Management, says a security risk assessment is an onerous task, but is not something estates can consider optional or a luxury item anymore.
Read more...
---
Risk assessment or product placement?
August 2019, Technews Publishing, Alwinco, SMC - Security Management Consultants , Editor's Choice, Security Services & Risk Management, Residential Estate (Industry)
Hi-tech security solutions asked a couple of experts to provide estate managers and security managers with some insights into what a 'real' risk assessment includes.
Read more...
---
Residential security – caveat emptor
August 2019, Stafix , Integrated Solutions, Security Services & Risk Management
When it comes to improving your property's security, make sure you take all the options into account as you build a layered approach to keeping people safe and assets secured.
Read more...
---
Ensuring your electric fence is compliant
August 2019, Stafix , Perimeter Security, Alarms & Intruder Detection, Security Services & Risk Management
A challenge facing both existing and potentially new perimeter electric fence installations is how to economically meet the legal requirements required in the SANS 10222-3:2016 standards document.
Read more...
---
Renewable energy for estates and homes
August 2019, Drensky Technologies, Technews Publishing, Specialised Battery Systems , Security Services & Risk Management
While individual homeowners might choose to install solar photovoltaic (PV) systems for when there's load shedding or a power failure, for an entire estate to harness its energy requirements from solar, and particularly their crucial security systems, would require that a large area of the property be dedicated to solar panels.
Read more...
---
Insuring thatched roofs against lightning
August 2019, DEHN Africa , Security Services & Risk Management
Considering South Africa's very high lightning flash density statistics, and the popular trend all over the country to use aesthetically pleasing thatched roofs for residential as well as commercial buildings, a fit-for-purpose offering has been introduced by DEHN Africa.
Read more...
---
Know your enemies (and friends)
August 2019 , Security Services & Risk Management
Hi-Tech Security Solutions spoke to Dave Rampersad to find out about what and how information can be automatically added to number plates to proactively improve the security of an estate.
Read more...
---
Residential estates: Just how secure are they?
August 2019 , Security Services & Risk Management, Residential Estate (Industry)
While estates may seem a refuge from the criminal threat lurking in the suburbs, crime may be rife here, too.
Read more...
---