printer friendly version
Technical expertise the foundation at Elvey
March 2019
Security Services & Risk Management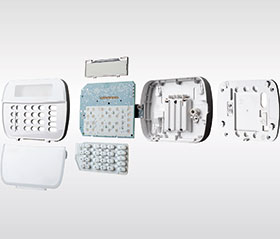 The security industry is changing at a rapid pace. This means that distributors need to maintain a thorough understanding of both the business and technical landscape to remain relevant and to provide installers with the assurance that they have chosen not only the best product, but also the best business partner.
"The installers we align ourselves with are technologically savvy and have proved they have the acumen required to design and install security installations that address application-specific requirements. Our intention is to show these installers that by embracing the full potential of the world-class products we offer, they will equip their business to better leverage the real value they add to their customers. In essence we have gone from the oversimplification to the amplification of technology," says Gary Lowe, CEO of Elvey.
Technology focus
Successfully bringing security products to market entails a thorough understanding of the latest in cutting edge technology. This theory forms the foundation of Elvey's business philosophy and is evident in the experience and knowledge of the company's technical and sales teams.
"We have created an internal focus on our team becoming entrenched in the technology that drives each of the products that we distribute. This technically capacitates each member of our sales team, allowing them to work closely with installers to select the best possible solution for their customers' particular needs," says Lowe.
A fact that not many people are aware of is that Elvey has the biggest number of technical 'feet on the ground' in the industry. This means that coverage of the market is extensive and provides clients with the reassurance that aftermarket support is readily available.
"The investment in our team means that we are able to quickly react to requests from installers who require the extra edge in customer negotiations. We spend time and effort building relationships by familiarising ourselves with the businesses of the installers we are aligned with, as well as with the demands of the end user market. Keeping a finger on the pulse of current trends and matching our technology to needs is a key differentiator for Elvey," says Lowe.
Critical to the success of any business relationship is the ability to provide products as needed. Elvey maintains a policy of offering free same-day or next-day delivery to allow its installers to provide the best possible service levels to their clients. By using a standardised ERP (Enterprise Resource Planning) system across all of its branches, Elvey's customers can order and collect products at any branch countrywide, for complete convenience.
Intelligent security decisions
Finding the right solution for end users is something that Elvey prides itself on. By working closely with consultants and systems integrators, the Elvey team demonstrates the suitability of specific products for targeted applications and provides feedback on the integration of various products to form a smart overall system. Lowe points out that the team's input does not end after the initial project meeting, but continues through site visits into the commissioning of the project and assisting the installer with aftersales support.
"We value our customers and believe that the road to their success is based on providing them with the right tools and enabling them to satisfy their customers' needs, as well as to attract new customers. By tapping into Elvey's scale and structure, installers are better able to grow their businesses and become more successful," says Lowe.
In this vein, Elvey's new finance offering will allow installers to provide their commercial and residential customers with access to alternative payment options thereby making security systems more affordable. This will allow Elvey customers to close more deals and set themselves apart in a very competitive industry.
"Elvey does what distributors are intended to do in an exceptional manner by providing superior technology in a well-thought-out manner, making it conveniently available through an extensive branch network, backed by top-notch training provision, excellent after-sales support and assisting with acquiring financing on products and systems," says Lowe.
Credit(s)
Further reading:
Convergence of cyber and physical security
Integrated Solutions Security Services & Risk Management
The overlap between cybersecurity and physical security will necessitate the integration of cyber and physical security in order to enable the sharing of events to the same security operations centre.
Read more...
---
Reduce electrical risks in commercial and industrial buildings
Security Services & Risk Management
Eaton's new whitepaper aims to help professionals reduce electrical risks in commercial and industrial buildings and prevent faults that can endanger workers, damage property and disrupt business continuity.
Read more...
---
Sustainability School opens for enrolment
Education (Industry) News Security Services & Risk Management
Three-part programme, first developed for Schneider Electric employees, is now available for free for companies worldwide. Attendees learn how to future-proof their businesses and accelerate their decarbonisation journeys.
Read more...
---
Elvey partners with HALO
Elvey Security Technologies News CCTV, Surveillance & Remote Monitoring
Elvey Group has partnered with HALO Europe to provide Africa's first body-worn solution with zero upfront costs. This includes an IP68-certified body camera and a 4G-connected device.
Read more...
---
Success in business process best practices
Technews Publishing Kleyn Change Management Editor's Choice Integrated Solutions Security Services & Risk Management
This month we commandeer time with the woman who is spearheading our national conversation on Women in Security, Lesley-Anne Kleyn, to get to know the lady herself a little better.
Read more...
---
Security awareness training
Training & Education Security Services & Risk Management
It is critically important to have a security awareness solution that uses the limited time available to train effectively, and one that provides targeted education that is relevant to users.
Read more...
---
Technology to thwart solar panel thieves
Asset Management, EAS, RFID Security Services & Risk Management Products
A highly efficient industrial network is coming to the rescue of the solar industry, as solar panels, inverters and batteries are being targeted by thieves and threaten to destabilise the industry.
Read more...
---
Banking the unbanked comes with security risks
Financial (Industry) Security Services & Risk Management
As grim as it was, the pandemic of recent years and its resultant global economic crisis were a prime catalyst for record number of first-time bank users, the previously unbanked.
Read more...
---
Security is like infinity
Alwinco Security Services & Risk Management
Security needs constant attention, dedication and input. The scary thing is that most people think that security is something that you buy, install, and then forget about.
Read more...
---
Vulnerabilities in industrial cellular routers' cloud management platforms
Industrial (Industry) Cyber Security Security Services & Risk Management
Research from OTORIO, a provider of operational technology cyber and digital risk management solutions, unveils cyber risks in M2M protocols and asset registration that expose hundreds of thousands of devices and OT networks to attack
Read more...
---