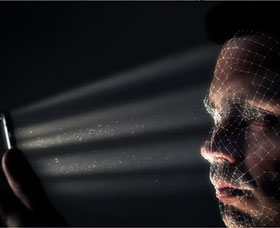 Visible light facial recognition with deep learning
February 2019, Access Control & Identity Management
ZKTeco has created a unique range of visible light facial recognition products combined with a flexible Android platform. The unique range of products are based on the latest Artificial Intelligence (AI) and Neural Network technologies. ZKTeco's visible light facial recognition technology has been specifically developed for purposes where high-speed facial recognition at an extremely high level of accuracy is vital.
Unlike traditional facial recognition devices on the market today where face alignment poses as a problem, the ZKTeco visible light facial recognition products use deep learning algorithms to provide true recognition of faces, which enables larger pose angles. By applying 3D rendering through machine learning technology, its products provide pose angle tolerance up to 30 degrees in yaw, pitch and roll axis.
ZKTeco AI visible light facial recognition products make use of a Proactive Facial Recognition technology, which enables users to be automatically recognised by the device while walking past, unlike having to stand steadily in front of a camera. Thus, it is way faster than the previous near IR facial recognition and the recognition distance has been greatly extended to up to 3 metres, which significantly improves maximum traffic rate. Detection of up to five people per second is possible if the facial template is stored locally on the device.
Anti-spoof functionality
With the applied Convolutional Neural Network (CNN) algorithm, anti-spoof function has been greatly enhanced within ZKTeco AI visible light facial recognition products and is able to check fake faces, photos and video attacks. Face feature extraction is based on detecting differences in lighting, texture and resolution and includes two types of tests. Anti-fake photo attack is tested by comparing the background pixel movement and consistency of the detected face's resolution verses video stream background. With the anti-fake video attack test, the device can detect a face's texture and resolution, as well as whether the detected face is surrounded by a frame or not.
The ZKTeco AI visible light facial recognition technology is a touchless biometric solution, which is much more hygienic than other biometric technologies. The products use the Android operating system to bring clients the unlimited potential to formulate their own solutions, based on the needs of their end users.
Designed in various structures and sizes, the visible light facial recognition technology is very flexible and can be customised to fit any solution. Whether you are working in a bank, the education sector, a conference setting or the beauty industry, the AI visible light facial recognition platform is versatile.
ZKTeco AI visible light facial recognition technology can either be used as an access control terminal, time and attendance terminal or any other solution can be derived from this platform. For example, the device can be used as an advertisement display panel with biometric analysis on age, gender and even behaviour making it easier for clients to identify their target market. With this technology the Know your Client concept can be derived – users can immediately recognise their regular customers and easily assist them in their needs, making the customers feel special and impressing them with excellent customer service.