printer friendly version
Alarm communication into Africa
May 2016
Perimeter Security, Alarms & Intruder Detection
Africa poses a unique set of opportunities and challenges when it comes to alarm communication. Sending emergency alarm signals to a control room is no longer enough. Relying on a supplier in a foreign country is risky at the best of times. Relying on them to provide life-saving technology can be scary. RDC is a South African based company, uniquely placed to deliver what is needed into Africa and the rest of the world.
The company was a pioneer in alarm communication almost 40 years ago. Its VHF communications system was designed to address specific local needs at the time. The technology was quickly adopted and formed the basis for what is now a multi-billion Rand industry. The technology was adopted outside of the country, particularly in Africa, and today RDC exports to countries on every continent.
RDC sales team: Roelene Taylor - exports (bottom left), Lee-Ann Andreka - sales director (top left), Gert Venter - sales manager (seated right of Lee-Ann) and the rest of the Johannesburg sales team.
The RDC brand and products are now well-respected and systems are widely used in high end installations such as embassies, banks and mines. Units supplied to date for home and commercial alarms installations run well into the hundreds of thousands. All these factors and a broad base of solid relationships with major players all over Africa makes choosing an alarm communication supplier for new entrants stress free.
Forty years' experience supplying into Africa means that RDC has refined its offering on every level. At RDC's South African headquarters, experienced staff who are dedicated to dealing with export customers are able to provide sound advice and simplify import transactions for customers. Exports are headed up by Roelene Taylor who has become well known all over Africa.

Elvey export team: from left Michael Mokgobi, Dawn Matheson and Quin Wilsenach.
African footprint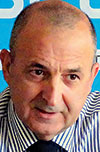 Maurizio Borsato, East Africa.
The footprint doesn't end here. In East Africa in particular, RDC systems are the systems of choice. Seculogix (EA) was established in Nairobi to solidify RDC's footprint in the region. Founding director, Maurizio Borsato, previously headed up RDC's technical operations for eight years and worked in the local East Africa security industry for more than nine years. Together with fellow director, Vanessa de Souza, they have collective experience of well over 50 years. Just about every technical, supply and administrative need can be taken care of locally.
"RDC and I have enjoyed a close relationship which spans close to 40 years, and I have an intimate knowledge of the products," says Borsato. "Customers enjoy the benefit of sound advice, technical support, service and local stock holding. Our local presence has been welcomed in Kenya and neighbouring countries."
Borsato and De Souza are upbeat about their initial successes and feel positive about future growth. "I believe that we provide real value to our customers which fills the gap between supplier and client," says Borsato. The company also represents ORYX control room software, an ideal synergy with the RDC offering.
Elvey Security Technologies: Taking RDC into Africa
RDC sales and marketing director, Lee-Ann Andreka, believes in a multi-pronged approach to supplying into Africa. "Our close relationship with Elvey gives us further exposure on the continent." Similarly, partnerships and collaborative working are an underlying value proposition for Elvey.
Together with Radio Data Communication, Elvey has worked on numerous security related projects within the African continent. One such project involved a control room setup and repeater site development for a Ghanaian customer moving into brand new premises. The control room setup and additional repeater site was designed with future expansion in mind. The expansion capability of the site was facilitated by the integration of the RDC system with a foreign monitoring software package. A similar project is also underway for a large Zimbabwean store franchise.
In order to promote the brands Elvey distributes, which includes RDC, the company ensures that its export team visits individual sub-Saharan Africa and Indian Ocean countries on an annual basis. Elvey further attends various security related exhibitions held around the continent and aims to set up more agencies and distribution outlets in Africa. The company currently has agencies in Namibia and Botswana, with a sub-distribution outlet in Zimbabwe.
African solution for African environments
Supplying the right product for the right application and environment is key to success in Africa. RDC has custom designed various products and peripherals to meet specific African needs. Transmitters/transceivers can be ordered in a pack format ideal for harsh conditions. The devices are mounted in robust metal enclosures with internal 7Ah batteries, transformers and chargers for extended operation during power outages. A short range receiver for wireless panic buttons can also be added to the self-contained units. Serial interfaces, which allow quicker installation and faster signalling, have been developed for most alarm panel brands widely used in Africa.

RDC Communication Packs – from left GPRS, VHF and SMS formats).
RDC base station peripherals can be ordered with a buzzer, dot matrix or thermal printer options for police station monitoring or for smaller applications. Furthermore, RDC base stations feature external batteries and chargers which allow 17Ah batteries to be used in control rooms and at repeaters, ensuring that the critical network backbone is up and running during extended power failures. An in-car base unit is able to receive VHF alarm signals directly into reaction vehicles. This is not only a way to speed up reaction times, but provides an easy and inexpensive way for security companies to expand into outlying towns or villages.
GPRS communication provides a number of unique advantages in African countries. Coverage is a major benefit as transceiver units can be installed and monitored in any area where there is cellular coverage. This gives security companies opportunity to expand into outlying towns and rural areas. Communication is bi-directional meaning that units can be programmed remotely and faults can be diagnosed without having to travel out to remote installations.
Managing director, Brent Andreka, believes that tailor made solutions to satisfy the needs of African customers are key. "Providing the right solutions, offering sound advice, providing reliable backup, and building relationships with customers are the reasons for our success in Africa," says Andreka. "I travel into Africa periodically for these reasons. Customers need to know that our relationships are important to us so I like to see them myself periodically. It's also important that I hear firsthand what customers are requesting so that we can continue to meet their needs."
For more information contact Roelene Taylor, RDC, +27 (0)11 452 1471/2, exports@radiodata.co.za, www.radiodata.co.za
Credit(s)
Further reading:
GJD expands its Clarius Illuminator range
Perimeter Security, Alarms & Intruder Detection
GJD announced the launch of the new Clarius Medium Hybrid IP IR/WL LED illuminator. The Clarius medium Hybrid IP combines advanced Infrared and White-Light LED technology, in one unit for increased functionality and ease of installation.
Read more...
---
What to expect in the physical security world in 2023
BoomGate Systems Perimeter Security, Alarms & Intruder Detection
The unabated increase in crime and experiences from the 2021 riots that destroyed so much value and negatively impacted so many businesses and lives in South Africa means improved physical security measures are the order of the day in 2023.
Read more...
---
Air monitoring with LifeQuality
Ajax Systems Perimeter Security, Alarms & Intruder Detection Products
Ajax Systems has launched LifeQuality, a smart air quality monitor that provides users with data on carbon dioxide pollution, temperature and humidity levels, and helps automate appliances according to these indicators.
Read more...
---
Texecom launches Impaq S G3 shock sensor
Perimeter Security, Alarms & Intruder Detection Products
With full third-party EN Grade 3 compliance, the Impaq S G3 also features the aesthetics demanded for high-end residential and commercial properties while also being extremely easy to install.
Read more...
---
The technology behind Distributed Acoustic Sensing
XtraVision Perimeter Security, Alarms & Intruder Detection Access Control & Identity Management Products
FOTAS is a fibre optic based Distributed Acoustic Sensor; the solution is a combination of optics, electronics, and computer science, which together make this device as effective as it is.
Read more...
---
Stafix introduces the JVA Cloud Router app
Stafix Perimeter Security, Alarms & Intruder Detection Products
The JVA Cloud Router app allows you to arm and disarm energisers, view your electric fence voltages, open and close relays through any Android or iOS device.
Read more...
---
CIAS chosen for complex perimeters
XtraVision Perimeter Security, Alarms & Intruder Detection
The challenge was to guarantee the ROI (return on investment) based on the technological amortization of at least 10 years of service, right from the design phase.
Read more...
---
Texecom launches the Midnight Black Collection
Technews Publishing Perimeter Security, Alarms & Intruder Detection Products
Working in harmony with darker environments, the Midnight Black Collection has been created for businesses and sites that require or prefer a security solution which offers discreet protection that compliments their surroundings.
Read more...
---
XtraVision Facilitates Integration
XtraVision Perimeter Security, Alarms & Intruder Detection
XtraVision, a global distributor of SAMM FOTAS DAS fibre intrusion detection technology and ARTECO Video Even Management Software, in the South African, African, and South American regions, has recently facilitated the integration between the two manufacturers.
Read more...
---
Olarm product highlights for 2022
Olarm Perimeter Security, Alarms & Intruder Detection Products
Olarm rapidly expanded its ecosystem in 2022 with several new products, the launch of its training academy, and a presence in Gauteng.
Read more...
---