printer friendly version
Beating the economic cutbacks
May 2016
Security Services & Risk Management
As the global economy fights its way back to some semblance of sanity from what has been a long meltdown that started in 2007, many companies are finding it increasingly difficult to justify laying out huge amounts of capital expenditure to fund much needed investment that would fuel growth aspirations.
This is made worse by the need to protect profit and maintain a healthy balance sheet in the hard times in an attempt to remain relevant in the harsh business world.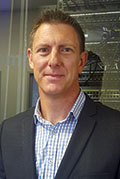 Mark Simpson, MD, Abiscan.
To this end, most companies have dramatically slowed down their capital expenses over the last few years hoping and waiting for the times to turn around before they can re-invest again for growth. Whereas this may look and sound practical and prudent, it has the one negative effect of slowing down the progress that most businesses need to make to stay relevant. This is made even worse by the fact that with the fast growing influence of modern technology on almost every business sector, those who do not join the moving bus will be left behind so badly that when they eventually wake up, their competition will have ensured that they never recover from their lack of advancement.
This emphasises the need to stay with the programme and remain relevant in an ever-changing market place driven by the companies that remain steadfast in their pursuit of newer ways of doing business while retaining tech-driven relevance.
So how does one balance this need to keep investing in the business systems or core components in an economic environment that continues to be hard and with investors and stakeholders who have grown increasingly impatient and want their investments to return growth in the shortest time possible? Is this even workable? What is the better evil, wait and pray for the economic times to turn around or hope that your competitors are also facing the same issues and so will also not move to improve?
Do you ignore the moving business world and try and keep your business relevant using other means, like excessive marketing and brand building or better still, like in the days gone by, increase your revenue generating influence using sales teams that are blotted and with razor sharp focus on hard core selling to keep your income statement flowing and looking healthy? Either way, these options on their own, and as effective as some of them may be, aren't responsible at all in any business with a strategic focus of driving growth in the sector in which it operates, especially if your business is dependent on improving technology to advance your services.
Alternate methods
To this end, the days of funding technology advancements through capital expenditure are long gone. Most business leaders know the pressure placed on them by their stakeholders to keep showing profitable operations that the idea of throwing huge sums of capital towards projects that ensure strategic strength have been put on the back banner. This doesn't have to be the case.
Over the last recent years, we have seen not only in SA but globally, an emergence of alternative ways of funding much needed improvement in business systems and tech-driven offerings that are not only relevant to target consumers and clients, but that also break new grounds for previously un-chattered revenue streams.
These range from some traditional business management approaches like sharpening sales focus, limiting offerings to profitable ones only, eliminating loss leaders in your business, staff and talent management to ensure trimmer, leaner, fitter and theoretically more efficient workforces. To more direct methods whose results show up directly and immediately in the financial statements of the business like cutting marketing spend, freezing recruitment, cutting down staff complement (especially at senior levels), and refocusing more on operational excellence while ignoring strategic decisions.
One of the major impacts of these decisions (whichever of the above you choose), is the negative and sometimes destructive effect they have on the business as a whole in a strategic timeframe. A lack of capital investment in critical areas like improving enterprise resource planning (ERP) and back end systems, enhancing basic offerings (i.e. new and modern dental chairs in a dental clinic), tightening online, electronic and physical security to drive loss prevention and tighten security against theft of assets and intellectual capital and improving the business models to stay ahead of the competition with regards to new offerings better products and services will only serve to drive the businesses further behind. The result is the need to keep staying with austerity as a way of protecting profits becomes the only option available.
To this end it is prudent not to fall into this trap. Here are some ways that you can ensure that your business avoids the ills and mistakes outlined above:
1. Always have a strategic framework that focuses the business on medium to long term goals and especially when those goals are related to top line and earning objectives. Sure, be prudent in managing operational excellence in the short term, but keep your eyes focused on the long term need to satisfy and deliver on your strategic goals. Don't be caught in the web of business leaders who sacrifice their future and that of their businesses by being single-handedly focused on short term operational success while sacrificing their strategic objectives.
2. Maintain a healthy investment on the items that are strategically crucial for your business. If you are in a product business, invest in R&D, if you are in a service business, invest in new and relevant technology. Align your offering with client and consumer needs and don't relent in investing in systems that allow you to do so.
3. Where you can use Capex to fund the above investments, please do, but as most of us know, this is becoming harder and harder in today's business world. Balance your Capex needs with the business strategic goals (i.e. if you are a service business that needs new technology to manage your staff more efficiently to enhance the delivery of the services you offer, you'd be wasting your effort on an expensive exercise to move your operation to new premises justified by the need to build your brand by being seen as premised in classy environments). That is important, but the need to keep your customers satisfied and wowed by ever changing and improving systems that directly benefit them will yield you better results arising from loyal and satisfied customers and in a short time will pay for your office relocations and brand building anyway.
4. If Capex is difficult to motivate and justify because of the effects it has on your balance sheet, strongly consider funding your needed investments through an operational model which ensures that you don't need to outlay huge amounts of cash upfront to fund these needed investments, but you pay for them in a manageable period and in smaller doses that do not hurt the business.
This is especially useful in tech-driven back end and front end systems and will ensure that you have the benefits of the advancements you need upfront and pay for them over the systems' lifetime. In doing this, it is critical that you factor in the need for system improvements with newer software and systems in future so that you retain the use of the latest technology in whatever system you invest in. That is why you should include a proper service and maintenance agreement in place with every system or equipment you buy. It is easier to do this on an OPEX model than it is to do on a Capex outlay option. Most if not all OPEX arrangements should cater for maintenance and servicing as a running P&L line on your financials.
Off balance sheet
In South Africa, we have seen an emergence of several companies that avail operating model financing for businesses willing to purchase equipment and systems using this method. One such business, Abiscan, has been playing in this sector for some time. Abiscan focuses on offering off balance sheet finance for businesses in South Africa looking for alternative routes of financing their investments. The company focuses its attention on financing technology in the following areas:
• Industrial equipment.
• Software.
• Talent management systems (time attendance and workforce management systems integrating with HR and payroll systems).
• IT infrastructure and software.
• Security systems (access control, integrated surveillance, physical and electronic integrated systems).
In Abiscan's model using the above OPEX system, the clients benefit from:
• Off balance sheet accounting and reporting.
• Cash flow predictability through managed payment options.
• Ability to return goods in exchange for their value extended for future use.
• The ability to have rentals tax deductible as well as the ability to claim payable VAT.
• Ability to manage all equipment and intangibles through a single monthly payment.
• Simple, and flexible terms and equipment schedules.
• System upgrades to suit the useful terms of purchased technology.
• Right to exchange portions of purchased products during term without penalties.
Abiscan is a South African registered entity, compliant with the BBBEE requirements and operates with a strategic aim of helping businesses find alternative ways of funding heavy investments they need for growth and operational excellence.
For more information, contact Mark Simpson, Abiscan, +27 (0)78 422 5541, mark@abiscan.co.za, www.abiscan.co.za.
Further reading:
Stolen credentials on the Dark Web
October 2019 , Cyber Security, Security Services & Risk Management
Over 21 million credentials belonging to Fortune 500 companies, 16 million of which were compromised during the last 12 months, are up for sale.
Read more...
---
Stolen credentials on the Dark Web
October 2019 , Cyber Security, Security Services & Risk Management
Over 21 million credentials belonging to Fortune 500 companies, 16 million of which were compromised during the last 12 months, are up for sale.
Read more...
---
Vodacom and SAPS launch MySAPS mobile app
October 2019 , Security Services & Risk Management
Vodacom, in partnership with the South African Police Service, will empower citizens to contribute to their own safety as well as the safety of their communities through the newly launched MySAPS app.
Read more...
---
Enterprise security must change
October 2019 , Cyber Security, Security Services & Risk Management
The recent wave of cyberattacks against local banks has highlighted the importance of protecting data against malicious users.
Read more...
---
Drones improve risk management
October 2019 , Security Services & Risk Management
Indwe embraces drone technology to help improve risk management and optimise insurance.
Read more...
---
Body-worn cameras transforming security
October 2019 , CCTV, Surveillance & Remote Monitoring, Security Services & Risk Management
Police Service Northern Ireland now has over 7 000 officers using 2 500 cameras covering approximately 173 000 incidents each year.
Read more...
---
Protecting your customers' data
October 2019 , Training & Education, Security Services & Risk Management
Simon Murrell, head of development and executive director at BrandQuantum says companies need to protect their customers from identity theft and data breaches.
Read more...
---
Edwards Public Address & Voice Alarm System
October 2019 , Security Services & Risk Management, Products
Carrier has added the Public Address & Voice Alarm (PAVA) range to its fire product offerings.
Read more...
---
ContinuitySA offers ISO 22301 Lead Implementer course
October 2019, ContinuitySA , Training & Education, Security Services & Risk Management
ContinuitySA is once again offer its five-day Certified ISO 22301 Lead Implementer course on 18-22 November 2019 at the company's Midrand facility.
Read more...
---
Preparing your data for PoPI
September 2019 , IT infrastructure, Security Services & Risk Management
When it comes to protecting any information, the way data is secured across the value chain needs to be addressed.
Read more...
---