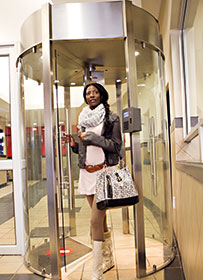 Trendy access control
November 2018, Access Control & Identity Management
Hirt & Carter has a 50-year legacy as a leading integrator of multi-channel marketing and communication solutions. Offering complete tailor-made systems and processes, the company has extensive premises housing high-tech, high-value equipment in Durban's Umgeni Park.
"Not only is there a real need for careful control over who enters the Hirt & Carter premises," says Craig Sacks, MD of Turnstar, "but furthermore, the facilities have a modern, contemporary look and feel, so any physical access control systems have to blend in with the trendy environment."
The order was fairly extensive and included a sophisticated Triton full-height curved three-wing single glass turnstile. The turnstile, with matte graphite grey finish, has bi-directional electrical control with a failsafe auto unlock which activates during power failures. Durability is often compromised for the sake of aesthetics but this is not the case with the technology used in the Triton turnstile, which offers years of sustainable service.
Catering for all visitors, the stainless steel semi-automatic special needs gate installed in the reception area is designed with aesthetics in mind and with a 180° opening.
For other employees and visitors to the premises, three Trident waist-height single turnstiles manufactured in durable 316 stainless steel with Rustenburg Granite tops provide fast and easy access. Their quiet operation and sleek appearance makes them the perfect fit for reception areas. Bi-directional electric control is complemented by a self-centring rotation system that ensures the rotor returns to the starting position after every rotation.
Hirt & Carter has also installed four double and two single full-height four-arm Titan industrial turnstiles.
In addition to the turnstiles and special needs gate, Turnstar also supplied 20 biometric fingerprint reader mounting brackets in 316 stainless steel and four security gates. Also manufactured in 316 stainless steel, these left-handed gates are 1.5 m wide and 2.125 m high, with a maglock and door closer.
For more information contact Turnstar Systems, +27 11 786 1633, craig@turnstar.co.za, www.turnstar.co.za