printer friendly version
Fruity, insulated access
Access & Identity Management Handbook 2019
Access Control & Identity Management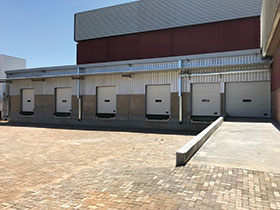 Maxiflex secured an order for an overhead panel sectional door from a leading citrus fruit handling company situated in the Eastern Cape.
The customer required a specialised door solution for its new 11 000 m² warehouse with a capacity of handling tons of citrus produce every hour. A quality door solution was essential as product handling in and out of the warehouse must be swift to maintain the facility's interior temperature in order to reduce the risk of costly produce spoilage and losses.
The project was spearheaded by Viaplan Consulting Engineers and Randcivils. With quality product and service support stipulated by the customer as prerequisites, the two companies immediately turned to Maxiflex to provide an optimum door solution.
"Maxiflex is known to Viaplan Consulting Engineers and Randcivils as we have been involved with them on a number of similar installations in the area," explains Bram Janssen, MD of Maxiflex. "Once we had identified the customer's exact requirements, we immediately knew that the 1042P overhead panel sectional door from Assa Abloy Entrance Solutions would cater to the customer's exact requirements." Janssen adds that in addition to its features, the door's pleasing aesthetic appearance perfectly complements the warehouse's façade.
Ideally suited for warehouses, logistics centres and factories, the robust, flexible, efficient and safe door system presents excellent sealing properties. Each part of the overhead panel sectional door is built to the highest standards to ensure reliable operation even under extremely high workloads and arduous conditions. Made up of 42 mm panels, the door forms a 4-way seal when closed, ensuring insulation from all weather conditions, protecting the fruit inside the warehouse. The door's design has earned a class 3-certification for water tightness, wind load and air permeability. Furthermore, by helping to regulate the warehouse's internal temperature, energy costs are kept to a minimum with subsequent costs savings for the customer.
From a safety perspective, the panels are filled with flame retardant polyurethane so the door won't accelerate a fire and a control panel fitted to the door will indicate any faults.
Installation of the overhead sectional door was completed during the first quarter of 2018 to the satisfaction of the customer who also confirmed that they were impressed with the quality of the product. The customer also confirms that they have confidence in the door system as Maxiflex has successfully supplied these panel sectional doors for similar warehouse applications in the local area.
"Correct use of the door system is critical as it will extend the product's lifespan and keep running costs to a minimum for subsequent lowest total cost of ownership for our customer," notes Janssen.
In addition to the already well established sole distributor rights for Assa Abloy Entrance Solutions in sub-Saharan Africa, Maxiflex recently acquired exclusive rights to distribute in southern Africa, Stackdoor, a pioneering security grille manufactured in the Netherlands. "We are very pleased to announce that in the third quarter of 2018, we obtained the rights from American Mine Door to manufacture and install underground ventilation mine doors in South Africa," concludes Janssen.
For more information contact Maxiflex Door Systems SA, +27 11 392 1709, info@maxiflex.co.za, www.maxiflex.co.za
Further reading:
Cloud-based or on-premises access control
Salto Systems Africa Access Control & Identity Management Products
Choosing between cloud-based and on-premises access control solutions can be a difficult decision, however, the best solution for your organisation, property, or building type will depend on a range of factors.
Read more...
---
Improved security health check tool
Gallagher Access Control & Identity Management Products
Gallagher Security has streamlined its free Security Health Check tool, making it easier than ever to protect against potential system risks and improve business efficiencies.
Read more...
---
Suprema showcases integrated security solutions
Suprema Access Control & Identity Management Products
Apart from being an access terminal that supports multiple credentials such as facial recognition, RFID, mobile and QR codes, the BioStation 3 also supports VoIP Intercom and real-time video monitoring features to make it a truly multi-functional reader.
Read more...
---
Local electronic locks
Access Control & Identity Management
YeboTech is an electronics manufacturing company, founded in 2005, which designs, markets and sells an electronic key and locking systems, aimed at replacing all conventional mechanical locks.
Read more...
---
Selecting the correct access control system
Enkulu Technologies Access Control & Identity Management
Frazer Matchett, Managing Director of Enkulu Technologies, suggests the right questions to ask when selecting an access control solution; not just the access system, but the integrated solution that fits your requirements.
Read more...
---
Integrated guarding services
XtraVision Integrated Solutions Access Control & Identity Management Industrial (Industry)
XtraVision offers a few tips on how to go about planning and setting up an integrated approach to sustainable and successful security services, from the initial risk assessment to the technology and people required.
Read more...
---
Paxton secures multi-tenant office in Cape Town
Paxton Integrated Solutions Access Control & Identity Management Products
Cecilia Square in Paarl, Cape Town is an office building from where several businesses operate. The multi-tenant site has recently undergone a full refurbishment, including a complete upgrade of its security system for access control.
Read more...
---
AI face recognition OEM module
Suprema News Access Control & Identity Management Products
Suprema AI, a company specialized in artificial intelligence–based integrated security solutions, recently launched its high-performance face recognition OEM module called 'Q-Face Pro' in response to the growing need for contactless security solutions.
Read more...
---
KWAL raises a glass to security upgrade
Turnstar Systems Access Control & Identity Management Products
The Kenya Wine Agencies Limited (KWAL) was in need of an integrated security upgrade. This is where Turnstar came into the picture to provide a solution that would keep KWAL secure and efficient.
Read more...
---
Dahua Insider Series for touchless access
Dahua Technology South Africa Access Control & Identity Management Products
The Insider Series Access Control Solution offers touchless access (via Bluetooth) using the DMSS mobile app; it has three distance modes and two trigger modes (normal and shake).
Read more...
---