printer friendly version
Using tomorrow's tools to solve ­today's security problems
Access & Identity Management Handbook 2019 Access Control & Identity Management, Cyber Security, Integrated Solutions
Organisations that do not have a clear longer-term security roadmap in place are putting themselves at risk of being compromised. The companies are already investing in tomorrow's tools to solve today's problems that will survive the ongoing onslaught to circumvent security solutions. This is the view of Jon Tullett, research manager – IT Services for sub-Saharan Africa at International Data Corporation (IDC).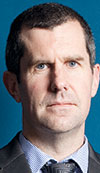 Jon Tullett.
"The first step in creating this roadmap is to start getting their security under control," he says. "This includes using analytics for behaviour anomaly detection at both a network and user level, gathering the data to do baseline profiling. While that is the type of thing we are already doing today, many organisations are still not doing it with a long-term view in mind."
To get their security under control, organisations must consider technologies that play to the cloud and be prepared to evolve with the technology. User awareness and training also remain key fundamentals that are receiving enough attention. "At the moment, training budgets are horrifically small and that must be addressed. Start by spending the money, but more importantly, evolve that training over time.
"Today, the breach is a credential theft or phishing attack. Companies that tackle that, and really invest in training, see tremendous reductions. A good example of this is Google, which combined good training with two-factor authentication for all their internal services and, since they've done that they've had zero phishing cases, but now they've moved on," says Tullett.
Granular access rights
He says once organisations have this under control and have done the risk assessments required, they must start devolving those rights. "Break it up and create far more granular access controls. Create accounts which can only do very specific tasks, so that if they are compromised, the damage the hacker can do is limited. That also means that you have to start evolving the technologies that you're using to ones that support this. While it can be a pain to do it on some platforms, it is usually baked into modern cloud platforms. The key here is to ensure that should you need to revoke access on mass, you can do it."
The next step is to roll out two-factor authentication much more aggressively. "For users that may mean a token, mobile authentication or something similar and for system accounts it will probably mean digital certificates. Whatever it may be, start to improve your authentication. Once you have that in place, you really want to be on top of activity management. So, looking at what accounts are doing what.
You can't really do this until you have your accounts consolidated and organised, but you want to know everything that an account does in a very standard format. That allows you to feed the information into an engine and get an activity report back when something goes wrong, so that you can identify any anomalies and address them quickly.
Cloud evolution
He believes that within the next two years, most of this type of anomaly detection will be happening largely out of the cloud. "This is going to happen alongside your evolution to cloud. The AI platforms in the cloud are maturing very fast, so within the next couple of years we're expecting to see an awful lot of cloud services just plugging AI in because they can. So, there will be a lot of machine learning happening and, further down the line, we will see people looking at how they can use that to optimise and automate," says Tullett.
"In the longer-term, organisations will also start looking at automation, where an anomaly will be detected, and automatically investigated and remediated. While it will take a couple of years for this to happen, organisations must include this in their security roadmaps. Today's problems are that you need to start getting your identities under control and doing better analytics, but tomorrow that same platform is going to be your machine learning platform and is going to be a complex, better managed identity platform that will do a lot more things."
He points out that the criminals also have a roadmap and it is often more advanced than those of organisations. "They know what technologies are coming, they are getting the required skills in place and are already looking at how to use the technology for various purposes. They are following a roadmap and if you are not doing the same, they are leaving you behind.
"You must remember that these are career criminals, this is what they do for a living, and so, if you make it impossible for them to phish, they are going to find something else to compromise. What they are doing will evolve in response to you. If we can eradicate phishing, that's great, but that threat is going to move to something else and you must be willing to keep following that path."
Further reading:
Secure vehicle access in residential estates
Issue 2 2020, Protoclea Advanced Image Engineering , Access Control & Identity Management
Can technology offer a cost-effective solution that will provide both secure access control and free-flowing traffic in estates?
Read more...
---
Managing people's attendance and time
Issue 2 2020, Secutel Technologies , Access Control & Identity Management
Managing people's attendance, along with access control is a basic, yet critical challenge for any organisation.
Read more...
---
Modular ANPR camera solution
Issue 2 2020 , Access Control & Identity Management
Videalert has announced the immediate availability of Stingray, a new modular ANPR camera solution designed for use with mobile enforcement vehicles.
Read more...
---
Digital document revolution
Issue 2 2020 , Access Control & Identity Management
A new white paper that examines the implications of the transition from physical to digital security documents has been published by Reconnaissance International.
Read more...
---
Facial access control for ministry
Issue 1 2020, ZKTeco , Access Control & Identity Management
The Ministry of Culture in Saudi Arabia has adopted ZKTeco's facial recognition technology and fingerprint biometrics to manage access control into its building.
Read more...
---
New Door Pilot app from dormakaba
Issue 1 2020, dormakaba South Africa , Access Control & Identity Management
With new dormakaba Door Pilot, automated doors can also now be operated on the basis of remote control technologies. The system, comprising the Door Pilot app for smartphones and a Wi-Fi interface for ...
Read more...
---
Identity lifestyle
Issue 1 2020, Suprema , Access Control & Identity Management
Once the technology of the future, biometrics has quietly snuck into our daily lives through smartphones and access controls into our places of work.
Read more...
---
Securing BP's new head office
Issue 1 2020, ISF SFP , Access Control & Identity Management
ISF SFP was awarded the contract to secure the first development phase for Oxford Parks, the new head office for BP South Africa.
Read more...
---
Combining aesthetics and access control
Issue 1 2020, Turnstar Systems , Access Control & Identity Management
Prestigious law firm Bowman Gilfillan recently upgraded its physical security with the addition of four Turnstar Speedgate Express access control lanes.
Read more...
---
Video doorbells from Ring
Issue 1 2020 , Access Control & Identity Management
Ring has a number of video doorbells available in South Africa that run off batteries or power and enable users to answer their doors from anywhere.
Read more...
---