printer friendly version
Using tomorrow's tools to solve ­today's security problems
Access & Identity Management Handbook 2019 Access Control & Identity Management, Cyber Security, Integrated Solutions
Organisations that do not have a clear longer-term security roadmap in place are putting themselves at risk of being compromised. The companies are already investing in tomorrow's tools to solve today's problems that will survive the ongoing onslaught to circumvent security solutions. This is the view of Jon Tullett, research manager – IT Services for sub-Saharan Africa at International Data Corporation (IDC).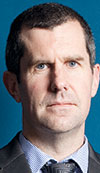 Jon Tullett.
"The first step in creating this roadmap is to start getting their security under control," he says. "This includes using analytics for behaviour anomaly detection at both a network and user level, gathering the data to do baseline profiling. While that is the type of thing we are already doing today, many organisations are still not doing it with a long-term view in mind."
To get their security under control, organisations must consider technologies that play to the cloud and be prepared to evolve with the technology. User awareness and training also remain key fundamentals that are receiving enough attention. "At the moment, training budgets are horrifically small and that must be addressed. Start by spending the money, but more importantly, evolve that training over time.
"Today, the breach is a credential theft or phishing attack. Companies that tackle that, and really invest in training, see tremendous reductions. A good example of this is Google, which combined good training with two-factor authentication for all their internal services and, since they've done that they've had zero phishing cases, but now they've moved on," says Tullett.
Granular access rights
He says once organisations have this under control and have done the risk assessments required, they must start devolving those rights. "Break it up and create far more granular access controls. Create accounts which can only do very specific tasks, so that if they are compromised, the damage the hacker can do is limited. That also means that you have to start evolving the technologies that you're using to ones that support this. While it can be a pain to do it on some platforms, it is usually baked into modern cloud platforms. The key here is to ensure that should you need to revoke access on mass, you can do it."
The next step is to roll out two-factor authentication much more aggressively. "For users that may mean a token, mobile authentication or something similar and for system accounts it will probably mean digital certificates. Whatever it may be, start to improve your authentication. Once you have that in place, you really want to be on top of activity management. So, looking at what accounts are doing what.
You can't really do this until you have your accounts consolidated and organised, but you want to know everything that an account does in a very standard format. That allows you to feed the information into an engine and get an activity report back when something goes wrong, so that you can identify any anomalies and address them quickly.
Cloud evolution
He believes that within the next two years, most of this type of anomaly detection will be happening largely out of the cloud. "This is going to happen alongside your evolution to cloud. The AI platforms in the cloud are maturing very fast, so within the next couple of years we're expecting to see an awful lot of cloud services just plugging AI in because they can. So, there will be a lot of machine learning happening and, further down the line, we will see people looking at how they can use that to optimise and automate," says Tullett.
"In the longer-term, organisations will also start looking at automation, where an anomaly will be detected, and automatically investigated and remediated. While it will take a couple of years for this to happen, organisations must include this in their security roadmaps. Today's problems are that you need to start getting your identities under control and doing better analytics, but tomorrow that same platform is going to be your machine learning platform and is going to be a complex, better managed identity platform that will do a lot more things."
He points out that the criminals also have a roadmap and it is often more advanced than those of organisations. "They know what technologies are coming, they are getting the required skills in place and are already looking at how to use the technology for various purposes. They are following a roadmap and if you are not doing the same, they are leaving you behind.
"You must remember that these are career criminals, this is what they do for a living, and so, if you make it impossible for them to phish, they are going to find something else to compromise. What they are doing will evolve in response to you. If we can eradicate phishing, that's great, but that threat is going to move to something else and you must be willing to keep following that path."
Further reading:
Improved security health check tool
Gallagher Access Control & Identity Management Products
Gallagher Security has streamlined its free Security Health Check tool, making it easier than ever to protect against potential system risks and improve business efficiencies.
Read more...
---
Suprema showcases integrated security solutions
Suprema Access Control & Identity Management Products
Apart from being an access terminal that supports multiple credentials such as facial recognition, RFID, mobile and QR codes, the BioStation 3 also supports VoIP Intercom and real-time video monitoring features to make it a truly multi-functional reader.
Read more...
---
Success in business process best practices
Technews Publishing Kleyn Change Management Editor's Choice Integrated Solutions Security Services & Risk Management
This month we commandeer time with the woman who is spearheading our national conversation on Women in Security, Lesley-Anne Kleyn, to get to know the lady herself a little better.
Read more...
---
Addressing the SCADA in the room
Industrial (Industry) Cyber Security
Few other sectors command the breadth of purpose-built and custom devices necessary to function, as the industrial and manufacturing industries. These unique devices create an uncommon risk that must be assessed and understood to fully protect against incoming attacks.
Read more...
---
Local electronic locks
Access Control & Identity Management
YeboTech is an electronics manufacturing company, founded in 2005, which designs, markets and sells an electronic key and locking systems, aimed at replacing all conventional mechanical locks.
Read more...
---
Selecting the correct access control system
Enkulu Technologies Access Control & Identity Management
Frazer Matchett, Managing Director of Enkulu Technologies, suggests the right questions to ask when selecting an access control solution; not just the access system, but the integrated solution that fits your requirements.
Read more...
---
Integrated guarding services
XtraVision Integrated Solutions Access Control & Identity Management Industrial (Industry)
XtraVision offers a few tips on how to go about planning and setting up an integrated approach to sustainable and successful security services, from the initial risk assessment to the technology and people required.
Read more...
---
Paxton secures multi-tenant office in Cape Town
Paxton Integrated Solutions Access Control & Identity Management Products
Cecilia Square in Paarl, Cape Town is an office building from where several businesses operate. The multi-tenant site has recently undergone a full refurbishment, including a complete upgrade of its security system for access control.
Read more...
---
AI face recognition OEM module
Suprema News Access Control & Identity Management Products
Suprema AI, a company specialized in artificial intelligence–based integrated security solutions, recently launched its high-performance face recognition OEM module called 'Q-Face Pro' in response to the growing need for contactless security solutions.
Read more...
---
Vulnerabilities in industrial cellular routers' cloud management platforms
Industrial (Industry) Cyber Security Security Services & Risk Management
Research from OTORIO, a provider of operational technology cyber and digital risk management solutions, unveils cyber risks in M2M protocols and asset registration that expose hundreds of thousands of devices and OT networks to attack
Read more...
---