printer friendly version
One platform for everything
April 2016
Integrated Solutions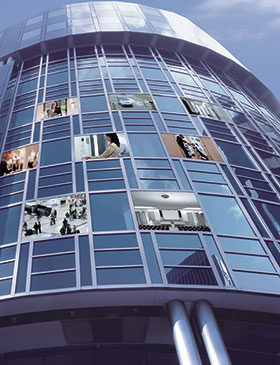 Efficient building management is becoming more important, but also a more complex challenge. Nowadays organisations use multiple systems to monitor and control their buildings, ranging from fire and intrusion alarm to access control, video surveillance and building automation systems.
Monitoring, control, administration and maintenance of all systems can be a huge challenge because individual systems only serve individual purposes. To completely secure and manage a building, you need a number of functions; and if you want them all, they have to run alongside each other. This approach is not only inefficient, unreliable and expensive, but also difficult to upgrade when your requirements change.
This is where the Building Integration System comes in. The idea is one solution that offers everything – combining different building management functions on one platform, and providing responses to difficult questions. But because every organisation has unique building management requirements, the Building Integration System (BIS) is modular. This means that, like with building blocks, you can add or remove single elements or create new combinations, which gives you maximum flexibility. This guarantees that you get the solution you need.
Integrated building management
No matter how comprehensive and complex your building management requirements are, BIS responds flexibly and is also easy to use. How does it work? BIS combines a number of technical systems: fire and intrusion alarm, video monitoring, access control and evacuation systems in one modular platform.
To perform optimally, a building management system must suit your particular needs. But even more important: a good system should be able to cope with later changes. What you need today may turn out to be a little further down the road. And who wants to buy a completely new system just because the requirements have changed? This is why BIS is modular: different high-performance modules (engines) share a single platform and can be flexibly combined.
Automation Engine: Control and monitoring of intrusion and fire alarm systems, public address and any OPC-compliant third-party device, such as building automation.
Video Engine: Video monitoring using Bosch or third-party video systems.
Access Engine: Access control using Bosch access control hardware.
Security Engine: A combination of special Bosch intrusion alarm systems with simple access control functionality.
Optimal overview for maximum safety
It's only possible to protect something you can see. That's why BIS offers a complete overview of your organisation with all sub-systems, right down to showing the status of individual detectors. This is a major prerequisite for promptly and appropriately responding to dangerous situations. The system works exclusively with tested open global IT standards such as OPC, SML, HTML and Windows – which makes it easy to integrate both third-party security and building management systems.
In the event of danger, the system displays alarms based on location maps and other alarm documentation. Animated detector symbols and audible signals immediately indicate the source of the alarm. You can also define escalation scenarios to ensure immediate and appropriate responses.
Pre-existing CAD data can be integrated without having to convert split diagrams. Subsystem configurations as well as personnel data from an HR or time management system can be directly imported – there's no need to re-enter them in the Building Integration System. And because the system is OPC-compliant, it interfaces with a range of standard fieldbuses, such as EIB, LON, Profibus and BACnet.
All events and operator activities are securely recorded in a logbook that prevent after-the-fact changes. This protects data from manipulation. The logbook is both easy to use and flexible, due to advanced filter functions and the ability to export data in standard CSV format.
The Automation Engine
The larger the property, the more complex monitoring and control operations become. Simple building management systems are therefore essential for efficiently organising these tasks. The Automation Engine enables central management of both Bosch and third-party fire and intrusion systems, all on the platform. In addition, this module monitors automation systems for failure and can override IT networks.
Location maps and alarm documentation provide detailed information and action plans whilst user-friendly operation translates into immediate and effective alarm management.
When it really matters, every second counts. With the Automation Engine the operator knows immediately what to do because all the required information is provided in real time. The corresponding alarm documentation is centrally stored and precisely tailored for its intended purpose, also including work cycles and location plans with animated alarm systems.
For even greater efficiency, certain alarms or events can be assigned to specific user groups, thus enabling the systems to manage 5000 different events concurrently.
The Video Engine
Nobody has eyes in the back of their heads. Nor is it necessary, that's what the Video Engine is for. It delivers a completely new dimension of performance as the central component for integration and visualising different video systems on one platform.
Analogue matrix switches, traditional PC-based video recording systems or new IP video technologies, the Video Engine supports the entire Bosch video portfolio. The consistent use of open standards makes it readily compatible with third-party systems. This is not only practical, but also good for your budget.
Even the basic version of the Video Engine lets you hide user-defined zones within a public area monitored by a camera. In many cases, this eliminates the need to buy expensive special-purpose cameras.
In addition, combining it with intrusion alarm systems (Automation Engine) or access control systems (Access Engine) opens up a whole range of possibilities for improved alarm management. Video verification of access attempts or analysis of archived material are just two examples of possible applications.
The Access Engine
It isn't appropriate to allow every employee to access all parts of a site, so an efficient access control system is indispensable in many buildings and organisations. The Access Engine has been especially developed to satisfy even the most demanding expectations. Its modularity lets you systematically build the right solution to meet all your access control needs and flexibly scale it up as they grow.
In addition to simple access control management, the Access Engine provides user-friendly control of doors and barriers with a clear view overview on the display that can be combined with video and intercom.
The door to the data centre has been open too long, or an employee is being threatened at the rear entrance to the building. Both scenarios require immediate action. When integrated into BIS, the Access Engine immediately displays such events together with the appropriate action plan. This permits your personnel to respond without delay.
The Security Engine
The Security Engine was specially developed for managing the Bosch intrusion alarm portfolio. When integrated into BIS, the Security Engine uses the entire range of alarm management and video functions. It manages user privileges for these functions and offers corresponding user administration for these functions.
BIS in practice
The Building Integration System offers a suitable solution for every requirement and is correspondingly versatile. Typically applications for the Building Integration System:
• Fire monitoring and alarms, with evacuation management including control of escape routes and announcements.
• Intrusion detection and alarms, with live video surveillance and analysis of archived footage.
• Video monitoring with video-motion detection and central Autodome control.
• Access control for normal and high-security areas.
• Parking lot management.
• Door management with intercom, video monitoring and access control.
• Elevator control with management of floor access privileges.
• Perimeter fence or wall monitoring with video surveillance.
• Guard tour system with corresponding alarm functionality.
• Failure monitoring for vital systems and equipment.
• Light and blind control in connection.
For more information contact Bosch Security Systems – South Africa & sub-Saharan Africa, +27 (0)11 651 9600, [email protected], http://africa.boschsecurity.com.
Credit(s)
Further reading:
Smart car parking solution eases traffic flow
Dahua Technology South Africa CCTV, Surveillance & Remote Monitoring Integrated Solutions Products
Ethiopia's first smart parking lot, designed to improve traffic flow and management efficiency, has been built and installed using Dahua Technology's smart parking solutions.
Read more...
---
VMS 7.2 supports the investigation process and adds cloud capabilities
CCTV, Surveillance & Remote Monitoring Integrated Solutions Products
Qognify has launched the second release of its VMS, including extended support for body-worn video, additional functionalities to support investigations, and a new web client architecture. VMS 7.2 addresses the increasing use of body-worn video (BWV) across many sectors.
Read more...
---
Hytera and KZN Police Service roll out digital call handling system
Government and Parastatal (Industry) Asset Management, EAS, RFID Integrated Solutions
Hytera Communications announced that the municipality of Ray Nkonyeni in the KwaZulu-Natal province of South Africa is now using its digital call handling system for the reporting and recording of crimes.
Read more...
---
Cyber resilience is more than cybersecurity
Technews Publishing Editor's Choice Cyber Security Integrated Solutions IT infrastructure
Hi-Tech Security Solutions held a round-table discussion focusing on cyber resilience and found that while the resilience discipline includes cybersecurity, it also goes much further.
Read more...
---
Johnson Controls releases IQ4
Perimeter Security, Alarms & Intruder Detection Integrated Solutions
New lower cost panel leverages Qolsys IQ Platform targeting residential, SMB, builder, MDU/multi-family and wellness market segments.
Read more...
---
SuperVision biometric access control
Integrated Solutions Access Control & Identity Management Products
SuperVision is a time & attendance (T&A) biometric access control system Fourier IT has been developing and enhancing for 18 years.
Read more...
---
Shift to online driving retail transformation
Retail (Industry) Integrated Solutions
There is a growing demand from retail for an end-to-end solution that helps their digitisation process, integrating finance, procurement, warehouse management, pricing, stock management, point of sale and more.
Read more...
---
AI in video analytics
CCTV, Surveillance & Remote Monitoring Integrated Solutions
AI (artificial intelligence), has been developed and debated ever since the first computers were invented, and while the most revolutionary incarnations are not yet here, AI-based technologies are widely used today.
Read more...
---
Complete solutions, delivering complete protection
Gallagher Access Control & Identity Management Integrated Solutions Commercial (Industry)
The recent release by Gallagher of Command Centre v8.80 and Command Centre Web enables all organisations to make security easier, faster and more efficient.
Read more...
---
Cathexis demonstrates its 'effective innovation'
Cathexis Technologies Technews Publishing Editor's Choice CCTV, Surveillance & Remote Monitoring News Integrated Solutions
Cathexis Africa recently held a roadshow with a stop in Johannesburg where Hi-Tech Security Solutions was invited to attend, along with many of the company's partners and users.
Read more...
---