printer friendly version
Integrating access with OHS and operations
Access & Identity Management Handbook 2019 Access Control & Identity Management, Integrated Solutions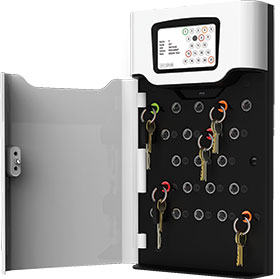 Occupational Health and Safety (OHS) controls have become as important as security controls when it comes to the control of access to a facility or restricted environments. Many clients today need to check and manage statutory accreditations and competency prerequisites prior to allowing personnel and visitors onto their premises or work areas.
Some of these requirements include legislative, HR, health and safety, and accreditation or competency (training and induction) prerequisites. This data is generally managed by the HR department and the security or access control systems merely block or unblock the user's access manually from time to time when notified that the user's 'certification' is valid or has expired.
Veracitech develops and deploys plug-ins on the Babylon platform for various active client applications; one such application is the Veracitech Babylon Certifications solution.
The plug-in comprises access control and automation, incorporating the certifications prerequisites listed above. These certifications can be defined and managed either directly in the Veracitech Babylon Certifications application or can be integrated with existing HR or other databases.
Various certifications and competencies can be defined in the system, which can then control access to certain areas based on whether the person requesting access meets corporate requirements and vetting. For example:
• Access can be determined by the security level/profile as well as if the user has a valid medical check-up or has been certified in a certain skill required for access to a specific area.
• Before allowing anyone to start a truck or machinery on a plant, the system may first check to ensure the individual's licence is up to date and that they underwent a breathalyser test that morning before granting access to the truck or machinery.
Feedback to the user and an explanation for Access Denied can also be displayed on the Veracitech interactive touch display modules at the access points. These are fully integrated and managed from the Veracitech Babylon Certifications application.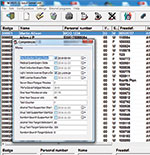 Babylon Key & Locker Management
Many industrial clients use smart key and locker management systems, such the TRAKA system from ASSA ABLOY to manage who has access to certain keys. Again, here the client traditionally has to control the key management as a separate, standalone system from their access control, security or HR/OHS systems. With intelligent key systems, keys are available 24/7 to authorised staff only, and usage can be managed.
Veracitech has partnered with Traka and is the only authorised system integration partner on the Babylon platform for Traka systems. Veracitech again developed a plug-in for the Babylon platform, the Veracitech Babylon Key & Locker Management solution.
In this solution, high-level database integration with the Traka backend allows key and locker users to be managed seamlessly in the Babylon user database. Access level definitions ensure that full control and management of key and locker rights is centrally administered from the Babylon environment only. Through this high-level Babylon/Traka integration, the client can now incorporate access controls with key/locker controls, and even combine this with the certifications solution mentioned above.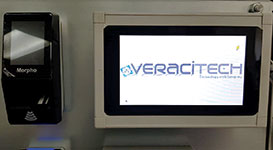 • Access can be allowed / denied based on keys returned: e.g., users can be prevented from leaving the site without returning keys.
• Access rights to keys can be based on not just the key profile, but also the validity of the user's certifications (users can only withdraw a vehicle or machine key if they have the prerequisite certification status, such as a valid driver's or operator's licence on record, or have passed the breathalyser test within the last hour, etc.).
• With the access automation features of XMP-Babylon, one can also control key or locker rights not just by access profile and certification prerequisites, but also by live status processing in the system. For example, a user can only withdraw a key if his manager is badged in and present at the time, or a user can only withdraw a key based on previously areas accessed (or not accessed) within a pre-set period.
• Key and locker alarms and events will also be reported and managed in the XMP-Babylon Alarm and Even Handling, alerting the administrator when keys are not returned on time etc.
There are numerous other applications and integrations Veracitech has developed on the Babylon. All told, Veracitech offers the design, installation, configuration and custom development and integration of multiple security and operational systems into the Babylon platform, which will allow clients to more efficiently manage their operations, even distributed operations, reliably from a central source. Veracitech is a bespoke system engineering house and direct authorised OEM partner for Autec XMP-Babylon systems. The company currently has a client list that includes companies like Anglo Platinum, De Beers, Petra Diamonds, Namdeb, Debmarine, Gemfields, South32, DTI, Transnet and others, including clients in Namibia, Botswana and Mozambique.
For more information, contact Veracitech, +27 11 888 7251, info@veracitech.co.za, www.veracitech.co.za
Credit(s)
Further reading:
Secure vehicle access in residential estates
Issue 2 2020, Protoclea Advanced Image Engineering , Access Control & Identity Management
Can technology offer a cost-effective solution that will provide both secure access control and free-flowing traffic in estates?
Read more...
---
Managing people's attendance and time
Issue 2 2020, Secutel Technologies , Access Control & Identity Management
Managing people's attendance, along with access control is a basic, yet critical challenge for any organisation.
Read more...
---
Modular ANPR camera solution
Issue 2 2020 , Access Control & Identity Management
Videalert has announced the immediate availability of Stingray, a new modular ANPR camera solution designed for use with mobile enforcement vehicles.
Read more...
---
Digital document revolution
Issue 2 2020 , Access Control & Identity Management
A new white paper that examines the implications of the transition from physical to digital security documents has been published by Reconnaissance International.
Read more...
---
Facial access control for ministry
Issue 1 2020, ZKTeco , Access Control & Identity Management
The Ministry of Culture in Saudi Arabia has adopted ZKTeco's facial recognition technology and fingerprint biometrics to manage access control into its building.
Read more...
---
New Door Pilot app from dormakaba
Issue 1 2020, dormakaba South Africa , Access Control & Identity Management
With new dormakaba Door Pilot, automated doors can also now be operated on the basis of remote control technologies. The system, comprising the Door Pilot app for smartphones and a Wi-Fi interface for ...
Read more...
---
Identity lifestyle
Issue 1 2020, Suprema , Access Control & Identity Management
Once the technology of the future, biometrics has quietly snuck into our daily lives through smartphones and access controls into our places of work.
Read more...
---
Securing BP's new head office
Issue 1 2020, ISF SFP , Access Control & Identity Management
ISF SFP was awarded the contract to secure the first development phase for Oxford Parks, the new head office for BP South Africa.
Read more...
---
Combining aesthetics and access control
Issue 1 2020, Turnstar Systems , Access Control & Identity Management
Prestigious law firm Bowman Gilfillan recently upgraded its physical security with the addition of four Turnstar Speedgate Express access control lanes.
Read more...
---
Video doorbells from Ring
Issue 1 2020 , Access Control & Identity Management
Ring has a number of video doorbells available in South Africa that run off batteries or power and enable users to answer their doors from anywhere.
Read more...
---