printer friendly version
Cloud-based access control
Access & Identity Management Handbook 2019 Access Control & Identity Management, Integrated Solutions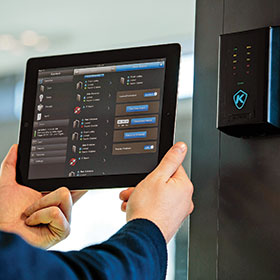 One of the most promising, or perhaps challenging aspects of access control has been the slow growth of cloud-based access throughout the world. The acceptance of cloud-based access has taken longer than many vendors would have preferred, some say due to the cost vs. performance ratio, others say due to security issues associated with the cloud, while others say it's due to the reliability of connectivity options.
Yet, while there are always arguments against cloud access control services, cloud-based systems in their variety of permutations have expanded and are finding increased acceptance in various industries. To find out more about the current state of cloud-based access control, Hi-Tech Security Solutions spoke to Ernest Mallett, regional director of Tyco, the security products division of Johnson Controls.
Hi-Tech Security Solutions: Has cloud-based access control reached the stage where large companies can rely on the solution?
Mallett: Manufacturers such as Tyco, have taken advantage of recent advances in IP network technology to deliver a cloud-based access control system which is robust, reliable and secure. 128-bit AES encryption of data and low bandwidth usage to ensure real-time operation are just two key attributes for a solution which offers significant operational advantages over traditional methods of deploying access control, as well as a lower total cost of ownership.
Hi-Tech Security Solutions: What are the ­benefits of implementing cloud-based access control?
Mallett: There are so many reasons why it makes perfect sense to have a cloud-based access control system, not the least of which is the ability to make best use of human resources. Your Managed Service Provider (MSP) or your security personnel, can be anywhere in the world and yet be able to remotely manage the access control systems operating at any number of your sites, and all from the convenience of a desktop PC, tablet or smartphone. This means a security manager does not need to be on-site in real-time to manage the access credentials of colleagues, contractors and visitors, or control many other important features of an access control system.
A professionally designed and commissioned cloud-based access control solution will provide peace of mind by ensuring access control readers will continue to operate normally during any network disruption and that data related to any access control activity is recorded locally.
Hi-Tech Security Solutions: What can companies do to ensure their internal networks remain secure from hacking or malware when using a cloud service?
Mallett: While no manufacturer can offer a 100% guarantee, a combination of a high-level encryption, anti-virus software and regular software updates which take into account the latest known threats, should help keep a cloud-based solution one step ahead of the hackers.
Hi-Tech Security Solutions: What is your cloud-based solution and how does it work?
Mallett: The Kantech hattrix cloud-based access control solution allows you to manage access control for your entire estate, whether it's one door, or thousands spread across multiple sites. With 'hosted' or 'managed' options, you can choose to work with a hattrix Managed Service Provider (MSP) to outsource all or just part of your security activities and management.
Hattrix eliminates the need to incur the capital, running and maintenance costs of utilising a server which you would normally need to do in order to operate a medium- to large-sized access control system. It is supported by the EntraPass web platform and EntraPass Go mobile app which are designed to enhance the user experience by delivering remote and convenient real-time access, to manage common security tasks. These include locking/unlocking doors, managing cards and schedules, requesting reports, viewing live video, monitoring events by floor plan and more.
With minimal training, authorised personnel are able to configure hattrix to deliver customised reports by email or they can view activity in real-time. Scheduled back-ups, audit trails and automated health checks, ensure that security best practice is adhered to at all times.
For more information contact Johnson Controls Security Products, +27 82 566 5274, ernest.mallett@jci.com
Credit(s)
Further reading:
Cloud-based or on-premises access control
Salto Systems Africa Access Control & Identity Management Products
Choosing between cloud-based and on-premises access control solutions can be a difficult decision, however, the best solution for your organisation, property, or building type will depend on a range of factors.
Read more...
---
Improved security health check tool
Gallagher Access Control & Identity Management Products
Gallagher Security has streamlined its free Security Health Check tool, making it easier than ever to protect against potential system risks and improve business efficiencies.
Read more...
---
From the editor's desk: Get Smart
Technews Publishing News
Welcome to the fourth issue of Hi-Tech Security Solutions for 2023, which is also the first issue of Smart Security Solutions. As noted in previous issues, Hi-Tech Security Solutions has been rebranded to Smart Security Solutions.
Read more...
---
Suprema showcases integrated security solutions
Suprema Access Control & Identity Management Products
Apart from being an access terminal that supports multiple credentials such as facial recognition, RFID, mobile and QR codes, the BioStation 3 also supports VoIP Intercom and real-time video monitoring features to make it a truly multi-functional reader.
Read more...
---
Success in business process best practices
Technews Publishing Kleyn Change Management Editor's Choice Integrated Solutions Security Services & Risk Management
This month we commandeer time with the woman who is spearheading our national conversation on Women in Security, Lesley-Anne Kleyn, to get to know the lady herself a little better.
Read more...
---
Local electronic locks
Access Control & Identity Management
YeboTech is an electronics manufacturing company, founded in 2005, which designs, markets and sells an electronic key and locking systems, aimed at replacing all conventional mechanical locks.
Read more...
---
Selecting the correct access control system
Enkulu Technologies Access Control & Identity Management
Frazer Matchett, Managing Director of Enkulu Technologies, suggests the right questions to ask when selecting an access control solution; not just the access system, but the integrated solution that fits your requirements.
Read more...
---
Integrated guarding services
XtraVision Integrated Solutions Access Control & Identity Management Industrial (Industry)
XtraVision offers a few tips on how to go about planning and setting up an integrated approach to sustainable and successful security services, from the initial risk assessment to the technology and people required.
Read more...
---
Paxton secures multi-tenant office in Cape Town
Paxton Integrated Solutions Access Control & Identity Management Products
Cecilia Square in Paarl, Cape Town is an office building from where several businesses operate. The multi-tenant site has recently undergone a full refurbishment, including a complete upgrade of its security system for access control.
Read more...
---
AI face recognition OEM module
Suprema News Access Control & Identity Management Products
Suprema AI, a company specialized in artificial intelligence–based integrated security solutions, recently launched its high-performance face recognition OEM module called 'Q-Face Pro' in response to the growing need for contactless security solutions.
Read more...
---