printer friendly version
Key components of access control
Access & Identity Management Handbook 2019 Access Control & Identity Management, Integrated Solutions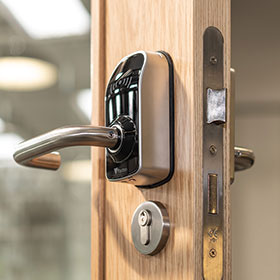 Access control was a growth market worldwide over the past year, posting healthier growth than surveillance, although the surveillance market is much larger in terms of revenues. The reason for the growth, or one of them at least, is that access control is no longer simply opening and closing a door.
Today, selling readers and cards is a margin game with lots of competition. On the other hand, just buying access control is a budget game and if all you're buying is getting people in and out the door then why bother going for a brand when there are plenty of cheaper alternatives.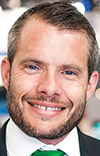 Dan Drayton.
The question is, is opening and closing doors all you should be looking at when selling or buying access control today? Hi-Tech Security Solutions approached Dan Drayton, international sales manager at Paxton Access, for some insights into what matters in access control decisions.
Starting at the beginning, we asked what companies looking to purchase a new or upgrade an existing access infrastructure should be considering before signing on the dotted line.
"When thinking about implementing or upgrading an access control solution there are a few key elements to consider," Drayton answers. "In essence, access control is intelligently opening and closing doors, but this should be done based on how you want people to flow through your building. This can be as simple as setting specific times when doors are permanently open or locked based on factors such as risk and busy or quiet periods.
"Critically important is the simplicity of the software. Operators of an access control system can frequently change so the administration of the system must be simple and intuitive. Regulatory awareness, such as utilising access control on fire and escape routes, must comply with regulations."
Finally, he says consideration should be given to system quality, post-sales support and warranties. Access control is a critical component of building security, however faults or issues with the system can cause huge disruption for building users.
Integration is a must
In addition to the above, Drayton also believes buyers should consider additional functionality and features that could be better suited to their specific situations. In Paxton's case, "Our product range covers wireless and wired IP access control, including IP video intercoms, so clients can have a fully integrated access control solution from a single vendor, without any licence fees (Paxton has removed all licence fees from its product offerings for life). Our system and software are widely recognised as the simplest to install, commission and operate, and come with a hassle-free five-year swop out warranty."
Similarly, the ability for access systems to integrate with other brands as well as other security systems (and even IoT systems), is as important. Paxton has recently noted an increase in requests for integration between biometric readers from one brand and the access control backbone from another.
Drayton adds that it is useful for surveillance and access control to work in harmony, enabling alarms and alerts from access control to be matched to the visual evidence. "Intelligent buildings are, without question, the future of our industry where all building services work in harmony, with little interaction from the user. This can be achieved in many ways that provide different benefits to the user, so it's important that consumers have a clear idea on what they want from their system to get the most from it."
This extends to selecting a system and provider that can adapt with the user as needs change. Users should look to work with companies that are investing in technology and bringing it to market, providing confidence that whatever type of access control is required can be catered for.
Managing your identities
Arguably, the most important part of an access solution is the database that contains the people and permissions assigned to them in terms of where and what they can access. The process to follow in setting up and maintaining this database differs when smaller companies are compared to large enterprises, however, the key is to have a single, accurate and reliable source of access and identity information.
"Access control systems, like most other technology, are only as good as the quality of information they contain," notes Drayton. "A company's HR database is quite straightforward to integrate into an access control system in order to add/delete users and administer privileges. In smaller organisations, it is common to have the access control database as a standalone hub of information. This is where software simplicity is critical, removing barriers to administrators, keeping all user data up to date to minimise risk.
"Paxton Access is a manufacturer of IP access control and video door intercom systems," states Drayton. "Unique to South Africa, we have a no licence fee approach to our software for the life of the installation. Paxton trains more than 500 people each year in South Africa, free of charge, to specify, install and commission our systems. This ensures installers have all the tools needed to provide excellent service and solutions to the end user. We also have free phone after sales support service backed up by our hassle free, five-year, swap out warranty for all products."
Credit(s)
Further reading:
Simple steps to protect yourself against identity theft
November 2019 , Access Control & Identity Management
Are you doing enough to reduce the risk of having your identity stolen?
Read more...
---
Securing perimeters of secure locations
November 2019, Axis Communications SA, Modular Communications, Hikvision South Africa, Nemtek Electric Fencing Products, Technews Publishing, Stafix , Government and Parastatal (Industry), Perimeter Security, Alarms & Intruder Detection, Integrated Solutions
Hi-Tech Security Solutions asked a number of companies offering perimeter security solutions for their insights into protecting the boundaries of national key points.
Read more...
---
Intelligent analytics and the brains to match
September 2019, Bosch Building Technologies , CCTV, Surveillance & Remote Monitoring, Integrated Solutions
What if the brains behind our security cameras could be trained to improve their cognitive ability to pay attention, learn, and problem-solve according to specific rules and situations?
Read more...
---
AI-powered autonomous Drone-in-a-Box
September 2019 , CCTV, Surveillance & Remote Monitoring, Integrated Solutions
Organisations in the mining, energy and industrial, oil and gas, ports and terminals sectors can optimise security and business operations, whilst reducing risks and operational costs
Read more...
---
Looking ahead with mobile access technologies
Access & Identity Management Handbook 2020, Technews Publishing, HID Global, dormakaba South Africa, Salto Systems Africa, Suprema, Gallagher , Access Control & Identity Management, Integrated Solutions
Given the broad use of smartphones around the world and the numerous technologies packed into these devices, it was only a matter of time before the access control industry developed technology that would ...
Read more...
---
Mobile access is more secure than card systems
Access & Identity Management Handbook 2020 , Access Control & Identity Management
The ability to use mobile phones as access credentials is one of the biggest trends in a market that historically has been slow in adopting new technology.
Read more...
---
This is the future. This is what we do.
Access & Identity Management Handbook 2020, ZKTeco , Access Control & Identity Management
ZKTeco has created a unique range of visible light facial recognition products combined with a flexible Android platform.
Read more...
---
The security of biometrics
Access & Identity Management Handbook 2020, ViRDI Distribution SA, IDEMIA , Technews Publishing, Suprema , Access Control & Identity Management
Hi-Tech Security Solutions asks whether your personal biometric data is safe from prying eyes.
Read more...
---
A picture spoofs a thousand cameras
Access & Identity Management Handbook 2020, NEC XON, Hikvision South Africa, Technews Publishing , Access Control & Identity Management
Hi-Tech Security Solutions looks into the reliability and effectiveness of facial biometrics as well as the concerns about privacy.
Read more...
---
IoT and behavioural authentication
Access & Identity Management Handbook 2020, CA Southern Africa , Access Control & Identity Management
IoT represents an increasing security risk to individuals in the form of pervasive, always-on monitoring of your personal activity with a potential compromise of your most personal security credentials.
Read more...
---