printer friendly version
Key components of access control
Access & Identity Management Handbook 2019 Access Control & Identity Management, Integrated Solutions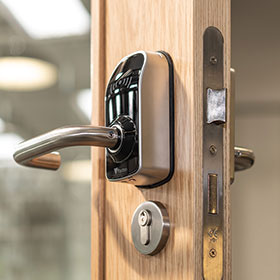 Access control was a growth market worldwide over the past year, posting healthier growth than surveillance, although the surveillance market is much larger in terms of revenues. The reason for the growth, or one of them at least, is that access control is no longer simply opening and closing a door.
Today, selling readers and cards is a margin game with lots of competition. On the other hand, just buying access control is a budget game and if all you're buying is getting people in and out the door then why bother going for a brand when there are plenty of cheaper alternatives.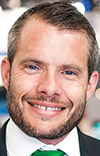 Dan Drayton.
The question is, is opening and closing doors all you should be looking at when selling or buying access control today? Hi-Tech Security Solutions approached Dan Drayton, international sales manager at Paxton Access, for some insights into what matters in access control decisions.
Starting at the beginning, we asked what companies looking to purchase a new or upgrade an existing access infrastructure should be considering before signing on the dotted line.
"When thinking about implementing or upgrading an access control solution there are a few key elements to consider," Drayton answers. "In essence, access control is intelligently opening and closing doors, but this should be done based on how you want people to flow through your building. This can be as simple as setting specific times when doors are permanently open or locked based on factors such as risk and busy or quiet periods.
"Critically important is the simplicity of the software. Operators of an access control system can frequently change so the administration of the system must be simple and intuitive. Regulatory awareness, such as utilising access control on fire and escape routes, must comply with regulations."
Finally, he says consideration should be given to system quality, post-sales support and warranties. Access control is a critical component of building security, however faults or issues with the system can cause huge disruption for building users.
Integration is a must
In addition to the above, Drayton also believes buyers should consider additional functionality and features that could be better suited to their specific situations. In Paxton's case, "Our product range covers wireless and wired IP access control, including IP video intercoms, so clients can have a fully integrated access control solution from a single vendor, without any licence fees (Paxton has removed all licence fees from its product offerings for life). Our system and software are widely recognised as the simplest to install, commission and operate, and come with a hassle-free five-year swop out warranty."
Similarly, the ability for access systems to integrate with other brands as well as other security systems (and even IoT systems), is as important. Paxton has recently noted an increase in requests for integration between biometric readers from one brand and the access control backbone from another.
Drayton adds that it is useful for surveillance and access control to work in harmony, enabling alarms and alerts from access control to be matched to the visual evidence. "Intelligent buildings are, without question, the future of our industry where all building services work in harmony, with little interaction from the user. This can be achieved in many ways that provide different benefits to the user, so it's important that consumers have a clear idea on what they want from their system to get the most from it."
This extends to selecting a system and provider that can adapt with the user as needs change. Users should look to work with companies that are investing in technology and bringing it to market, providing confidence that whatever type of access control is required can be catered for.
Managing your identities
Arguably, the most important part of an access solution is the database that contains the people and permissions assigned to them in terms of where and what they can access. The process to follow in setting up and maintaining this database differs when smaller companies are compared to large enterprises, however, the key is to have a single, accurate and reliable source of access and identity information.
"Access control systems, like most other technology, are only as good as the quality of information they contain," notes Drayton. "A company's HR database is quite straightforward to integrate into an access control system in order to add/delete users and administer privileges. In smaller organisations, it is common to have the access control database as a standalone hub of information. This is where software simplicity is critical, removing barriers to administrators, keeping all user data up to date to minimise risk.
"Paxton Access is a manufacturer of IP access control and video door intercom systems," states Drayton. "Unique to South Africa, we have a no licence fee approach to our software for the life of the installation. Paxton trains more than 500 people each year in South Africa, free of charge, to specify, install and commission our systems. This ensures installers have all the tools needed to provide excellent service and solutions to the end user. We also have free phone after sales support service backed up by our hassle free, five-year, swap out warranty for all products."
Credit(s)
Further reading:
Improved security health check tool
Gallagher Access Control & Identity Management Products
Gallagher Security has streamlined its free Security Health Check tool, making it easier than ever to protect against potential system risks and improve business efficiencies.
Read more...
---
Suprema showcases integrated security solutions
Suprema Access Control & Identity Management Products
Apart from being an access terminal that supports multiple credentials such as facial recognition, RFID, mobile and QR codes, the BioStation 3 also supports VoIP Intercom and real-time video monitoring features to make it a truly multi-functional reader.
Read more...
---
Success in business process best practices
Technews Publishing Kleyn Change Management Editor's Choice Integrated Solutions Security Services & Risk Management
This month we commandeer time with the woman who is spearheading our national conversation on Women in Security, Lesley-Anne Kleyn, to get to know the lady herself a little better.
Read more...
---
Local electronic locks
Access Control & Identity Management
YeboTech is an electronics manufacturing company, founded in 2005, which designs, markets and sells an electronic key and locking systems, aimed at replacing all conventional mechanical locks.
Read more...
---
Selecting the correct access control system
Enkulu Technologies Access Control & Identity Management
Frazer Matchett, Managing Director of Enkulu Technologies, suggests the right questions to ask when selecting an access control solution; not just the access system, but the integrated solution that fits your requirements.
Read more...
---
Integrated guarding services
XtraVision Integrated Solutions Access Control & Identity Management Industrial (Industry)
XtraVision offers a few tips on how to go about planning and setting up an integrated approach to sustainable and successful security services, from the initial risk assessment to the technology and people required.
Read more...
---
Paxton secures multi-tenant office in Cape Town
Paxton Integrated Solutions Access Control & Identity Management Products
Cecilia Square in Paarl, Cape Town is an office building from where several businesses operate. The multi-tenant site has recently undergone a full refurbishment, including a complete upgrade of its security system for access control.
Read more...
---
AI face recognition OEM module
Suprema News Access Control & Identity Management Products
Suprema AI, a company specialized in artificial intelligence–based integrated security solutions, recently launched its high-performance face recognition OEM module called 'Q-Face Pro' in response to the growing need for contactless security solutions.
Read more...
---
KWAL raises a glass to security upgrade
Turnstar Systems Access Control & Identity Management Products
The Kenya Wine Agencies Limited (KWAL) was in need of an integrated security upgrade. This is where Turnstar came into the picture to provide a solution that would keep KWAL secure and efficient.
Read more...
---
Dahua Insider Series for touchless access
Dahua Technology South Africa Access Control & Identity Management Products
The Insider Series Access Control Solution offers touchless access (via Bluetooth) using the DMSS mobile app; it has three distance modes and two trigger modes (normal and shake).
Read more...
---