printer friendly version
Taking augmented identity to the world
Access & Identity Management Handbook 2019 Editor's Choice, Access Control & Identity Management, Integrated Solutions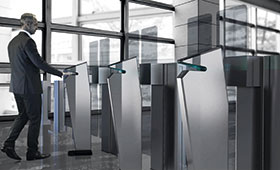 In the early 2000s, a company named Ideco, in close partnership with IDEMIA, was a driver in bringing biometric technology to the South African market. In fact, this company was so successful that South Africa became a world leader in biometric adoption for a number of years.
The first employee, and eventually managing director of Ideco Biometric Security Solutions, was Gary Jones; he developed a successful channel model which proved so successful that Morpho quickly became the leading fingerprint biometric technology in South Africa.
Jones then moved to the USA in 2009 to join Morpho and lead the restructuring of the channel in that region, which includes most of the world's largest and leading manufacturers of access control and time and attendance systems.
"Reaching the US market was no small task as any change takes a long time due to the market's size." Jones says it took a good three to four years to see results in the world's largest economy. But, over the years, biometrics have become accepted in this market, and in many instances are a mandatory requirement. "Not only have we been a major contributor to this growth in acceptance of biometrics, thanks to the performance of our technology, but we have achieved the market leading position for biometric access and time solutions in North America"
With the coming together of Oberthur and Morpho, the company is now known as IDEMIA.
Jones is now IDEMIA's VP of Global Channel and Marketing for biometric access and time solutions, and is tasked with broadening the company's market share and share of mind globally. This is happening at a good time as IDEMIA is now focused on Augmented Identity.
Augmented Identity
Far from just being another marketing slogan, Augmented Identity has a basis in reality, specifically when it comes to security in our daily business and personal lives. Jones says there has always been a trade-off between security and convenience in the real world. If you wanted security, you had to accept complexity; if you wanted convenience, it was security that was compromised.
Augmented Identity, as Jones explains it, is a reliable identity authentication mechanism that fits in with whatever we are doing, providing the convenience, while also ensuring trust to guarantee secure, authenticated and verifiable transactions.
The MorphoWave Tower was the first product aimed at this market in the biometric access and time space. It allows people to authenticate their identities simply by scanning (or waving) their fingerprints over a scanner while on the move – without having to touch a sensor. The Tower has done extremely well in the US market due to its convenience as well as the security it offers (its sensor technology is also certified by the FBI).
As you wave your fingers over the scanner on the MorphoWave, it scans all four fingers at 78 fps (frames per second) and it does a 3D scan. This is like putting your fingers on a traditional sensor 78 times in a second. This naturally collects high resolution data which increases the matching rate and hence the security of the fingerprint biometrics.
Additionally, because people don't actually touch anything, the hygiene factor is increased and more people can be scanned faster. Jones says it's possible to authenticate 45 people per minute as they walk down a passage or through an entrance, with a single device.
A cost-conscious Wave
To cater for a wider diversity of installations, as well as more cost-conscious markets like South Africa, IDEMIA recently launched the MorphoWave Compact, which offers the same authentication facility at a lower cost. He says IDEMIA's partners in the region were very excited about the Compact and were selling it before it even landed in Africa. Of course, the company has a number of other products, including facial recognition solutions to supplement the MorphoWave in its pursuit of its Augmented Identity ideal.
With trips to South Africa a regular part of his job these days, Jones says South Africa and Africa are key markets for IDEMIA, partially due to the country's history of biometric adoption, as well as the willingness of the market to push the boundaries.
The market in South Africa today is different from the one in which the former company Morpho and Ideco were able to establish fingerprint biometrics as a reliable and trustworthy identity authentication mechanism all those years ago. There are more companies active in the market and more competition, but Jones believes IDEMIA is in a good position to take the market to the next level as both businesses and individuals embrace the ease and convenience, as well as the improved security in a world of Augmented Identity.
For more information contact IDEMIA, +27 11 286 5800, andrina.diedericks@idemia.com, www.idemia.com
Credit(s)
Further reading:
From the editor's desk: Get Smart
Technews Publishing News
      Welcome to the fourth issue of Hi-Tech Security Solutions for 2023, which is also the first issue of Smart Security Solutions. As noted in previous issues, Hi-Tech Security Solutions has been rebranded ...
Read more...
---
Accenture Technology Vision 2023
Editor's Choice News
New report states that generative AI is expected to usher in a 'bold new future' for business, merging physical and digital worlds, transforming the way people work and live.
Read more...
---
Economists divided on global economic recovery
Editor's Choice News
Growth outlook has strengthened in all regions, but chief economists are divided on the likelihood of a global recession in 2023; experts are concerned about trade-off between managing inflation and maintaining financial stability, with 76% anticipating central banks to struggle to bring down inflation.
Read more...
---
Success in business process best practices
Technews Publishing Kleyn Change Management Editor's Choice Integrated Solutions Security Services & Risk Management
This month we commandeer time with the woman who is spearheading our national conversation on Women in Security, Lesley-Anne Kleyn, to get to know the lady herself a little better.
Read more...
---
Integrated guarding services
XtraVision Integrated Solutions Access Control & Identity Management Industrial (Industry)
XtraVision offers a few tips on how to go about planning and setting up an integrated approach to sustainable and successful security services, from the initial risk assessment to the technology and people required.
Read more...
---
Paxton secures multi-tenant office in Cape Town
Paxton Integrated Solutions Access Control & Identity Management Products
Cecilia Square in Paarl, Cape Town is an office building from where several businesses operate. The multi-tenant site has recently undergone a full refurbishment, including a complete upgrade of its security system for access control.
Read more...
---
AI face recognition OEM module
Suprema News Access Control & Identity Management Products
Suprema AI, a company specialized in artificial intelligence–based integrated security solutions, recently launched its high-performance face recognition OEM module called 'Q-Face Pro' in response to the growing need for contactless security solutions.
Read more...
---
Smart Security Solutions
Technews Publishing Products
Stop by the Smart Security Solutions stand at Securex and discover the new rebranded Hi-Tech Security Solutions. Given the realities in the market we face today, effective security is no longer a silo ...
Read more...
---
SAFPS to launch a platform to combat fraud
Editor's Choice News Security Services & Risk Management
In response to the growing need for a proactive approach to fraud prevention, the SAFPS is developing a product called Yima, which will be a one-stop-shop for South Africans to report scams, secure their identity, and scan any website for vulnerabilities.
Read more...
---
How international cloud trends impact Africa
Technews Publishing IT infrastructure
Enterprises are realising that hyperscale cloud is better suited to development and not everyday business, while the bills have also grown significantly as their cloud needs have become more complicated and sprawled.
Read more...
---