printer friendly version
From the editor's desk: Converging access control
Access & Identity Management Handbook 2019
News & Events
Welcome to the Access & Identity Management Handbook 2019. We're publishing this in January as opposed to our traditional end-of-year publishing schedule to make sure you have some bed-time reading for the start of the year. If you have the physical magazine in your hands, you'll be glad to know it was designed to operate during rolling blackouts (or 'load shedding' to be politically correct).
Last year was a tough one for most of the security industry in Africa, and the world for that matter, so let's hope 2019 sees an about-turn in the budget restrictions we have become accustomed to, although Eskom seems hell-bent on making sure the South African economy hits the bottom and starts digging. This is, however, a good time to be in the candle business.
This year's handbook contains articles covering a variety of topics, but there is one common thread among almost all of them, the way in which the IT industry is now a part of physical access control and will play a greater role going forward. Whether its access based on the IP protocol, cloud and hosted technologies, cyber security or the greater role of IT personnel in access control decisions, IT has moved in and traditional physical access control is very much a converged industry today.
That is not to say there is no future for the physical access control manufacturers, integrators and installers, far from it. The
society we live in requires securely controlled access from the home to business and even restricted government and national utility installations – not that anyone wants to steal any outdated Eskom equipment, but the concept remains. The difference is these systems need to be integrated and interoperate with the digital world, hence the need for IT skills. And I think the need for cyber security skills is a given in whatever industry you are in these days.
In one of our articles we cover a webinar HID Global broadcast in which it showed how IT departments are getting involved in physical access control decisions, even to the point of specifying equipment, so we are not merely hyping the convergence idea because it sounds trendy. We also cover the whole concept of the full convergence of physical and logical access, something most people see as a given for the future, but one which nobody seems to know exactly how to accomplish as your traditional physical security people are a different species from your traditional IT people. It's been said they don't actually speak the same language.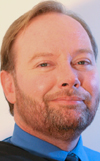 Nonetheless, convergence will happen as more security risks involve physical security products and installations as an easy way to get into the corporate network (not that IT departments have anything to boast about when it comes to security). Perhaps a new breed of converged access control specialists will emerge to change the industry for the better, or we can all rely on Eskom to ensure that cyber risks are nullified (because computers don't work on candle power), but then we will still need physical access experts to control the flow of people.
Andrew Seldon
Editor
Credit(s)
Further reading:
Pentagon appointed as Milestone distributor
Elvey Security Technologies News & Events Surveillance
Milestone Systems appointed Pentagon Distribution (an Elvey Group company within the Hudaco Group of Companies) as a distributor. XProtect's open architecture means no lock-in and the ability to customise the connected video solution that will accomplish the job.
Read more...
---
From the editor's desk: A sad but exciting goodbye
Technews Publishing News & Events
      Welcome to the final monthly issue of SMART Security Solutions. This is the last issue of the year and the last monthly issue we will print. We are witnessing digitisation across all industries, and ...
Read more...
---
Regal celebrates successful golf day
Regal Distributors SA News & Events
Regal Distributors held its first official Regal Golf Day on 18 October at the Glendower Golf Course in Johannesburg. SMART Security Solutions was there on a hot summer's day to meet many players and sponsors around the course.
Read more...
---
Gallagher Security releases Command Centre v9
Gallagher News & Events Access Control & Identity Management Integrated Solutions
Richer features, greater integrations, with the release of Gallagher Security's Command Centre v9 security site management software designed to integrate seamlessly with various systems and hardware.
Read more...
---
Regal launches direct-to-branch WhatsApp communication
Regal Distributors SA News & Events
With a quick scan of a QR code and a few taps on your phone, installers, integrators, technicians or even end-users can chat directly with the team at their preferred Regal branch via WhatsApp
Read more...
---
FM Expo highlights industry trends and challenges
Securex South Africa News & Events Facilities & Building Management
Keeping tabs on what is happening within the building/facilities management arena can be frustrating, however, a quick way to find out what current trends, challenges, and solutions are available can be found at the Facilities Management Expo.
Read more...
---
All aspects of data protection
Technews Publishing Editor's Choice Information Security Infrastructure AI & Data Analytics
SMART Security Solutions spoke to Kate Mollett, Senior Director, Commvault Africa, about the company and its evolution from a backup specialist to a full data protection specialist, as well as the latest announcements from the company.
Read more...
---
South Africa shows a 1200% increase in deepfake fraud
News & Events Risk Management & Resilience
Sumsub released its third annual Identity Fraud Report of the year, analysing identity fraud across industries and regions based on millions of verification checks across 28 industries and over 2 million fraud cases.
Read more...
---
Projections for 2024's Advanced Threats Landscape
News & Events Information Security
Kaspersky Global Research and Analysis Team (GReAT) experts offer insights and projections for 2024 in the Kaspersky Security Bulletin, with a focus on the evolution of Advanced Persistent Threats (APT).
Read more...
---
Identity verification and management trends
Technews Publishing Information Security
Insights into what we can expect from identity fraudsters and the industry next year, ranging from criminal exploitation of AI and digital IDs to multi-layer fraud protection and the need for more control over personal information sharing.
Read more...
---