printer friendly version
IDEMIA introduces the MorphoWave Compact
November 2018
Access Control & Identity Management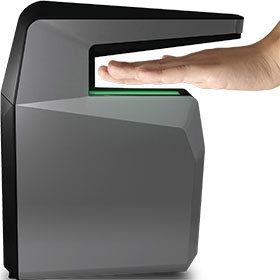 IDEMIA has released its new MorphoWave Compact by IDEMIA. The new contactless 3D fingerprint biometric terminal was launched at ISC West in Las Vegas in April. This new addition to IDEMIA's range of biometric readers is now available to the South African market.
MorphoWave Compact by IDEMIA is a smaller, more versatile version of the hugely-successful and award-winning MorphoWave Tower which revolutionised the biometrics industry with its patented 'touchless' technology.
Sales director at IDEMIA Identity and Security South Africa, Nicolas Garcia, explains that MorphoWave Compact brings the magic of touchless biometrics to new sets of users:
"While the Tower has become a game-changer in lobbies, atriums and main entrances at major organisations around the world, it was important to extend this touchless innovation in new directions, to cater for other access control and time and attendance needs".
Thanks to its reduced size, MorphoWave Compact by IDEMIA can be easily wall-mounted in almost any location (indoor or outdoor). Users simply swipe their hands over the scanner in either direction, allowing the device to match all four fingers in 3D, ensuring maximum accuracy. Though it is 86% smaller than its big brother – the Tower – the Compact version features the same large scanning volume.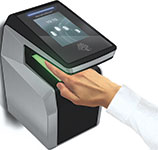 "Contactless biometrics is more than just a neat innovation," says Garcia, "it removes many of the operational issues of other biometric readers – mitigating hygiene concerns, leaving no latent prints on the scanner, and easily coping with either dry or wet fingers."
The scanner allows for ease of access and quick throughput, making it perfect for high-trafficked areas like busy offices or industrial sites. Due to its cased, enclosed nature, MorphoWave Compact by IDEMIA also neutralises any external environmental factors (such as harsh light, dust or rain).
To ensure integration into all other access control systems, MorphoWave Compact by IDEMIA natively supports Prox, iClass, MIFARE, DESFire cards and PIN codes. Other than the primary biometrics scanning capabilities, it's also able to scan QR codes, which is perfect for temporary access and visitor management.
It includes a full suite of management features – including the likes of fake finger detection, timed anti-pass back functions, authorised/banned lists, a programmable touchscreen interface, real-time notifications to employees and administrators, and job code management for accurate billing integration.
"The most compelling aspect is the absolutely frictionless experience that users enjoy," notes Garcia. "By authenticating you in a split-second, users can remain in-motion while being identified. This results in faster, safer access control, reduced overall costs, and increased employee productivity."
For more information contact IDEMIA, +27 11 286 5800, andrina.diedericks@idemia.com, www.idemia.com
Credit(s)
Further reading:
Enterprise identity fraud prevention
Access Control & Identity Management
Trustmatic brings government-grade facial 1:N search capabilities to the cloud, supporting face deduplication and identification against watchlists, and providing seamless integration via REST API.
Read more...
---
The AI knows best
Access Control & Identity Management
RBA makes use of the vast computing power of machine learning to analyse thousands of data points to determine how risky a transaction may be.
Read more...
---
ZKTeco Experience Centre
ZKTeco News Access Control & Identity Management
ZKTeco South Africa has opened the doors to its innovative and interactive space, the ZKTeco Experience Centre in Centurion, Pretoria and welcomes visitors to partake in the 'Powered by ZKTeco' experience.
Read more...
---
Touchless school access control
neaMetrics Suprema Editor's Choice Access Control & Identity Management Integrated Solutions Education (Industry) Products
Wolverhampton Grammar School deployed a Suprema access control solution, integrated with Paxton to resolve its legacy access control challenges.
Read more...
---
Visible light facial recognition
ZKTeco Access Control & Identity Management
The ZKTeco SpeedFace-V5L [TI] is a fully upgraded version of the SpeedFace-V5L [TD] visible light facial recognition body temperature detection terminal, supporting facial and palm recognition.
Read more...
---
Smart, efficient and green
Salto Systems Africa Access Control & Identity Management
Battery life and seamless use is particularly important in an electronic access control solution that relies on battery-operated locks.
Read more...
---
Over 50% growth in use of digital documents between 2022 and 2026
Access Control & Identity Management Security Services & Risk Management
The number of users of digital identity documents is expected to exceed 6,5 billion globally in 2026, enabling rapid advances in eGovernment services.
Read more...
---
Biometric authentication to SAP
Access Control & Identity Management
SecuGen has announced the exclusive integration of SecuGen fingerprint readers with realtime North America's bioLock software.
Read more...
---
Access to copper mine
Access Control & Identity Management
Since 2019, Flow Systems has assisted Kamoa Copper with quality access control equipment building on the team's expertise for designing and manufacturing machinery.
Read more...
---
Major food supply chain secured
BoomGate Systems Access Control & Identity Management
The recently completed major installation at Lynca Meats Meyerton was the start of a new market strategy for Boomgate Systems in primarily dealing with security integrators.
Read more...
---