From the editor's desk: Ending with something new
November 2018, News
Welcome to the final issue of Hi-Tech Security Solutions for 2018. This has definitely been an interesting year, to put it politely, and many in the security industry have felt the strain of a poor economy following such a hopeful start to the new year. This issue is also the start of something new in Hi-Tech Security Solutions as we welcome a new columnist to our pages.
Craig Rosewarne is the MD of Wolfpack Information Risk and he will be providing us with regular editorial on cybersecurity in today's world.
Wolfpack is a South African firm, established in 2011, that specialises in cyber threat intelligence, research, training, awareness and advisory services. A community of over 9000 information and cybersecurity specialists subscribe to its regular community updates.
Wolfpack has also been instrumental in driving many strategic cybersecurity initiatives with stakeholders on the African continent. In our last issue we carried an article on Wolfpack launching Cybergym training in South Africa. You can find out more about what Wolfpack does at www.wolfpackrisk.com
Craig was previously an associate director of Deloitte's Risk Advisory division. He ran the Deloitte School of Risk Management and was responsible on a national level for learning and innovation for a team of over 400 professionals.
He has over 18 years of management experience in the fields of IT and cybersecurity, and is frequently invited to speak at information security, cybercrime and counter-espionage events. He provides regular opinion pieces via TV, radio and print/online media.
He is therefore very well qualified to provide us with insights into the world of cybersecurity. We are sure the cyber knowledge Craig shares with us will be educational and insightful. Please let us have your own comments and insights after reading his first column on 'Our dependence on cyber connectivity' in this issue.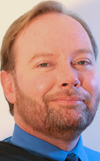 We normally post the Access & Identity Management Handbook with the final issue of the year, but we have decided to delay its publication until January. The handbook is still being finalised right now, but it will be published in mid-January, ready for everyone coming back from the December holidays. Please let us know what you think of the handbook when it arrives.
After a tough year for everyone in the industry, everyone at Hi-Tech Security Solutions wishes our readers, advertisers and partners a restful and peaceful festive season. And let's hope 2019 brings a healthy economy and safety and security for all.
Andrew Seldon
Editor